EPUB is a popular format for eBooks but is not as widely used as PDF. The limited number of platforms limits the amount of exposure EPUB has. EPUB's limited exposure means there is not a lot of support for the format. By contrast, PDF is widely supported on mobile devices and desktop computers. The format is frequently updated in the form of software updates and new apps. Hence, there may be times when your documents have to be read in PDF and must change EPUB to PDF. In this article, you will learn how to change EPUB to PDF format in high quality.
The Best EPUB to PDF Converter
You need the best software to change EPUB to PDF while maintaining high quality. Hence, we recommend using PDFelement Pro, the leading PDF editing software in the market. The software is designed for businesses and professionals looking for a way to make handling PDF documents a lot easier. PDF is a fantastic platform, but to the average user and it can be inaccessible due to its read-only form. iSkysoft solves this problem by making PDF documents editable and convertible to different forms. The software can turn EPUB into PDF without compromising the high quality of EPUB eBooks.
How to Change EPUB to PDF
Changing EPUB to PDF with PDFelement Pro is a simple process. You need only follow the steps below.
Step 1. Import EPUB to the Program
After launching the software, main interface will appear. From there, you can click on the "Create PDF" tab and choose EPUB file from the local folder and import the file into the program.
Step 2. Edit EPUB File
After the EPUB file gets uploaded to the software, you can customize the setting with the help of "Edit" menu with which you can make necessary changes to the text, images, can add links, improvise the background and lot more task.
Step 3. Save EPUB to PDF Format
Now, after making necessary setting, next step will be to save your imported EPUB file into the PDF format. For that from the "File" menu> click on "Save as" option to save EPUB file into the PDF format.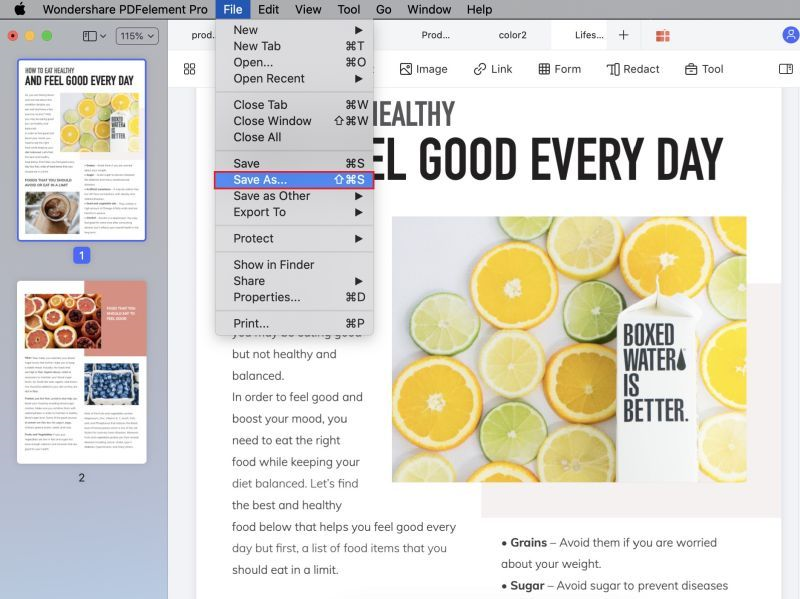 ---
Why Choose PDFelement Pro to Change EPUB to PDF
PDFelement Pro is the best choice on how to open EPUB in PDF because it's easy to use. The PDF editing program provides a number of features to edit PDF files as you see fit. iSkysoft PDF editor provides a wide range of features not found in other PDF editing software programs. This PDF tool can change from EPUB to PDF, it works for any business in any industry ranging from IT services to Finances. Whether you are a freelance writer or a corporate communications specialist, iSkysoft suits your purpose. Colleagues even collaborate with one another using the cloud based sharing tools.
Features range from redacting PDF documents, to bates numbering. The software is compatible with both Windows and Mac platforms. Quality is very important, particularly for companies iSkysoft features a simple, easy-to-learn user interface. If you are using the software for the first time, you can consult the guide for tips. The iSkysoft website has a detailed, comprehensive guide on the software. You can find detailed guides on how to use all the features on the iSkysoft user guide. The iSkysoft software streamlines business operations and doubles output, at half the price. Forms stored in PDF format are interactive, businesses now save time by simply signing forms in PDF format.
Annotate PDF files using markup tools.
Combine several PDF files, or split a single PDF file into several files.
Change PDF files to EPUB, Excel, Word, and PPT and vice versa.
Protect files using password, watermarks, and encryption.