Both Word and PDF documents are very important when it comes to preparing, editing, storing, and presenting documents used for business purposes. However, since word documents are easy to edit, most people use them when preparing or modifying their files. Unfortunately, presenting these files in word format can be a bit tedious, which is where PDF documents come in. This brings about a need to quickly and easily create Word to PDF online. Below is a look at the top 5 online Word to PDF creator tools that you can use for this purpose.
iSkysoft PDF Editor 6 Professional for Windows(or iSkysoft PDF Editor 6 Professional for Mac) is a very useful PDF creator. This tool allows you to create PDF from other file formats and create fillable PDF forms in a few simple steps. With the help of this PDF tool, you can also convert PDF documents to Word, PPT, EPUB and other file formats. This tool provides you multiple professional editing tools to edit PDF texts, images, graphics, links and other elements easily.
Key Features of iSkysoft PDF Creator:
It is an easy to use conversion tool that comes with a simple drag-and-drop document importing and superfast conversion speeds.
The application comes with a batch conversion feature, which allows you to convert multiple PDF documents at a go, thus saving you time.
The application delivers high quality conversion, and allows you to maintain the original layout and formatting of your document.
It does not have a limitation on the size of the file you can convert. You can also use as many word files as possible when creating your PDF document.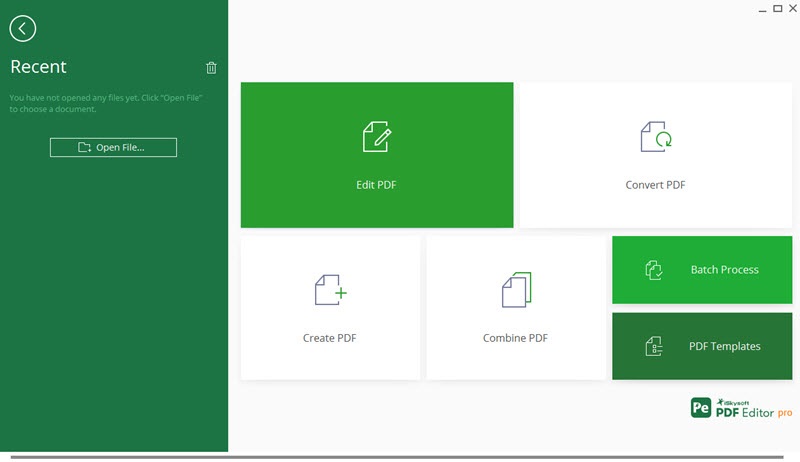 Part 1: Top 5 Tools to Create Word to PDF Online for Free
PDF Online is one of the most popular online Word to PDF creators, which provides you with an easy and effortless way of converting your word documents to PDF or vice versa. It is a fully free converter, which delivers high quality conversion and maintains the formatting of the original document. Also, it does not require an email address, and thus you can convert and then download the document directly.
Cons:
It has a file limit size of 2 MBs.
It does not support OCR (optical character recognition) function.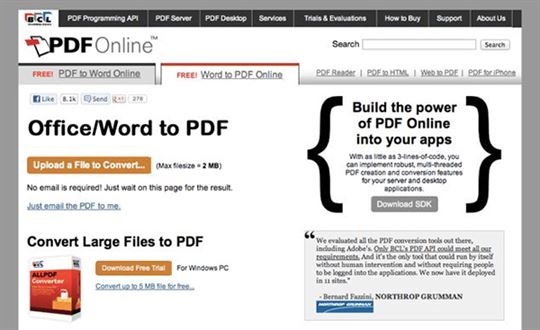 Docs.zone is another great conversion tool that allows you to create word to PDF online. The tool offers high quality conversion, which maintains the quality and formatting of the original document. It is fast, easy to use, and completely free when converting. It also comes with additional features such as OCR function, which helps when converting word documents that contain images.
Cons:
While the conversion is free, continuous use of the application will require you to subscribe to a monthly subscription program.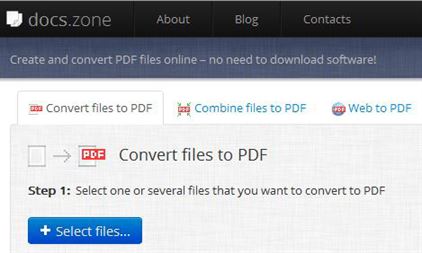 Doc2pdf is another great online tool for converting word documents into PDF format. The tool is completely free, and comes with a simple, 2-step conversion system (upload and convert), which ensures that you are able to convert your documents easily and quickly. In addition to Word, the converter also supports other formats such as Excel, PPT, TXT, HTML and Images.
Cons:
The converter has a file limit size of 25 MBs.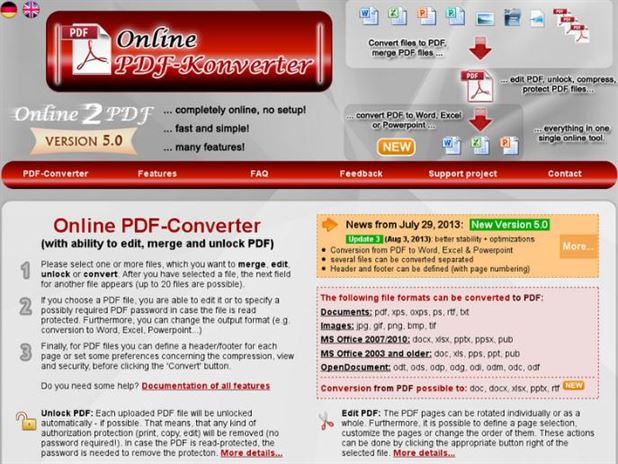 Small PDF is a free word to PDF creator online, which allows you to easily convert your word documents into PDF format. It comes with an easy drag-and-drop way of uploading the document, which helps to make the process as fast and easy as possible. The tool also allows you to import word document from Dropbox or Google Drive. In addition, it comes with other additional features such as merging and splitting of PDF documents and PDF compress function.
Cons:
The number of files you can convert is limited, and unlimited access requires you to subscribe to a monthly plan.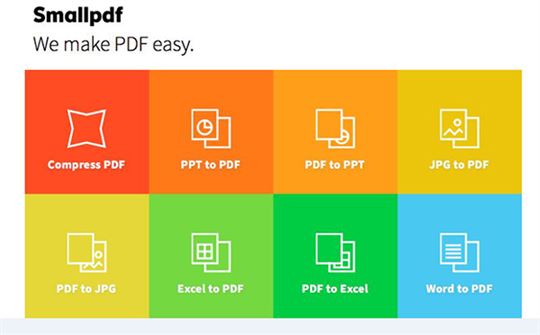 Go4Convert is a comprehensive online word to PDF conversion tool that allows you to easily convert your documents to PDF format. Accessible directly on your browser, the application does not require any installation. It is also very easy to use, with both an option of uploading the document to be converted from your hard disk or from the web. It also supports conversions such as PDF to word, JPG to PDF, PDF to ePub, and many others.
Cons:
The conversion process is a bit slow when dealing with larger file sizes.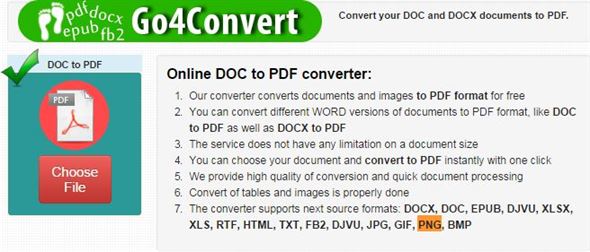 This website offer allows conversion from MS office to PDF and a few other image formats. It offers a four-step conversion where you go from selecting the file, choosing the output option, the file conversion and finally, the option to download the file. Developed by Ballsoft Software, the website offering a reverse conversion from PDF to other formats, this is a popular Office to PDF converter online.
However, you get to convert only a limited number and types of files to PDF. There are also limitations on the number of pages you can convert with a free account. The free service also imposes restrictions on the simultaneous conversion of files, meaning you will have to queue them up and also wait out the delay between file conversions. A one-time use of the service without restrictions would cost you 99$!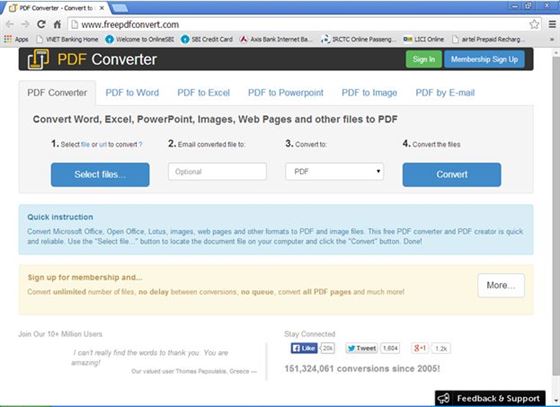 Another free MS Word to free converter, boasts of a number of more services than its competitors in the free category. Surrounded by advertisements on all sides with three small buttons in the middle of the page for conversion, the interface demands extra concentration. The website claims to support batch conversion, but you will need to install Silverlight for your browser or download their software for offline conversion.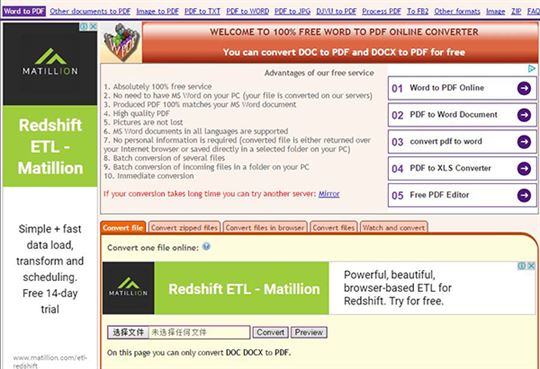 From Nitro Software Inc., this website offers a limited conversion between popular Office formats and PDF. Unlike some of the other such websites, they do not offer an image to PDF conversion. Their free service requires you to enter your email address for a free file conversion.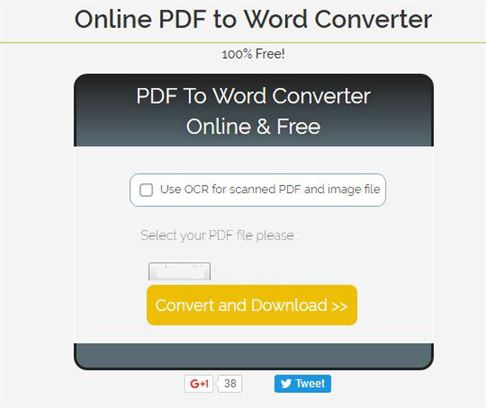 This website offers a free and fast conversion of Word to PDF online. The service does not support MS Office PPT format or the image formats. Like most other such free websites, they don't support batch conversion of Word to PDF conversion.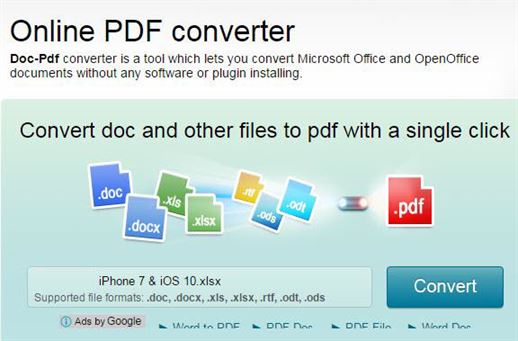 One of the few free services that offer conversion from cloud storage and optical character recognition, which is helpful in reverse conversions from PDF to MS Word. Supported by advertisements, it is similar to other websites and allows conversion of a single file at a time. Conversion of heavier files has an extra charge.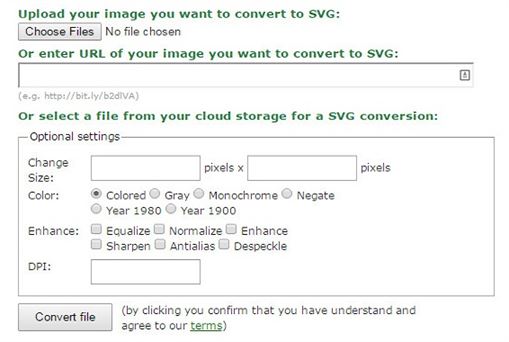 Supporting only MS Word to PDF conversion, convertword2pdf has the most simplistic, bare-bones conversion in this list. The social plugin makes the website load time longer and supports a single file conversion at a time.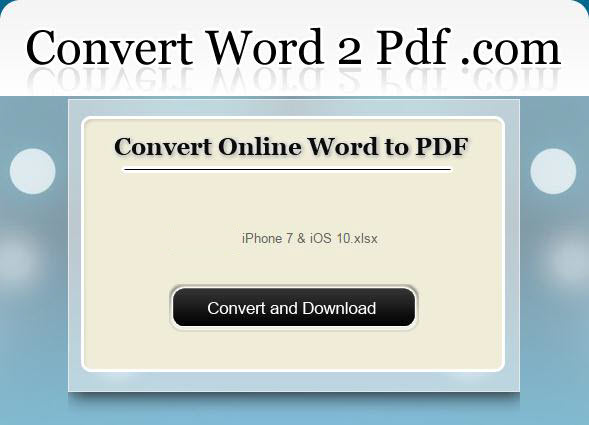 After testing each of these free MS Office to PDF converters for conversion capability, here's the final review. Although good for one-time use, free online services do not provide a complete MS Office to PDF conversion solution. The main concerns with these services are listed below:
1. The speed of conversion is not consistently fast for almost all of these free services and some of them limit the number of pages you can convert for free.
2. The quality of conversion on the Word to PDF converters online does not match the original Word file in most cases. Often times, you will find a misalignment of the text and layout.
3. Finally, most of these websites do not support batch conversion of files and even if they do, there is a queue or a delay involved. This is an important drawback because users often need the capability to work on multiple files.
Part 2: Create Word to PDF with the Best PDF Creator
The above word to PDF conversion tools are very ideal when converting small sized files that are required urgently. However, sometimes, you might need to convert larger size files, which might not be very ideal when using these online converters. Also, the privacy your files can be compromised when using the online converters, as most of them scan and store your files long after you have used the applications. This brings about the need to use more robust Word to PDF converters, which can guarantee high quality conversion, as well as the privacy of your documents.
A good example of such a converter is iSkysoft PDF Creator for Mac (or iSkysoft PDF Creator for Windows). It is an amazing Word to PDF creator tool that provides you with a quick and easy way of creating PDF documents from word documents as well as other documents such as Excel, Power Point, text, etc. The application delivers high quality conversion process, which allows you to maintain the quality of the original document, thus ensuring that your business documents are more professional. The application is also very easy to use, with a simple drag and drop method of importing the document, which helps to save time during conversion. In addition, the application helps helps to ensure the privacy of your files, since the conversion takes place on your desktop and the files are not uploaded online.
How to Create PDF from Word
Step 1. Open the Program
Download the application file and install the program on your computer by dragging the application file to the "Applications"section on your Mac computer.
And then double click on the program icon in the "Applications"section to launch the program.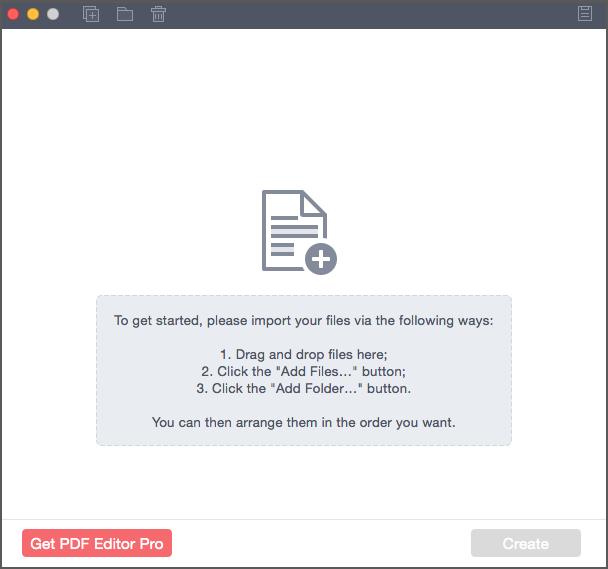 Step 2. Import Word Files
Import the file/files you want to convert into the program by either dragging and dropping them, or clicking the "Add Files" button located on the program's interface. In case you are adding multiple files, arrange them in the desired order before converting them.
You can also add multiple files by clicking on the "Add Folder" button located in the program's interface, which will allow you to add a complete folder of word documents.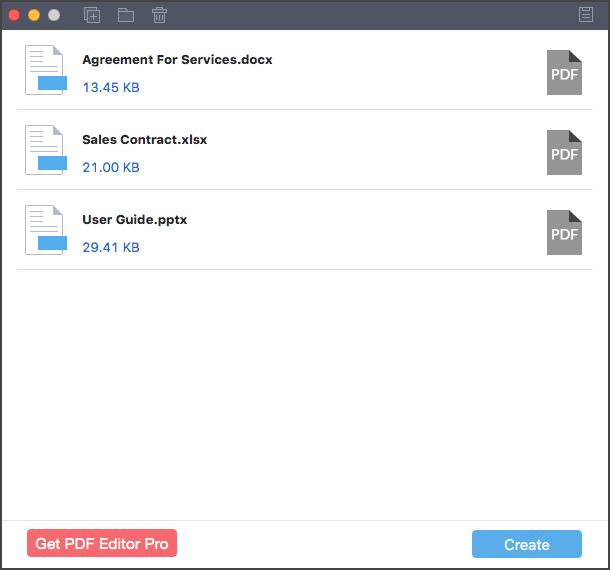 Step 3. Create Word to PDF
After you have added all the files you want to convert, click on the "Create" button located at the bottom right corner in the program's interface. Select a destination on your computer's hard drive where you want the files to be stored and then click "Save" to start the conversion process. Once the conversion is completed, the files will be saved in the selected location, from where you can access them.