Nitro Cloud refers to a web-based document solution that enables users to convert, collaborate, and sign PDF documents online. The program can be accessed in real time using any browser, anywhere and at any time. It promotes "less paperwork" as there are no more photocopies or scanning of documents. Moreover, all the parties involved receive a copy of signed agreement, and another copy is stored in users Nitro Cloud accounts.
iSkysoft PDF Editor 6 Professional for Mac (or iSkysoft PDF Editor 6 Professional for Windows) gives you the power to have full control over all types of PDF documents. You will be able to conduct everything with its advanced tools, from the simple tasks such as inserting, rotating, cropping, deleting and watermarking PDF files to the most important functions of converting PDFs to almost all the popular "business formats" like Word, PPT, Excel, EPUB and more.
Key Features of iSkysoft PDF Editor Pro
The PDF editor supports batch conversion of PDF files to other formats.
You can fill both the interactive and noninteractive PDF forms directly within the program.
It enables you to secure PDF files by adding passwords, placing custom stamps and using digital signatures.
The software allows you to share files through emails, printing them out within the program, or by uploading the documents directly to Dropbox.
iSkysoft PDF Editor comes with OCR technology that can be used to bring scanned PDF files into life.
Part 1. How to Use Nitro Cloud to Convert PDF to Word, Excel, etc.
Nitro Cloud is extremely simple and easy to use. The PDF to Word converter features a user-friendly design that allows everyone to convert, collaborate, sign documents and work smarter (and faster). You only need Chrome, Firefox, Safari or any web browser, to get started.
Method 1: Convert PDF file that's Not Already in Nitro Cloud
Step 1. Register or sign into your Nitro Cloud account here>>> www.gonitro.com/cloud/login
Step 2. After signing in, click on the "Add" button located on the right-hand corner. You can then drag and drop your PDF document for conversion.
Step 3. Select the output format, Word, Excel, etc.
Step 4. The PDF file will be automatically converted, and you can access it under "My Documents."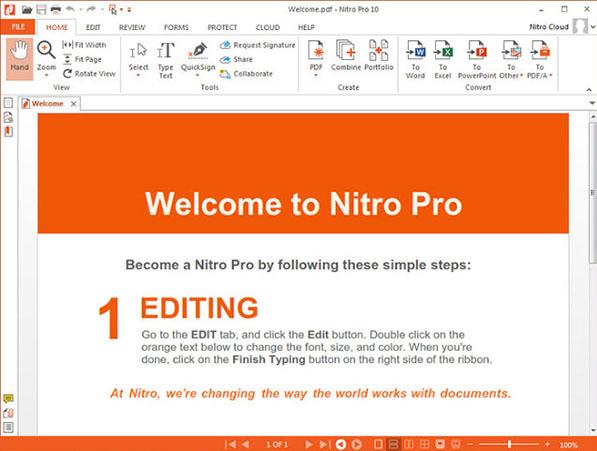 Method 2: Convert PDF Document that's Already Uploaded and Available in Nitro Cloud
Step 1. Once you are signed into your Nitro Cloud account, select the file that you want to convert from "My Document."
Step 2. Click on the drop down arrow located in the left-hand corner.
Step 3. Select to download the PDF file as Word, Excel or PowerPoint just within the drop down. The converted file will be automatically saved to "downloads" folder.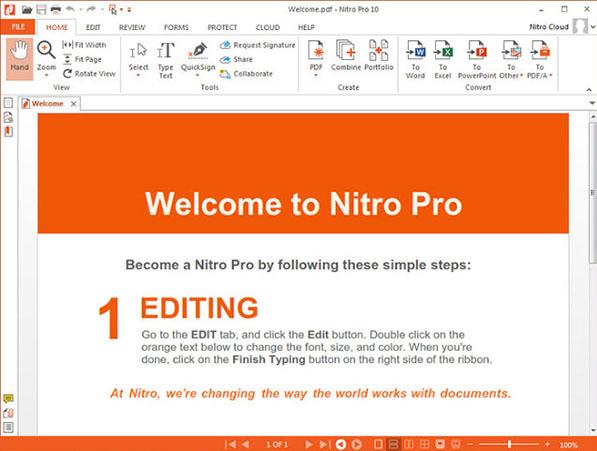 Part 2. Is Nitro Cloud Safe to Use?
Nitro Cloud PDF editor uses the latest technology to secure and protect user's data and their company's operational activities. The military grade security includes a sophisticated combination of security firewalls, SSL encryption authentication procedures, and permission structures. Furthermore, Nitro software and servers are programmed to be highly secure against malicious attacks and other types of breaches.
Troubleshooting on Using Nitro Cloud
Problem 1: Error Message Stating "There was a problem converting your file."
Solution: The main reason why a PDF may fail to convert to any supported format originates from inside the document. A table or an image can always break the conversion process. Check and remove your file's anomalies (if possible) before you can attempt to convert it again.
Problem 2: Failure to Receive an Email with the Link for the Converted File.
Solution: Sometimes, it takes a few minutes for your PDF files to be converted and delivered to your email. This is especially common in files with complex formatting or lots of pages. If you have not received the email completely, then your email provider may have intercepted it. The best solution is to add noreply@gonitro.com to the trusted contacts list, and then you can try the conversion again.
Problem 3: Error Message Stating "This file is password protected."
Solution: Some PDF documents may only be viewed after entering a password. Other files can be opened, but have restricted functionalities (Copying content, printing, electronic signing and more) that require a password. The error message appears because Nitro Cloud doesn't support password protected files. Therefore, you will have to remove the password protection first before you can edit the document with Nitro Cloud.
Problem 4: Can't Download the Converted File.
Solution: Nitro Cloud PDF Converter has a download limit based on plans. The free option lets you edit and download documents of up to 5MB and 50 pages per file while the premium and enterprise plans have a limit of 10MB and 250 pages per file.
Problem 5: Contents of the Converted Files Are Not Editable.
Solution: You can perform a conversion of a PDF file to Word compatible formats, but the output document may come out as a single image (not be editable). Actually, for a Nitro Cloud converted file to be editable in Word, the original PDF document must also be editable. You should be aware that not all PDF files are editable by default. To tackle this problem, all you need is a "PDF editing software" that can make the original PDF document editable prior to conversion with Nitro Cloud.
Part 3. Convert PDF to Other File Formats using Nitro Cloud Alternative
With the help of iSkysoft PDF Editor 6 Professional for Mac, you can easily convert your PDF documents to Word, Excel and more MS Office Formats as your needs. If you are a Windows user, you can use iSkysoft PDF Editor 6 Professional for Windows to do this conversion on Windows. Following the steps below to do the PDF to Word conversion easily.
How to Use Nitro Cloud Alternative
Step 1. Install the software
First, download iSkysoft PDF Editor 6 Professional for Mac from the web then drag the downloaded file to "Application" on Mac or click and open it in Windows. The program will be successfully installed on your device.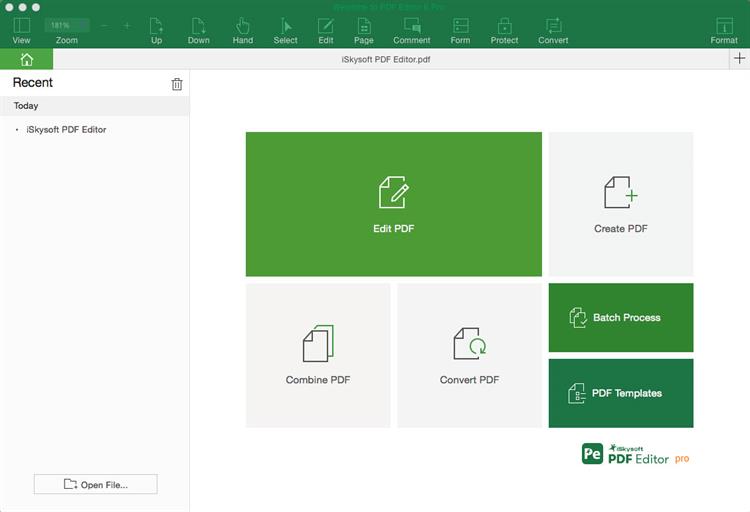 Step 2. Import PDF documents
After launching the software, click on the "Open File" button located on the main window. You will then be directed to the folder where you have stored the PDF files. Search for the document that you want to upload and click "Open."
This is an alternative method where you can click on the blank area within the program and then start "dragging and dropping" PDF files to the software's interface.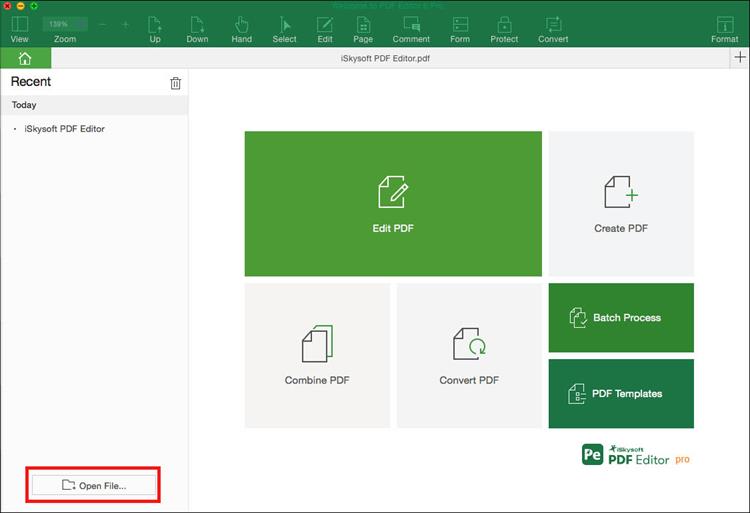 Step 3. Convert PDF to Word, Excel, etc
Click the "Convert" button from the primary window and then drag the PDF documents you want to convert to the pop-up window. Select your preferred output format (Word, Excel, PPT, etc.) and click on the "Convert" button.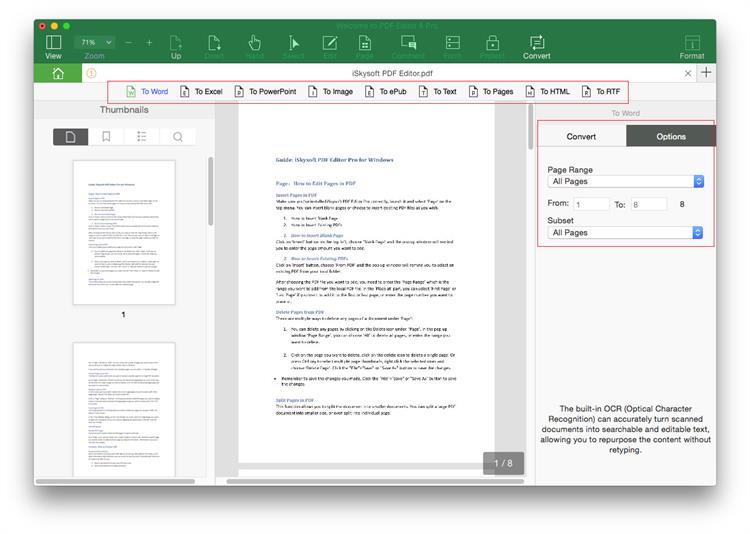 Step 4. Batch Convert PDF to Word, Excel, etc
If you want to convert multiple PDF files to other formats in batch, you can open the "Batch Process" tab in the Homepage of the program. Click "Convert" > "Add Files" to import PDF files to the new opened window. Then you can set the output format according your needs. After this, click "Convert" to start converting PDF documents in batch.