Storing files on your smartphone is a very smart way of increasing their mobility. It ensures that they are always a few clicks away from sharing whenever the need arises. The challenge is virtually all smartphones don't come with any built-in word to PDF converter apps. That means if you want all the benefits and advantages of having your smartphone documents in PDF format then you have to download and install a Word to PDF app. This article reviews the top 10 word to PDF apps that you can install on your smartphone. If you have the needs to convert Word to PDF on desktop, you can try PDFelement Pro.
Part 1. Top 5 Word to PDF Apps for iPad and iPhone
This word to PDF converter application is one of the best because it can convert Word to PDF and vice versa. In addition to that, you can also use it to convert other file formats (like JPEG and PNG) to PDF. The app comes with multiple benefits that include zip option that allows you to send multiple files at a go, integrated cloud storage, WiFi and USB file transfer options, and ability to work offline.
Cons:
It is not a free app and will cost you $9.99.
Some features like cloud storage require internet connection.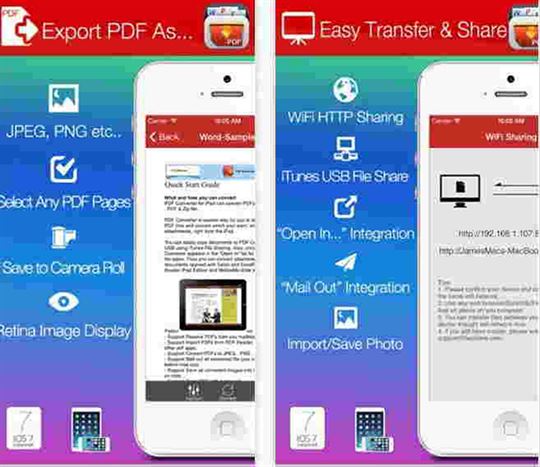 ---
If you are an Adobe loyalist then here's one for you. This word to PDF app requires that you subscribe to the Adobe PDF Pack after which you can access word to PDF conversion services on your iPad or iPhone. Whereas the subscription will cost you as much as $9.99 per month, the actual use of the app is absolutely free.
Cons:
At a rate of $9.99 or $7.50 per month, it is one of the most expensive options in the market.
The desktop version of the same app is better and more user-friendly.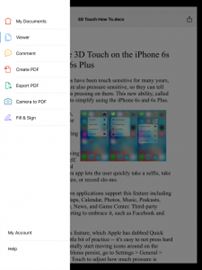 ---
This word to pdf converter app is designed to strictly convert Doc or Docx files to PDF. That should not be a problem because the two Microsoft Word formats (Doc and Docx) are in fact the most popular. One of the best things about this app is that it works in offline mode and therefore you don't need internet connection to use it.
Cons:
The converted PDF documents can only be read using iBooks, GoodReader or Adobe Reader.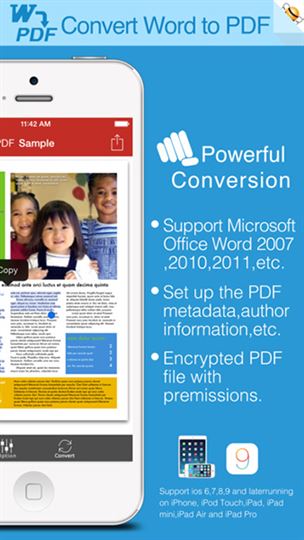 ---
File converter first uploads your Word files to a cloud where it is converted before being transferred back to the file converter app on your iPhone or iPad. The logic behind that technology is that the app will not consume a lot of your device's battery power since the actual conversion happens remotely. It is worth noting that this word to PDF converter app can also convert pretty much any other file format to a format that you want.
Cons:
You must have internet connection to use this app.
Can't handle a file that is more than 100 MB in size.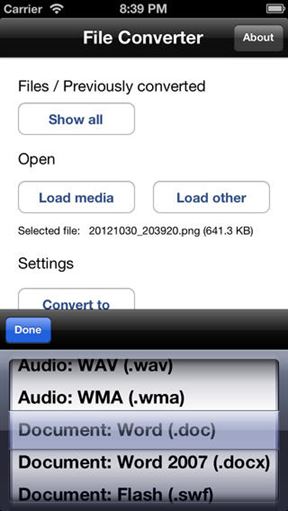 ---
Save2PDF was created by EuroSmartz Ltd. in order to enable file conversion from Word (and other formats like iWork) to PDF. It allows you to convert one file at a time or merge all your files into one PDF document. In addition to that, the app can access your cloud storage account (iCloud, Dropbox, or Google Docs) and convert a document that is stored in there.
Cons:
Designed strictly for iOS 5.1.1 or later versions.
Not a free app and you will be required to pay $4.99.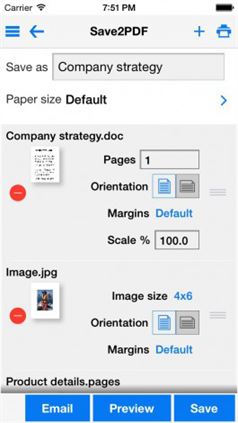 ---
Part 2. Top 5 Word to PDF Apps for Android
This free-to-use word to PDF converter app works in a very simple manner. Simply find the Word document that you want to convert, select it, and then specify the output format as PDF. One of its cool features is that it can also convert a PDF file back to Word. Please note that Able2Extract PDF Converter is a full-service package that can also convert other file formats. If you are only interested in Word to PDF then you can settle for Able2Doc PDF to Word which converts PDF to Word and vice versa.
Cons:
Has no option for you to preview your document before conversion.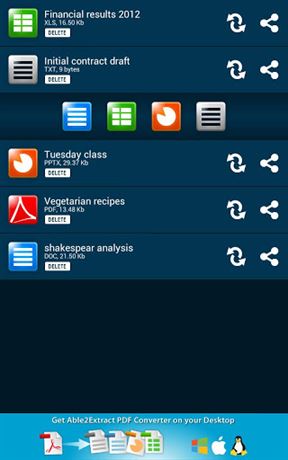 ---
This online-based app requires internet connection to do conversions. You can convert Word documents (DOC, DOCX, ODF, ODT, OTT) to PDF very easily and quickly on your Android device. The app comes with an array of safety features. For instance, you can add passwords and other encryption styles to your PDF file for extra security.
Cons:
It is online based and that tends to limit people who have no internet connection.
The online platform doesn't resonate well with people who don't trust cloud-based storage.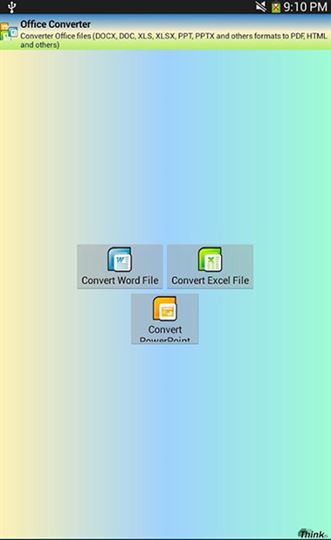 ---
This is a great word to PDF converter application for you if you are looking for something that is easy to install but still very efficient. It takes up very little of your phone's RAM and can convert doc and Docx files to PDF (which you can share via email). You can also use it to merge multiple files into one PDF document.
Cons:
Requires Android 2.3 or later version to work. This should not be a big hindrance though because most modern Android smartphones meet the requirement.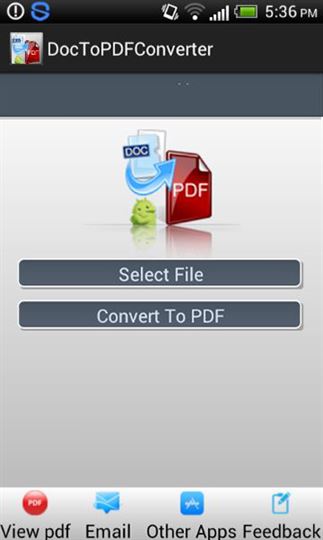 ---
PDF Converter Pro is a great Android app because it allows you to preview your file before downloading it. That means you can make any necessary changes without going through the whole process of uploading a new file every time you notice a mistake. The app supports doc and Docx Word format. It also allows you to download the resultant PDF file directly to your phone, Gmail, Google+ and other platforms.
Cons:
Doesn't indicate the destination folder for converted files.
Although it is free when you start, after a while, you will be asked to pay monthly subscriptions.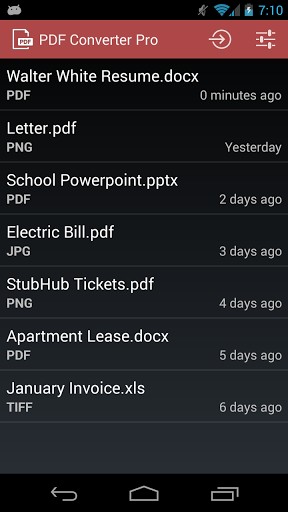 ---
This free to use app is the final one in our list. It earns its spot here owing to its multiple benefits. For instance, it works offline, works fast, has many features for customizing your PDF, and allows you to share the file easily.
Cons:
Requires a high-resolution screen (320x480 pixels) to display the PDF.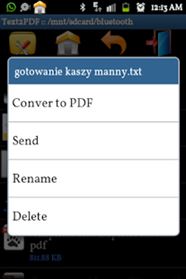 ---
Part 3. The Best Word to PDF Converter
PDFelement Pro is a easy-to-master and professional PDF Converter. With the help of this PDF converter software, you can not only convert Word, Powerpoint, and other documents to PDF, but also can easily convert PDF to many popular file formats such as JPG, PNG, GIF, TIFF, BMP, etc. At the same, the quality of the file will be maintained, and you can add as many pages you want.
Why Choose This PDF Converter:
Easily create PDF from other formats and create PDF forms.
Convert PDF to images, Word, Excel, PPT, EPUB and more formats.
Batch convert multiple PDFs in a few steps.
Easily edit PDF texts, graphics, images, links, watermarks, etc.
Convert and edit scanned PDF files with OCR-tool easily.
Mark up and annotate PDF files with multiple markup tools.
Combine multiple files into PDF and split PDF into several files.