Adobe Acrobat has become indispensable software for many when it comes to reading, commenting on or printing PDF files. It remains the singular PDF file viewing software that not only opens PDF documents of all kinds, including various multimedia contents, but also lets the viewer edit and interact with the PDF file. Here you will find the necessary information about Adobe Acrobat Updates and the issues facing the software.
iSkysoft PDF Editor 6 Professional for Windows(or iSkysoft PDF Editor 6 Professional for Mac) is an All-in-One PDF Editor. This tool allows you to edit your PDF files in a simple way. With this smart PDF Editor you can convert your PDF files in Word, PPT, Image and other popular file formats. To save your time, you can even convert your PDF documents in batch. The advanced OCR feature can give you a better experience on editing and converting of the scanned PDF files.
Why Choose This PDF editor:
Easily edit PDF texts, graphics, images, links, watermarks, etc.
Convert PDF to images, Word, Excel, PPT, EPUB and more formats.
Create PDF from other formats and create PDF forms easily.
Easily mark up and annotate PDF files with multiple markup tools.
Combine multiple files into PDF and split PDF into several files.
Add watermark, signature and password to PDF.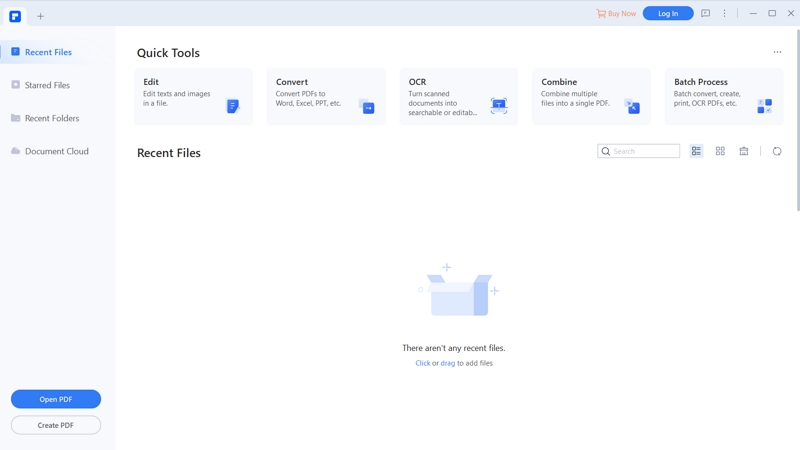 Part 1: Adobe Acrobat Update on Mac and Windows
Updates are quite crucial for the health of any software. Updates assist you in fixing small bugs that might have developed since the last time you installed Adobe Acrobat Reader. Therefore, it gives you better security along with added features making the platform more functional. Following is the method to check for updates in Adobe Acrobat Reader, in both Mac and Windows PC:
Check for Updates:
Step 1. Open your version of Adobe Acrobat Reader by double-clicking on the icon on your desktop.
Step 2. Once the Adobe Reader window opens, go to the Help menu.
Step 3. When the menu list opens, click on the 'Check for Updates' option.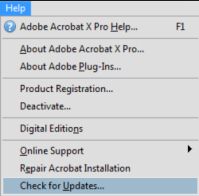 Once you check for updates the next step is to properly install the updates. Here's a small guide on how the updates can be installed on your Mac or Windows PC both automatically and manually.
Automatic updates can be availed using the Acrobat Refresh Manager which scans the Internet for updates whenever you are connected and prompts you automatically with pop-up messages on finding one. Once an update is automatically located you just have to click on it and follow the instructions to install it. Occasionally the system needs to be restarted to complete the updating process.
Manual updates can be done in the given method:
1. While manually checking for updates, make sure that you are connected to the Internet.
2. Once your Mac or Windows PC finds an update, click 'Add' on the version you would like to download.
3. You will be prompted to install the said version. Click on the 'Install' button.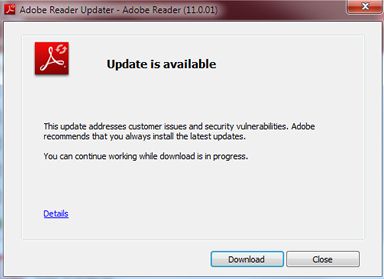 Part 2: Adobe Acrobat Update for Full Versions
| Adobe Acrobat Update Version | Download Address | Main Features |
| --- | --- | --- |
| Version 7.0 | Version 7.0 Updates >> | PDF version 1.6, embedded 3D object information of the .u3d format, Adobe LifeCycle Designer 7.0, Adobe Acrobat 3D Toolkit. |
| Version 8.0 | Version 8.0 Updates >> | PDF version 1.7, Acrobat Connect, PRC & CAD file formats |
| Version 9.0 | Version 9.0 Updates >> | PDF version 1.7, Acrobat Standard, Web Capture, playback of Flash Video or H.264 video, Adobe ClearScan (OCR) |
| Version 10.0 | Version 10.0 Updates >> | 'Sandboxing' protection for Windows XP, Windows Vista and Windows 7, Compatible with Windows, Mac OS, Android, and iOS. |
| Version 11.0 | Version 11.0 Updates >> | revamp PDF editing |
Part 3: Adobe Acrobat Plugin Update on Firefox, Chrome and Safari
| Adobe Acrobat Plugin | Download address | System & Browser Requrements |
| --- | --- | --- |
| Firefox | Download Adobe Acrobat Plugin on Firefox >> | Compatible with Firefox for Android 11.0 - 16.0a1, Firefox 10.0 and later, SeaMonkey 2.7 and later versions. |
| Chrome | Download Adobe Acrobat Plugin on Chrome >> | Windows 8, Google Chrome (version 8.0.552.215 or onwards) |
| Safari | Download Adobe Acrobat Plugin on Safari >> | Safari browser, Mac OS X v10.4.3 and more. |
| Internet Explorer | Download Adobe Acrobat Plugin on IE: Internet Explorer > Tools > Manage Add-ons | Windows 7 or 8 |
Part 4: Adobe Acrobat Update Troubleshooting
There are sometimes troubleshooting issues while trying to use Adobe Acrobat updater. Listed below are some of the situations and what you can do then.
1. Disable Adobe Acrobat Updater
Occasionally troubleshooting problems are solved by disabling the Adobe Acrobat Reader and reinstalling it. Here's a guide to do it:
Step 1. For Windows 7 and Vista users go to the Control Panel from the Start menu. There click on the Programs And Features option. Click on Adobe Acrobat and select the Uninstall option, and do as the instructions on screen say.
Step 2. Windows XP users will have to double-click on the Add Or Remove Programs option in the Control Panel. There find Adobe Reader and select Remove and tag along as per the instructions.
Step 3. Thereafter, you can reinstall the software again by following the already downloaded setup or the software DVD.
2. Adobe Acrobat Update Problems in Plug-in
If your plug-in updates don't work normally you can manually update them.
For Internet Explorer Go to the Tools Page, and click on Manage Add-ons. Then fix the Show menu to "Add-ons that have been used by Internet Explorer." There search and click on Adobe PDF Reader and select the 'Enable' button. Finally click OK.
To make the Firefox plug-in work, go to Firefox in Windows. From Options click on Applications. There select an appropriate content type from the Content Type section. In the Action space, choose an application to open the PDF, e.g. pick 'Use Adobe Acrobat (in Firefox)'.
For plug-in update issues in Chrome access the address bar in Chrome, and write 'chrome://plugins'. Once on the page you will have to disable the Chrome PDF Viewer, to then enable the Adobe Reader or Adobe Acrobat plug-in. Finally shut the Plug-ins tab and reboot Chrome.
3. Adobe Acrobat Plug-in Update Troubles on Mac
To install the Firefox plug-in manually on a Mac OS, do the following:
Step 1: Click on Firefox.
Step 2: On opening the browser navigate to Preferences and select Applications.
Step 3: There you need to decide on an appropriate content type on the Content Type segment.
Step 4: Then connect the content type with the application to launch the PDF document, e.g. to work the Acrobat plug-in inside the browser select Use Adobe Acrobat NPAPI Plug-in.
4. Adobe Acrobat Update Installation Error
While to install Adobe Acrobat Reader you have to stick to the easy two-step method of downloading the software from your web browser and then running the installer set-up on your operating system, sometimes the installation fails. In that case check your browser to see if the JavaScript program is enabled there. If not, then enable it.
5. Anti-virus Blocking Adobe Acrobat Reader
Occasionally anti-virus softwares like Jiangmin, Comodo and Rising erroneously treat the Adobe Reader installation application as malware and block it. Incorrect error messages like "Suspicious", "Trojan/JmGeneric.bcy" and "TrojWare.Win32.Trojan.Agent.Gen" are generated by the anti-virus system consequently. Occasionally users also face the "Failed to Initialize" error report in such situations for the installer gets quarantined.
To prevent such unnecessary scenarios antivirus software sellers and service providers are working towards recognizing Adobe Acrobat Reader as legal software. So, check for the latest update available in your anti-virus.