If you own a small business and you don't know how to handle your files, document management software can be the solution. What is such software used for? Firstly, DMS is useful when it comes to streamline a business process. Going paperless it's the main goal of businesses nowadays when everything should be easily accessible. Document management software for small businesses will surely improve the internal workflow, ensure the safety of information and make the core index and search function much more efficient than before. Small businesses will actually have the chance of becoming bigger and bigger with the help of DMS. Plus, it eases the work of both the employer and the employees by helping with document handling. Here's a list with DMS examples and what they are capable of doing. You can choose the best document management software for small business from this list below.
The 5 Best Document Management Software for Small Businesses
PDFelement Pro is one of the PDF editor suitable for small businesses. This small business document management software can handle tasks such as: editing, converting and securing PDF files. PDF files. Editing text directly in a PDF file can be a tricky task, but using iSkysoft will save you a lot of time and trouble. This business document management software also being able to mark-up your documents: any business would find this specific feature extremely useful. Advanced OCR feature also allows you to edit and convert scanned PDF files with ease.
Key features of This Document Management Software for Small Business:
Edit both text and images or even combine/split pages included in the document.
Adding notes, highlighting, underlining or stamping a PDF with your signature make it sound like your job will get much easier.
Converting PDF files to other type of documents such as Word, Excel, PPT, images and so on can be extremely convenient for small businesses, keeping in mind that various access to information is vital.
Adding password to batch PDF files and remove them when you please, so security is not something one should worry about either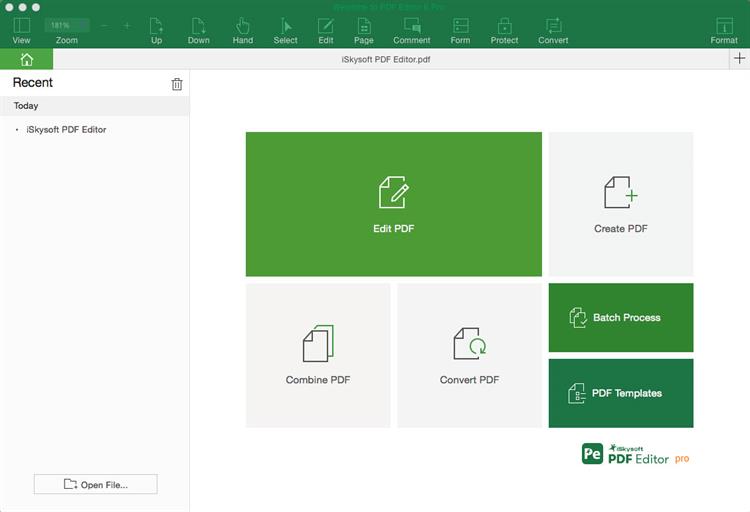 ---
For a small business, managing and having all document management software for small business your documents visible from one single place sounds like the ideal situation. This is possible while using Sohodox, a program that will allow you to:
Organize each and every document following your own requirements.
You can sort your documents out with the help of folders, meta data or tags.
You will be able to use a search engine for whenever you need a certain document that you have to find right away.
Set up links between documents, import any scanned image to the program, offer access to more than one user or even add annotations.
Sohodox is compatible with any kind of document file you may think of and it also offers you a Dropbox integration feature and a database where it stores data (this will grant you both flexibility and security).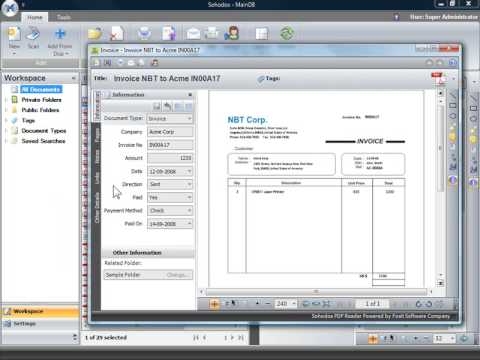 ---
eFileCabinet software offers their users a large variety of services such as:
A highly secured cloud management.
Tools for compliance.
A user-friendly platform that won't give you any trouble when accessing it.
Setting up permissions after your own will .
Downloading a free mobile app
This means that eFileCabinet is both reliable and secure, not to mention the fact that it is very comfortable to use. Like any other document management software, it will make your business more efficient by bringing every document in the virtual environment rather than using lots and lots of paper to store them in a physical place. When it comes to choosing a platform for viewing documents, the eFileCabinet mobile app can be the greatest choice in terms of utility and comfort. Mobile DMS is both convenient and responsive, helping the user save time and impress clients while knowing their data is safe.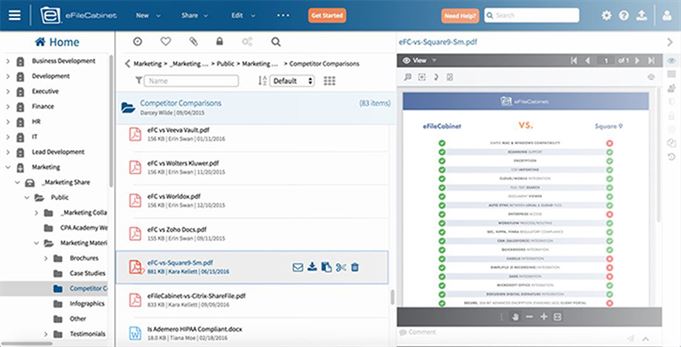 ---
MasterControl Spark DMS can help any user say goodbye to inefficiency and lack of revision control. Having the possibility to reduce the time you spend finding and routing documents is more than beneficial to a small business. This software includes features like:
Linking metadata to documents.
Translating the whole system in case you are managing documents overseas.
Configure the workflows.
Create controlled copies and add multi-users to the program.
If you were worried about not being able to combine your files to a single one you should know that MasterControl Spark has a PDF binder feature to take care of this task efficiently and quickly. In case your small business interacts with others there is a virtual collaboration workspace where no matter the location or time zone you can are being given access to external parties.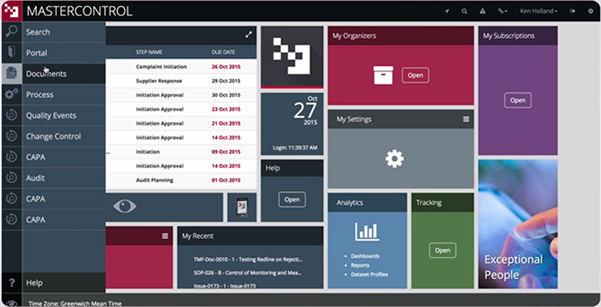 ---
PandaDoc DMS offer their users the possibility to integrate with tools they are already using. Managing documents can be done by simply accessing your favourite CRM software. The features of PandaDoc includes:
Being able to access the software from different workspaces depending on your teams.
Assessing roles for each of the team members.
Analyse every document and data regarding its accessors.
This program is also suitable for adding logos or customer footers to your documents or emails, along with an auto numbering technique that uses an applied sequence.