PDF is one of the most widely used and secure formats for sending secure documents, presentations, and memos. What is PDF redacting? The term refers to the permanent removal or deletion of images, texts, or parts of a PDF file. For instance, if your PDF document has important information such as your bank account number, home address, email address, or any other personal info, you should delete the details. Doing so will prevent others from accessing your personal information. Failure to redact personal details has affected businesses and individuals negatively in the past. Below are detailed guide to help you to redact form in PDF to protect important information.
The Best Tool to Redact Form on PDF
If you want a redacted form in PDF, you should use iSkysoft PDF Editor 6 Professional for Mac (or iSkysoft PDF Editor 6 Professional for Windows). It is an amazing software that has vast editing tools. Not only does it allow you to distribute and align text fields to edit texts, but it also comes in handy for extracting, deleting, adding, cropping, and replacing images in PDF with just a few clicks. Using iSkysoft PDF Editor 6 Professional for Mac, you can combine multiple documents into a single PDF file or split a large document into smaller ones. Have you ever wanted to comment on a PDF file? This software makes it possible to annotate your thoughts.
This PDF form redaction tool also makes it possible to edit PDF files. After making the necessary changes on a document, you can convert it into different formats: EPUB, HTML, PowerPoint, and Excel. It also supports multiple OCR languages, including Italian, Polish, French, Bulgarian, and German. Moreover, you can use it to enhance the safety of PDF documents.
Key Features of This PDF Redaction Tool
Create and convert PDF – you can make your own PDF file from scratch and convert it to any format.
Create and Fill PDF forms – fill out your forms easily.
Increases your PDF security – this feature is ideal for those who want added security on their PDF files.
Modern PDF sharing – you can share the document across multiple platforms.
Edit PDF - Edit, markup, and annotate PDF documents and add comments to PDF.
Steps to Redact Form on PDF
Step 1. Launch the PDF Redaction Tool
First you need to download and install the iSkysoft PDF redaction tool to your Mac. And install it by dragging it to the "Applications" folder. And then launch the program.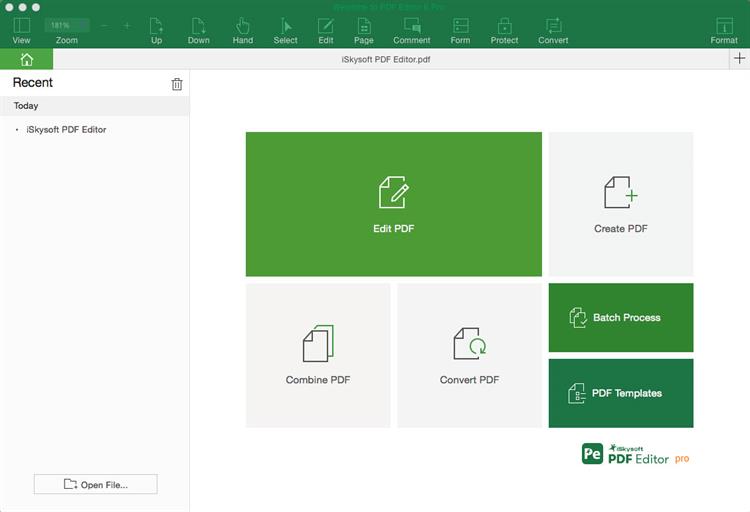 Step 2. Import the PDF Form File
You can import either by clicking the "Open File" button, after which you will be taken to your computer's drive to choose the file or using drag and drop. When using drag and drop, you just have to drop the selected files to the interface; an automatic upload will occur.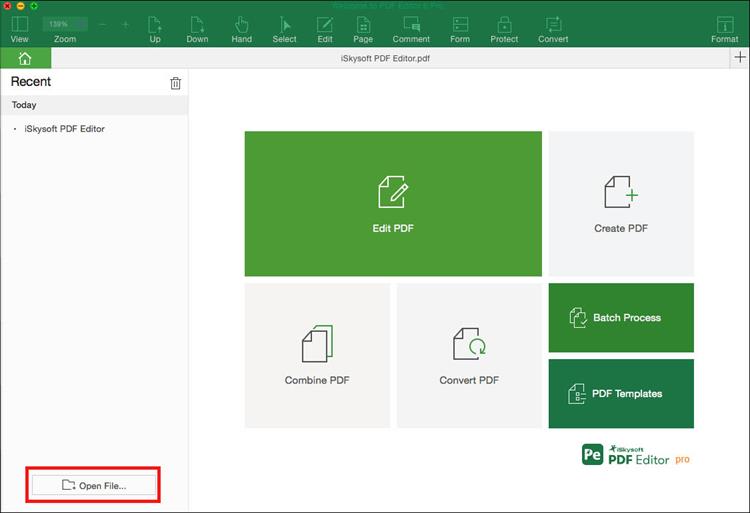 Step 3. Start Redacting PDF Forms
When you want to redact a form in PDF, you need to use the "Redact" button under the "Protect" tab. Highlight all the information that you want to remove and redact it. This will make it easier to share the file without giving away your personal info.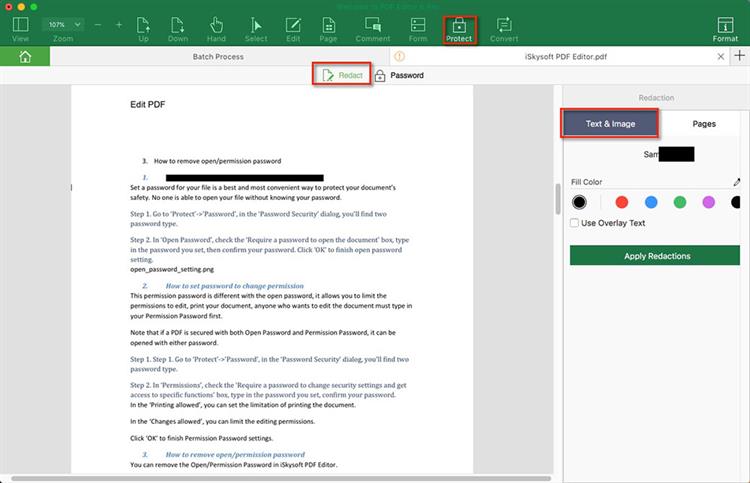 After that, right click on the redaction area and select "Apply Redaction" to process the redaction on PDF form.