Before publishing or sharing PDF files through email or on a local area network, it is imperative that you redact images in PDF that contain sensitive information that you do not want the general public to see. Even if you are going to add passwords or permissions to protect the PDF files, people can still access the content that those files have by hacking the passwords. Since redacted PDF images will be blacked out and completely removed from the documents, there is no way that hackers will access the sensitive information that they contain. With the right PDF redaction tool, you can easily customize the redacted images or areas with customized color, redaction code and overlay text. Besides blacking out the content, the redaction tool will also delete the underlying images and texts. Below we will show you the best option.
The Best Tool to Redact Image in PDF Easily
There are many PDF editors that come with redaction tools, but if you are looking for the best one, you should try iSkysoft PDF Editor 6 Professional for Mac (or iSkysoft PDF Editor 6 Professional for Windows). The redaction feature that it comes with is very effective. If you have tried to redact images with other software programs without being successful, you can rest easy knowing that iSkysoft PDF Editor Pro will not disappoint you. It offers you a very powerful redaction feature that you can use to black out images, texts and pages in your PDF documents very easily. It is the only software that you can use to mess with your PDF documents without altering their original layout.
Apart from allowing you to redact PDF files very easily, it also allows you to convert PDF documents to other formats without any hassle. It also comes packed with a variety of other security features that you can use to enhance the protection of your PDF files.
Key Features of This PDF Redaction Tool
It allows you to redact PDF texts, images and pages in a few simple steps.
It comes with fast and accurate OCR technology for converting and editing scanned PDF files.
It has advanced security features for protecting your PDF files, including redaction, passwords, digital signatures and custom stamps.
It allows you to fill out interactive and non-interactive forms very easily.
It has a user friendly interface that makes is very easy to use.
Steps for Masking Text in PDF
Step 1. Launch iSkysoft PDF Editor 6 Professional for Mac
First, download iSkysoft PDF Editor 6 Professional for Mac. Once the download process is through, you will need to install it by moving it to the "Applications" folder on Mac, and then launch it to access the main program window.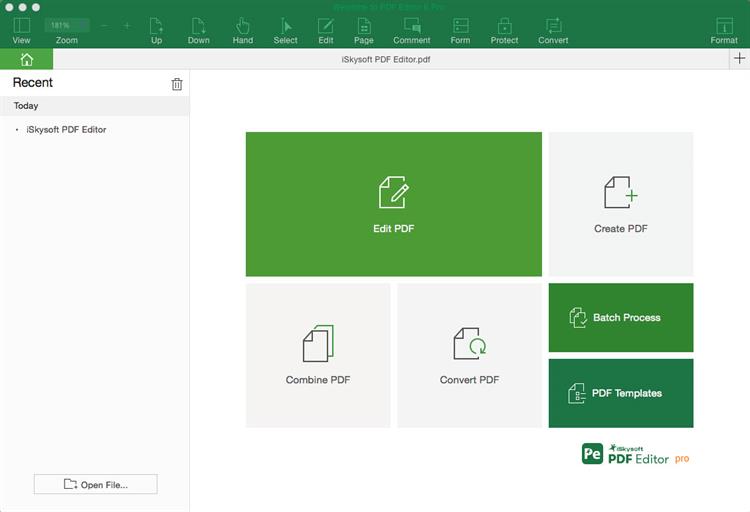 Step 2. Import the PDF File to Redacted
After that, open the PDF file that you want to redact by clicking on the "Open File" button in the program's main window. And select the PDF file from your local folder and import it to the program.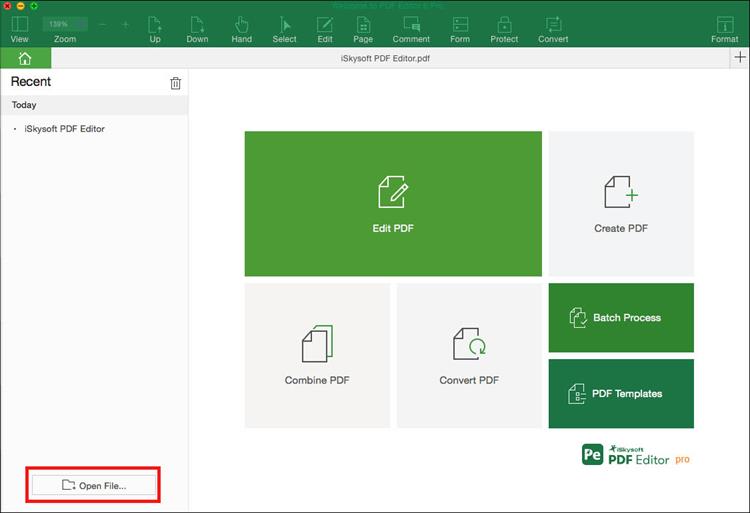 Step 3. Redact Images in PDF
After the PDF file you want to redact has opened, simply go to the top right corner of the program window and then open the "Protect" menu and click on the "Redact" button. You can open the option for covering or redacting information and then you can choose the items that you would like to redact by clicking on the "Text & Image" or "Pages" button. You can also change the color according your needs.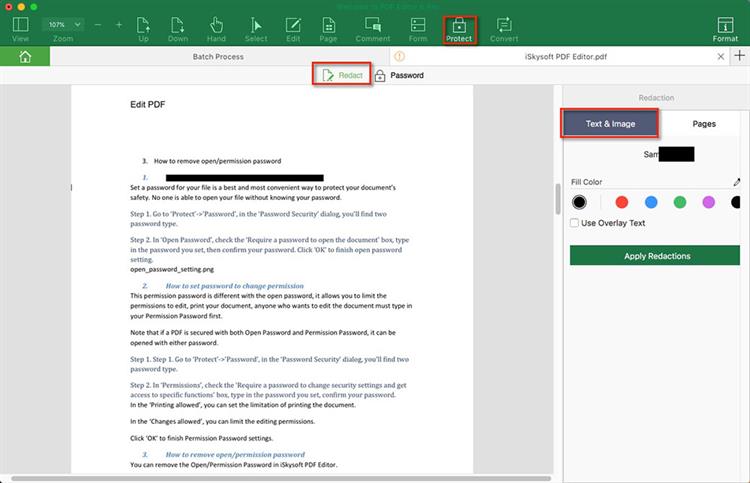 Finally, click "Redaction" and then "Apply Redactions" to save the changes.