Part 1.

The Importance of Making a Good Resume

A resume is a summary of skills, training, education, and achievements you have made in your employment history. A resume aims to convince the recruiter that you are the right candidate for the job. A resume can make or break your chances of clinching and seeking your dream job, and you cannot afford to give room to flaws. The importance of making a good resume includes:
It grabs the attention of employers and recruiters- When writing a resume, you aim to grab the attention of the recruiters. A well-crafted resume appeals to the recruiters and gives them a good impression of your profile.
Sells your strongest skills and accomplishments- A good resume seamlessly displays your most vital skills and achievements. Therefore, recruiters won't struggle to pinpoint your strengths.
It shows you are a match for the job- A good resume matches the skills and experience to what the recruiter demands. Therefore, the recruiter can easily find that you are a match for the job.
Gets you a job interview- Many job seekers fail to make it to the interview stage because of below-par resumes. A good resume has a matrix of strengths that puts you in the front seat of getting a job interview.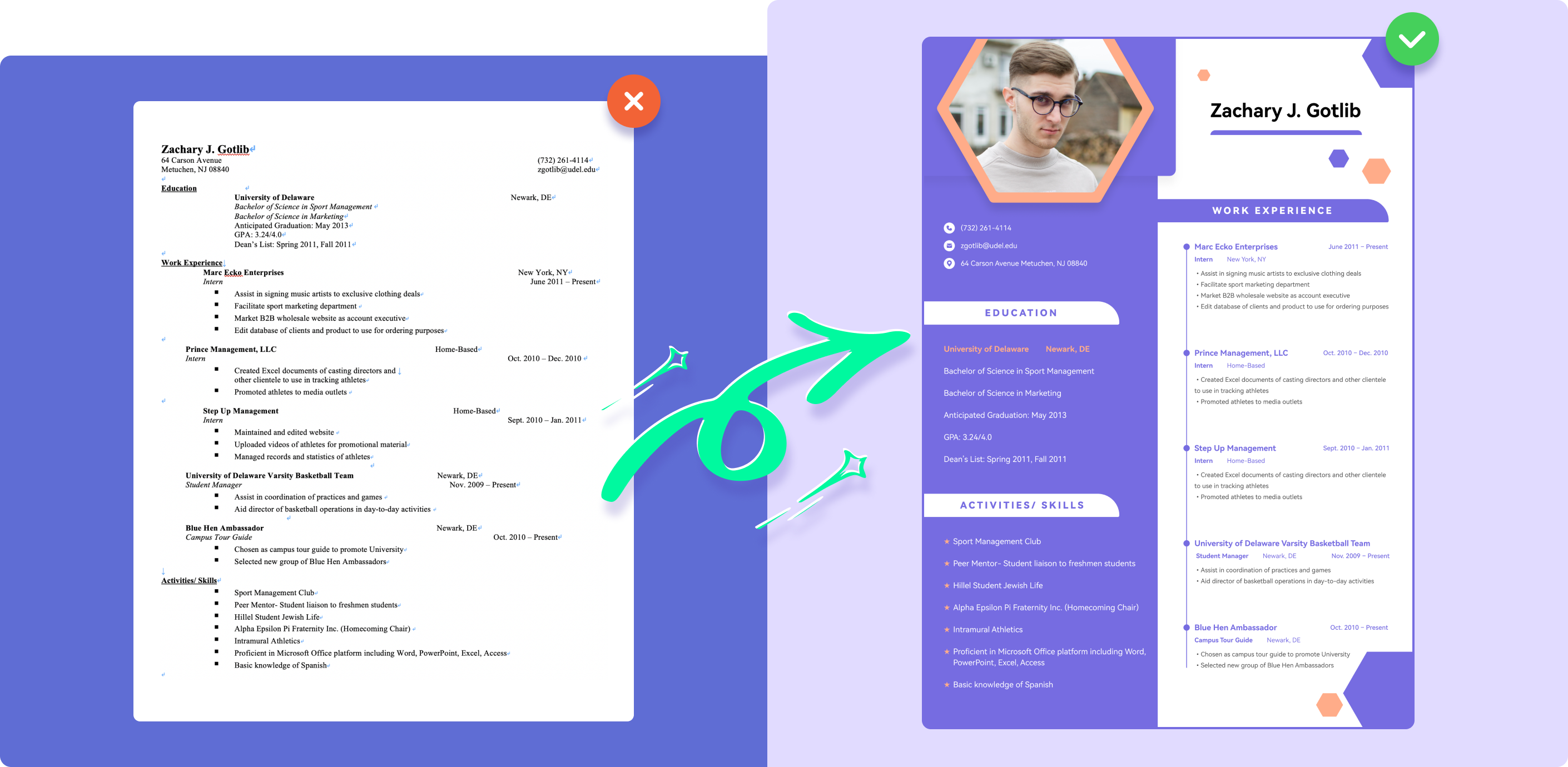 Part 2.

How to Make a Good Resume

Making an up to par resume can be a challenging task. However, it can be a simple task if you get a matrix of things right. So let's dig into how you can make a good resume.
Pick the Right Resume Format
Picking the right resume format is the first thing in the right direction when creating the proper resume. Typically, there are three types of resume formats to pick from. These formats are:
1

Chronological Resume

As the name suggests, a chronological resume is a resume that follows a particular order or sequence. This resume outlines your work history starting from the most recent. This resume format emphasizes your steady employment record, titles, responsibility, and former employers.

Pro: The good thing about a chronological resume is that it is easy to write and makes the employer appreciate your career growth and development.

Con: The drawback is that it is easy to spot employment gaps and can disadvantage your job quest, especially when age and job-hopping are fundamental factors.
2

Functional/Skills-based Resume

This type of resume puts emphasis on the skills and strengths that matter to the employer. This means you omit detailed work histories like specific dates, places, and names.

Pro: This resume is better if you are a recent graduate, have outstanding job skills, are changing careers or freelance, or you do not want to draw attention to your age.

Con: Because of the low depth, many employers dislike it, and it is not a good bet if you want to showcase your career growth and development.
3

Combination Resume

Just from the name, a combination resume is an integration of the features of a chronological and functional resume. It combines the strength and flexibility of the other two resume formats to obtain a format that gives a strong employment record, skills, and strengths.

Pro: This format is excellent for displaying how you have developed your skills over the years and not just about specific positions and titles. Work history is not the main focus and doesn't take up much space.

Con: If you have limited work experience or if your work experience has a large gap, it is best not to use this resume template.
Tips
Which Resume Is Most Suitable for a College Student?

College students with limited work experience can still produce a stellar resume. Combining resume formats can gain the benefits of a chronological resume and a function/skill-based resume. It contains a typical college student resume. It should revolve around volunteer work, educational achievements, awards, activities, and hobbies, but it should also emphasize the applicant's strengths and abilities.

For What Type of Career Background Is a Chronological Format Most Suitable?

A chronological resume is best for people with extensive work experience. Here are the top 10 occupation types in Chronological Format:
Business, Computer Science, Architect, Nurse, Pharmacist, Project Manager, Web Developer, Teacher, Bar Manager, and Human Resources.

What Types of People Are Suitable for Functional Resumes?

A Functional Resume is also known as a skills-based resume, and it focuses more on your skills and areas of expertise than the details of your work experience. Therefore, the best option is a functional resume for people with limited work experience, gaps in work experience, or looking to change jobs. It emphasizes the skills and knowledge gained through the specific job itself or the duration of the job.

When Would You Use a Combination Resume?

If you are an early career professional with 1-3 years of work experience, are changing careers or industries, or have no gaps in your work history, then a Combination Resume is more suitable for you.
Information Provided in a Good Resume
The information you provide in your resume can make or break your chances of claiming that coveted job. Therefore, specific information should be ingrained for any resume to be termed good. Otherwise, it will fall below-par and is even doomed before it lands on the employer. Since a chronological resume is by far the most common resume method, let's take it as a sample and break down some of the information you should include to make it a good resume.
1

Contact information

Your resume is as doomed as a crucial letter without an address without contact information. The content and cosmetic can be top-grade, but the absence of contact information nullifies its essence. Contact information enables employers to contact you for an interview or job, and you cannot afford to miss in your resume. Provide your full name, cell phone number, email address, and other relevant social media handle. Make sure the contact information is accurate and reliable.
2

Objective or Summary Statement

The objective or summary statement gives a summary of what the employer expects from you. It highlights your skills, strengths, and how you will utilize them for the benefit of the company. Writing a killer summary statement helps grab the employer's attention and significantly reduces the chances of being discarded.
3

Relevant Skills

Skills are considered a crucial flesh of your resume, and it is not surprising that resumes that match the needed skills are often selected by the Applicant Tracking System. Mention skills that are relevant to the job you are applying for. The good thing is that these skills are highlighted in the requirements or qualifications sections of the job advert.
4

Professional Experience

Many companies/organizations rate experience highly, and it is a metric that throws many under the bus. A rich experience is often equated to problem solving and reliability. Highlight your professional qualifications in a detailed and clear manner to impress the employer. Mention your previous employer, position, duration, and achievements or awards. If you graduated recently, include internship programs and respective responsibilities.
5

Education

The education section helps to highlight both your academic qualifications and educational background. Capture the colleges and schools you attended, including the various honors and achievements.
6

Additional information

If there is any additional information that can help your resume tick more boxes, don't hesitate to add it. It can include volunteer work and special interests. However, this section is not mandatory.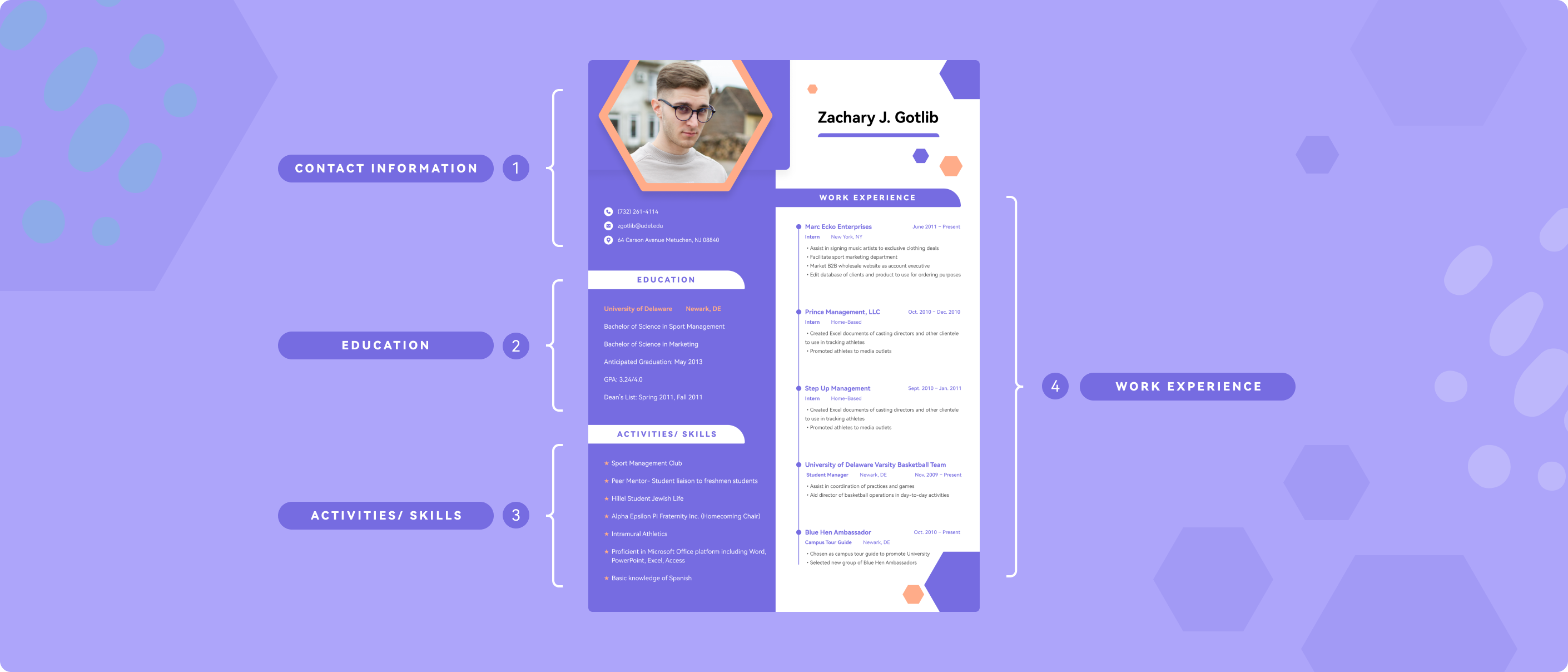 The 5 Worst Resume Mistakes to Avoid
While you are working extremely hard to make your resume impressive, perhaps you are also making grave mistakes with your resume, on the other hand, without knowing. Some of the worst resume mistakes to avoid include:
1 Failure to maintain formatting or failure to select the correct layout- Formatting and layout can attract or chase the recruiter. Choose the right colors, font style, and size to create a stunning appearance. Because your resume may contain texts, form fields, images, or annotations, it is recommended you convert them to PDF. This way, everything is kept intact and doesn't change when the file is opened.
2 Provide false information- You might not appreciate the need to be genuine until you get caught in falsehood. The immediate result is a disqualification. If you manage to sail through, you will have a rough time defending the false information you attached to your resume. To avoid a series of embarrassments, desist from giving false information in your resume.
3 Make typos and grammatical errors- Typos and grammatical errors give a bad impression about the quality of work you offer. While it might look basic, typos and grammatical errors are a turn-off for most recruiters.
4 List unrelated work experience- Experience is one area that paints your ability to handle the job in question. It is complicated for recruiters to proceed with a resume whose work experience is unrelated to the job they applied for. Make sure your job title and roles under work experience are related to the job.
5 Make a resume too long or cut it too short- stuffing your resume with too much information makes it long and boring to read. Again, cutting things too short makes it too simple, and you will probably omit some of the crucial content. Ideally, it is good to conclude all the information in one paper. If that is impossible, just make things clear for the recruiter.
Part 3.

How to Make a Resume with PDFelement | Free Resume Templates

PDFelement offers an amazing platform to create, edit, and directly share your resume via email. The following steps illustrate how to make a
resume with PDFelement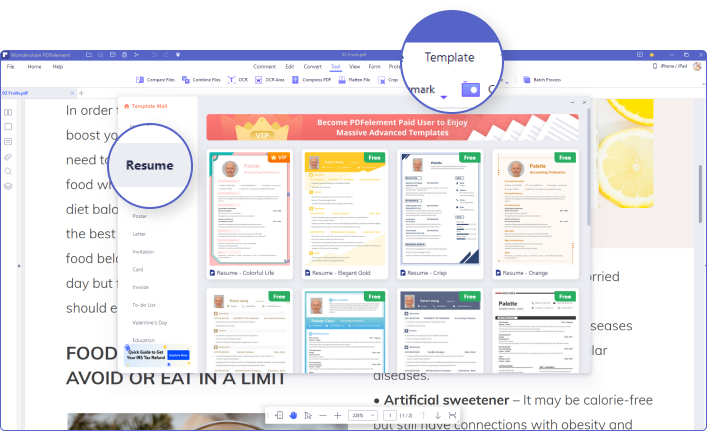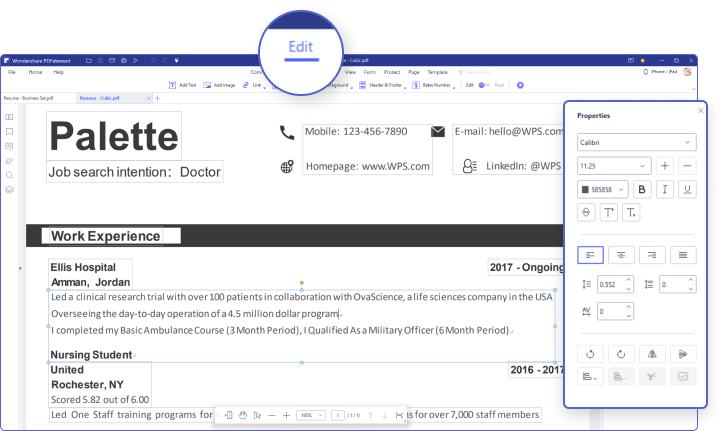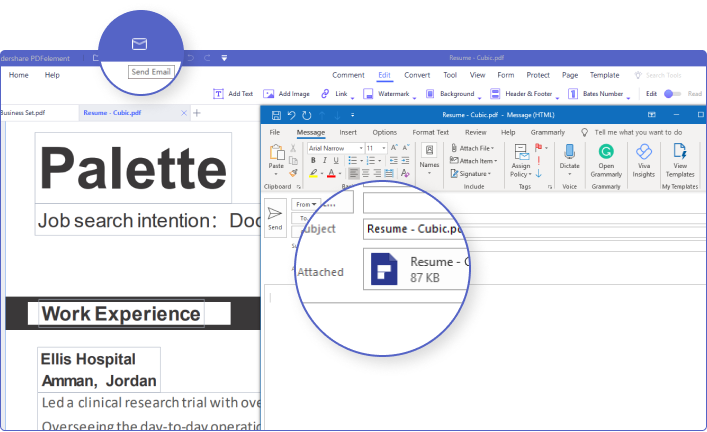 Part 4.

Get Free Templates Now