When it comes to converting PDFs to a fillable form, the first tool you may consider is Adobe Acrobat. However, this method can be complicated for beginners and may lead to problems or challenges. PDFelement Pro is the best alternative solution for you to convert PDF to fillable form on both Windows and Mac systems. Here, we cover 4 easy methods to convert PDFs to fillable forms.
Method 1. Convert PDF into Fillable Form
To convert PDF to fillable form, you can use PDFelement Pro. This professional PDF form creator provides an easy way to convert PDF to a fillable form and to other popular file formats according to your needs.
Step 1. Open the PDF Form
Launch the program. In the main interface, click 'Open File', browse for the PDF form you want to import into the program. The form will now be opened in PDFelement Pro.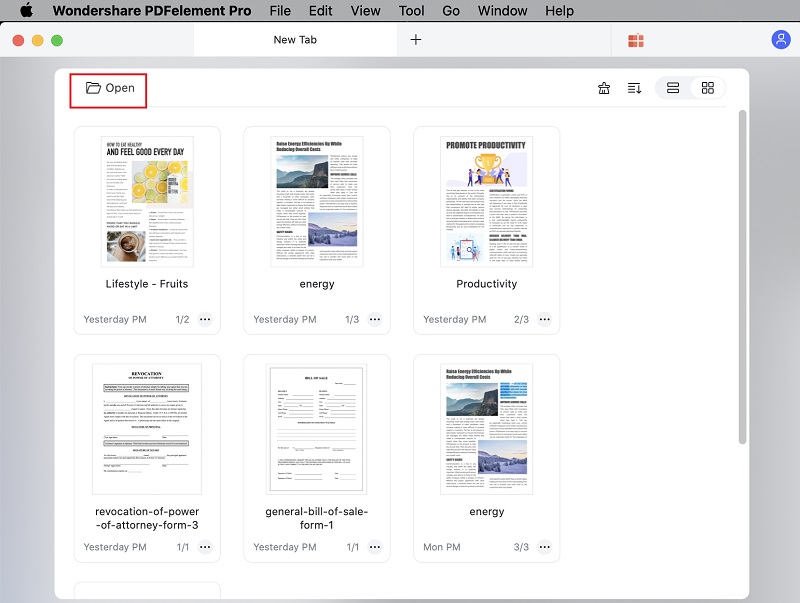 Step 2. Fill out PDF Form
For interactive PDF forms: The file will be automatically recognized and the form fields will be highlighted. You can simply click on any field to fill out or change the information.
For non-interactive PDF forms: You can go to the 'Form' tab and click on the icon of 'Text Field' to input text into the form.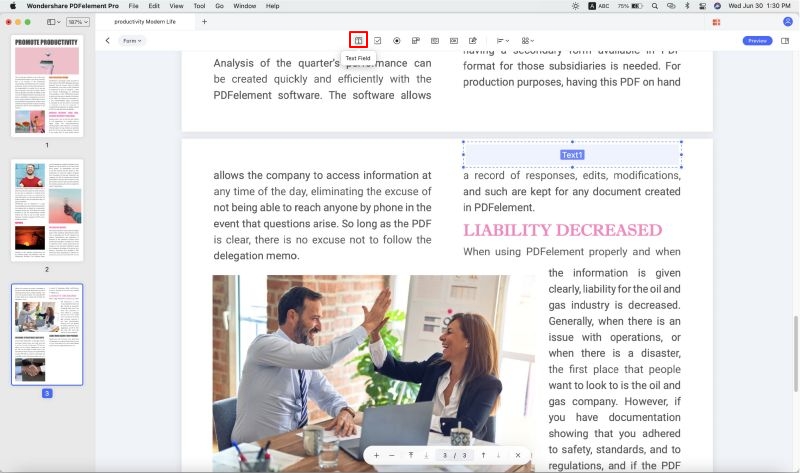 Note: This powerful PDF editor also allows you to export or import PDF form data to save PDF form data or fill PDF forms.
Step 3. Create Fillable PDF on Mac
If you want to make a personalized PDF form, go to 'File' > 'Create' > 'Blank Document' to create a new PDF file. Then click the 'Form' tab to place text fields and buttons according to your needs.
---
Method 2. Convert PDF to Word to Make PDF Forms Fillable
PDFelement Pro is an ideal PDF to fillable form Converter. Also, iSkysoft PDF Converter Pro comes with all the features you need to convert scanned and native PDF files to Excel, Word, EPUB, PowerPoint and many other formats. In addition to that, it is designed with advanced OCR technology that can convert scanned files to editable text. It also supports 17 OCR languages. Let's convert the PDF file to Word format first.
Step 1. Run iSkysoft PDF Converter
Run iSkysoft PDF Converter and import your PDF Files into the program. You may drag and drop the several PDF files into the interface of the program. Click the button to set the output format.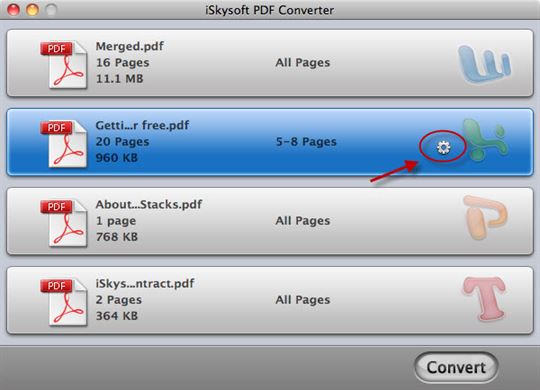 Note: You may choose to convert a specific page range from the "Page Range" menu.
Step 2. Choose the "Word Doc" as the Output Format
Choose "Word Doc" as the output format prior to converting the PDF to Word on your iMac or Macbook. Click "OK" to confirm the output format setting.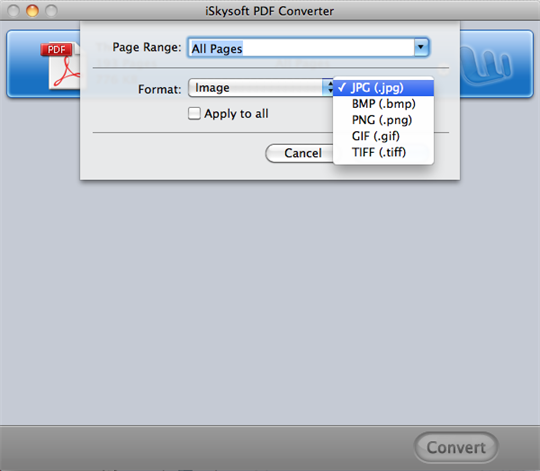 Step 3. Start to Convert Your PDF Files to a Fillable Word Form
All you have to do is click the "Convert" button to start the process. Once this is done, you can open the file to view your finished document.
---
Methos 3. Convert PDF to Fillable Form with Adobe Acrobat
To be able to convert your PDFs into a fillable form using Adobe Acrobat, follow the steps below.
Step 1. Open PDF on Adobe Acrobat
First, open Adobe Acrobat. Click the "Tools" pane at the top right corner of the program, find "Prepare Form" and click "Opne" to choose the file you'd like to convert. And then choose "Start" to prepare the form.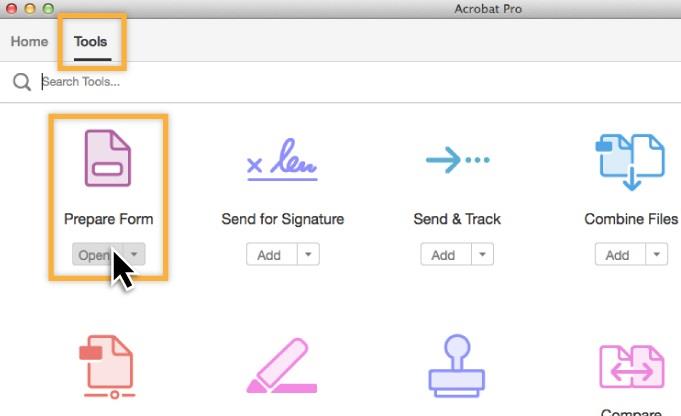 Step 2. Fill the PDF form
Acrobat will automatically detect and create interactive form fields from the file you've uploaded. You can quickly and easily edit the PDF form as you want.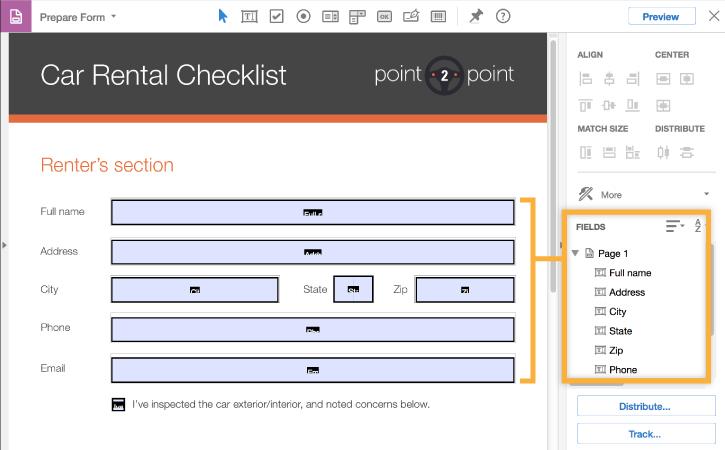 Step 3. In the next window, you will need to select one of the following options.
- Current Document to convert the current open PDF file into an interactive form that you can edit.
- Choose Another File to convert a document that you have saved on your computer into an interactive PDF form.
- Scan a Paper Form to scan a paper from your printer and then convert it into an interactive PDF form.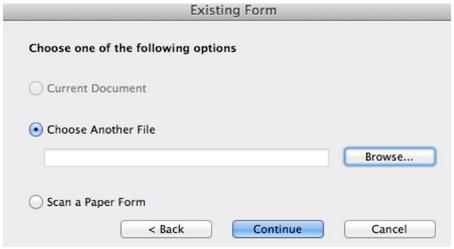 Step 4. Once you have specified your selection, click Continue. Adobe Acrobat is going to create the form accordingly and then open it in form editing mode.
Cons of Converting PDF to Fillable Form with Adobe Acrobat
1. Adobe Converter is very expensive as compared to most other converters available on the market.
2. It can be difficult to use.
3. Your PC should be configured correctly to use the program properly.
---
Part 4. Convert PDF to Fillable Form Online for Free
Step 1. Visit www.pdffiller.com. Look for the option that says "Browse your Documents" and then click on it.

Step 2. Once you click on "Browse your Documents", you will be directed to your computer to choose the PDF file that you want to convert to a fillable form and upload it. Wait for the file to load.

Step 3. When the PDF file finishes loading, you should see "Done" in the top-right part of the window that will come up. You will also see a lot of editing features that you can use to fill out your PDF document. Edit the document accordingly and then save it.

Cons of Converting PDF to a Fillable Form Online
1. You need an internet connection.
2. The resolution is small.