The importance of protecting a PDF file with a password not only ensures sensitive documents are not accessed by the wrong parties but it also prevents unwanted edits from others. Other reasons to password protect your PDFs include protecting your copyright content and intellectual property. You can easily secure PDF files by adding passwords to your PDF document using PDF editing software. You can also protect a PDF with other methods like adding watermarks and setting editing permissions to name a few. In this article, I will teach you 4 methods to secure PDF.
Part 1. The Best Tool to Secure PDF Files
By protecting your PDF document with password, you can prevent unauthorized tampering and leakage of information when circulating it among different people. PDFelement Pro can do the job very easily. It can help you to password protect your PDFs from opening, editing, and copying.
The Tutorial for Securing PDF Documents using PDFelement Pro
There are various ways to secure a PDF document which include – password protection, watermarks, signatures and setting editing/printing permissions for the file. The various ways can be implemented together or one for each document – whatever is needed as per your requirements. Let's have a look at how you can make a PDF secure through each of these methods.
Step 1. Import PDF
Open the program and launch it, and then click on "Open File" option and browse through the various PDF files on your system and select the one you require.
Step 2. Set Password for Your PDF
Go under the "Protect" tab, click on the "Password" button, and click on the "Encrypt with Password". You can either protect your PDF from opening or you can allow or block other permissions such as printing or copying.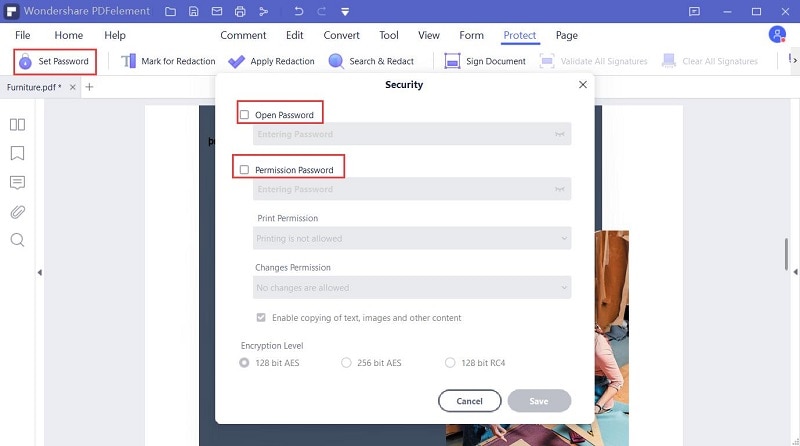 Tips: Keep the following points in mind:
When you are creating a password, ensure it is long and strong, with at least eight characters and a mix of upper and lowercase letters, numbers and symbols. The harder the password, the harder it is for criminals to decrypt.
Make your password unique to your life and not something that is easily guessed. Use very long phrases that are special to you and will be memorable.
Use and have different passwords for each of your online accounts. This removes the uncertainty in case one account is breached.
Another way to protect your PDF document is to add a watermark i.e. a transparent mark (logo or text) that is embedded on each page of the document. No one can remove a watermark and if someone takes out a print out of your document then the watermark will go along with it marking your rights. You have the option to either add text or customize it and add some your logo as a watermark in the document. If you want, images can also be added as watermarks.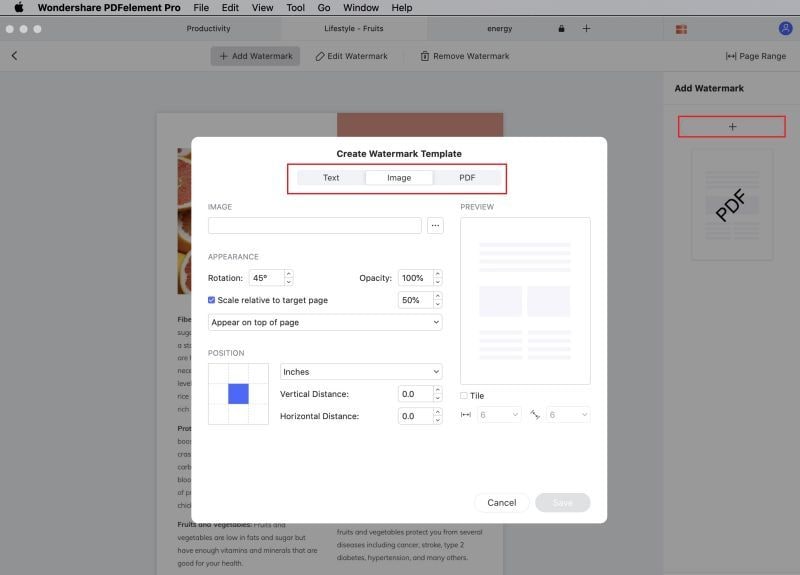 You can add a signature of yours with the help of any editing software or directly through PDF. There are various options in this section also as you can either add any of your digital signatures that you use elsewhere or you can create a new signature and add it in the document. Mostly the signatures are added either in the header or footer. Even here no one can remove your signature while printing out or copying the document though the same cannot be said if the document is being copied in parts only.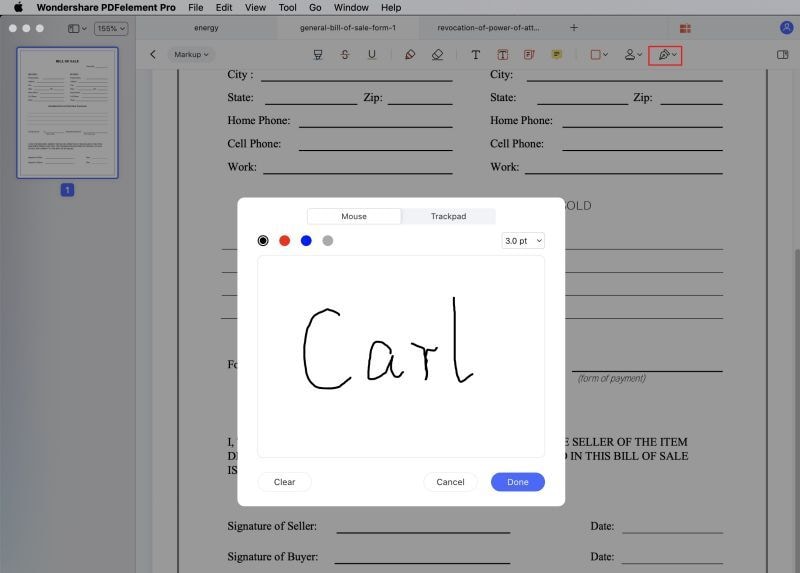 The last option is to set editing permissions for your document so that even though people can view your document but they cannot make any changes or edits to the document without the password. This is a great way to use if you want to share your document with others but don't want them to fiddle with it and make any changes.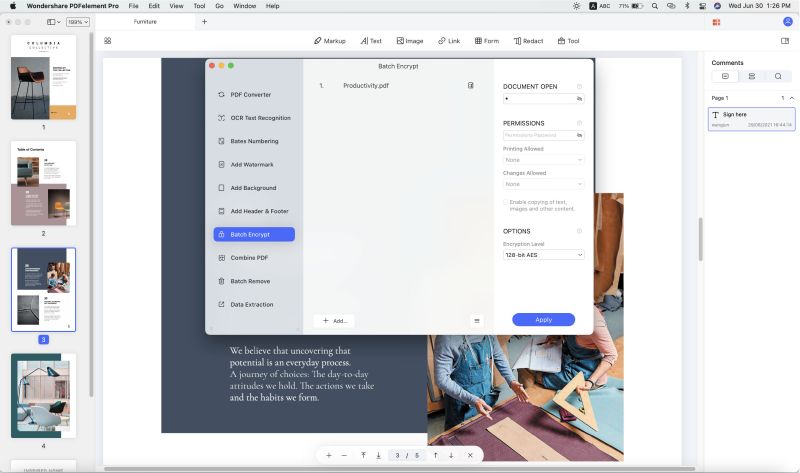 Why Choose PDFelement Pro to Secure PDF Files
As a professional and multi-functional PDF editor, PDFelement Pro not only can help you to secure your PDF files, it also provides you multiple PDF editing tools to help you edit PDF pages and contents with ease. This PDF tool comes with advanced OCR tool to help you easily edit and convert PDF document with ease.
Why Choose This PDF Editor:
Secure your PDF by adding passwords, watermarks and signature.
It helps you with general editing of PDFs.
You can also convert PDFs to Word and other formats.
Function from combining PDFs to filling out forms and annotating PDFs.
The OCR feature helps you fully control the scanned PDF files.
---
Part 2. Secure a PDF with a Password in Adobe
Adobe is the best editing software for PDF documents for securing documents. While it is possible to secure PDF without password, we recommend implementing a password for added security. We would recommend using Adobe over other third-party software on how to secure PDF document with password. Adobe comes with features you will not find in third-party PDF editing software. Some of these features include compatibility with different formats, graphics editing capabilities and online collaboration. You can also lay down custom security features to secure a PDF with a password.
Want to know how to secure a PDF document with password using Adobe? Well, it's a relatively simple process.
Step 1. Open the PDF, go to Tools >select Protect >click on Encrypt >then choose Encrypt with Password.
Step 2. When you get a prompt, click 'Yes' to change security settings.
Step 3. Click on the option 'Require A Password To Open The Document' then add the password to the relevant field. There will be a meter to indicate the password strength. You now secure PDF with password.

Step 4. If you plan to send the document to someone, then go to 'Options' menu from Compatibility menu. Select a version equal to the recipient's version of Acrobat Reader. Hence, they will know how to secure PDF without password. You can choose the encryption option between 'Encrypt All Document Content' and 'Encrypt All Document Contents Except Metadata'. Then press "OK"

Limitation of using Adobe to secure PDF files: Using Adobe to secure PDF with password will ensure the safety of the data and ensure you against any data leakage. As it will not allow anyone to get into the documents.
Adobe Acrobat is very expensive. If you want the full version of Adobe then you need to pay more than 50 dollars.
If you are new to Adobe Acrobat, then you won't know what to do. There is no proper tutorial on different functions like how to unsecure a PDF file without password.
Furthermore, if you have encrypted and send it to someone else, it can be very difficult to unsecure PDF without password.