PDF converters work wonderfully for multiple purposes. However, there may appear some issues in the process of using Adobe to convert PDF to Excel. Sometimes, without an apparent issue, the program fails to deliver the expected outcomes. And sometimes, the user lacks the knowledge on how to manage such tasks and get to the desired outcome themselves. For instance, in many cases, in which the PDF file was created by using another program and not the Adobe Acrobat one, there may appear complications while converting the files. Below there are two techniques everybody could use in order to succeed converting their files and documents.
Convert PDF to Excel with Adobe Acrobat Alternative
Maybe one of the most reliable alternatives that you have is the PDFelement Pro. Packed with plenty of smart tools and PDF conversion capabilities, the software is able to deliver incredible results to all the users. Instead of using Adobe Acrobat to convert PDF to Excel, you can use this Adobe Acrobat alternative to convert PDF to other file formats easily. This PDF tool also allows you to convert multiple PDFs in batch.
How to Export PDF to Excel Using Acrobat X Alternative
Not only this software can be used for a multitude of purposes, but it is also fairly easy to be used. This software will help you solve the problem that converting PDF to Excel using Adobe is not working. There are only several steps, which require a small amount of time. Below we will detail those steps for you.
Step 1. Install and Launch the Program
After installation, simply launch the program like you usually would with any other system.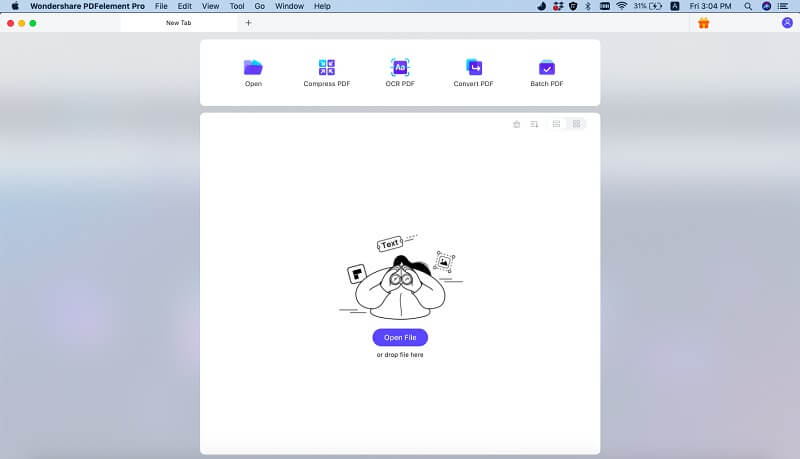 Step 2. Import PDF to Acrobat X Alternative
After launching the system, on the program's home page you will find a "Convert PDF" tab. Click it and select the desired PDF file from any given folder on your computer in order to convert it to the desired format. As the product is offering plenty of alternatives, PDF files can be converted to Word, Excel, PPT, HTML and images.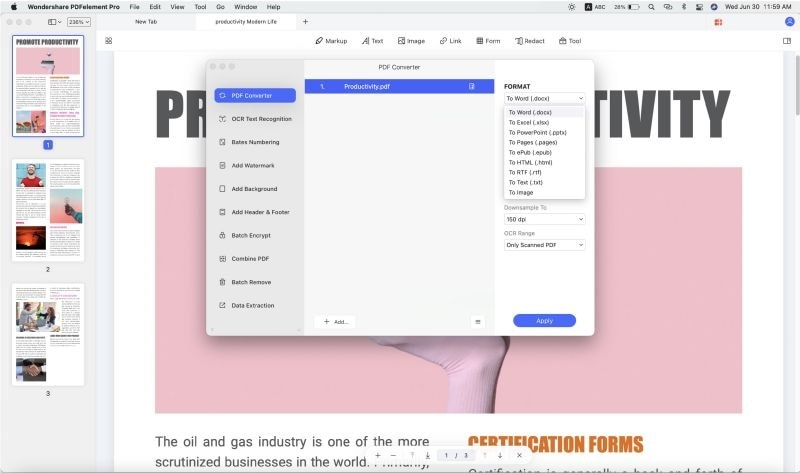 Step 3. Convert PDF to Excel format
Then you will come to the "Convert" menu and then select the desired output format from the upper bar. Click on the "To Excel" tab. From the toolbar that will appear on the right side of the document, you can select the page range that you want to convert. After setting up your options and confirming those, you will have to push the "Convert" button and wait for your document to be converted.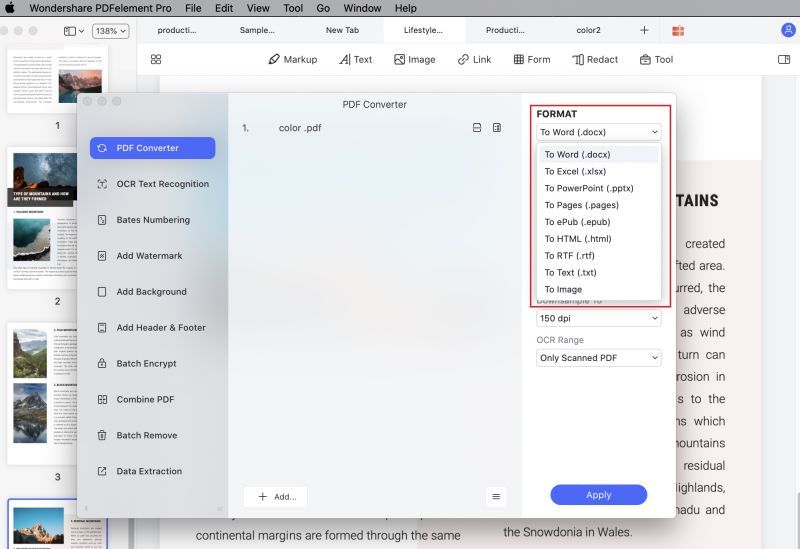 The PDFelement Pro for Mac program also allows converting multiple files at once. To manage this, simply click the "Batch Process" tab - "Convert" tab – "Add Files". Then you proceed like you would convert a single file, as described below.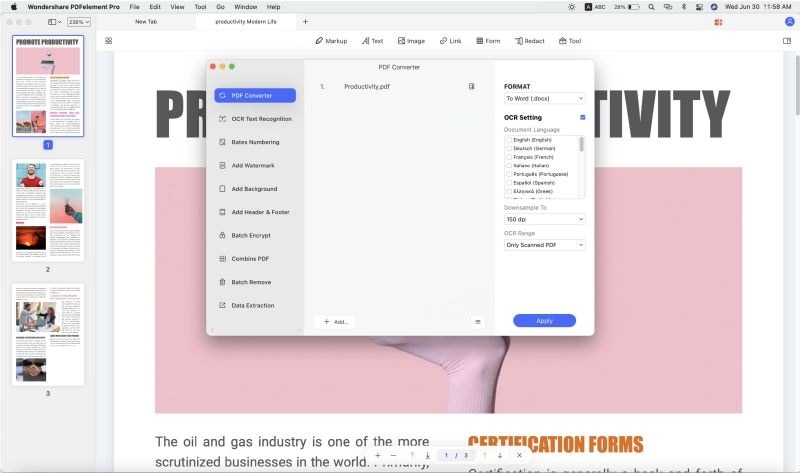 The intelligent program also allows converting a scanned PDF, with the help of the OCR tool. This is the first step you must follow if you must deal with a format like this. Then, simply click the "Convert" tab.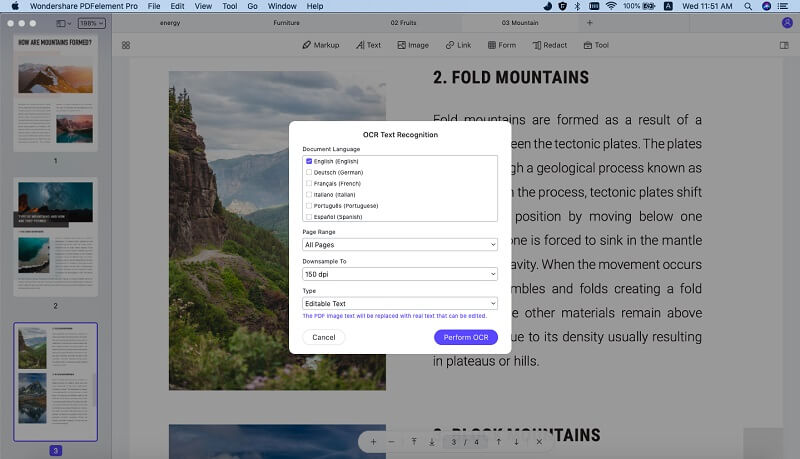 Step 4. Extract data from PDF to Excel
This software also allows the user to extract data from PDF to Excel. In order to manage this, simply go to the "Format" tab and click on the "Data Extraction" button. The data can be also extracted in sections or batches from the options and settings available in the program.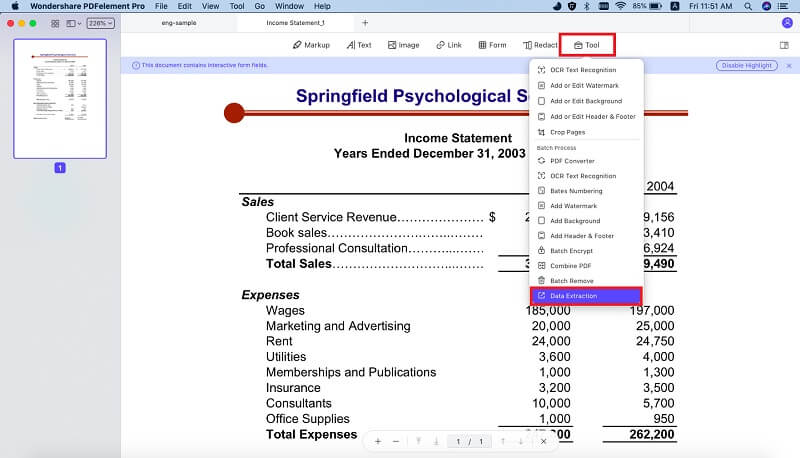 Why Choose PDFelement Pro to Convert PDF to Excel
As the best alternative to Acrobat X, PDFelement Pro will help you to convert PDF to Excel fast and easily. It also provides other PDF editing and annotation tools to help you manage your PDF documents with ease. These are only some of the great features of this alternative to Adobe Acrobat. It can be used with success for converting PDF files to Excel documents, being packed with all the necessary tools.
The Smartest Features of the Adobe Acrobat Alternative:.
Editing and OCR features – this pack of features will allow any user to edit, delete, insert text and images in a PDF file, will allow an easy combination of various pages of various documents, with ease and efficacy.
Markup features – these features will allow you to highlight important parts of your documents and contracts, which will make important paragraphs easier to notice. Also, this product allows you to make annotations, to free draw and add stamps in your PDF files, which will make information easier to sport and use in the future.
PDF file creation and conversion – by using the specially developed tools, users can create PDF files and convert those into Word, Excel and other types of documents. With the merge tool, users can easily combine two or more documents (up to 300), while the split tool will allow the users to create more documents from a single one.
Flexible PDF forms – the user can fill in interactive PDF forms, which come in great help for individual use, as well as corporate use. They can also create and design their own PDF forms effectively and with ease. Data extraction from these forms is also easy, with the dedicated tool.