You may need to change your PDF to EPUB for any number of reasons. One of the most prevalent ones is that your audience primarily uses e-readers to access documents. And since most e-readers can only read EPUB files, it becomes necessary to change PDF to EPUB. If you don't know how you could do that or all tools you have used have failed you, the following article offers a comprehensive guide that is also quite easy to follow. Let's begin with the right tool to use.
The Best Tool to Change PDF to EPUB on Mac
Every time you think to convert PDF to any format not just EPUB, the only tool to use is iSkysoft PDF Editor 6 Professional for Mac (macOS 10.13 High Sierra included) or iSkysoft PDF Editor 6 Professional for Windows. This tool's features make it the most effective yet the simplest tool to use when you need to change PDF to EPUB on Mac. These features include the following:
Converting your PDF document to other formats including EPUB is quite easy and can be done in a single click.
It is fully compatible with all versions of macOS including High Sierra.
It also serves a lot of other PDF related functions including the ability to create and edit PDF documents, secure a document with a signature or password and even easily share a PDF document.
3 Simple Steps on How to Change PDF to EPUB on Mac (High Sierra Included)
Changing your PDF document to EPUB using iSkysoft PDF Editor 6 Professional for Mac is a very simple 3-step process. Here's how to do it.
Step 1. Import PDF to the Program
Download and install the program to your computer and then open it. There are several ways to import the PDF document you wish to work with. You can simply drag and drop the file into the window and it will be opened. You can also click on the "Open File" button located at the bottom-left of the screen to browse for the PDF file you need.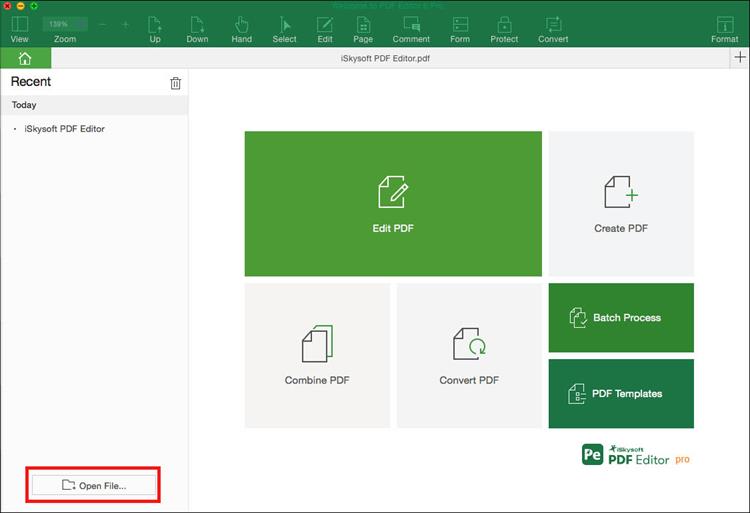 Alternatively, you can click on the "File" menu and choose "Open" or "Open Recent" to select the file you need. On the homepage you can only click on "Convert PDF" to select and import the PDF document you need.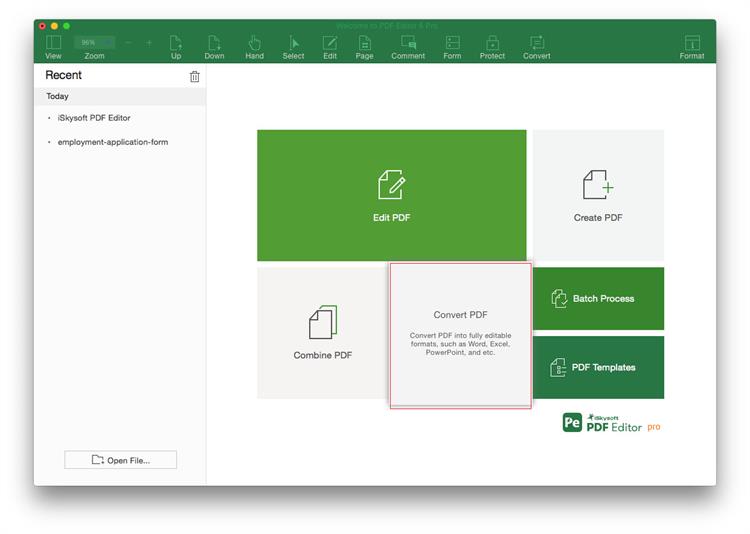 Step 2. Select EPUB as the Output Format
Once the document is open, you will notice a lot of options in the toolbar. Click on the "Convert" menu to choose the output formats. From the sub-menu that appears, you should see a number of options, choose "To EPUB". On the right you should see the "Options" tab. Click on it to set the page range.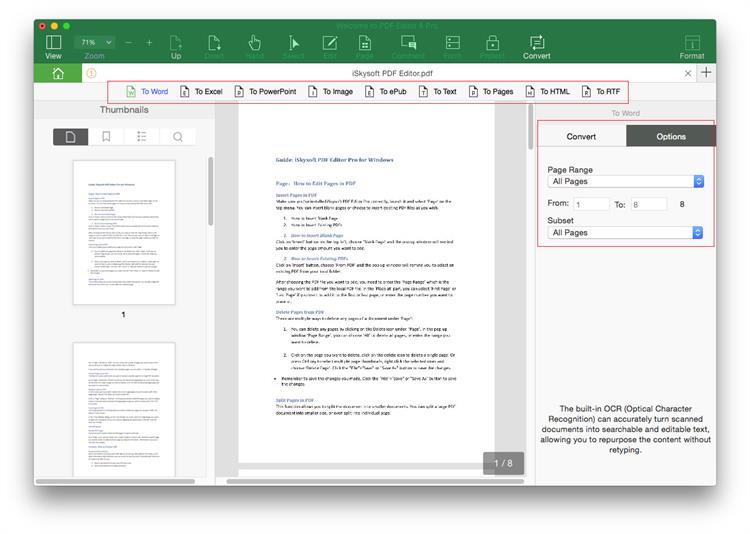 Step 3. Change PDF to EPUB
Now all you have to do to change PDF to EPUB is click "Convert" and the program will immediately begin the process. A few minutes later, you can easily transfer PDF to EPUB.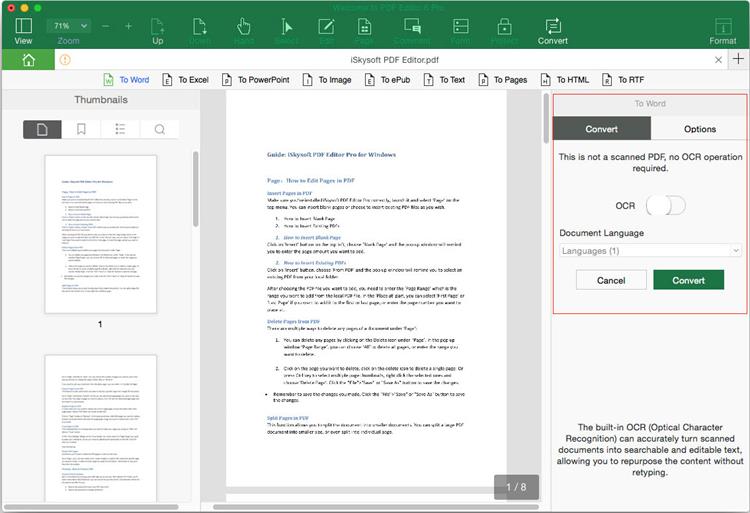 There are several reasons why you would want to choose iSkysoft PDF Editor 6 Professional for Mac (or iSkysoft PDF Editor 6 Professional for Windows) as your preferred tool to change PDF to EPUB. The following are just a few:
Your PDF document will be converted to PDF without altering the formatting of the original document.
You can also use this program to edit all aspects of the PDF before conversion. With it, you can edit the text and images and even remove some of the pages.
It can also be useful when you want to convert multiple documents to EPUB and the whole process only takes a few minutes.
It is easy to use with a simple, clean user-interface.