With a higher security level, it is very hard to open any PDF files and convert password-protected PDF is not an easy task. Although encrypted documents offer a safer way of keeping files, there might be situations when you have to get rid of passwords and open your files. This is why you need to use special software and learn how to convert password-protected PDF to normal PDF with PDFelement Pro. Don't worry! Here are the tips and tricks to do so.       
Method 1. Unlock and Edit Secured PDF on Mac using PDFelement Pro
If you want to unlock PDF and edit secured PDF by changing or adding elements like texts, images, links, graphics, and others, PDFelement Pro is the best helper for you.
This powerful PDF editor enables you to edit the password-protected PDF and even convert locked PDF to other editable formats. When you import the protected PDF to the program and convert it to Word, the permission password will be automatically removed.
Steps to Convert Password Protected PDF on Mac (macOS 10.15)
The first thing to do is to download PDFelement Pro for Mac and install it on your computer. Then follow the steps below.
Step 1. Add Your PDF to the Program
To import the desired PDF file, you can click the "Convert PDF" button on the primary windows. Then select the file you need from your local folder.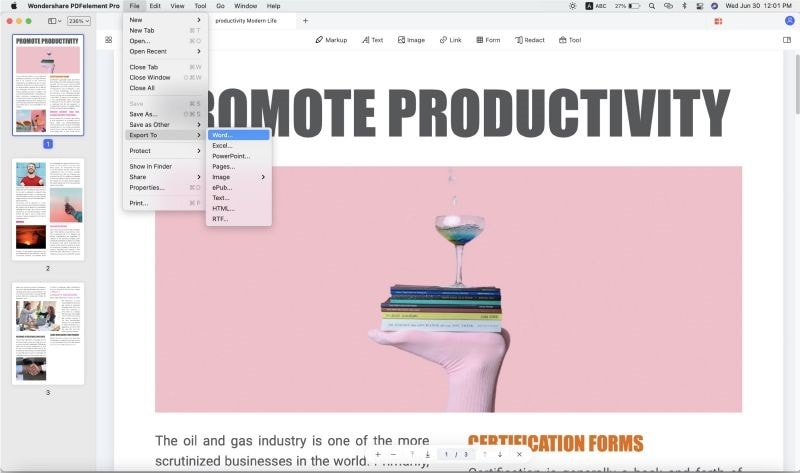 Note: It is advisable to key in the password before you convert the document if it commands you to do so.
Step 2. Select Output Format
In the new window, click on your desired format to set it as the output format. You will see several options like Excel, PowerPoint, and HTML plaint text but just click on "To Word," which will be highlighted before you click on it.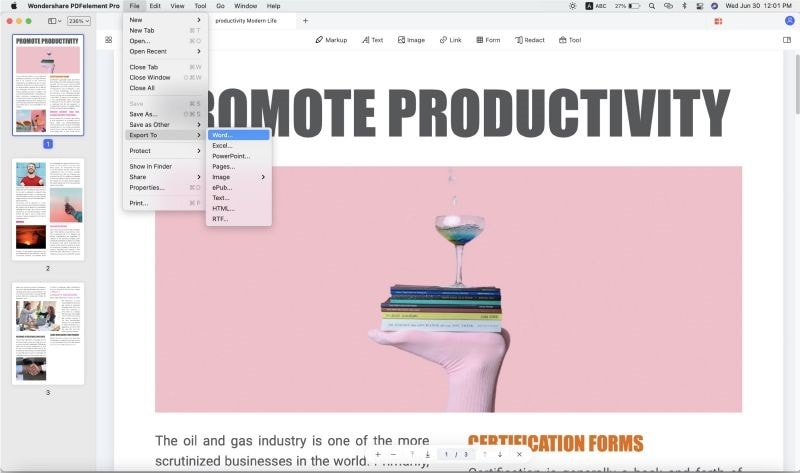 Step 3. Convert Secured PDF to Word
Now click on "Convert" to convert the PDF to word. Be patient and ensure you have chosen the folder to save the new document. This will automatically erase the password from the document. It is that easy. You will do this to all secured PDF files to get rid of the restricted permissions.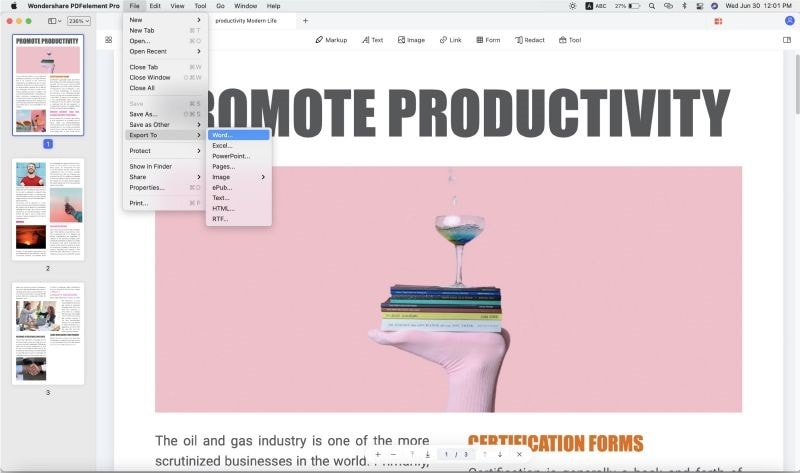 ---
PDFelement Pro - The Best PDF Converter
PDFelement Pro is a professional PDF editor. With the help of this tool, you can easily edit and convert PDF files. Advanced OCR feature can help you to edit and convert scanned PDF files with ease.
Why Choose This PDF Converter
Easily convert password-protected PDF to Excel, Word, PPT, Text, and more with the original layout.
You are able to import up to multiple PDF files to the converter and convert them at a time to different formats.
You can pick up particular PDF pages or select a range of pages to convert them to Excel, EPUB, Image, etc.
It can perfectly preserve all original elements, including texts, images, tables, hyperlinks, and formatting.
It provides powerful editing tools to add, delete secured PDF texts, links, images, etc. and annotate or mark up PDF.
You can edit and convert scanned PDF with the built-in OCR feature.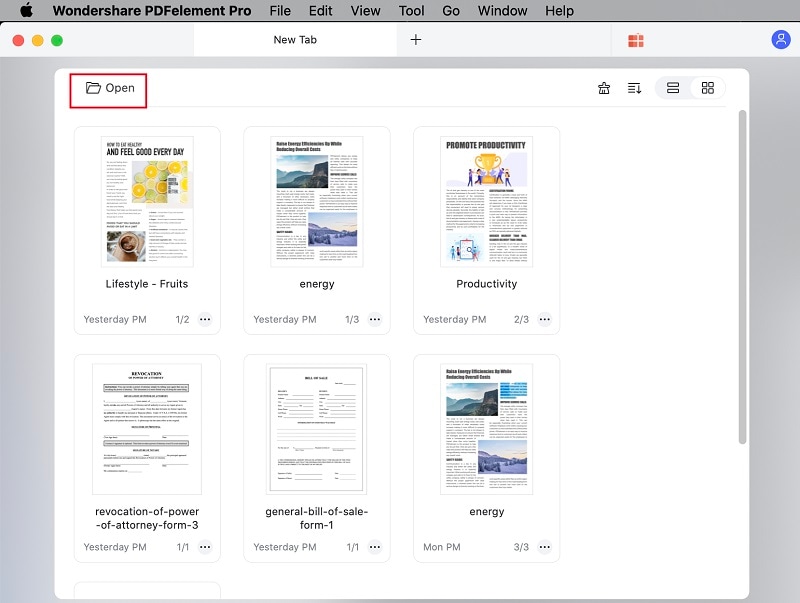 ---
Method 2. Convert Protected PDF on Mac Using iSkysoft PDF Converter
Some users can now easily open such files through many software that offer such features. However, only a few brands stand out. The notable software that allows converting password-protected PDF files is iSkysoft PDF Converter. It is an efficient password remover that comes at a very affordable rate. This convenient app is specially designed to help you to convert password-protected PDF to Word, Excel, PowerPoint, Text and other formats. With some simple steps on how to convert password-protected PDF files, you can then easily view, copy, edit, and print your documents. Unlocking is the key before you can even touch some password-encrypted PDF files.
Steps for Converting Password-Protected PDF on Mac
The first thing that you need to do is to download and install iSkysoft PDF Converter on your Mac. After doing so you can then launch the application.
Step 1. Add Protected PDF Document
You can drag and drop the files on the program. You can also go to "Files > Add PDF Files" to add the PDF on the converter. Now click on the "Format" icon to choose the output format you want and specify a destination to save it.
Note: However, there is something that you need to remember. If the file asks for a user password or open password, it is recommended that you enter it before your file can be converted.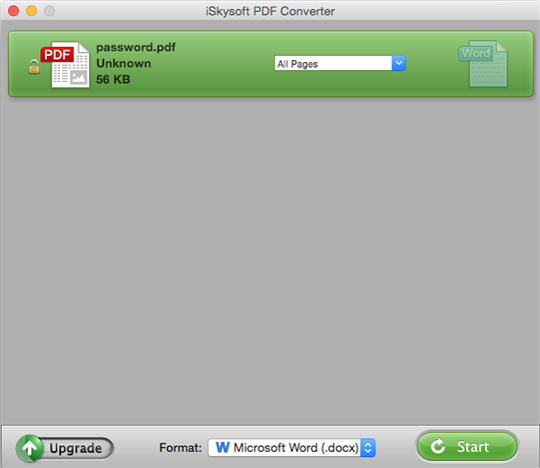 Step 2. Start Converting Secured PDF
When you have confirmed the settings for the PDF files you want to decrypt and convert, you can click "Start" to activate the conversion.
The files are automatically decrypted once they are converted to other formats. This is an automatic function and a cool feature that comes with the app. You can even use the converted PDF as a new file and save it on your computer.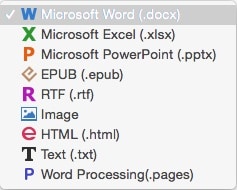 ---
Method 3. Convert Password Protected PDF to Word online
PDF to word converter password-protected online executions may sound confusing, but in essence, this process becomes easy with an online tool that is helpful to either password protect a PDF or unlock it so as to convert it. One such tool that greatly aids in accomplishing this is the Online2PDF. This is an awesome tool, especially if you spend a considerable amount of time online. Anyone can access the tool at completely no charge. The Online2PDF converter comes with an assortment of features, specifically 10 key features, which are visible on the converter's online dashboard, making working on PDFs a walk in the park.
Thus by following the mentioned guide, you can easily understand how to convert password-protected PDF to word online. Also, PDF to Word conversion is not the only conversion supported as one can also convert it to many other supported file formats, such as Excel.
Steps on How to Convert password-protected PDF to Word online using Online2PDF:
Step 1: Removing Password Protection
To remove the password from a protected file, visit the site. Before converting the PDF to word, first, unlock the PDF. For that, upload the file using the "Select files" option. Then to remove the password protection click on the Grey area with a golden padlock to unlock the file.

Step 2: Convert File
Once the file is unlocked, proceed to select the file format to which you wish to convert the PDF to. In this case, select the Word format. Proceed to hit the "Convert" button, brightly displayed in red, to convert the unlocked file. You may finally proceed to download the converted file after a conversion, which will now be unlocked and no password is required to access it.