PDF is the most used file format due to its compatibility with almost any device. At times, you might wonder how to convert PDF to DWG when working on a design file. There are some easy ways to convert a PDF back to AutoCAD file types, and there are a number of PDF to DWG converter tools that can be downloaded, as well as online PDF to DWG converter tools available. Below are some simple ways to help you to convert PDF to CAD format easily while retaining all design related information. If you want to convert PDF to other file formats, such as, PPT, Word, Excel, Html,etc, we highly recommend PDFelement Pro to you. Here is download link.
Part 1: Top 5 Web Tools to Convert PDF to DWG online
In addition to the downloadable PDF converters, some websites have their own converter applications that do not need to be downloaded. Some of the popular web PDF to DWG converter tolls are as follows:
#1: AutoDWG
This is a platform to convert your PDF design files to basic AutoCAD files. With the help of this tool, you can easily convert PDF to DWG. You just need to sign up on the website, then upload the desired file. You'll receive your converted file in just one step.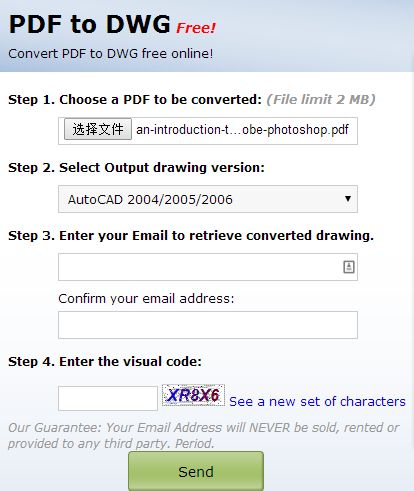 ---
#2: PDFAutoCAD
PDFAutoCAD is a tool to convert any PDF file to AutoCAD format. This PDF to DWG converter converts your desired file in only a few steps, saving you time and effort.

---
#3: Zamar DWG to PDF
This DWG to PDF converter provides an option for users to choose from numerous desired file formats. There are a total of 4 easy steps included to convert any PDF00 to CAD design format.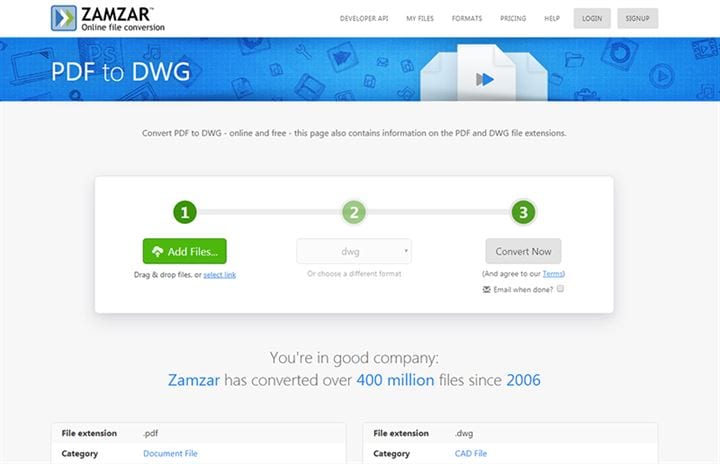 ---
#4: Convert.files
This PDF to DWG converter requires you to sign up first and then it will convert your PDF files. All you need to do is choose the file and upload it. The tool will take care of the rest.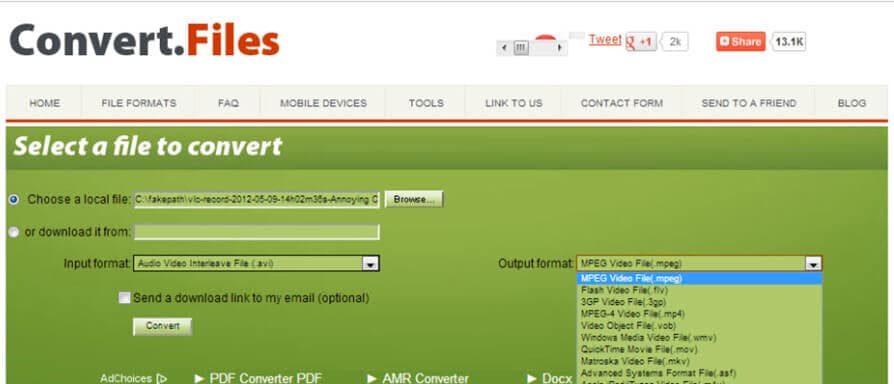 ---
#5: CometDocs
This conversion software allows users to convert any pdf file to AutoCAD design format and also store and transfer documents.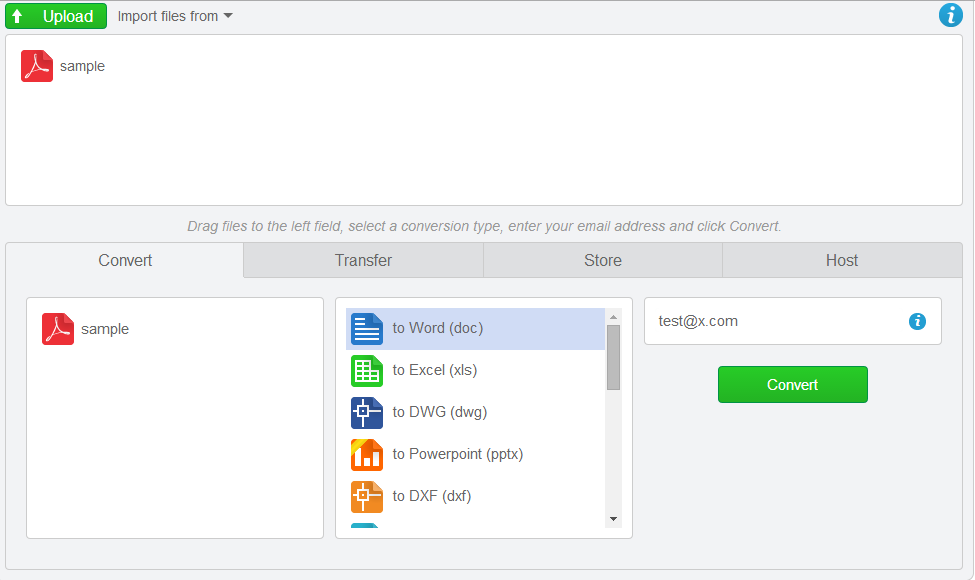 ---
Part 2: Top 5 PDF to DWG Converter
There are a lot of PDF applications these days that are used to convert PDF format to DWG AutoCAD format. Below, we've outlined the outstanding converters that are available for download online:
#1: Able2Extract
This PDF to AutoCAD converter is developed by Investintech, and is used to convert PDF files that contain design information into the general CAD file format. This program runs on both Windows and Mac, letting you convert PDF to DWG AutoCAD format. You can open your drawing file format in which the PDF file should be converted. It converts the files into the same categorized layers which define the drawing.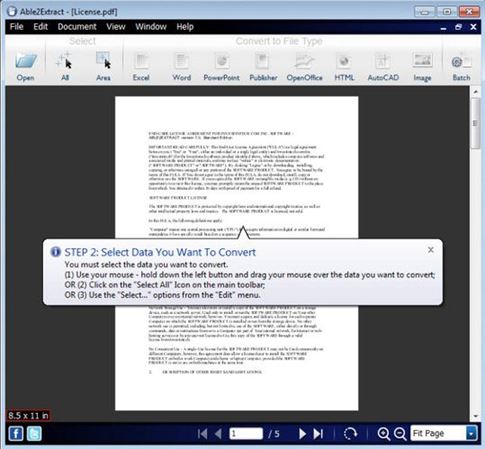 ---
#2: Any PDF to DWG Converter
This is a conversion software application for converting 2-D and 3-D PDF drawings to the default CAD DWG files. It converts PDFs into any CAD file version and is compatible with all versions of DWG or DXF files. You don't need to use AutoCAD and the most important feature of this application is that it can retain colors and can resize drawings according to the set scale.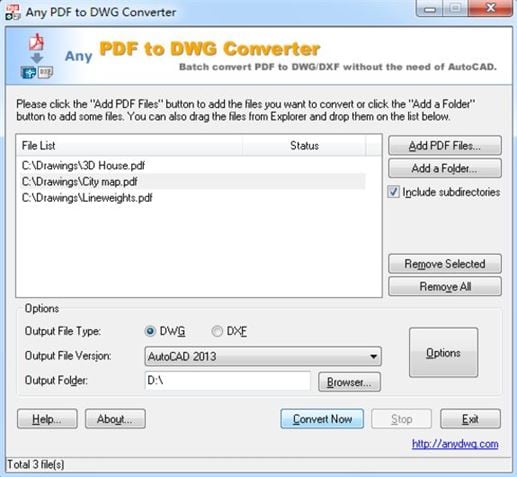 ---
#3: AutoDWG PDF to DWG Converter
This is a well-developed tool to convert PDF to DXF. It supports multipage file input and also offers specific page conversions from PDF. It retains the true dimensions of the drawing structures from the PDF reader.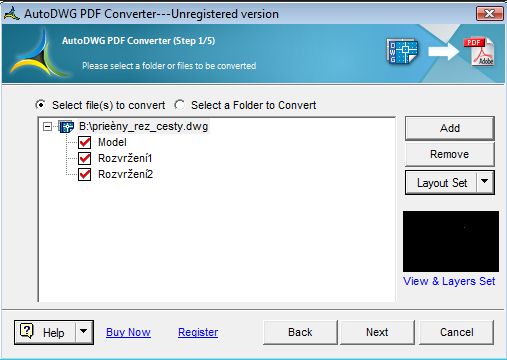 ---
#4: PDF to DWG Converter
This PDF to DWG converter can be used to convert multiple pdf files into separate DXF or DWG files. It is an efficient program that converts PDF files in only a few steps.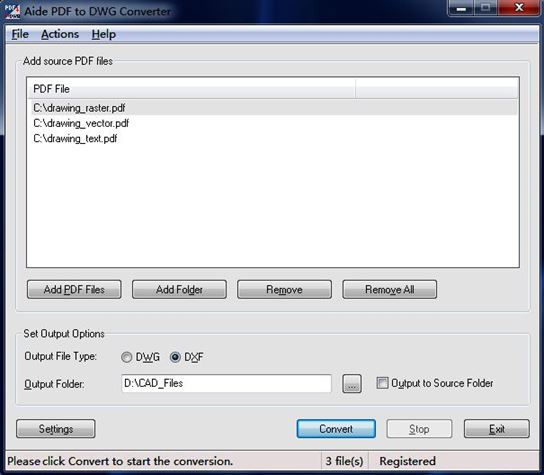 ---
#5: PDFin Converter
PDFin converter is available for download online and converts PDF files to the latest version of the DWG AutoCAD and DXF files with high speed and efficiency.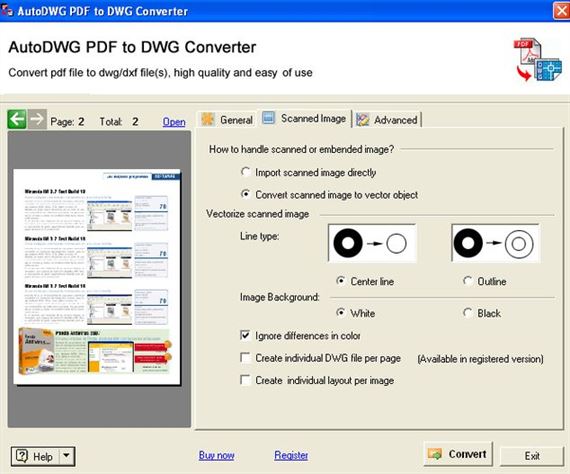 ---
Part 3: Tips for working with AutoCAD, DWG
Tips about AutoCAD
AutoCAD (Computer Aided Design) is a software application used to model and design structures and complete designs of solid objects in 2-D or 3-D. This software application is widely used by architects, engineers, design specialists, and industrial professionals to create a realistic design of certain objects or structures. AutoCAD is developed by Autodesk and was initially released in 1982. Since then it has become the most widely used design software globally. AutoCAD is used to create and edit graphics. AutoCAD increases productivity through the use of automated toolkits that allow for complex visual designs. Sometimes the AutoCAD design is converted to PDF in order to make the design accessible to anyone who doesn't have a CAD application so it presents the same in PDF format. But in order to edit the design or modify the structure, the respective pdf file should be converted back to CAD format files.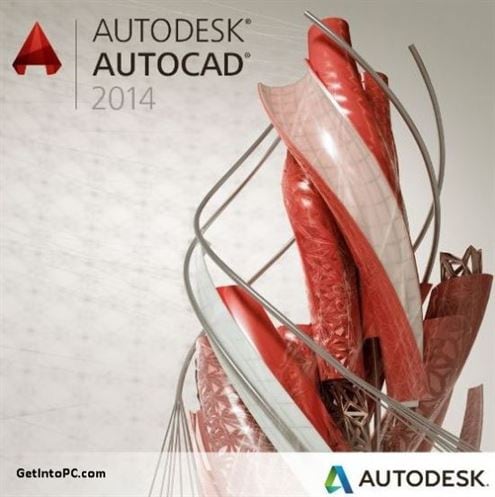 Tips about DWG
DWG is a file format which stores 2-D and 3-D drawing data and contents. This is a popular format for AutoCAD and other CAD software applications. These include IntelliCAD, PowerCAD, and DraftSight, among others. The DWG format saves the design specifications and metadata that makes up the CAD drawing.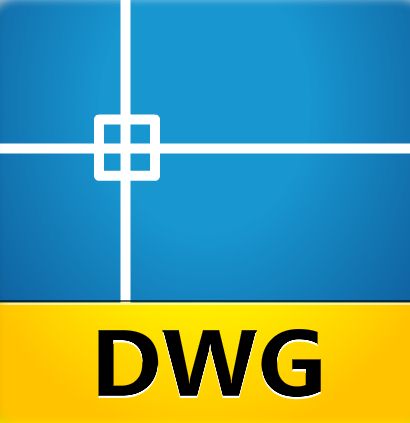 ---
Part 4: Great PDF Converter for Windows and Mac
---
The Best PDF Converter for Windows and Mac - PDFelement Pro
Mac users who are looking to convert their PDF files into various other formats should consider PDFelement Pro (Compatible with macOS 10.14). It comes packed with various features, you can edit PDF text and images, And convert PDFs to other formats such as Word, Excel, Epub, PowerPoint and more. Plus you can re-size files.
Key features of this PDF converter and editor:
Edit PDF files with multiple PDF tools.
Convert PDF to Word and other formats.
Create PDF in high quality.
OCR PDF to edit and convert scanned PDF.
Annotate and markup PDF easily.
Protect PDFs with passwords, watermarks, and signatures.
---
Convert Word to PDF on Mac Easily -iSkysoft PDF Creator
For those who want to convert Word to PDF, PDF Creator for Mac can be a great tool. It allows users to convert Word, Excel and PowerPoint to PDF in high quality. See more features below:
Create PDFs from Microsoft Office documents quickly and easily.
Produce high quality PDF output files and retain the original layout.
Batch convert Word and other file formats to PDF at an incredibly quick speed.