AutoCAD DXF (Drawing Interchange Format, or Drawing Exchange Format) is a CAD (Computer-Aided Design) data file format for vector images developed by Autodesk. The DXF format was developed as a universal format so that AutoCAD documents could be opened regardless of the version of AutoCAD, and more easily with other programs. It is similar to DWG (Design Web Format), but is more compatible with other programs since it is ASCII (text) based.
People who work in design often get plans or drawings for new plans in PDF. AutoCAD itself can also generate PDF files of drawings. However, depending on how the information is to be used and exchanged, it may be more convenient to convert PDF into DXF. The most important reason for this is to enable interoperability between different versions of AutoCAD, and for compatibility with other programs. Now, I will tell you how to use PDF to DXF converter to convert PDF to DXF free online.
A Must-Have PDF Editor & Converter
PDFelement Pro - The Best Way to Convert and Edit PDFs
PDFelement Pro is a all-in-one solution for creating, converting, editing PDF files. It has a variety of editing features which let you easily edit the texts, images and pages in your PDF. You can not only split and merge, crop and rotate your PDF, but also annotate and watermark the files, etc.
PDF Editor 6 Professional for Mac is able to create PDFs from single or multiple documents, convert PDF to multiple formats for reusing, such as Word, Excel, PowerPoint, EPUB, HTML, images and more while maintaining the original quality.
Why Choose This PDF editor:
Easily edit PDF texts, graphics, images, links, watermarks, etc.
Convert PDF to Word, Excel,and more formats and convert multiple PDFs in batch.
Create PDF from other formats and create PDF forms easily.
Easily mark up and annotate PDF files with multiple markup tools.
Combine multiple files into PDF and split PDF into several files.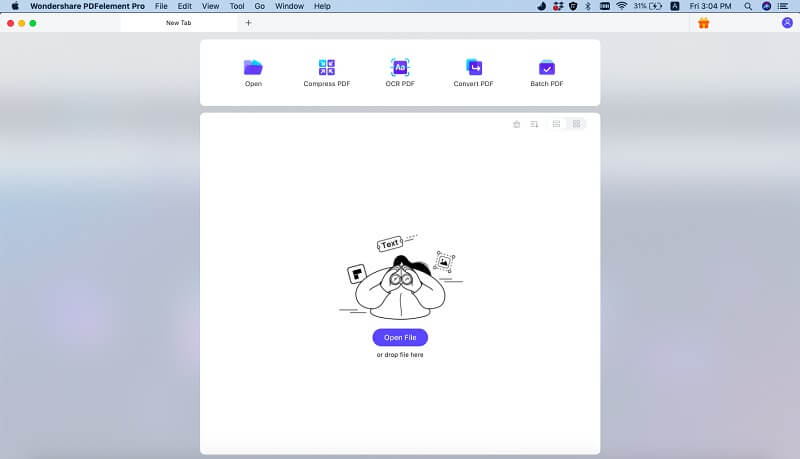 ---
Part 1. How to Convert PDF to DXF for Free Using PDFAUTOCAD
In your web browser go to the website of this PDF to DXF converter - PDFAUTOCAD.
Find and upload your PDF by clicking the "Browse" button.
Once you upload your PDF, enter your email address and click "Send".
After a few minutes, you will receive an email with a link to the page where you can download your drawing.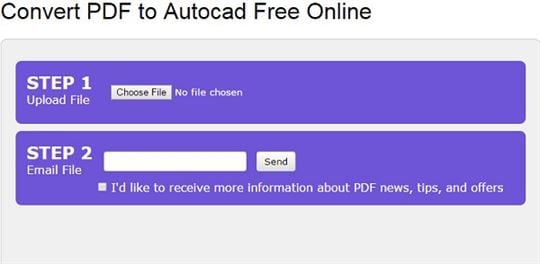 ---
Part 2. How to Convert PDF to DXF Online Using Cometdocs
Go to Cometdocs. Click the "Upload" button and select the PDF you want to convert.
Next, click the "Convert" tab and drag the files to convert into the empty box that appears.
Then select the conversion type you want (PDF to DXF in this case).
Enter the email address where you want your converted files to be sent and click "Send" to begin the conversion process.
A link to the converted file will arrive in your email inbox shortly after.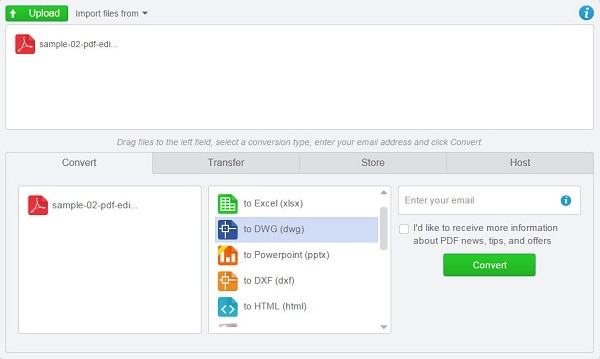 ---
Part 3. Learn More about DXF Format
The DXF file format is used as an exchange format for the drawing files that are made using CAD software applications. DFX stands for Drawing Exchange Format and DXF files can be ASCII based or binary which make it compatible with a dozen of computer applications. A DXF format file consists of different sections like Header, Classes, Tables and Blocks etc. These sections altogether define the complete design parameters and object specifications of a CAD made model.
A DXF file is a smaller, more compressed file format than PDF, and can contain an entire project's worth of drawings. This is particularly pertinent when attaching files through email. DXF also has support for both vector graphics and text fonts, support for 3D objects, associative dimensioning, option to keep or remove hatches and fills during conversion, and is easy to parse.