EPS represents Encapsulated PostScript which is a normal designs record position used to trade drawings, for example, logos and maps, pictures and formats. In many cases, we need to change the PDF files into EPS for special use. But how to make this conversion job easily and safely? Don't worry. Here are the tips for you to convert PDF to EPS without losing quality. And you can continue to read and learn more tips about EPS, Bitmap, PostScript, and Vector. If you want to learn more PDF solutions, please try PDFelement Pro.
---
Part 1: How to Convert PDF to EPS on Mac, Windows or Ubuntu
Convert PDF to EPS on Ubuntu
One can make use of the command pdftops to convert PDF files to EPS files. By default, PDF files are converted to postscript by pdftops for printing but the –eps option can be used to convert PDF file to eps file.
Since an EPS file can only contain one image, one needs to use options -f and -l to specify which page to convert in case there are many pages. e.g pdftops –f 10 –l 20 filename.eps, where –f 10 implies start from page 10 and –l 20 means the last page to be converted is page 20
Price: Free

Convert PDF to EPS on Windows
Office converter free online converter can help you to convert PDF to EPS on Windows for free. It is a site that provides free online conversion of PDF to eps. One can change over any PDF on the site through the URL gave into EPS records, where you upload your report and convert it to EPS in a split second.
It is free, however, it is limited to the 10Mb size of the file to be uploaded unless one signs up as a member where the limited size is added to 1gb.
Price: Free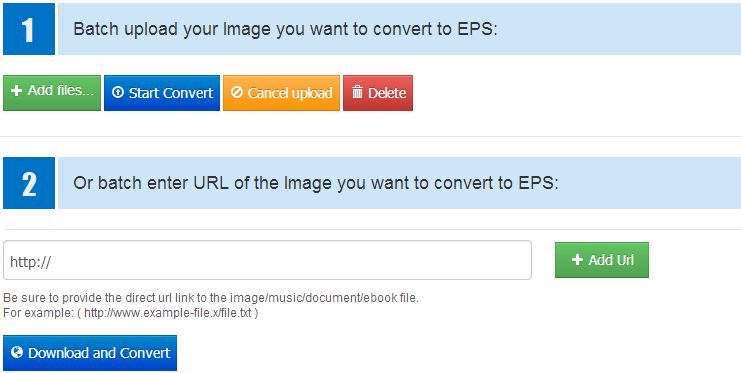 Convert PDF to EPS on Mac
To convert PDF to EPS on Mac, you can use Image Converter for Mac. It is a multipurpose converter and image browser designed especially for Mac users. Image Converter for Mac allows conversion from PDF, PNG, BMP, TIFF, JPEG, EPS, GIF on the Mac OS X. It additionally empowers you to change over pictures to any other graphical format. Additionally, it allows you to view image files on the Mac by navigating the images kept in the folder by use of the navigation keys as well as the keyboard shortcuts. Image Converter for Mac supports batch conversion easily and fast without compromising on quality.
Price: Free/$14.95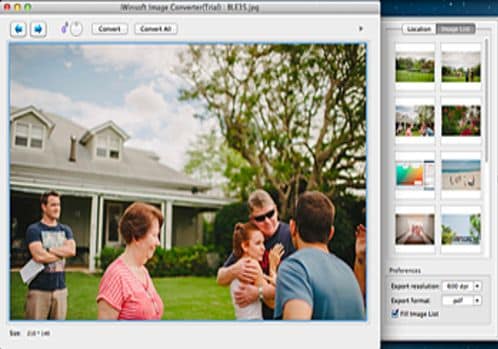 Download Image Converter for Mac >>
---
Part 2: How to View an EPS File
Opening EPS files is quite easy. If one has a Mac or Windows computer, it is likely that there is a program that can open EPS files. There are many good ones which include:
Microsoft Word: this can attach the EPS files in the documents serving as a simple EPS viewer. One only needs to drag and drop the EPS file into a Word document and the file appears. To do this in older versions of Office, one has to Choose a Picture from the Insert menu and select from the File.
Different EPS watcher incorporates the Ghostscript which is an extremely old style watcher, Gimp, Photoshop and the EPS watcher, which is free to use software tool.
EPS Viewer can open EPS designs document, show sneak peeks of pictures just as gives choice to change and spare opened picture into different formats. It also supports resizing of EPS images. EPS file has instructions used to create points, lines, colors and areas which is an important function as it allows resizing of EPS images
---
Part 3: Tips about EPS, Bitmap, PostScript, and Vector
EPS
The EPS has a PostScript page description language that contains descriptions of objects and layouts. It acts as a PostScript program that is saved as a single file which includes a low-resolution preview enclosed inside it and thus, allowing a number of programs to show a preview on the display. Information in the EPS file can include a combination of text, images as well as graphics. It uses .eps or .epsf file extension. Its files can either be ASCII or binary.
Bitmap
It is a form of image file format or memory organization that is used for the storage of digital images. It can also be viewed as an illustration, consisting dots in rows and columns, representing graphical images in computer memory, where the value of every dot is kept in one or several data bits. It is mainly used by the graphical user interfaces in their subsystems with the built-in graphics. Bitmap uses .bmp as the file extension.
PostScript
It is an adobe system developed as a page description language primarily for printing on laser printers, but it can also be used to produce images on other forms of devices. Since is supported by imagesetters, and printers with high resolutions, it is, therefore, the standard for desktop publishing. Since it is an object-oriented language, it treats images and fonts, as groups of geometrical objects and not as bit maps
Vector
This is where images are displayed as mathematical formulas which define all the image shapes. It can also be viewed as a combination of software and hardware that represent images in geometrical formulas. Vector fonts, outline fonts, object-oriented fonts and scalable fonts are terms used to describe Fonts represented as vectors.
EPS VS Bitmap VS PostScript VS Vector
Bitmap VS PostScript:
A drawing on PostScript looks more appealing when output on a 600-dpi printer as opposed to a 300-dpi printer while a bit-mapped image looks similar on the two printers.
EPS VS Bitmap:
EPS files have a bit-mapped image representation of the graphics for the purposes of display. But the PostScript files comprise of only the PostScript commands used to print the graphic
PostScript VS Vector:
Postscript is one of the vector font systems. In vector graphics, the Programs that enable one to create and manipulate are referred to as draw programs, whereas in bit-mapped images they are called paint programs.
Vector VS Bitmap:
There is more flexibility in Vector graphics than in bit-mapped graphics since the two appear the same when scaled to different sizes. In contrast to bit-mapped graphics which become ragged when shrunk or enlarged.
It is notable that vector images are used in high-resolution output devices while bit-mapped images do not. Most output devices raster devices meaning that all its objects including vector objects have to be translated into bit maps prior to outputting. The distinction between the two graphics is therefore that vector graphics are not converted into bit maps until all sizes and resolutions are specified. PostScript printers have a raster image processor which performs the conversion within the printer.
---
Enhance Your Experience to Edit and Convert PDF with PDFelement Pro
If you are looking for a great PDF editing and converting software to make your work easy, you should make it a point to opt for PDFelement Pro. With it, you can edit your PDF as you wish, convert PDF files to other formats, convert even scanned PDF files to editable documents with OCR technology, and create a PDF file from different document types.
Why Choose This PDF Editor:
Easily edit PDF texts, graphics, images, links, watermarks, etc.
Add watermarks, passwords, signatures, shapes to your PDFs as your needs.
The Advanced OCR feature allows you to convert multiple scanned PDFs.
Create PDF from other formats and create PDF forms with ease.
Easy to combine your PDF files and manage your PDF documents.