iBooks is a popular e-book application that Apple offers to OS X and iOS users. The feature was launched way back in the year 2010 together with the iPad, and emerged as one of the top e-book applications in the following years. As we all know that iBooks receive all of its content from iBook store only. However, there is a way to add your own document or data to the iBooks as well and that is by converting them into the PDF and EPUB file formats and uploading them via iTunes data sync. Apart from displaying traditional e-books, the iBook application can also display e-books which contain multimedia content. This makes it an indispensable application for all Apple users wanting to read e-books. If you are not fond of PDF format, this article will tell you how to convert PDF to iBooks compatible format, like EPUB with PDFelement Pro.
Part 1. How to Convert a PDF to iBook Format on Mac
PDFelement Pro for Mac - The Best Way to Convert PDF to iBook
Mac users can take advantage of the PDFelement Pro for Mac to convert their PDF files to an iBook compatible format. This exciting software not only comes with a host of powerful conversion tools that enables Mac users to convert their PDF files into multiple file formats, it also comes with extremely powerful editing tools that let you edit PDF files like a pro.
From watermarks and images to editing text and links, from adding handwritten notes to creating shapes and designs, you can really satiate all sorts of editing desires with the help of the PDFelement Pro for Mac.
Why Choose This PDF editor:
Easily convert PDF to images, Word, Excel, PPT, EPUB and more formats.
Edit PDF texts, graphics, images, links, watermarks, etc.
Convert multiple PDF files in batch and easily convert scanned PDF.
Create PDF from other formats and create PDF forms easily.
Mark up and annotate PDF files with multiple markup tools.
Combine multiple files into PDF and split PDF into several files.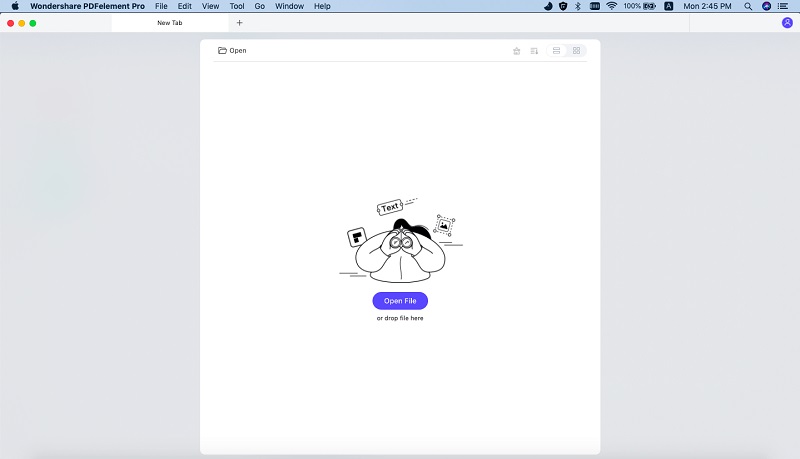 ---
For all those wanting to convert their PDF files to an iBook compatible format, the best conversion option is to convert the PDF file to an EPUB file format. Here is a step-by-step guide that shows you how to convert PDFs to EPUB.
Step 1. Import PDF to the Software
Open the PDF file using the PDFelement Pro. Simply click on "Open File" and choose the PDF file that you wish to read using the iBooks application. Once the file opens on the PDFelement Pro for Mac, you can freely make some changes on your PDF according to your needs.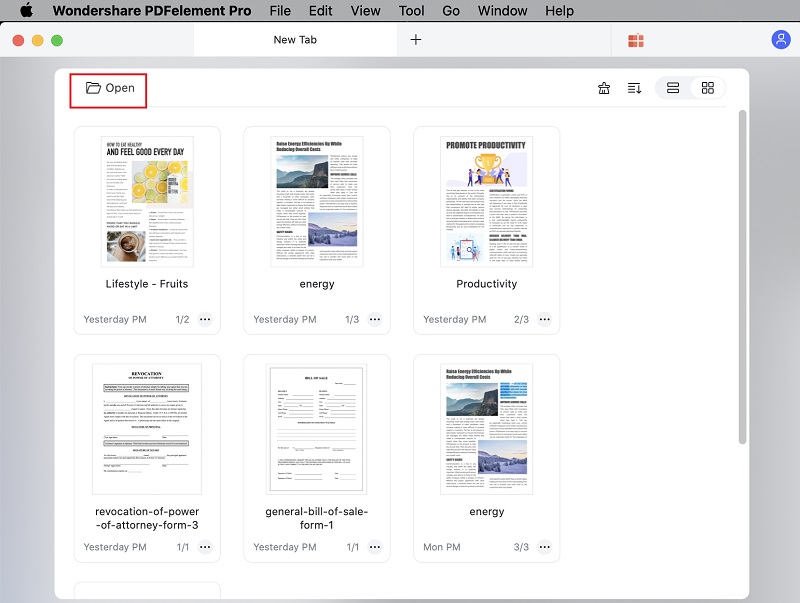 Step 2. PDF to EPUB Conversion
Convert it to the EPUB format using the "Convert" button located in the Toolbar. Once you click on "Convert", you can choose from various types of formats that the software supports. Simply select the "EPUB" format.
The software also lets you specify the destination where you wish to save the converted file. Choose a destination and click on "Save" to complete the process. Finally, click "Convert" to get the process started.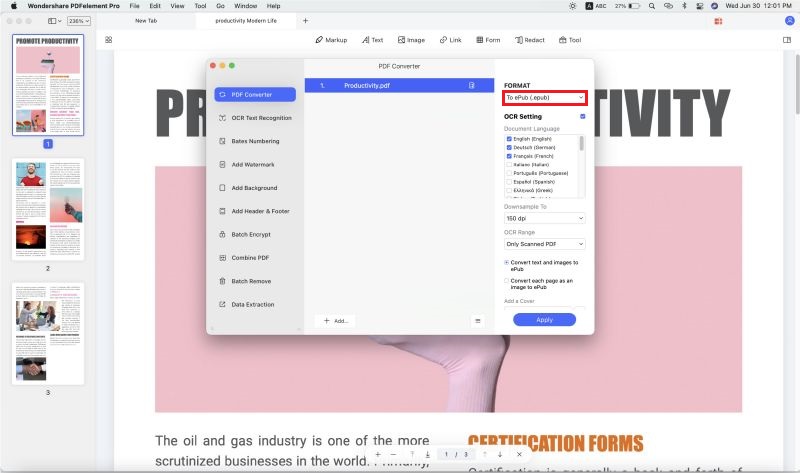 ---
Part 2. How to Convert a PDF to iBooks Format on Windows
Not to leave Windows OS users behind, PDFelement Pro offers a robust Windows compatible software that willlet you convert any file into any format that you want and it comes with many beneficial editing features as well. PDFelement Pro for Windows is the ultimate PDF software for Windows users because of the unparalleled features that it has to offer.
As mentioned above, the software provides a variety of editing tools which let you completely customize your PDF files, and also let you choose from a variety of file types for conversion, so that you can always convert your PDF file into the desired file format using this software. Users wanting to convert their PDF files into an iBooks compatible file format should always convert the PDF to EPUB file type.
Here is a step-by-step guide which shows you how to convert the PDF file to an EPUB file format.
Step 1. Load Your PDF
Click the "Open" button to open the PDF file that you wish to convert using the PDF to iBooks converter. Once the file opens on your screen, you can do any editing if necessary.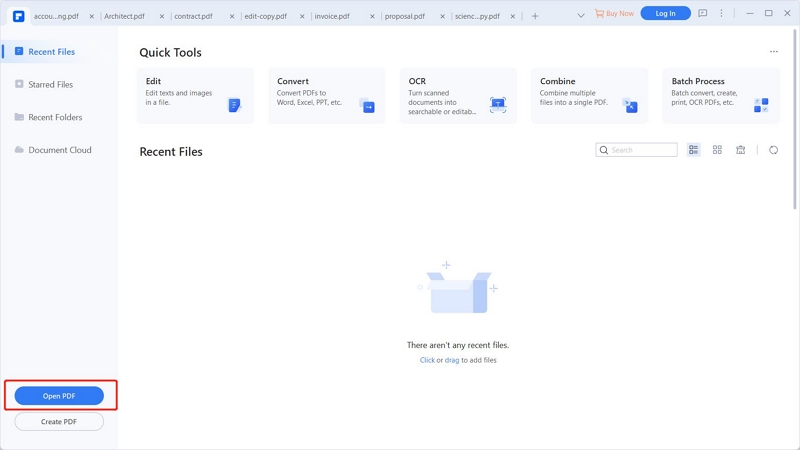 Step 2. Convert PDF to EPUB
You should see a "Convert" menu in the "Home" tab. This menu has a variety of options such as To PowerPoint, To Excel, To Word, and more. You need to click on the "To Other" option, and choose the "EPUB" file type.
Once you select the EPUB file type, a new window shall appear on your screen. This window lets you adjust the output settings, such as renaming the file and choosing the destination folder for the converted file. Click "Convert" to start the process.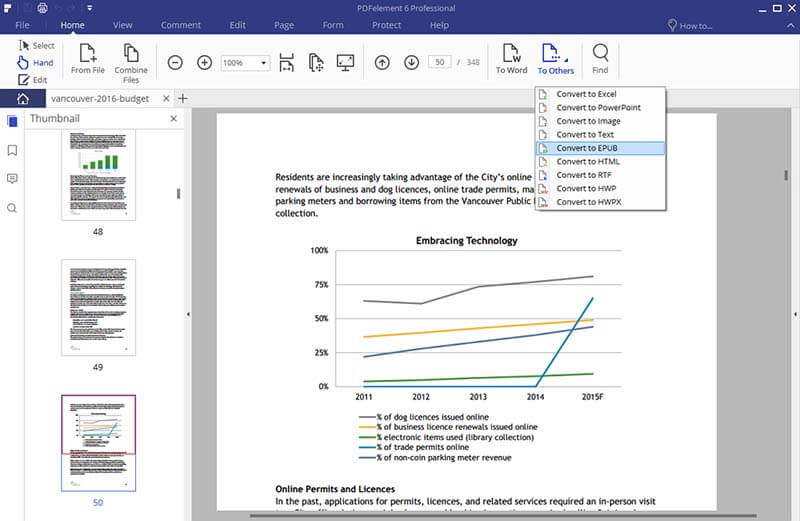 ---
Part 3. How to Add PDF Files to iBooks
The iBooks application lets you view, save, print and sync PDF files using your iOS device. It also allows you to view PDF attachments in your email. Remember, the iBooks 3.2 (or later) version requires an iOS 7 to run. Here is a step-by-step guide which shows you how to open PDFs with iBooks.
Option 1 – Opening PDF email attachments
Open the email which contains the PDF file. While viewing the PDF attachment in your email, tap on the "Share" button that is located on the top right.
Tap "Open in iBooks". Once you do this, the PDF file shall automatically open using the iBooks application. Once you view the PDF file on iBooks, the application automatically saves a copy of the PDF file so that you can easily access it for later use.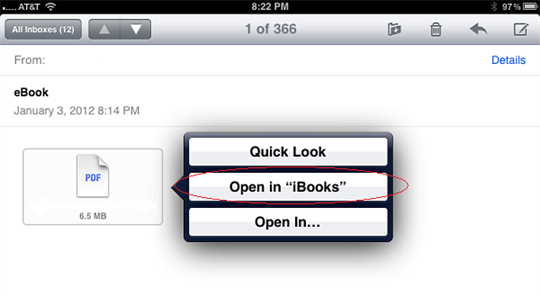 Option 2 – Opening PDF files from your computer
In order to open a PDF file from your iDevice or a computer in iBooks, you simply need to drag and drop the respective file into the iTunes Book Library.
After selecting the iOS device, click on "Books".
Choose "Sync Books" and click on the "Sync" button. (If you wish to sync a particular PDF, simply click on the checkbox next to the file that you wish to sync).