Kindle is generally biased to Amazon books. Being an Amazon product itself, the books you can read are mostly limited to those you can buy from this website. You would have to download books in .amz or .mobi formats. This can be a pain, especially if you want to just read free e-books from the web, which are typically saved in the .pdf format, the most universally accepted format for e-books. The best solution is to convert PDF to Kindle formats. Below are 2 easy ways for converting PDF to Kindle format, one is with PDFelement Pro.
PDFelement Pro - A Powerful Tool to Convert PDF to EPUB and More Formats
You might not know that Kindle also supports EPUB format, which is more popular. So we recommend you to convert PDF to EPUB with the powerful yet ease PDFelement Pro. This software can edit and customize your PDF file before you send it to your Kindle. It has the most versatile and convenient tools for editing and converting PDF files.
Key Features of This PDF Editor
Convert PDF to EPUB, Word, Excel, Images and more.
Easily edit PDF texts, images, links, and other elements.
Come with multiple markups and annotation tools.
Protect PDF with watermark, password, signature.
Edit and convert scanned PDF with OCR feature.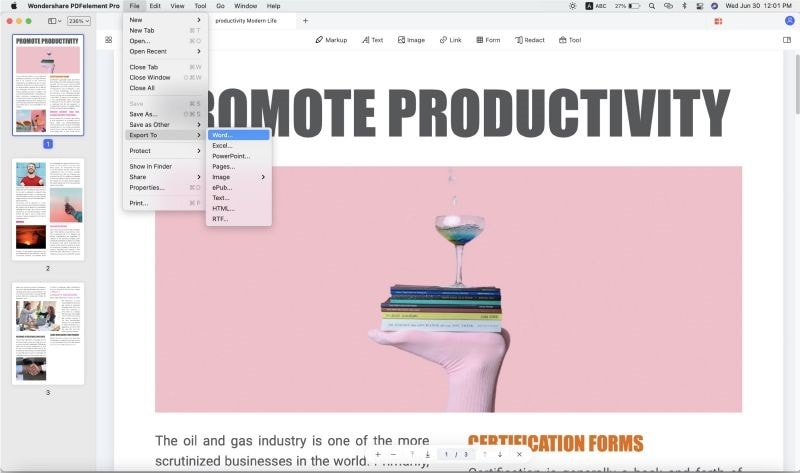 ---
Part 1. How to Convert PDF for Kindle
Method 1. Using Online PDF to Kindle Converter
You can try to make use of pdf4kindle.com in converting your portable document file format into the Kindle-friendly .mobi format. The good news about this site is that it does not have to be downloaded into your computer anymore. You can do everything online and the site is compatible with Windows, Mac OS X, and Linux. With a good internet connection, you can upload the .pdf file into this site and then convert it to .mobi. To top it all off, the services of the site are for free. Once converted, you can download the .mobi file and then send it to your Kindle device.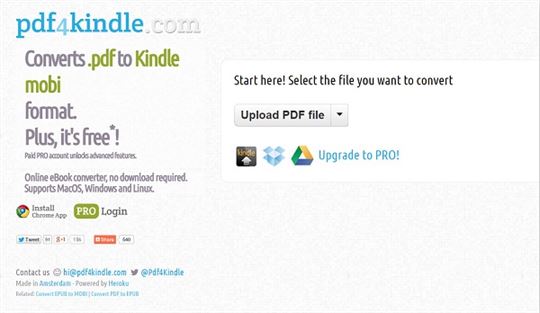 Method 2. Using the "Email to Kindle" Feature by Amazon
Amazon developed a special email address for Kindle users to register before they use their device. Each device has a unique Send to Kindle email address. To get this unique address, simply go to the Amazon site and visit the "Manage your Devices" section found in the "Manage your Kindle" page. You would need to add the email account that you would send your books from in the "Approved Personal Document Email List" so you can send it to your Kindle email address. Once added, you can then attach the file and send it to your Kindle.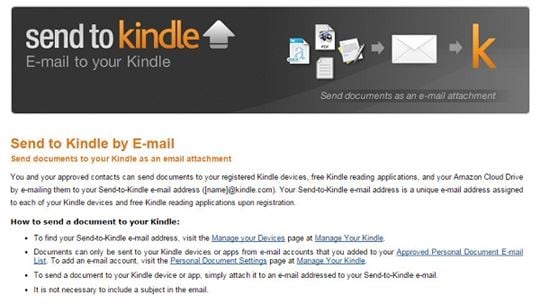 If you want to do a file conversion, you would need to place the word "Convert" in the subject line of your email. Once you do this, Amazon will convert the file you send into .mobi format for Kindle reading. If you do not wish to do a file conversion, simply send the file without regard to the subject line of the email. You can send a wide variety of files and documents to your Kindle using this method, including Microsoft Word (.DOC, .DOCX), .HTML, .RTF, .JPEG, .GIF, .PNG, .BMP, and of course, .PDF, and the Kindle-compatible .MOBI and .AMZ files.
---
Part 2. How to Import Compatible Files to Kindle (Take AZW for Example)
If you already have files in the .AZW formats for Kindle reading, all you need to do is to import those files into your Kindle device. Make sure that you have the file downloaded to your computer first. This can be done by going to the "Manage Your Content and Devices" page. Click on the device you want to download the content to, and then follow the steps.
Once you have the file downloaded, you can just connect the Kindle device to your computer via USB cable. Make sure that you copy or place the files you want to import in the "Documents" folder. If you wish to transfer the files you have converted from .pdf files, you can just simply email them or import them if they are already in the .AZW format.