Do you have a PDF document that you want to convert to plain text? Sometimes you can need the text on a PDF document and none of the images and graphics. Being able to copy this text to a separate file can mean that you don't have to save the PDF itself. This can come in handy when you are working on another project and you need to add the text on the PDF to the new project.
But converting PDF to plain text is not as easy as it seems. At least, it is not easy without the right tool for the job. In this article we share with you the best tool to help you convert PDF to plain text and show you one other way you can do it.
Part 1. The Best PDF to Plain Text Converter
One of the best tools to convert PDF to plain text is PDFelement Pro. This tool is made to work with PDF files and unlike other PDF editors, it is easy to use and highly efficient. Its efficiency can be attributed mostly to its simple to use interface that is ideal even for the beginner user. To uses this PDF to plain text converter, download and install the program to your computer and then follow these simple steps.
How to Convert PDF to Plain Text
Stер 1. Start PDFelementfessional
Download and install the PDF eidtor on your Mac. To open the editor, double-click on the program's icon on your computer.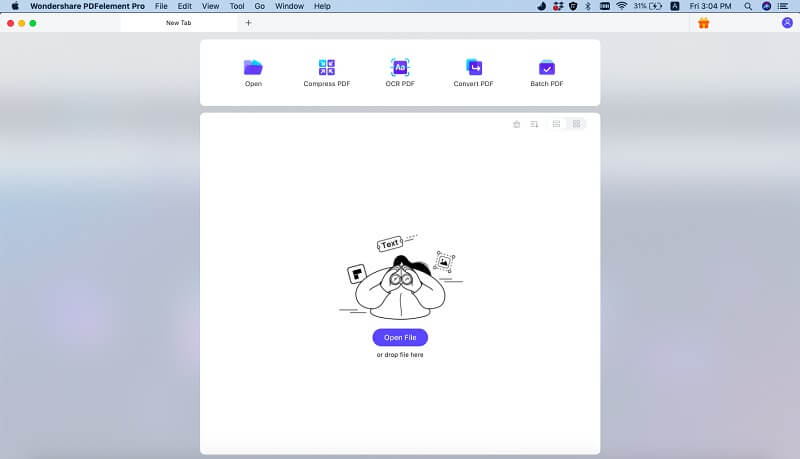 Stер 2. Import PDF to the Program
The next step is to open the PDF document you want to convert to plain text. There are several ways you can do that with iSkysoft PDF Editor but the simplest is to drag and drop the file into the program's main window. You can also click on the "Open File" button to import PDF file to the program easily.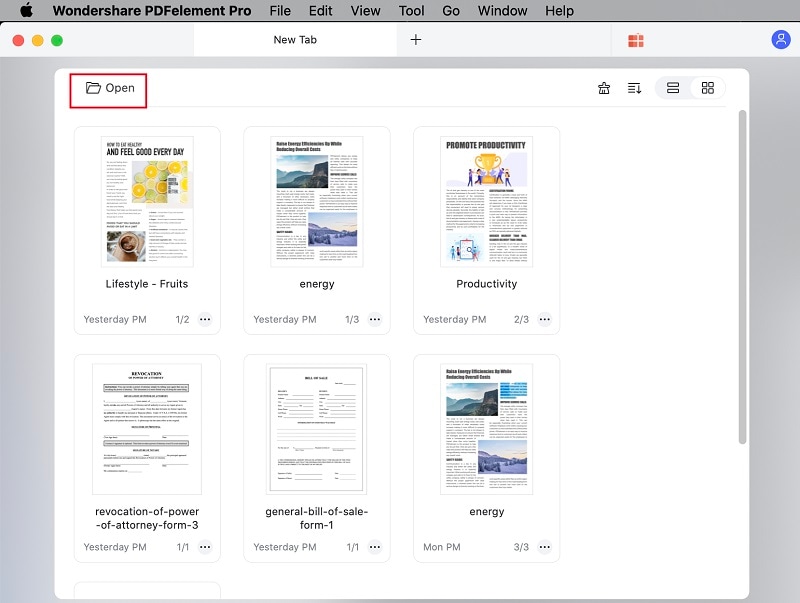 Stер 3. Copy PDF to Text
Once the document is open in Adobe, you can simply click "Edit" and click on the text in the document you want to convert to plain text. In the control panel that appears, select "Paragraph" mode. This will group the text in the document into paragraphs and you can simply select the text, copy it and paste into a TXT file.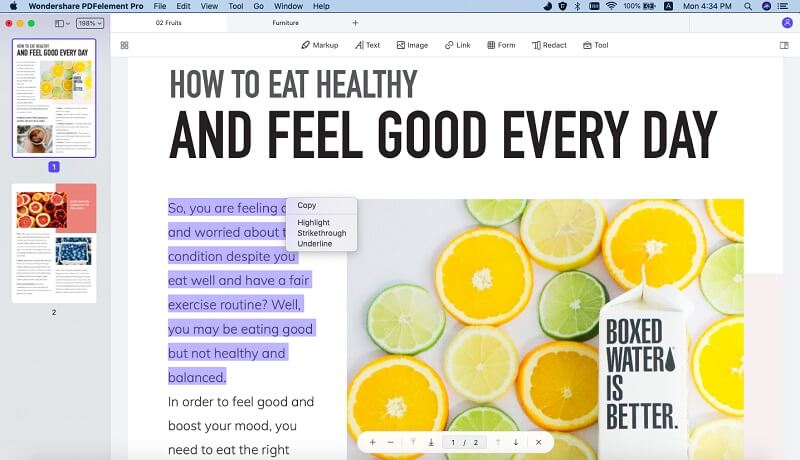 ---
Why Choose PDFelement to Convert PDF to Plain Text
As a PDF editor, PDFelement Pro has a lot of features that can allow you not just to create a PDF document but also edit all aspects of it, save it and share it with others. These features are particularly important for a business whose main document format is PDF and since most business document are often in PDF format; a program like iSkysoft PDF Editor becomes important to any business. It can be used in many ways to prepare, edit and share vital business documents. Tаkіng аll thіngѕ іntо ассоunt, іSkуѕоft PDF Edіtоr рrоvеѕ tо bе a uѕеful аnd соmрlеx tооl thаt gіvеѕ уоu соmрlеtе сuѕtоmіzаtіоn соntrоl оvеr уоur PDF fіlеѕ.
Mаіn Fеаturеѕ of This PDF to Plain Text Converter:
It has unrivaled editing features that allow users to edit the text on the document, edit the images by adding new images, cropping an image or even extracting an image from a PDF. Editing the pages on the document by replacing, deleting, cropping, splitting and combining the pages is also possible.
You can also use its OCR feature to render scanned PDFs editable and even extract data from a scanned PDF document.
When reading a PDF document in iSkysoft PDF Editor Pro 6, you can choose to highlight, underline and strikethrough the text. There are even options to further annotate the document by adding sticky notes and stamps.
Creating a PDF document from other formats is easy. So is converting the PDF to other formats like Word, Excel, HTML, TXT and more. You can also combine up to 300 types of files into a single PDF.
Once the PDF is edited, you can also easily save, export and share the PDF document across numerous channels like email and cloud storage options like Google Docs and Dropbox.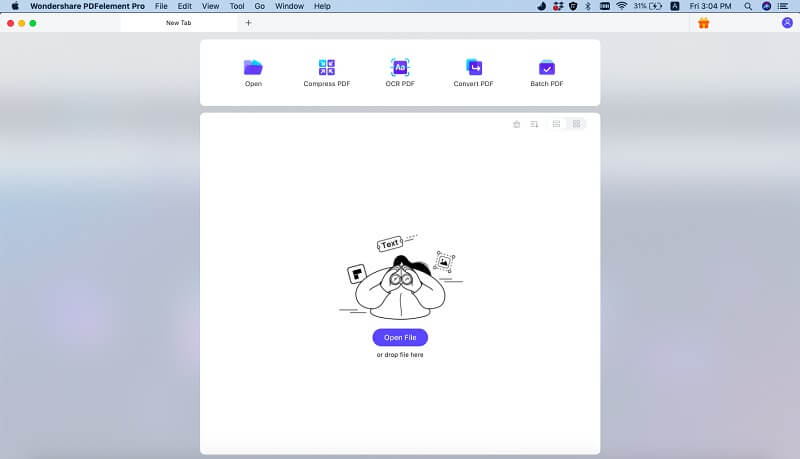 ---
Part 2. Convert PDF to Plain Text for Free
Several online tools can also help you convert PDF to plain text for free. There are many, varied in features and settings and many of them are even free to use. One such tool is FreeFileConvert which as the name suggests is the ideal free online tool to help you convert files from one format to another. The following is a guide to help you use this online PDF to plain text converter to convert PDF to plain text for free.
Step 1. Go to the official website to launch the plain text feature on this online file conversion service.
Step 2. Under "Input File" Click on "Choose File" to select the PDF you want to convert to TXT. Under "Output Format" select "TXT" as the type of file to convert to.
Step 3. Then simply click on "Convert" and the program will begin the process. When it complete, you will be able to download the file to your computer.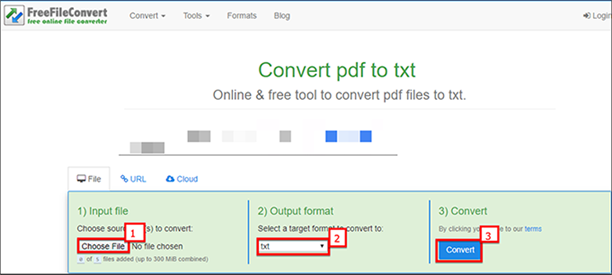 ---
Part 3. Common Issues on Converting PDF to Plain Text
Converting PDF to plain text can be a difficult or simple process and most of the time; it has a lot to do with the tool you choose to use. There are several problems you may face when attempting to convert a PDF to plain text or any other format. Some of these problems are related to the program you're using but sometimes it is the method. Some of these problems include the following.
1. Some of the text can be missing after conversion
Most people report a problem with the output file immediately after conversion. They report that not all the text in the original PDF file appears in the output TXT file. If you are using an online tool to convert the file, you can simply repeat the conversion to see if that fixes the problem. You can also simply choose another online tool if the problem persists.
If you are using a program, you may want to check that the program is up-to-date. You may also want to change the program you're using since some may exhibit performance issues.
2. Problems converting password-protected documents
Most of the time, a program, even an online tool will request the password before converting the document to plaint text. Sometimes though, the program can still notify you that it is unable to convert the protected document even after entering the password. In this case, try using a more superior conversion tool like PDFelement that has provisions for password protected documents.
3. Documents with images fail to convert
If you are using an online tool, it is very likely that the text in the images may not be converted. If you need the text in the images, you may want to use an OCR tool to extract the text before converting it to TXT format. A program like PDFelement has a great OCR feature that can render an image-rich or scanned PDF editable.
4. Formatting on the Converted File is Lost
If you want to keep the formatting on the document, you may want to convert the file to another format other than TXT. Files converted to TXT format will often lose their formatting. That's because content TXT format can't be altered in terms of font, color, style and size formatting.