It can be a challenge to edit PDFs or to use them for other purposes. Sometimes you might just want to use an image within the PDF instead of the whole document. This is not easily achieved without a proper tool or specialized software. In this article we are going to explore how you can convert PDF to PNG format on both Mac and Windows operating systems using the best PDF to PNG converter - PDFelement Pro on the market.
Part 1.The Easiest Way for Converting PDF to PNG on Mac (macOS 10.15 Compatible)
We recommend PDFelement Pro . This is the most reliable piece of PDF editor and converter software on the market. It is easy to use, reliable and converts PDF to PNG and other format flawlessly. PDFelement Pro for Mac can also convert PDF document into different image types from JPG to GIF to PNG.
Here is a step-by-step guide on how to convert a PDF to a PNG on Mac using PDFelement Pro for Mac. The software does not take too much disk space on your Mac and is straightforward to install. Once downloaded, please follow the instruction to ensure it is installed on your Mac.
Step 1. Open PDF File in the Program
After running the software, you then need to import the PDF file that you wish to convert to the program. To do this, you can click "Open File" on the interface.
When your PDF is opened, you can easily edit it in the program. You can insert, delete texts, images and pages in your PDF, highlight and annotate specific parts and more.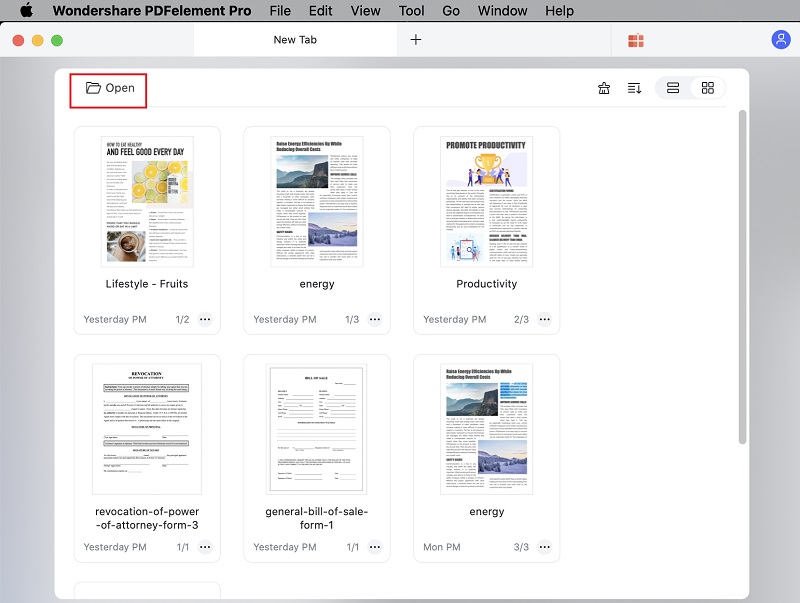 Step 2. Convert PDF File to PNG
To convert your PDF, you need go to the top toolbar and hit the "Convert" button. In the pop up window, select "To Image > PNG" as the output format. You can click the "Gear" icon to tweak more settings for conversion.
Finally select "Convert" and let the software work for you. After the conversion, you can find your PNG files in the destination folder.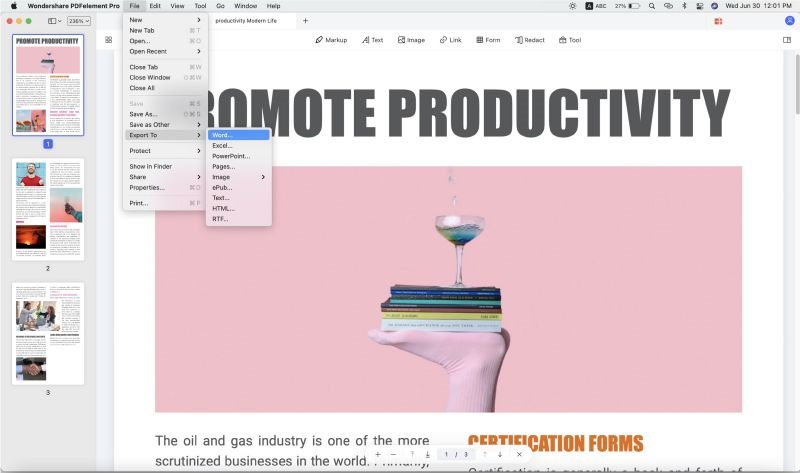 Step 3. Batch Convert PDF to PNG
If you want to convert multiple PDF files to PNG in batch, you can click on the "Batch Process" button on the welcome page. Choose the "Convert" option on the new opened window. Click on the "Add Files" button to import multiple PDF files. Then you can choose "To Image" on the right side toolbar. After you've changed the settings to match your needs, you can click on the "Convert" button to convert multiple PDFs to PNG with ease.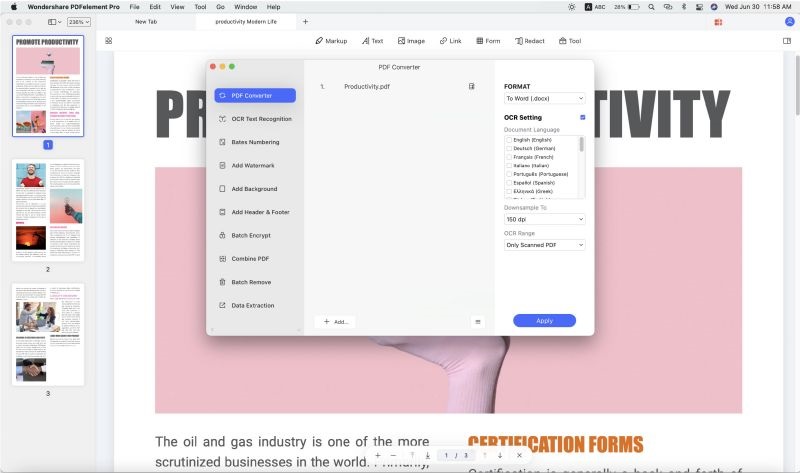 Note: If you are a Windows user, you can use PDFelement Pro to convert PDF to PNG on Windows . You can also use this professional PDF editor to edit and convert PDF files with ease.
---
Why Choose PDFelement Pro for Mac to Convert PDF to PNG
Some of the key features of PDFelement Pro include the ability to convert PDF into MS Word, PowerPoint, Excel and more. The software allows you to encrypt passwords in your PDF, add images to PDF combine and split PDF pages and almost any conceivable thing you might want to do with a PDF.
Why Choose This PDF to PNG Converter
Convert any PDF file to other format with original formatting.
Batch convert multiple PDF files and allows you to customize pages for converting.
Edit, add, delete and insert Pdf texts. Mark up and annotate PDF with vary tools.
Fully control PDF pages. Combine, compress and split PDF easily.
Advanced OCR feature enables you to edit and convert scanned PDF.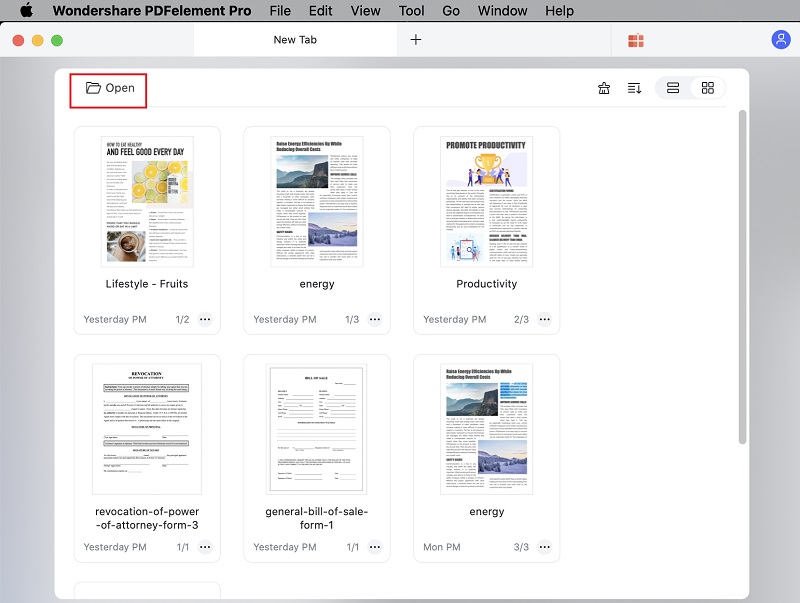 ---
Part 2. 5 Best Tools to Convert PDF to PNG for Free Online
It is actually very difficult to find a PDF to PNG converter that will allow keep the images as clear as the original PDF file. Here are a couple you can try out, see if any of these are right for you! These are all available, free to use, online PDF to PNG converters.
1. PDF2PNG
If you sign up with PDF to PNG although their domain name mentions PNGs, the website does allow conversion for other formats. Once again it is free to use, and you can download the converted files directly from the website.
Pros:
You can convert up 20 PDF files at a time.
Download the files in an easily manageable zip file.
Saves into separate PNG images to ensure quality.
Cons:
There are limits as to how many you can convert at a time, much like the other converters.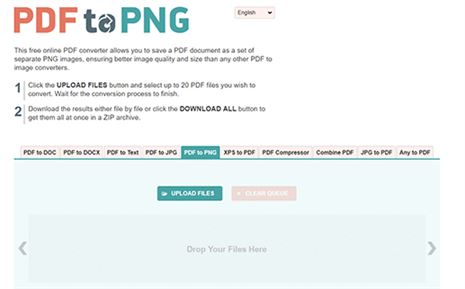 ---
2. PDF Converter
If you sign up with PDF Converter, you'll have access to more content. It is an online program that allows you to convert PDFs for free, but if you'd like access to all their features you're going to have to sign up for a membership.
Pros:
Can convert to multiple different formats: Word, excel, Powerpoint, Images, and OCR.
Image conversions available include: JPG, PNG and TIFF.
They have a membership available that will open up a lot of their other features.
Cons:
It starts off free, but the free version is limited in: number of files, delays, queue and PDF pages.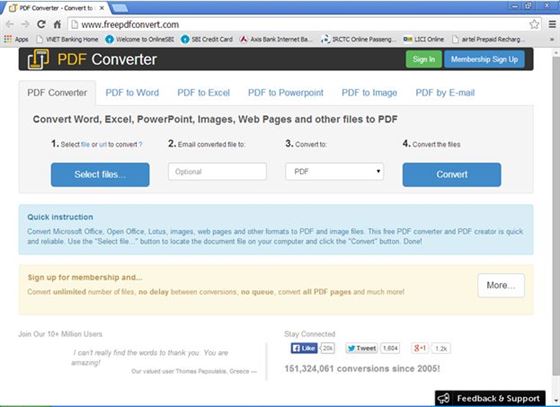 ---
3. Convertio
Convertio is a pretty basic PDF to PNG converter. There are a couple of options in this web-browser that may not be available in other online converters. Like being able to upload it from your computer to Dropbox and Google Drive. Since it is free to use, there are some limitations.
Pros:
Upload from straight from your computer or from: Dropbox, Google Drive, link, etc.
Convert PDF to PNG or a number of formats: Image, Document, Ebook, Presentation, Font, Vector, etc.
Available image conversions include: JPG, TIFF, JPEG, BMP, GIF, etc.
Download the converted PNG image directly from the website.
Cons:
Because it is free, it is limited.
No editing available just conversion.
Maximum file size is 100MB.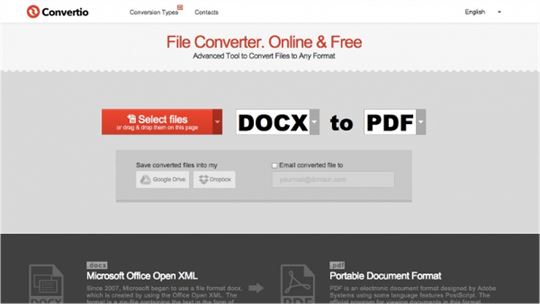 ---
4. Online2PDF
It might look a little cluttered at first glance, but Online2PDF is easy to use. It is an online program that allows you to convert your PDF files to other formats, one of which is PNG.
Pros:
You can merge, edit, unlock or convert PDFs.
You can select and convert up to 20 PDF files at a time.
Other available formats include: Word, Excel, Powerpoint, OpenOffice, etc.
Cons:
The maximum file size is 100MB, with a total of 150MB files.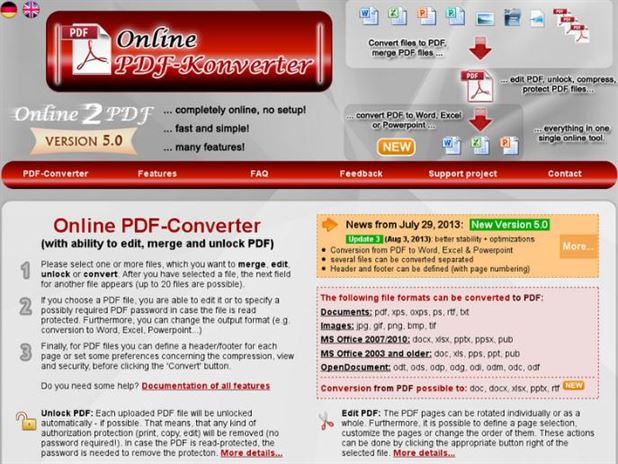 ---
5. EZGIF
Another free to use online converter, that can convert PDFs to PNG files is EZGIF. There are limitations but there are extra options that other online converters might not have,
Pros:
You convert more than one PDF at a time.
File can be downloaded directly from the website.
There are different image conversion formats outside of GIFs like: JPG and GIF.
Cons:
The maximum total for all the PDF files is 100 MB.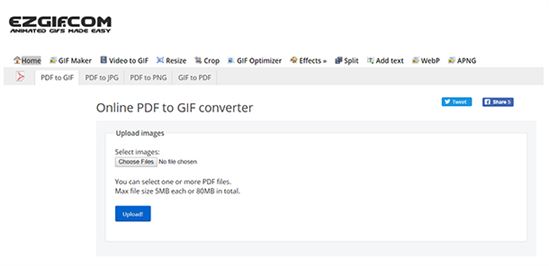 ---
Part 3. How to Convert PDF to PNG in Adobe
Adobe Acrobat is a powerful program and probably one of the few that can convert PDF to PNG files and into several other file formats as well. Adobe Acrobat conversion process from PDF to PNG is quite simple and easy to follow by everyone and the PNG images that come out are of high quality. To convert file from PDF to PNG using Adobe, follow the steps below.
Step 1. Download and install Adobe Acrobat from Adobe's official page. Now Launch the program by clicking on its icon on your PC.
Step 2. Click on Open from the file menu and then navigate to where the PDF file to be converted is located to open the PDF file. Alternatively, right-click on the file to be converted and select "Open with Adobe Reader".
Step 3. Click on "Tools" tab and then select "Export PDF". This will immediately display all the available formats to export as.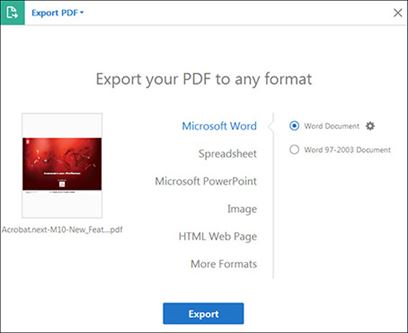 Step 4. Select the tap that says "Image" then click on PNG format and then hit the "Export" button.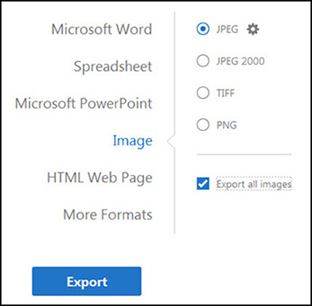 Step 5. Lastly, select where to export to and then hit "Save" to save the PDF in PNG format. This way you can convert PDF to PNG using Adobe.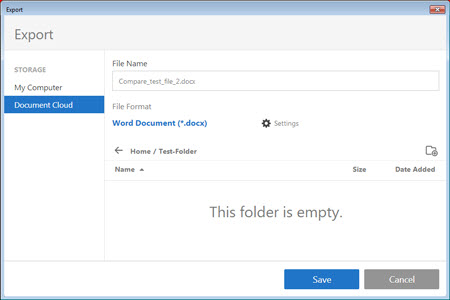 ---
Part 4. How to Convert PDF to PNG with Photoshop
Photoshop is the number one picture editing software in the world which can also serve as a tool to convert PDF pages to PNG. Photoshop is another product of Adobe as part of one of their design suite programs. To convert PDF to PNG in Photoshop follow these steps below:
Step 1. Launch Photoshop software on your PC and on the Menu bar, click on "File" menu and select "Open".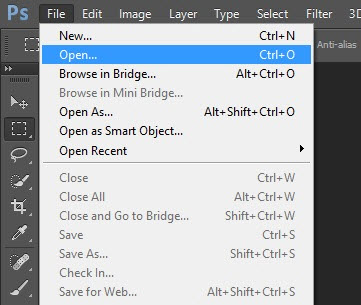 Step 2. Locate where your PDF file is and open it. If it is a PDF with more than a single page, select the pages you wish to convert by clicking on the thumbnails. You can edit the sizes of each page to be exported from the right side of the convert page. If you only want to save pictures from the PDF, click on the "Images" option at the top of the same screen.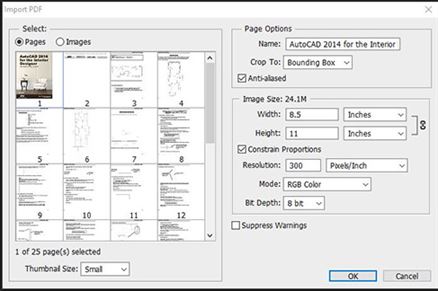 Step 3. Click on OK and each file will be opened in a separate Photoshop window. Now click on "Save as" from the File menu to save to the desired location.
---
Part 5. How to Use Imagemagick to Convert PDF to PNG
ImageMagick is more like a command execution tool and a rare program that can read and write up to 200 different image formats by simply imputing the right language commands. ImageMagick can convert PDF to PNG in high quality by making use of a few simple command lines.
Step 1. To convert an entire PDF file to a single PNG image file, launch the command line tool and input these command: convert -density 150 -antialias "input_file_name.pdf" -append -resize 1024x -quality 100 "output_file_name.png"

Step 2. In case you want to have your PDF file in several PNG formats as per the number of pages on the file, enter this command by replacing. ( "Input_file_name.pdf" with the name of the file to be converted. convert -density 150 -antialias "input_file_name.pdf" -resize 1024x -quality 100 "output_file_name.png")

---
Part 6. How to convert PDF to PNG with Preview in Mac
Preview is an inbuilt Mac OS X program which is mostly underutilized by most Mac users because they do not know some of the functions embedded within the program. One of its features is the ability to convert PDF to PNG in high quality with these few steps:
Step 1. Open the PDF file with preview in Mac and at the top, click on the File menu and select "Export" .
Step 2. On the Export window, change the format to "PNG" and adjust quality and resolution accordingly. Now hit "Save" and the PDF file would be converted to PNG.