PDF format is widely supported among common platforms be it on a personal computer or mobile device. The PDF format is also maximized to allow highlighting and annotation without destroying the original file, allowing users to remove annotations and re-edit the document as needed. The good thing is PDF files could also be converted to speech as needed. In this article, there are several ways to convert PDF to speech which you might find helpful.
How to Convert a PDF to Speech Using Adobe Read Out Loud
PDFelement Pro for Windows - A Professional and Powerful PDF Editor & Converter
PDFelement Pro is a feature-packed PDF editor and converter tool. And you would find all the things that you need in an easy-to-use program interface. The program also allows users to edit the document just like a document file which is usually not present on other PDF editing software.
Why Choose This PDF Editor and Converter:
Standard editing features like highlighting, commenting, annotating and adding watermarks are supported alongside other advanced features.
Has the ability to convert PDF files to other document file format like Word, spreadsheet in the form of Excel, presentations to PowerPoint and much more.
Create PDF from existing PDF, Webpage, and more. And easily edit and create PDF forms.
The OCR feature enables you to edit and convert scanned PDF as easy as in standard PDF files.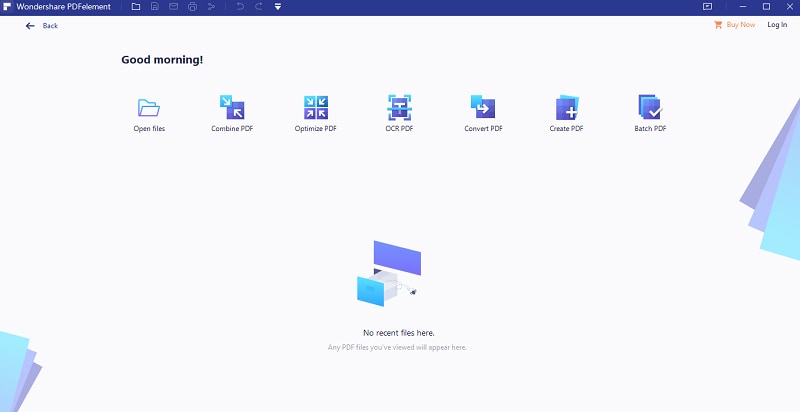 ---
There are several applications that can convert texts to speech. These programs work on different platforms even on mobile operating systems. One way to convert PDF files to speech is through Adobe's own Read Out Loud tool that comes with Adobe Reader 6.0 or later. For the feature to work it is important to make sure that the computer has the needed TTS or Text To Speech engine installed on the computer's operating system.
To get started with Read Out Loud, open the document with Adobe Reader and click "View" at the top. From the options, select "Read Out Loud". There would be several options to choose from depending on which part of the document you want to be read. You can choose either "Read This Page Only" or "Read to End of Document".
For full user control, the program allows users to pause and resume reading. Under "Read Out Loud", you can find the option to "Pause Reading" and "Resume Reading" depending on whether the file is already being read or is paused. From the same set of option you would also be able to find the option to stop reading.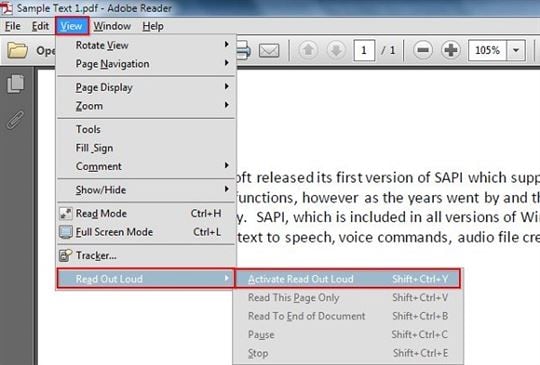 Tips for Using Read Out Loud Feature
Aside from manually looking for and clicking on the options mentioned above, there are also keyboard shortcuts that can be used to execute the commands easily.
The Control+Shift+V keyboard combination on a Windows computer, executes the Read This Page Only command. Its keyboard equivalent for mac computers is Command+Shift+V.
To convert the entire document to speech, the keyboard combination Control+Shift+B for Windows and Command+Shift+B for Mac.
To pause or resume reading, use Control+Shift+C (Windows) or Command+Shift+C (Mac).
Finally to stop reading, you can use Control+Shift+E keyboard combination on Windows and Command+Shift+E for Mac.