PDFs are great but they are not the easiest format to use for other purpose other than printing and presenting. Sometimes you just want to copy a paragraph or whole page to use perhaps in another document or as a reference. This is often difficult to do directly from the PDF or it enables you to copy but the copied text is out of format or is in characters you are unable to read. The fonts and graphics can be much distorted that it might even be impossible to make out what the words are. In this article we will discuss the best ways to convert PDF to TXT on Mac and Windows.
Part 1. How to Convert a PDF to a TXT File on Mac
PDFelement Pro is the best PDF to TXT converter that you can free download. This PDF converter will help you to change PDF to TXT with ease. With the advanced OCR feature, you can also use this tool to convert scanned PDF file to TXT, Word, PPT and other popular file formats.
Steps on How to Convert PDF to TXT
PDFelement Pro does not take too much disk space on your Mac and is straightforward to install. Once downloaded, please follow the instruction to ensure it is installed on your Mac. Drag the program icon to the Application Folder. Here is a step-by-step guide on how to convert PDF to Text TXT Format on Mac.
Step 1. Launch the Program
After the installation is complete, launch the PDF to TXT converter on your Mac. And then click the "Open File" button to select the PDF file that you wish to convert. When the file is loaded, you can then edit it as you want with the help of various tools on the top toolbar.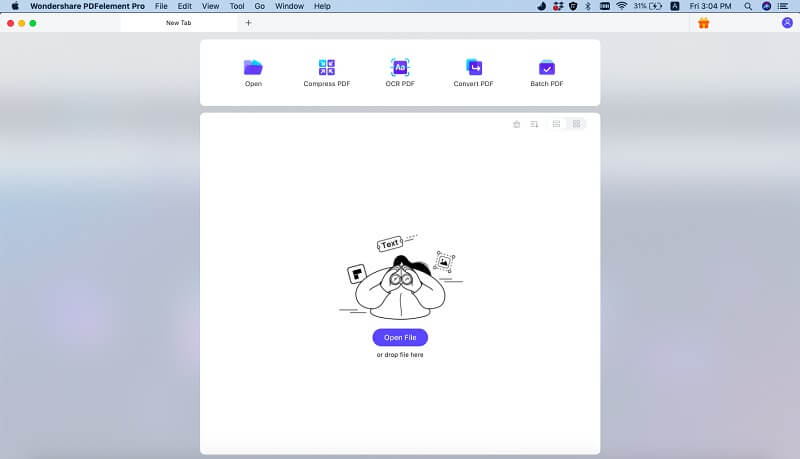 Step 2. Start PDF to TXT Conversion
To proceed with converting, you can hit the "Convert" button on the top right corner of the interface. This will activate the conversion window, where you can choose "To Text" from the output format menu and set page range. When it's done, you can click "Convert" to start the process. The software will start running and convert your PDF into Text within seconds.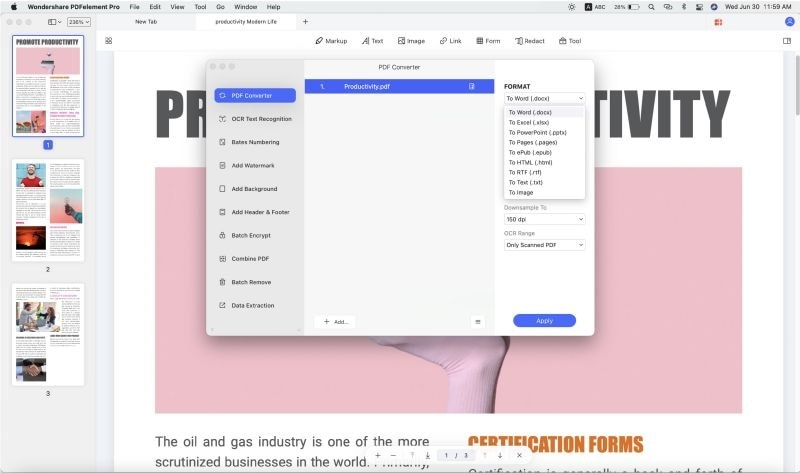 Step 3. Convert Scanned PDF to TXT
To convert scanned PDF to TXT format, you can OCR the scanned PDF file at first. After you've imported a scanned PDF file to the program, the PDF editor will detect the scanned file automatically and you will find the "Perform OCR" button. Click on the button, you can easily OCR the scanned PDF file. And then you can convert scanned PDF to TXT format with ease.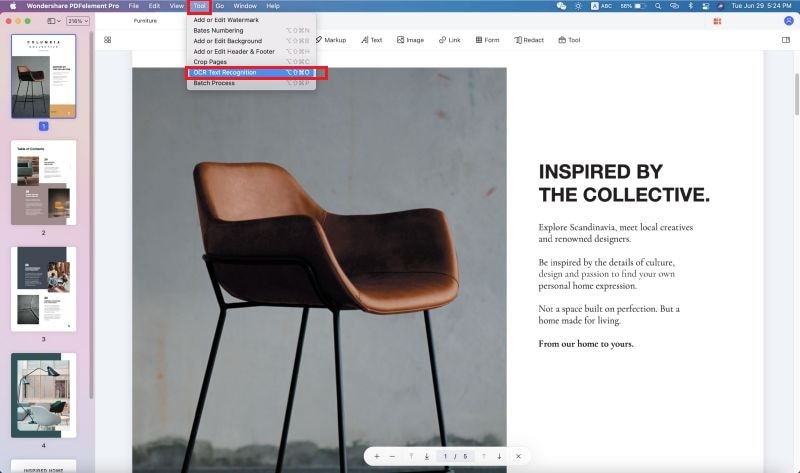 ---
Why Choose PDFelement Pro to Convert PDF to TXT File Format
Converting your PDF to a TXT format can be easily achieved with PDFelement Pro. The program has a beautifully designed interface that makes it smooth to convert PDF into different format from Text to PowerPoint to Word and more. All conversions are crystal clear in the right formats and fonts. PDFelement Pro also has many other exciting features including but not limited to: editing texts, images and pages in PDFs, create PDFs from various formats, create and edit PDF forms, add watermark and e-signatures, and encrypt and secure PDF with password etc.
Why Choose This PDF to Text Converter:
Easily convert PDF to text, Excel, PPT, EPUB and more formats.
Convert multiple PDF files in batch and convert scanned PDF with ease.
Edit PDF texts, graphics, images, links, watermarks with multiple editing tools.
Create PDF from other formats and create PDF forms easily.
Mark up and annotate PDF files with multiple markup tools.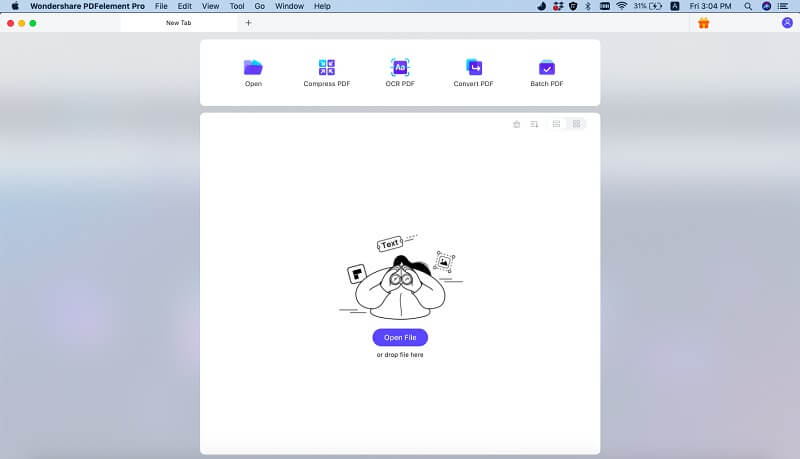 ---
Part 2. How to Turn PDF into TXT on Windows
Editing and converting PDF to Text on Windows can be done on the Windows version of PDFelement Pro. The process is as easy as it is on Mac. PDFelement Pro comes with many amazing features such as:
Main features of this PDF Converter for Windows
Edit PDF as easy as on Microsoft Office Word
Encrypt your PDF files with password
Convert PDF documents to MS Word, PowerPoint and Excel etc.
Create PDF files from a variety of file types
Mark-up and annotate PDF documents easily
Convert and edit any scanned PDF files with OCR
---
Below is a step-by-step way to edit and convert PDF to Text on Windows using PDFelement Pro.
Step 1. Open PDF in the Program
Install PDFelement on your Windows computer. After installation, click the "Open" button to load your PDF to the program from your local computer. With this program, you can edit PDF as editing a Microsoft Word document. Before conversion, you can take full advantage of the editing tools to make any change on your PDF, such as add or remove text to the PDFs, add images to make your PDF more presentable or align accordingly etc.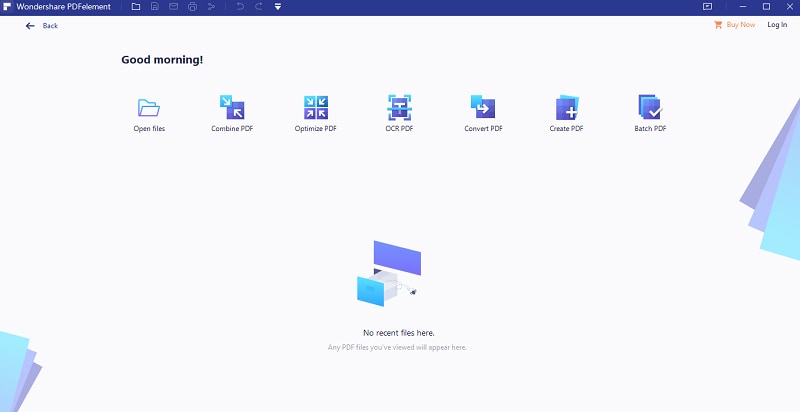 Step 2. Convert PDF into Text TXT Format
Once you've uploaded the PDF you wish to convert, click "To Text" under the "To Others" menu tab. This will open a new popup window that asks you where to save the new document and the page range you want to convert. Finally click "Convert" and watch as PDFelement Pro go to work for you. Within minutes it will be done converting your PDF into TXT document.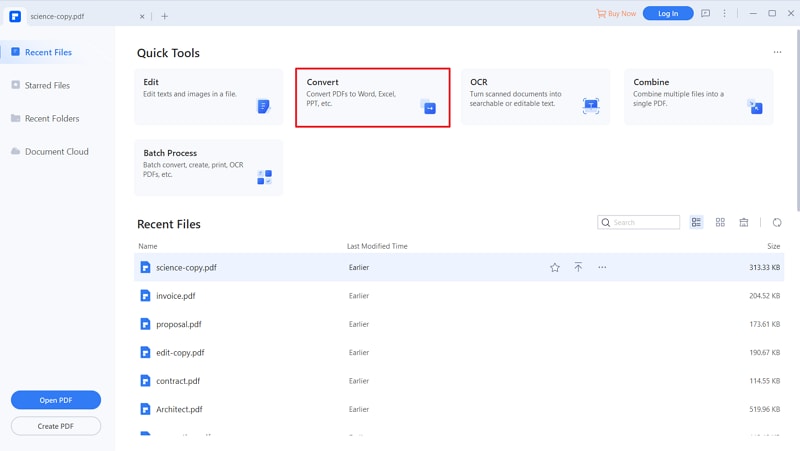 Text formatted documents can look out of place if they are not opened in the right program. It is advised that once you convert your PDF to TXT, you in turn move that text to a Word document. With Word, you can add more imagery, change fonts, and add additional features and more.
Converting PDF to text is easily achievable with PDFelement Pro. This software is instrumental in making your work with PDF as easy as possible. PDFelement Pro is sleek, clean and has so many features from converting to different formats to editing and adding imagery to PDFs.
---
Part 3. Top 6 Tools to Convert PDF to TXT Online
No matter the kind of file you are using, converting documents from one format to another is made easier by the availability of online tools to help you do that. You can practically find a tool online that will convert one file to another and conversion from PDF to TXT is no different. The following top 6 online PDF to TXT converters prove that you can convert PDF to TXT online with ease.
#1. Zamzar
Zamzar is one of those sites that offer all types of file conversions. On this site you can convert a PDF document to a whole host of other formats including.
Pros:
It is very easy to use; a simple three step process is all you need to convert the file.
It can convert a lot of files; there is no limit on the number of conversions.
Cons:
You have to provide an email address to send the conversion and sometimes you don't receive it.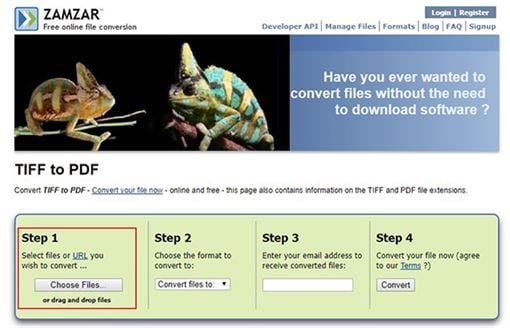 ---
#2. Hipdf
While most conversion sites will focus on nearly all types of files, Hipdf primarily deals with conversion of PDF documents to other formats. It works on all browsers and all devices.
Pros:
Conversion is a simplified process. You just upload the PDF file and select the output format.
Security of the document is guaranteed since the file is deleted an hour after uploading it.
Cons:
Sometimes the converted file can contain only a section of the original data.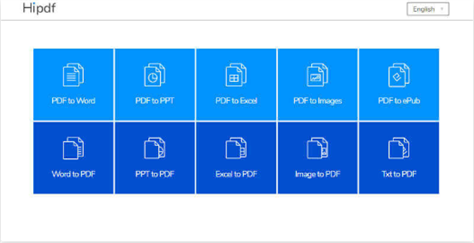 ---
#3. UniPDF
If you are looking for a PDF converter that will also convert batch documents, you need to try UniPDF. This tool can only convert to four output formats but the quality of the documents produced is one of the best on the internet.
Pros:
It supports batch conversions.
The final conversions are of top-quality.
Cons:
Can only convert to fur output formats namely, Word, Image, Text and HTML.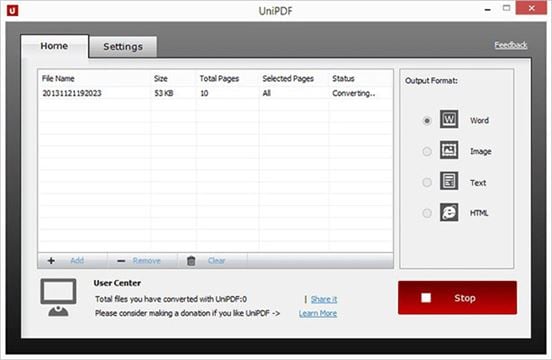 ---
#4. Free Online OCR
Free Online OCR is also a potentially great way to convert PDFs to Text format if the PDF document is either image-rich or scanned. You can simply upload the scanned or image-rich PDF on to the website and the program performs OCR and extracts the text in the document in plain text format.
Pros:
It is also an OCR tool which means it can be used to extract text from an image.
The quality of the converted document is very good.
Cons:
It is not ideal for the conversion of regular PDF documents.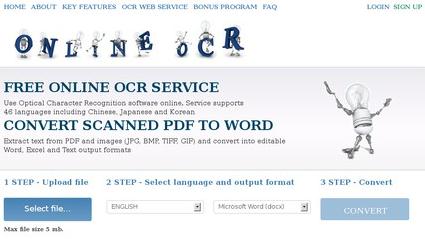 ---
#5. PDF to TXT
PDF to TXT is another very quick and simple online tool that you can use to convert PDF documents to Text. It is one of the fastest document converters online and will quickly convert a PDF of any size and any quality. Pros:
You don't need to sign in to use this tool.
It is quite fast even for very large PDFs.
Cons:
You may not be able to convert batch documents.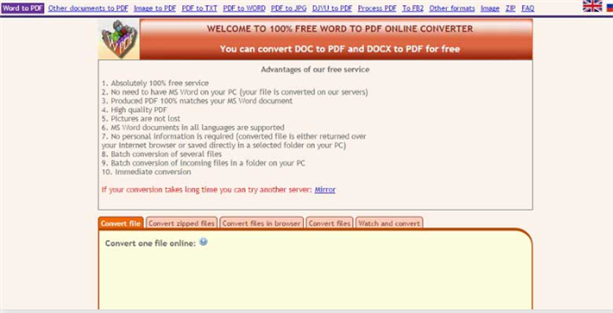 ---
#6. PDF to Text
PDF to Text is another PDF dedicated online tool that will allow you to convert your PDF document to a number of formats including text. Like most online tools it is also quite easy to use; you just need to upload the document and then select the output format.
Pros:
You don't need to sign in or create an account to use it.
It can convert PDF to a lot of other formats including DOC, DOCX, PDF and XPS.
Cons:
The number of files you can convert in a day is limited.