Converting data from one format to another is very important if we take into consideration the fact that computers are different when it comes to handling data. For this particular reason, special programs have been created in order to enable data conversion and ensure that you can make use of your documents regardless of your operating system. Even more, you can covert a certain or more PDF files to various formats including Word, Excel and PowerPoint even convert scanned PDF to Excel and other file formats if you observe certain steps or tasks. Apart from converting, thanks to these advanced programs, you have the possibility to perform a wide range of activities concerning your PDF files while ensuring their protection, which is extremely helpful for businesses that rely on sensitive documents.
The Best Scanned PDF to Excel Converter
PDFelement Pro is equipped with advanced OCR feature which allows you to convert scanned PDF to Excel with ease. Compare to other programs and scanned PDF to Excel converter online, this PDF to Excel converter also enables you to convert multiple PDF files to Excel format.
How to Convert Scanned PDF to Excel on Mac
PDFelement Pro enables the conversion of PDF files to various formats including Text, Images, Word, Excel, PowerPoint Presentation and HTML while keeping the quality of the output format. However, in order to perform this task you must follow certain essential steps.
Step 1. Lauch iSkysoft Scanned PDF to Excel Converter
In order to launch this powerful PDF converter, you first have to download and install the adequate version for your operating system. This process is quite simple because it only requires a few quick steps. After you download the program, you just have to drag the icon in the Applications folder and the installation will automatically begin. The last step is to launch the program by double clicking on the program icon or simply accessing the program from Applications. PDFelement Pro provides a Top Menu, Homepage and Toolbar, which will assist throughout your activities. The Homepage includes the main features of the program including Convert PDF.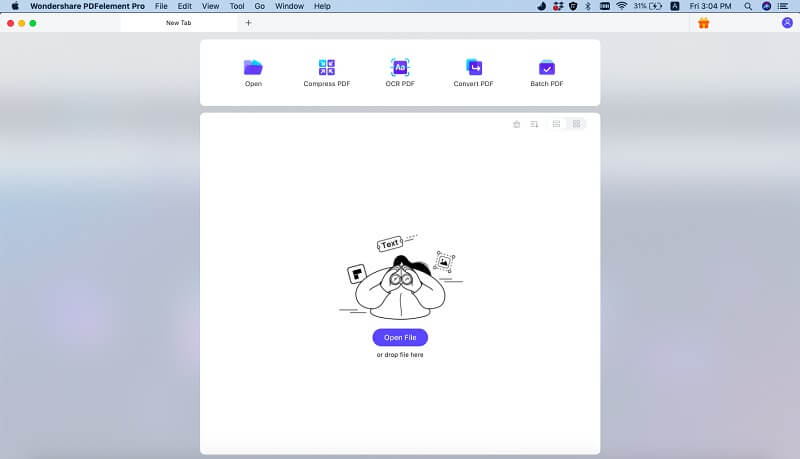 Step 2. Import the PDF
After you manage to launch the program, you must click on the "Open File" option from the Homepage and choose the PDF file you wish to convert. By dropping the selected PDF file to the program's interface, you also have successfully managed to import the PDF.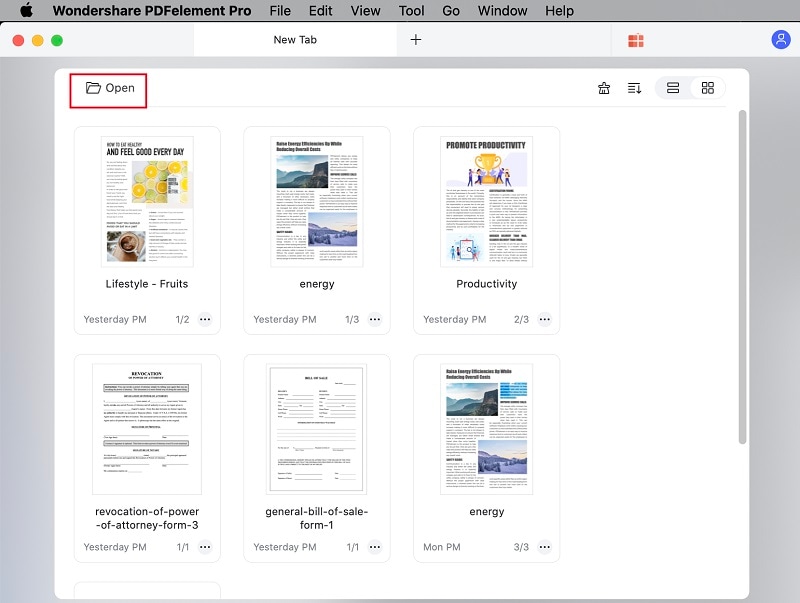 Step 3. OCR the scanned PDF
Before converting scanned PDF to Excel, you need to OCR the scanned PDF files at first. After you've imported a PDF files into the program, you can open the "Convert" menu and then enable the OCR feature on the right side toolbar.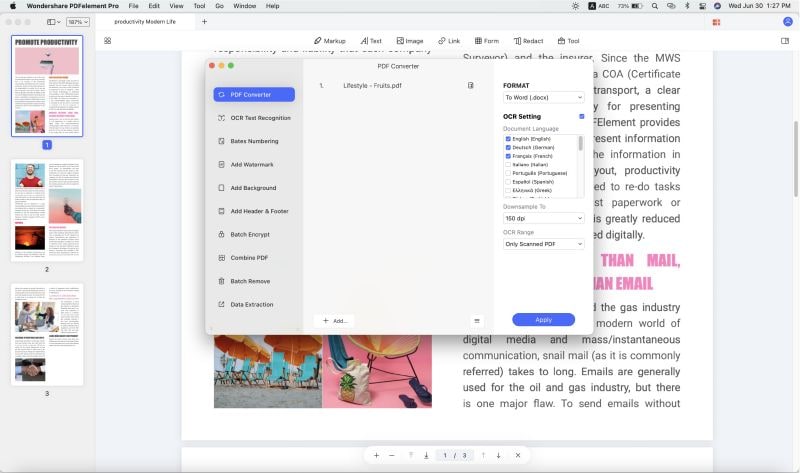 Step 4. Convert PDF to Excel
After OCR performs text recognition, you can finally click on the "To Excel" option under the "Convert" tap in order to complete the process. Note that you have the possibility to convert multiple PDF files to other formats including Excel with the help of batch process feature.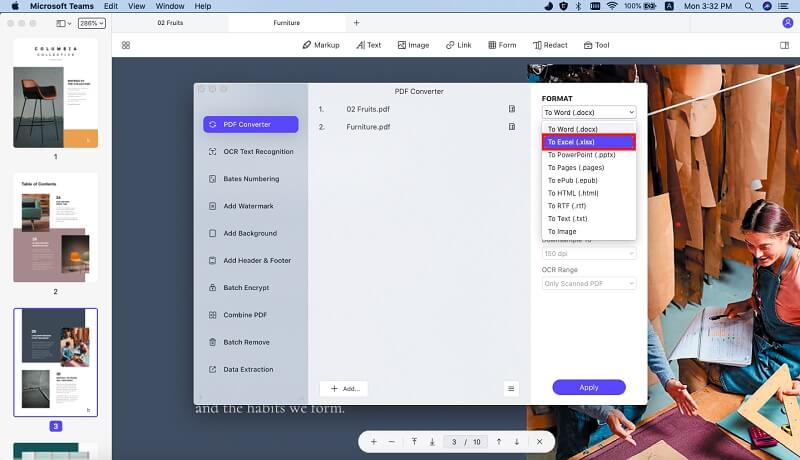 As a multi-functional PDF converter, PDFelement Pro will simplify your works with PDF documents easily. Click here to get the full guide of managing PDF files with this PDF tool.
Why Choose PDFelement Pro for Mac to Convert Scanned PDF to Excel
PDFelement Pro provides a wide range of options and services in order to meet everyone's needs and requirements. It First, you have the possibility to edit existing PDF files or documents meaning that you can insert, add or delete texts, crop, rotate and extract images, split, combine or replace pages, among others. Secondly, you can convert PDF files to various formats including Excel, Word or transform them into PowerPoint presentations. "Create PDF" is an option that allows you to build PDF files from combining text files and images. If you want to obtain a comprehensive PDF, then feel free to use the option "Combine Files" in order to combine various files with different formats. Overall, this program represents the best solution no matter the field you work in or the business you own because it provides diversity.
The program is not only suitable for Mac, but also for Windows computers. This means that as long as you download and install it, you can start taking advantage of its services.
PDFelement Pro is perfect for businesspersons that need protection for their files because it allows you to secure your sensitive files with passwords. In addition, you can print and share important documents to Dropbox or Email.
This advanced PDF converter has a simple and clean interface meaning that you can easily use all the features and functions on the main interface without wasting your time navigating.
Compared to other programs, PDFelement Pro includes unique features like OCR, which performs text recognition for scanned PDF documents. Even more, you are able to convert multiple PDF files at once.