When you want to copy PDF to PowerPoint in high resolution, you need some advanced tools in order to achieve this goal. Unfortunately, the PDF editing tools that are available for free do not measure up to the task. Getting the PDF into PowerPoint in high resolution requires very expensive tools like Adobe Acrobat Pro. Today, you will get to know how to copy PDF to PowerPoint in high resolution using a reasonably priced, high-power PDF editor. PDFelement is a feature-filled PDF editor that will convert high-resolution PDF files into PowerPoint and maintain high resolution.
How to Copy PDF File to PowerPoint in High Resolution
If you want to copy PDF to PowerPoint in high resolution, you will need a tool that can fully edit the PDF and save it to PowerPoint in the manner that it appears. PDFelement Pro is a versatile PDF editing tool that captures every aspect of a PDF file and maintains the same quality no matter what file it is being converted to. This means that the PowerPoint file you get will have the same resolution as the PDF file that you have used.
2 ways to copy PDF to PowerPoint
There are two different methods that you can use to copy PDF into PowerPoint in high resolution. The first one allows you to edit the PDF file at first and then copy and paste PDF into PowerPoint directly. At the same time, the second one is a direct conversion of the full PDF file. Here is how to copy a PDF into PowerPoint using these methods.
Step-by-step Guide on How to Copy PDF into PowerPoint
Method 1. Directly copy PDF contents to PowerPoint
Step 1. Import PDF file: Download and install PDFelement on your Mac or Windows, then click on the "Open" button and browse to where you saved the PDF file. You will see the pages on the interface and you can select the pages that you want to edit.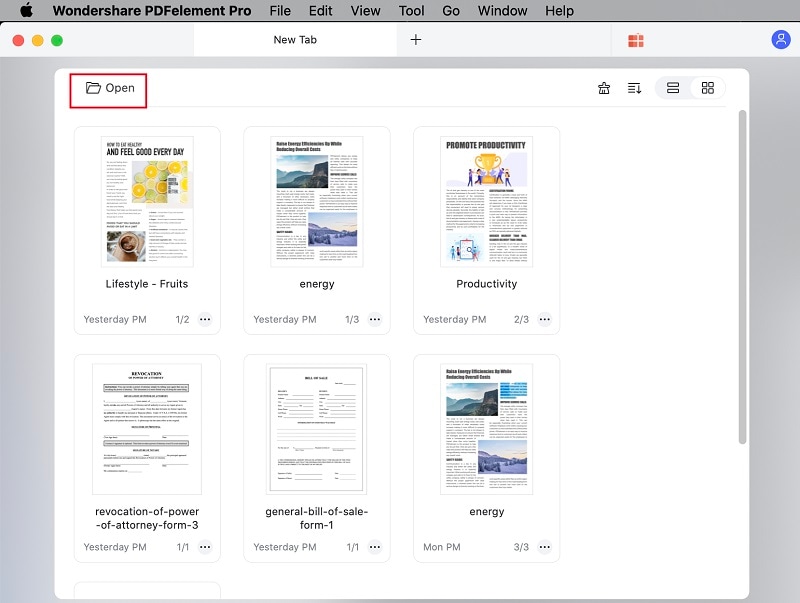 Step 2. Copy and paste PDF content to PowerPoint: After you've opened the PDF file to the program. You can open the "Text" menu at first. Under this menu, you can choose to add or delete the text contents in this PDF file according to your needs. After editing, you can move the cursor to select the texts you wanted, right-click on it and choose the "Copy" option to paste selected texts to a PPT file. You can also use the keyboard shortcuts "Command+C" and "Command+V" to copy and paste texts from PDF files to PowerPoint files. There are the steps on how to copy from PDF to PowerPoint.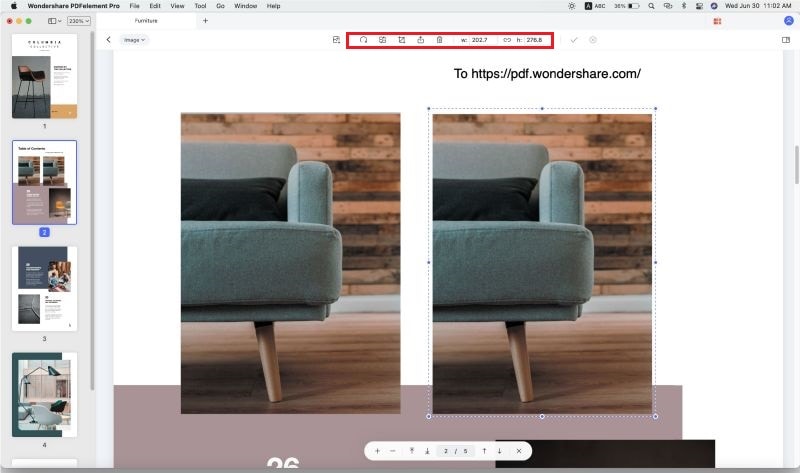 Method 2. Convert PDF to PowerPoint
Step 1. Import PDF Files: Drag and drop your PDF files to the "PDF Converter" window.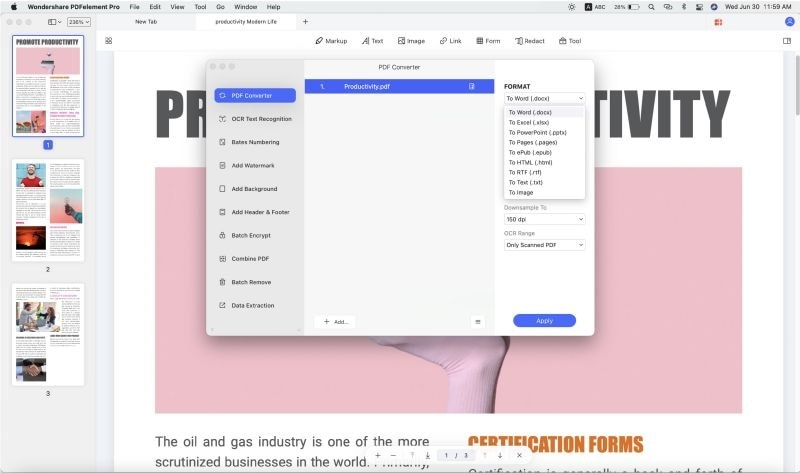 Step 2. Convert PDF to PPT: Now, you will open the "FORMAT" menu, choose the "To PowerPoint" option as the output format. Then you can click on the "Apply" button on the right-side toolbar to start the PDF to PPT conversion.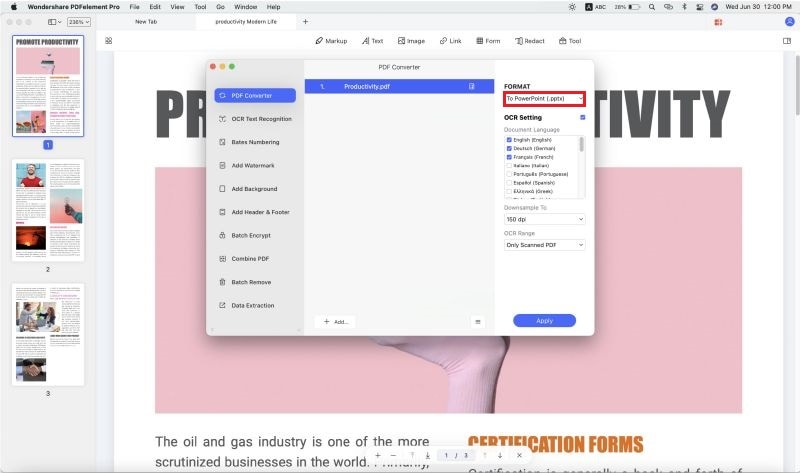 Why Choose PDFelement to Copy PDF to PowerPoint
When you want to copy PDF to PowerPoint, you need a tool that is flexible and gives you full control so the resultant file can be in high resolution. PDFelement Pro is one of the most powerful PDF editors on the market, being comparable to Adobe Acrobat Pro. This tool allows you to edit every aspect of a PDF file, whether it is an image, text or link. You can even edit security features such as permissions and digital ID. When you edit a PDF file and want to convert it to PPT, the images, objects and text will retain the high resolution that they had. This means that you will have a presentation that will be clearly seen by everybody.
Key features of PDFelement:
Create and Convert – Creation of PDF files from scratch just got easier with PDFelement. You can even convert other file formats to PDF and create new documents from them.
PDF Forms – Get PDF forms and fill and edit them. You can also design your own PDF forms to send to other people.
Great user Interface – the user interface is easy to follow thereby increasing the speed at which you work.
Digital Signature – Mark all your PDF files with a unique Digital ID. You can also change the permissions of the file.
Edit & OCR – Now, you can scan those printed documents and save them as PDF images. After that, you can put them through OCR and convert them into digital editable text.