The majority of sources of data come into the form of PDF files. So, if you need to use the data, you will have to export PDF table to Excel. Then you will be able to manipulate the data, as you need. But, you should know that first you will have to move the data into Word, and then you will have to export it in Excel. Once you will convert the table into an editable format, you can perform all the modification actions you want. There are different ways to export a PDF table to Excel, so here is a guide on how to do it easy.
The Best Tool to Export Table in PDF to Excel
But, for being able to export PDF table to Excel, you will need to use certain products and services, especially designed for this purpose. Because there are so many products available on the market, it might be challenging for you to decide upon one. You cannot afford to spend money on a product that will not be effective and that will not offer you the results you want. Therefore, you should choose a reliable one, for which users offer positive reviews.
One great option would be to use PDFelement Pro, which is an affordable tool that comes with all the features you may need. With the help of this PDF editor tool, you can easily export table from PDF to excel. Also, you can merge around 300 types of files into a single PDF document, or you can split a PDF into small ones. You can create a new PDF from Webpages, text files, images and an existing PDF. When using this PDF converter you have the possibility to edit, extract, crop, delete and rotate the images. You can combine, split, insert, extract and replace different PDF pages.
Key Features of This PDF Tool:
You can edit the PDF with its help – This program allows you to edit, add, delete and even insert texts in PDF.
You can create and convert PDF documents – This tool offers you the possibility to convert the PDF document to PPT, Word, Pages, Excel, RTF, EPUB, HTML, and other formats.
You can use PDF Form – You can fill interactive and non-interactive PDF forms, but you can also create new ones. You will be able to extract data from the document with only one click and in case, you want, to turn some forms into another ones.
You can secure and share the PDF files – This tool offers you the possibility to add and remove passwords and watermarks from documents. Also, you can redact sensitive images, texts and pages in PDF. You can share the documents to your Dropbox and Emails, but you can also print them.
You can organize the PDF the way you want to – With the help of this tool you can create and add bookmarks to the documents, apply bates numbers to the pages for easy indexing and organization. In case you want to customize the document, you can add headers and footers, and you can change even the background. The tool has the option to control the users who access the PDF. So, in case there is someone who wants to make changes or to print it, they will need the password.
You can sign and markup PDF documents – When using this tool you can cross out, highlight and underline the text in the document. In addition, you can add text boxes and sticky notes and you can even free hand draw different shapes. If you want to add stamps to the document or to personalize your signature, you can do it when you use PDFelement Pro for Mac.
---
How to Export PDF Table to Excel
Steps to Export Table from PDF to Excel
Step 1. Launch The Program
After you download the tool, you should launch it in order to use its features.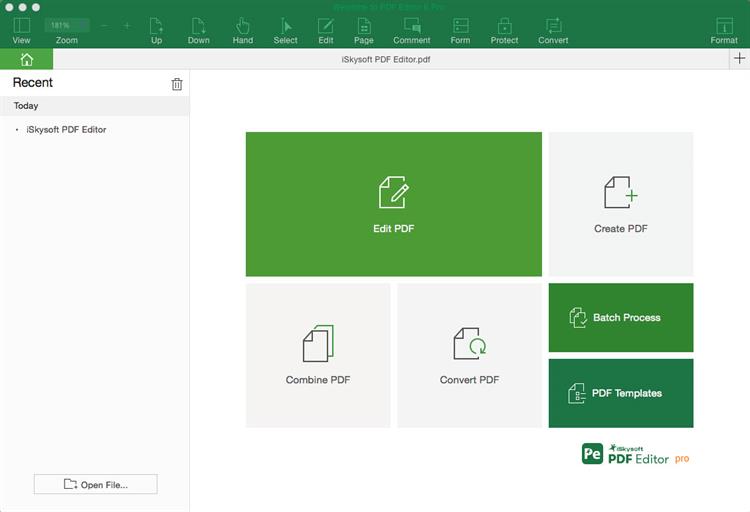 Step 2. Import the PDF with Table
Go to the "Homepage" of PDFelement Pro for Mac, and click the Convert PDF button. Choose the file you want to convert from the folder from your device and import it to the software.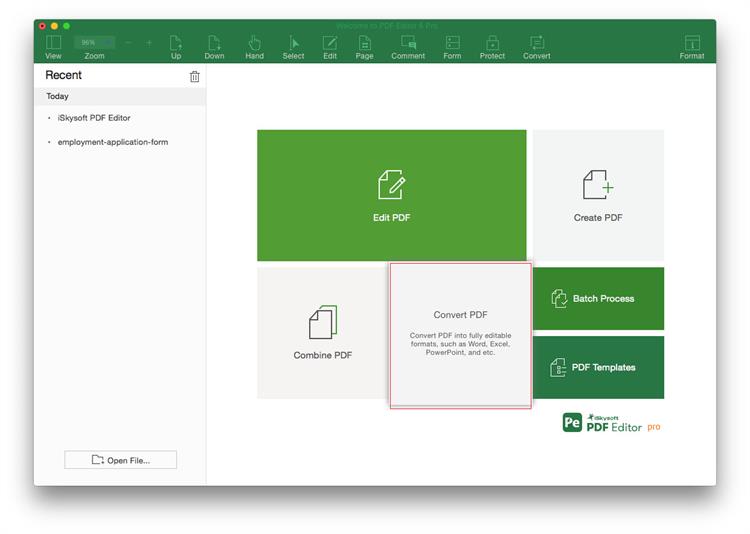 Step 3. Convert PDF with table to Excel format
You can select "To Excel" as the output format from the Convert menu. Use the "Option" button from the toolbar on the rigtht side to set the page range. Confirm the settings and click the "Convert" button to start to export PDF Table to Excel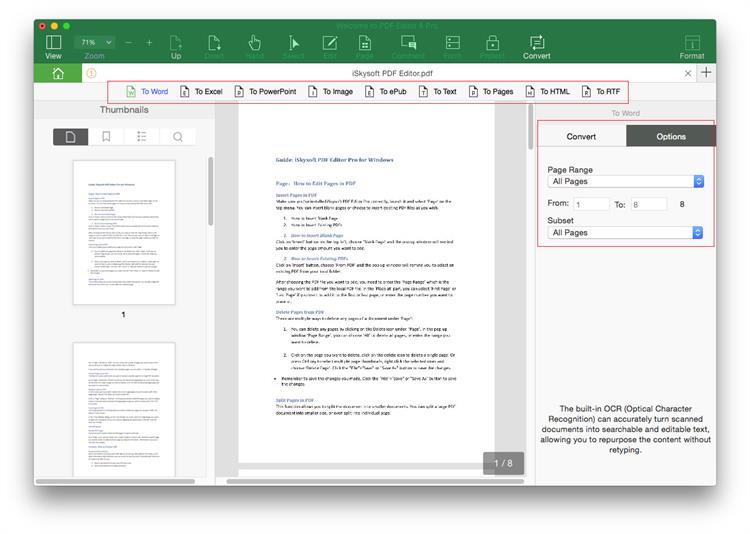 Step 4. Extract data from PDF table to Excel
Except convert the table from the PDF form into Excel, you can also use feature "Select" to export PDF table to Excel. To do so, you can import your PDF table into the program at first. Then click on the "Select" button, move cursor to select the form data that you needed and right click on it, choose the "Copy" option and then you can paste the selected data from the PDF table to Excel. If you are a Mac user, you can also use the shortcut key "Command+C" and "Command+V" to copy and paste a table from PDF table to Excel.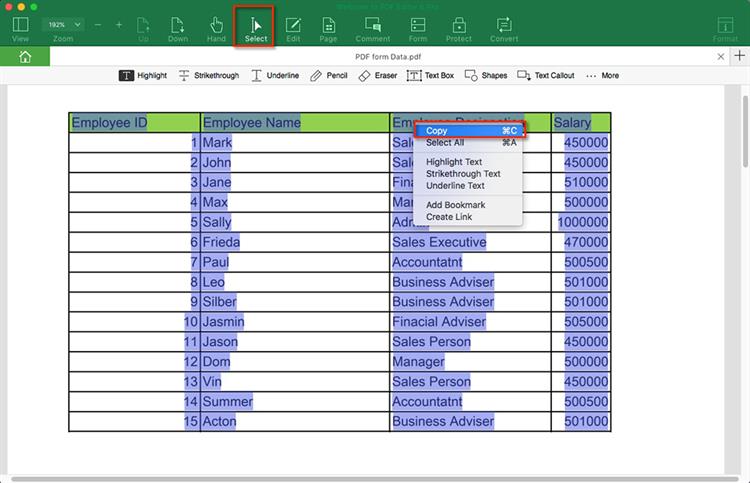 To sum up, PDFelement Pro is the best tool to export PDF table to Excel, it also allows you to convert PDF to DOCX, PNG and other popular file formats, you can click here to view the full guide on how to convert PDF to Word, PPT and convert multiple PDFs in batch.