Everyone knows how stressful it is to switch between different formats of the same document. Finding a converter that does it all is quite difficult if you do not know where to search for it. The Internet is full of services like these that are not what you need and will make you simply lose time instead of quickly changing between formats. This article is supposed to give you enough information on how to extract PDF to Excel so it will be easier for you in the future to handle your files.
The Best Tool to Extract PDF to Excel
PDFelement Pro is one of the best tools to extract PDF to Excel Spreadsheets. Usually, this process causes files to lose or damage information, meaning that the converting won't be successful and you will find yourself stuck in the same place for a while. But with PDFelement Pro you can easily extract data from PDF to Excel without any hassle.
How to Extract PDF to Excel on Mac
Step 1. Start PDFelement Pro
After you have downloaded the program, the next step is to launch it. You can complete this step by looking for the PDFelement Pro icon and double-clicking it. Once you clicked it, you will have to wait until the program fully loads. Now you should be seeing the platform of PDFelement Pro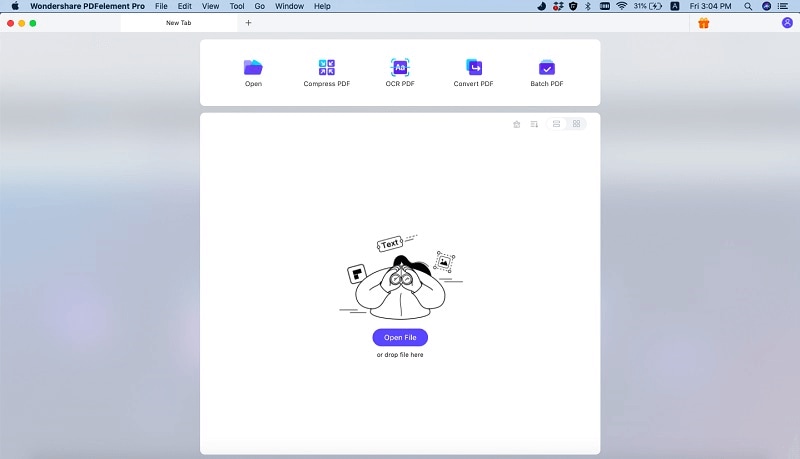 Step 2. Import PDF File to PDFelement Pro
There are several ways you can import the PDF file or files you'd like to convert: dragging and dropping, choosing Convert PDF or Open File. After this step is complete, you will be able to see a preview of your document with more options to try and discover.
Step 3. 3 ways to extract data from PDF to Excel
1. Convert PDF to Excel
The next step would be initiating converting. Click on the "Convert" button and select the "To Excel" option.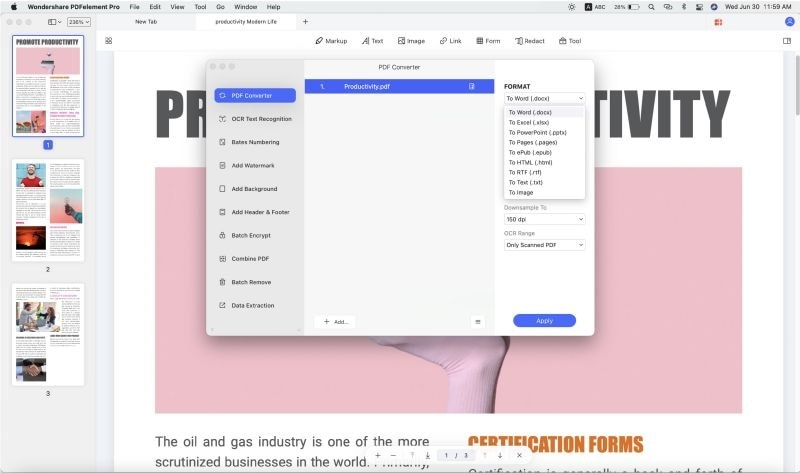 Then you will notice a menu in the right side of the platform. There, you will see two different tabs: one for Converting and one for further Options. You will have to set up both of the tabs to fit your needs. The Options tab will allow you check or uncheck the OCR box and choose preferred document language in case it is necessary. Secondly, when accessing the Convert tab you will be seeing other features that could help you obtain the exact outcome you desire. Once you are ready with all the changes you made, click Convert. This is the method for converting an existing PDF file to an Excel Spreadsheet outcome format.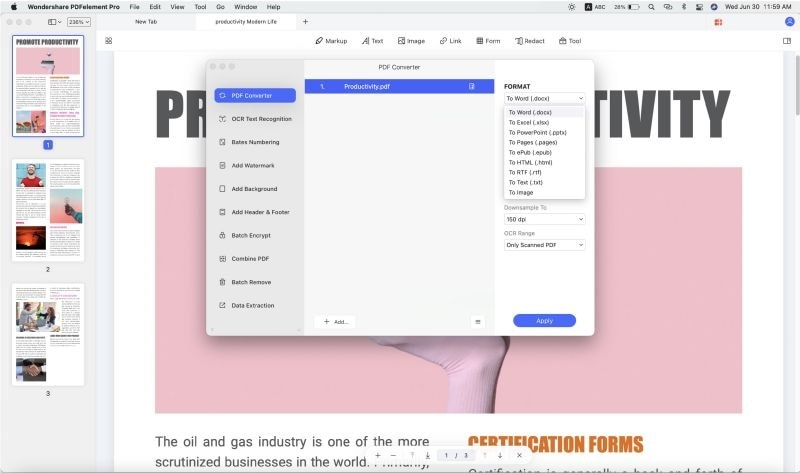 2. Copy data from PDF table to excel
If you want to copy form data from PDF to Excel directly, you can click on the "Select" button, move the cursor to select the form data that you desired and right click on it. Then choose the "Copy" option and paste the selected form data to Excel.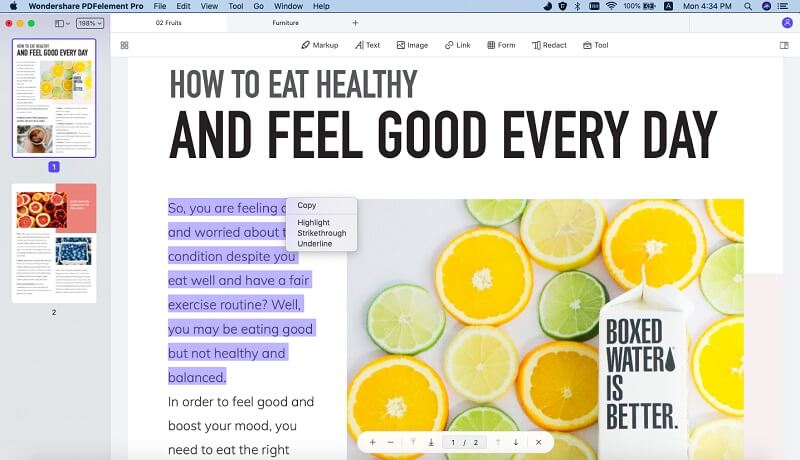 3. Using "Data Extraction" feature to extract data from PDF to Excel
To extract PDF table to excel can be a little trickier. Yet, PDFelement Pro has a bunch of features to help you with that. After you reached your Homepage and uploaded all the documents needed, you can click the "Form" tab and select "Data Extraction" option under the "Tasks" tab.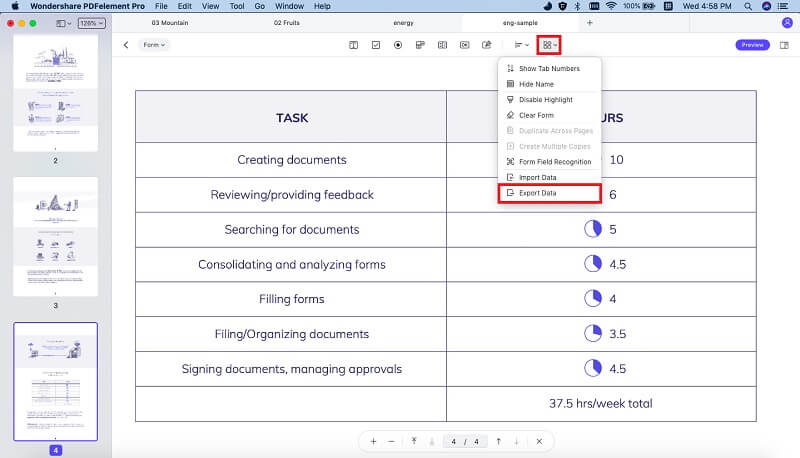 From this moment, you can add fillable PDF forms to this program and then click on the option of "Extract data from PDF form fields" on the right panel. Click "Save" to start extracting the data in Excel format.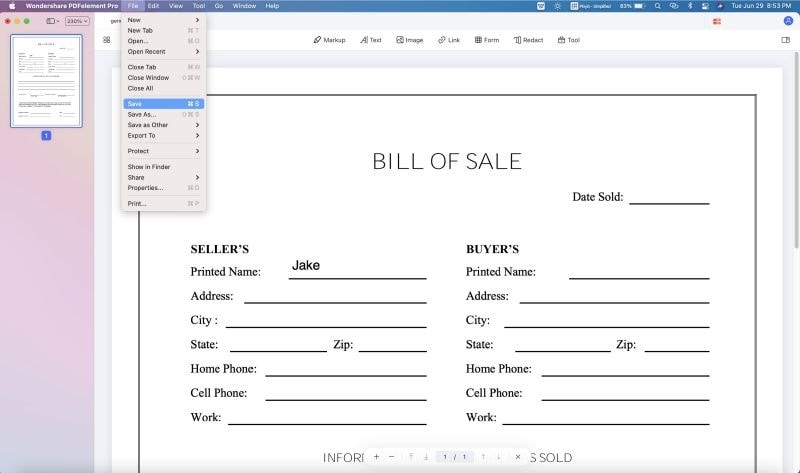 Except extracting PDF to Excel, PDFelement Pro also provides you multiple PDF editing tools, click here to get the full guide on how to manage your PDF documents easily.
---
Why Choose PDFelement Pro to Extract PDF to Excel
There are multiple PDF to Excel converters online that allow you to extract PDF to Excel free online and it's difficult to choose the right tool for your needs. Time means money, but it's not all about rapidity: quality of conversion is a paramount factor too. PDFelement Pro is very the right PDF editor for you to edit and convert PDF files easily, it also offers its users:
Key features of PDFelement Pro:
The possibility to edit, convert or even OCR batch PDFs.
The option to create and auto-fill forms (recognizing and importing PDF forms is also possible).
High security due to the encrypting and a personalized level of password protection .
Adding watermarks or signatures easily, plus marking-up and annotating any file.
Converting and creating PDFs from scratch and combining multiple PDFs into a single one.
The possibility to organize and re-organize the files, while adding user permission.