PDF and Microsoft Word are two universally accepted formats which are used everywhere. While most people prefer to use PDFs for archiving business and personal documents, Word has its own benefits. For instance, images saved in Word documents are easy to extricate and use. Similarly, it is much easier to edit documents stored in Word format. Word has innumerable editing options that allow you to beautify text as well as its presentation and layout. Since both the formats are handy and practical, you might feel the need to change PDF to Word. Here we discuss some of the best ways on how to change PDF to word.
5 Easy Ways on How to Change PDF to Word
Method 1. Change PDF to Word on Mac
With the advent of PDF to word converters, it has become quite easy to change PDF files to word files. However, sometimes, users want to do much more than just convert files. In such a case, advanced tool like PDFelement Pro come to rescue. It is one of the best ways to convert PDF to word on your Mac is to use PDFelement Pro. Not only does this PDF Editor allow you to convert PDF files into Word files, it also provides you with innumerable options to edit documents. It can even be used to add watermarks and change backgrounds. Because its user interface is so easy to understand, it will take you only a few minutes to get started. Its inbuilt protection system allows users to keep their documents safe with digital signatures and passwords. Last, this PDF editor is value for money and will not burn a hole in your pocket.
Step 1. Import PDF files to the converter
Download PDFelement Pro for Mac. Install the program and launch it. On the primary window, you will find a button that says "Convert PDF". Click the button to open the conversion window and import your PDF files. You can simply drag and drop one or multiple PDF documents to the program.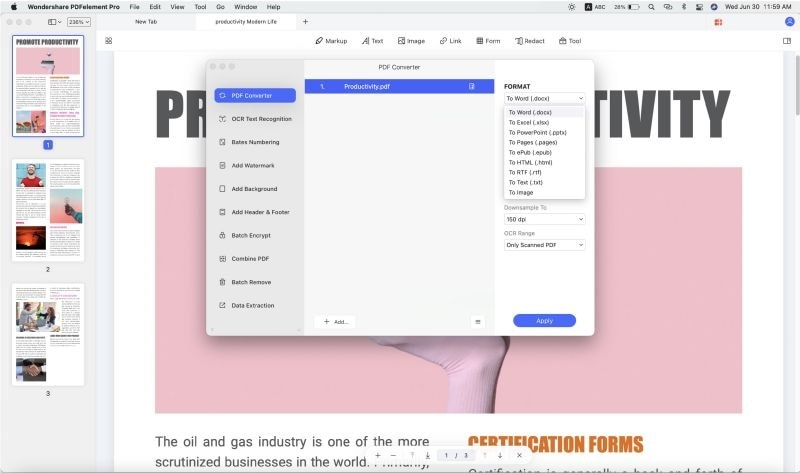 Step 2. Start to change PDF to Word doc
Now select Word as the output format from the output format list on the top right corner of the program. And then click "Convert" to start changing PDF to Word.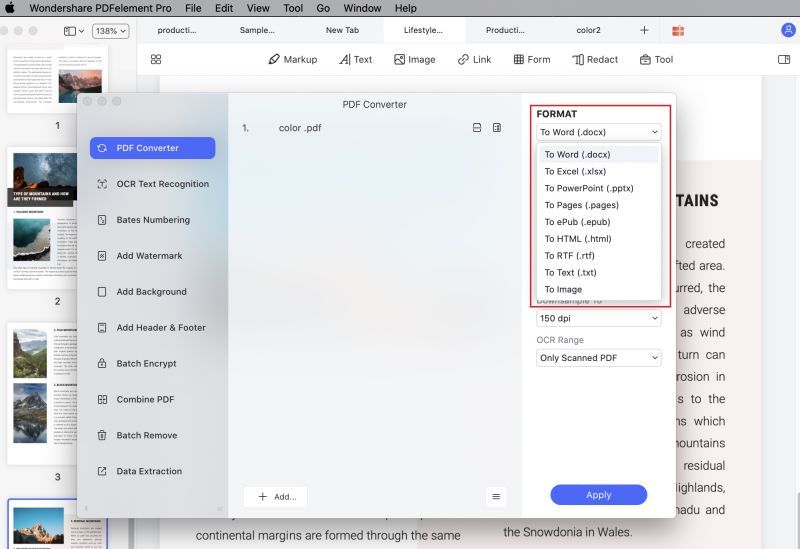 Why Choose This PDF Converter:
Easily convert PDF to Word, Excel, PPT, EPUB and other file formats.
Convert multiple PDFs in batch in a few simple steps.
Edit and convert scanned PDF files with advanced OCR feature.
Edit PDF texts, links, images and other elements with ease.
Merge multiple files into PDF and split PDF into several files.
---
Method 2. Change PDF to Word on Windows
PDFelement Pro is one of the best tools in the market right now. It allows users to share files from Dropbox, Evernote, Google Drive and email. Not just that, you can keep your files protected with a password or a digital signature. Its comment feature allows you to add specific notes on files. The PDFelement Pro is also inbuilt with Optical Character Recognition Technology which facilitate optimal digitization of files. This tool is highly recommended.
Step 1. Run the PDF editor
Start by downloading PDFelement Pro on your Windows. And launch the program into your system and go to the main interface.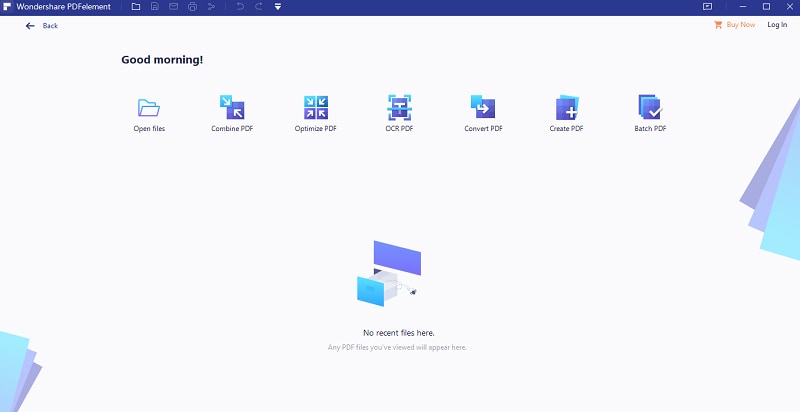 Step 2. Import PDF files
Import the files you want to convert by clicking on the "Open" button on the primary window of the program. You will open the file browser. Now select the PDF file you want and import it to the program.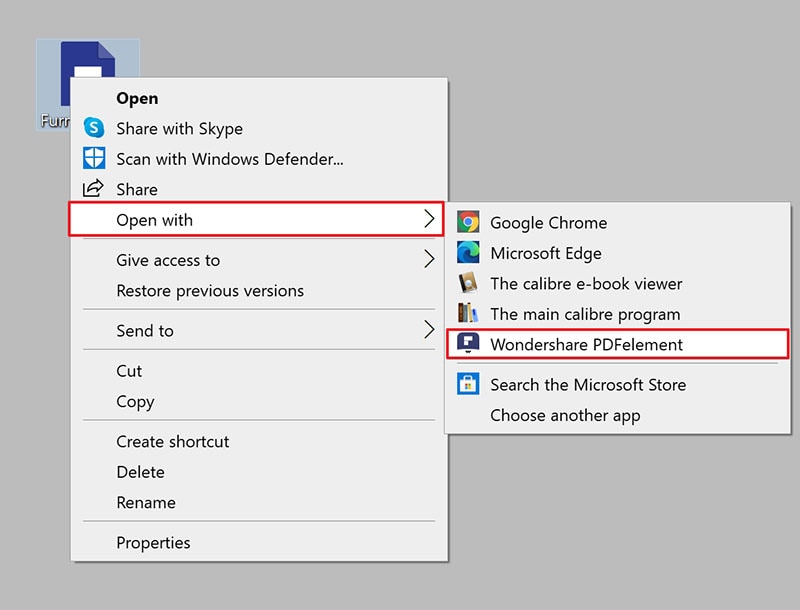 Step 3. Changing PDF to Word on Windows
And then open the "Home" menu and click on the "To Word" button. Click on "Convert" to start the conversion. To convert PDF to other file formats, you can choose the "To Others" option and select the file formats as your needs.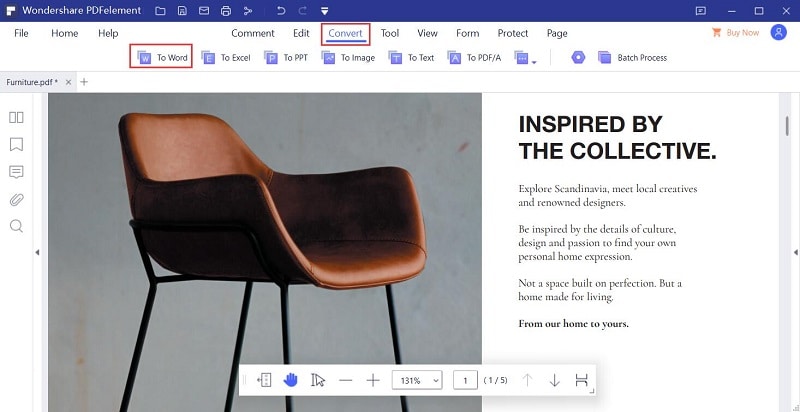 ---
Video on How to Change PDF to Word with PDFelement Pro
---
Method 3. Change PDF to Word Using Adobe
Adobe created one of the first PDF converters. With time, it has added new features to make its PDF converter efficient and useful. Its latest version allows users to multiple PDFs on a single screen. It also allows users and readers to add and view comments using SharePoint. One can also add video and audio files to PDFs using this tool. However, to be able to avail all these features, you will have to spend a small sum -- Adobe DC isn't free. One of the cons of Adobe converter is that it does not convert password-locked files. One has to first use a PDF password remover to unlock files before they can be converted.
Step 1: Download and Launch Adobe Acrobat.
Step 2: On the right side of the panel, choose "Export PDF".
Step 3: In the Export format section, choose Microsoft Word.
Step 4: Press "Export".
Step 5: Save the converted file in your computer.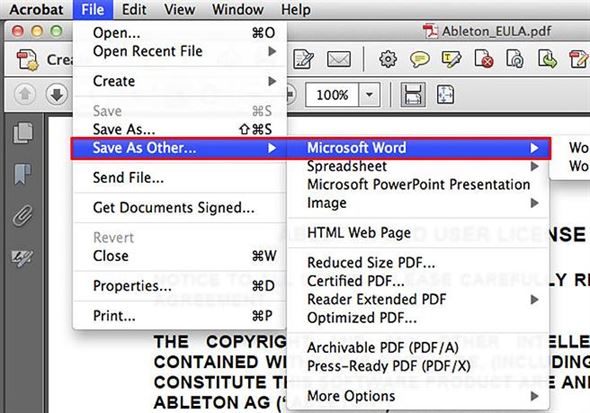 ---
Method 4. Change PDF to Word Using Google Drive
Why waste money on a paid PDF converter when you can get similar services for free! Use Google Drive to convert your PDFs into Word. Google Drive is inbuilt with the Optical Character Recognition Technology which will allow Google to read your image files as text files. This means you can edit your files using Google drive. Yet another good thing is Google does not also leave its watermark on your converted documents. However, Google Drive provides only limited features on its free version. If you do not want to just convert PDFs, but also work on them, Google Drive will prove to be inefficient and you might have to move to an upgraded version.
Step 1: Log in to Google Drive with your account.
Step 2: Using "Upload", upload the document you want to convert.
Step 3: Open the uploaded document with Google Docs.
Step 4: Once the document gets opened in Google Docs, use the 'download as' tab and convert your file. Within the download as section, choose the format as Microsoft word and press the button.
Step 5: Your file will be converted in no time.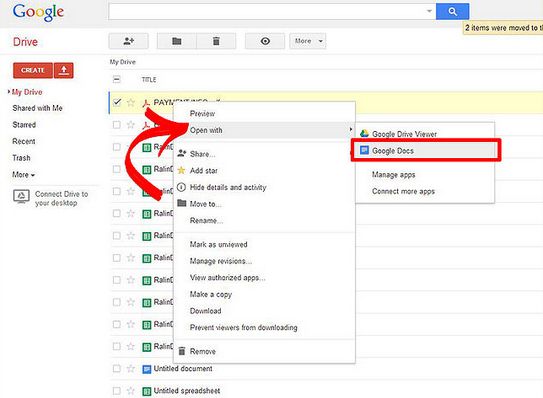 ---
Method 5. Change PDF to Word Free Online
pdftoword.com allows you to convert PDF files to word files online for free. It's perhaps one of the easiest ways to convert PDF to word. Not only does this website allow you to edit images and texts, it can also be used to create and merge PDFs together. Since there is no size limit, this website will even convert heavier files for you. However, the whole process is slightly lengthy and slow. You will have to provide an email to which the converted document will be sent. Also, the converted file won't arrive in seconds. Sometimes, it can even take up to an hour. If you have the time and patience, try this one. If nothing, it will save you some money.
Step 1: Select the file you wish to convert.
Step 2: Enter the email to which you want the document sent.
Step 3: Click on the "Convert Now" button.
Step 4: Your job is done.