Have you ever noticed that some kinds of reports or pages are included and displayed on a web page while you are browsing through a website? Sometimes, a website needs to make its viewers read some important report about the company or see the sample of a form that someone has to fill up to enroll in their programs. These are the situations when you may need to insert a PDF file in an HTML webpage. In this article we shall make you aware of the best program PDFelement Pro to insert PDF into HTML page. Get an answer to the question – How to insert PDF into HTML?
The Easiest Way to Insert PDF into HTML
The first thing that you will be required to do is to be able to edit and manage your PDF in such a way that editing looks just like a routine activity – simple and easy! How to put PDF in HTML? There are many online tools that may help you in doing so, but they are either too slow or may not sustain the graphics of the source file. Also, the other elements such as texts, images, graphs are not maintained when inserting the PDF file takes place.
One such tool that allows you to insert PDF in HTML and do a lot with your PDF, at the same time keep the layout intact is PDFelement Pro, which works absolutely fine on Mac as well as Windows OS. This is the best possible solution you are looking for. Just download the program, run it on your computer, and see all you can do with your PDF files!
How to Insert PDF into HTML
Step 1. Import the PDF File:
The first thing that you should do is to launch PDFelement. After launching the program, you can use the "Open File" option to select the PDF file to be inserted into HTML. Once the file is imported, you may also do any alternations in the file before inserting it into HTML. At this time, you may also add PDF to HTML.
Step 2. Select HTML as the Output Format:
Go to the main toolbar and click on the "Tool" button, and then you can select "PDF Converter" to open the convert window.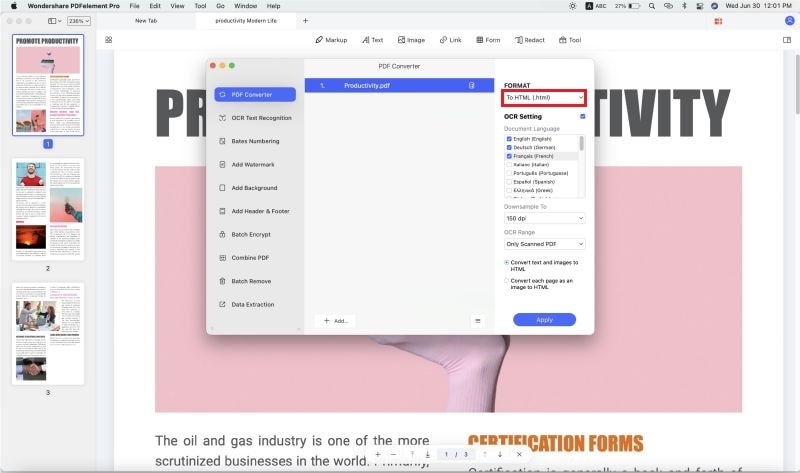 Step 3. Start PDF to HTML Conversion:
Click "Add" to add PDF files into this window. Then, choose "To HTML" under the "FORMAT" menu. Once you have selected the format to which the file needs to be inserted, you may also select the pages, location to save the output file on the right-side toolbar. Then simply press the "Apply" button to initiate the conversion process.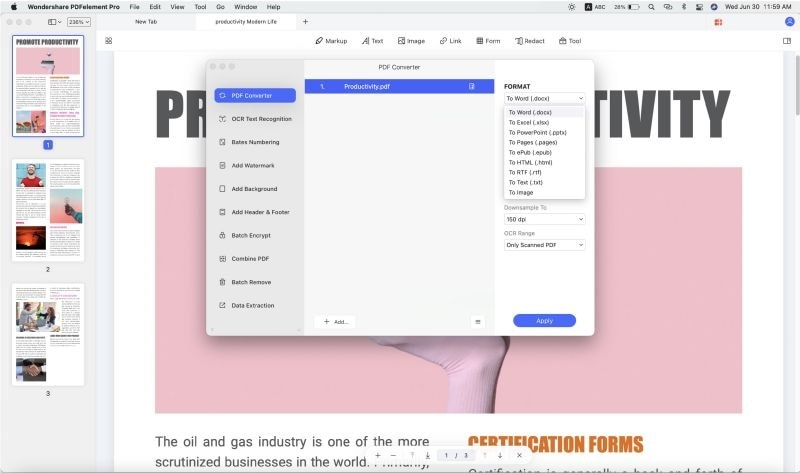 Step 4. Batch Convert PDF to HTML:
The best part of this tool is that you will also convert a whole batch of PDF files instead of doing one file at once. To do so, you can add as many files as you want by clicking the "Add" button on the "PDF Converter" window.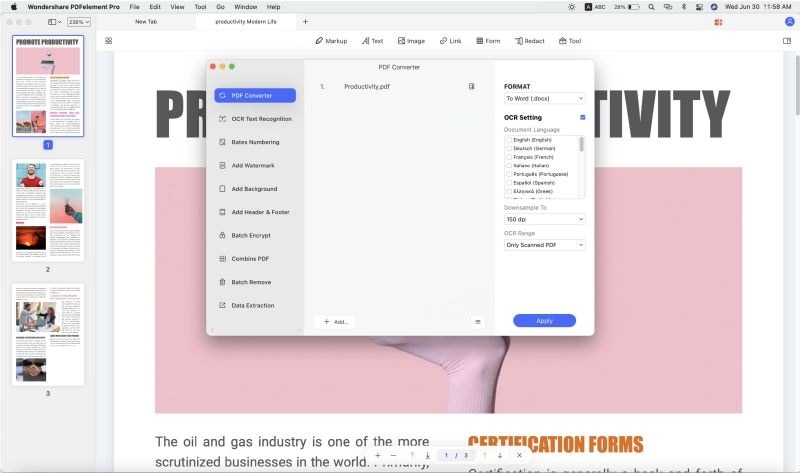 Then, you can select HTML as output format and click on the "Apply" button to start to convert PDF to HTML in batch. After this, you can insert desired PDF files into HTML easily.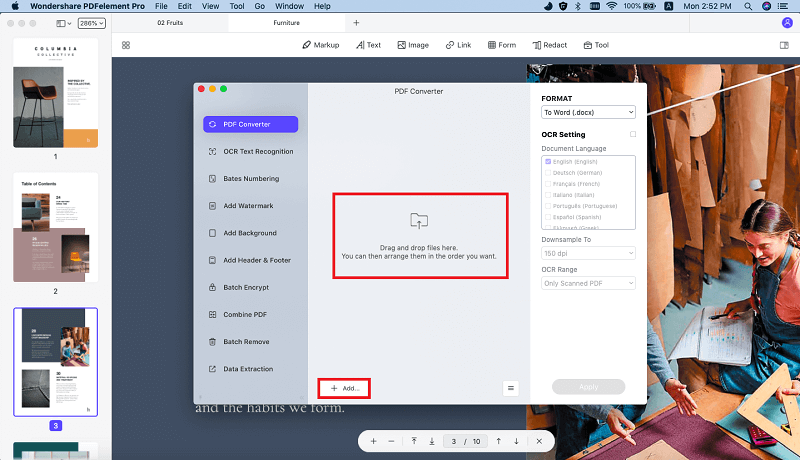 ---
Why Choose PDFelement Pro to Insert PDF into HTML
PDFelement Pro is undoubtedly the ideal solution for inserting PDF into various other formats. It is simple, quick and affordable. With it, insertion of PDF files to HTML becomes quite easy with so many editing tools to make your page more interactive. Besides, this tool will assist you in various formatting of documents such as conversion, uploading, texting, image and link adding, etc.
There are many features that make PDFelement and better than the likes. Following are some of the features which make it the best option:
You can insert your PDF document into many other formats.
Convert PDF Files to Word, Excel, PPT and other file formats with original formatting.
Text and images in a PDF document are exported properly.
Add, delete, cut and replace elements in PDFs like text, images, graphics, watermarks, etc.
Easily merge or split the PDF files according to your expectation.
Advanced OCR features help you to edit and convert scanned PDF files easily.