There are several methods that you can use to import PDF to PowerPoint. You may use third-party apps to convert the PDF into a PowerPoint document, and this may be the best option. However, there are times when you do not have the time and simply want to import the document quickly. You can do so by linking it into PowerPoint or saving it as an image and adding it to the PowerPoint document. In this article, you will see how to import PDF into PowerPoint using a variety of methods. You will be free to choose the one which is best for you.
Part 1. How to Import PDF to PowerPoint on Mac
The Best Tool to Import PDF into PowerPoint on Mac
"Can I Import a PDF into PowerPoint?" This is a question that most people not familiar with PDF files will ask themselves. It is possible to import PDF to PowerPoint in various ways. One is to turn it into an image and the other is to convert it. With PDFelement Pro you can do both of these with ease. You have the power to edit the PDF file until it suites our needs and then send it to PowerPoint in any of the formats mentioned above.
Step-by-step Guide on how to import a PDF into PowerPoint
Step 1. Import PDF into the PDF Editor
In order to bring the PDF document into the editor for editing, go to the Finder and then drag the PDF file into the Interface. You may also go to "Open" and then look for the file at the location you saved it. There are other direct methods of importing the PDF to PPT.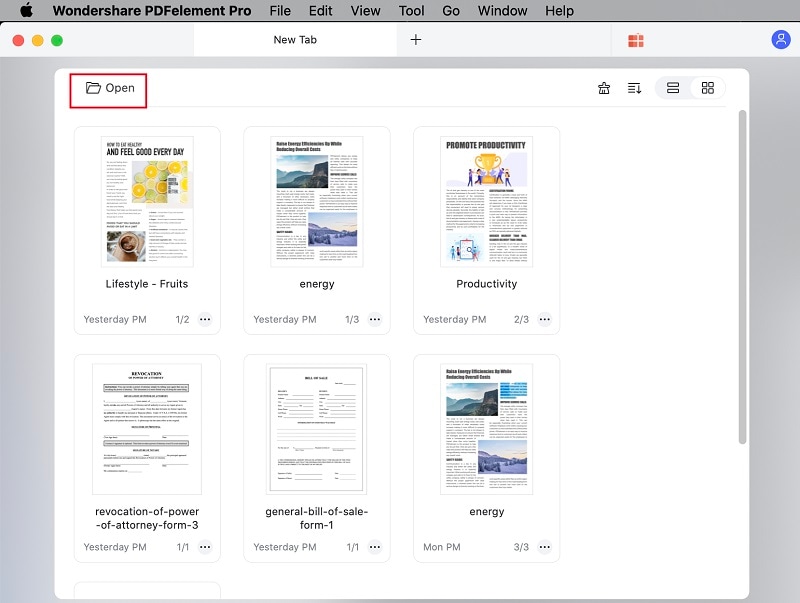 Step 2. 2 Ways to Import PDF to PowerPoint
Method 1. Import PDF as an Image
After opening the document, go to the "Tool" menu and choose "PDF Converter". After the new window opens, click "Add" to import PDF files, select "To Image" from the output format. You will notice that there are many other files formats that you can use. In this case, you may also choose to save the PDF file into an image at first. Then you can import this PDF as an image to a PowerPoint file.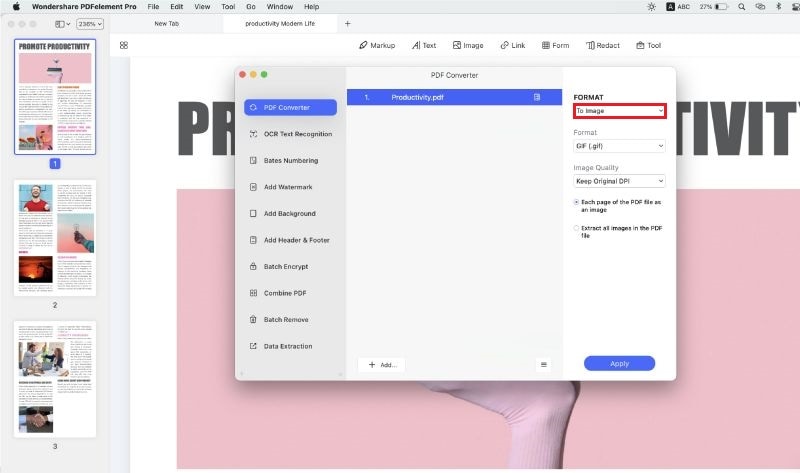 Method 2. Import PDF Contents Directly
You may also convert the PDF into a PowerPoint file directly, which you can then edit in PowerPoint. Go to the PDF Converter window and then click on "Add" to open the PDF files.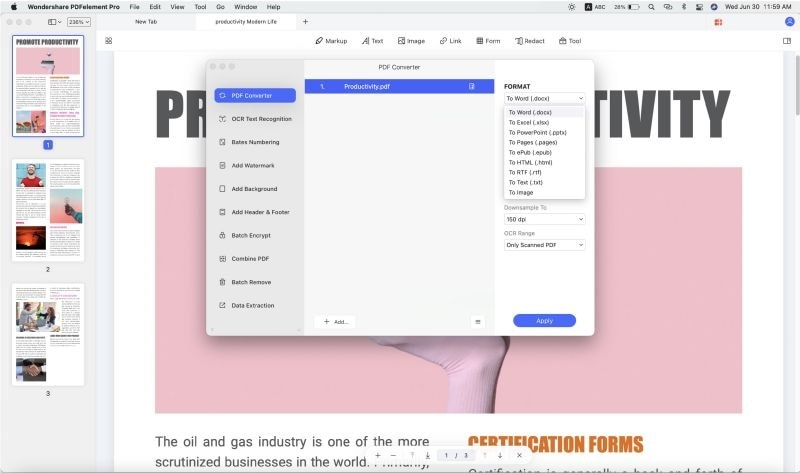 Now you can go to the "FORMAT" menu and select "To PowerPoint" as the output format. After you've confirmed the setting, you can click on the "Apply" button on the right-side toolbar to start the PDF to PPT conversion process.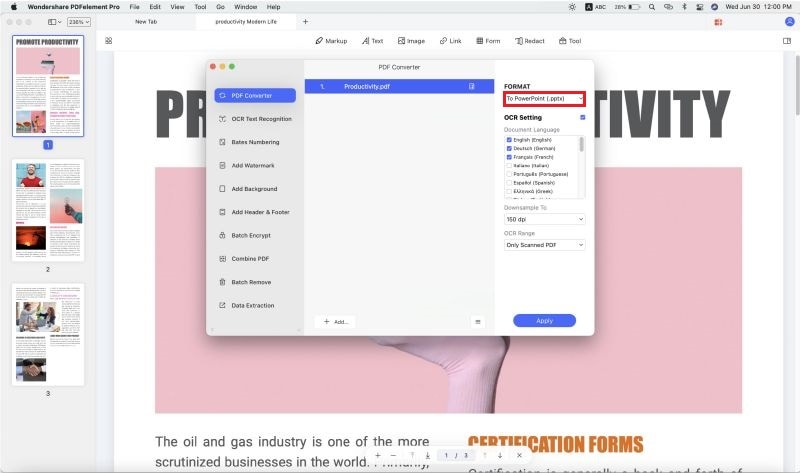 Why Choose PDFelement to Import PDF into PowerPoint
PDFelement Pro is a powerful PDF editor that opens up a whole world of opportunities when it comes to creating PowerPoint presentations. With the help of this PDF editor, you can also convert a PDF file to Word, Excel and other file formats. To save your time, you can use the "Batch Process" feature to batch convert multiple PDF files. The Advanced OCR feature enables you to edit and convert scanned PDF files with ease.
Create and Convert PDF Document– Now, you can start a new PDF file like you would on Adobe Acrobat Pro. You can also convert files to and from the PDF format.
PDF forms – Now, you can have your own custom PDF forms to send to people. You can also edit and fill forms sent to you by other people.
Digital signature – Personalize your work by adding a digital signature to your PDF files. You can also change the permissions.
Edit and OCR PDF Files – Scan all your printed documents and then import them as PDF images. The tool will put them through OCR and you can edit the text after that.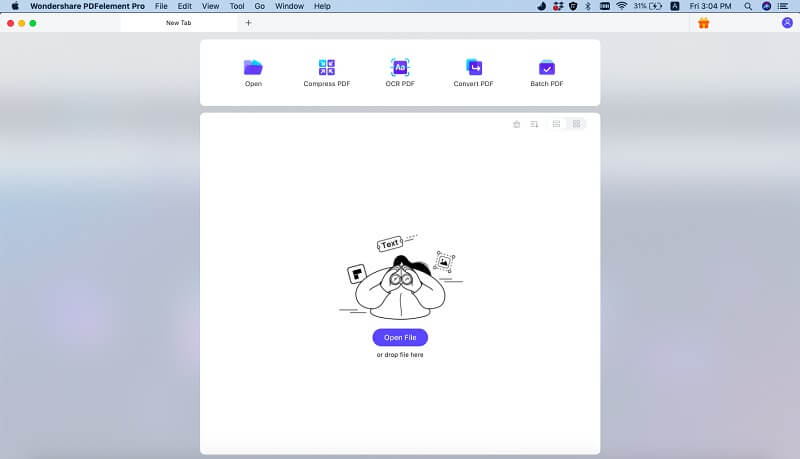 ---
Part 2. Alternative Solution to Import PDF to PowerPoint on Mac
If you do not want to convert PDF to PPT, you may also put it as a link and it will be played within your presentation. This requires you to insert the file as a link or object. The PDF file will be displayed on the slide, but you will not be able to edit it in the manner that you would if you were to convert it to PPT first. This is a great and quick way of preparing slides for an emergency presentation.
How to insert PDF into PowerPoint as a link/Object
Step 1. Open PowerPoint
Start off by opening PowerPoint and then choosing the slide where you want the PDF file. Then select "Insert" followed by "Object." You will get a new dialogue box from where you will be able to choose "Create from File."
Step 2. Insert or import the PDF file to a slide
Now you have to navigate to where you saved your PDF file and then select it. Once done, click on "Open," and you will be asked to use an "Object Box." Click on OK, and wait for the PDF file to be added to your slide.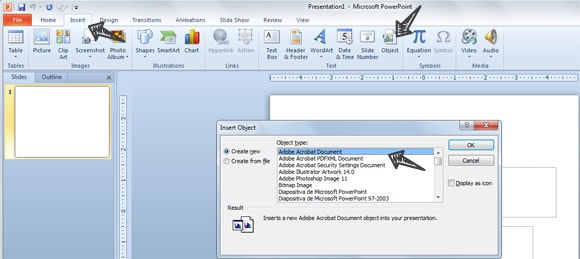 Step 3. Activate the linked PDF file
After you have imported the PDF file into PowerPoint, you need to know how to activate it during the presentation. Go to the PDF icon, which is shown on the slide and click on it. Now click on "Links/Action." Now you will be asked to choose whether you should activate the action by mouse over or mouse click. Now, move to the "Object" and then choose "Activate Content." This will ensure that the PDF file will be active during your presentation.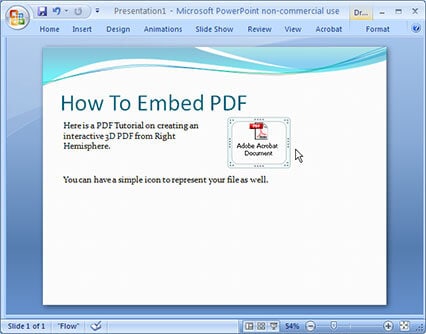 There are several ways to import PDF to PowerPoint 2013. Some may be complicated and others are rather simple. The best way is to choose the powerful PDFelement, which will make your work much easier.
In conclusion, these are some of the best ways to import PDF into PowerPoint on Mac. The tools and methods described above will make it easy to come up with amazing PowerPoint presentations. If you already have the material in PDF format, you do have to redesign it all over again. Simply use PDFelement, and you will have an amazing PowerPoint presentation in no time at all.