A PDF file is a difficult file to edit, and sometimes it may be prudent to convert it into a Word document so it can e edited within a familiar environment. Not many tools can perform this task perfectly. When you convert a PDF file into Word, you want the layout to be just like it was on the PDF file. You do not want it to look skewed and have text and images missing, forcing you to substitute them or type them all over again. When you use PDFelement for this task, you are able to import PDF into Word 2016, 2007 or 2003 and it will look exactly like it did in the original.
How to Import PDF into Word
The Best Tool to Import PDF into Word
PDFelement Pro is a powerful editor and converter that can convert a wide range of files into PDF and also help you to import PDF into Word. One the flip side, it can also convert PDF files into a wide range of formats including Word. This is why it is the best tool that you can find for this purpose.
How to Import PDF into Word on Mac(Including macOS 10.13 High Sierra)
Step 1. Import PDF Files to iSkysoft PDF Editor
Use the "Open File" command and then navigate to where your PDF file is located. You may also use the Finder to drag it into the program. Your PDF pages will neatly be displayed on the interface.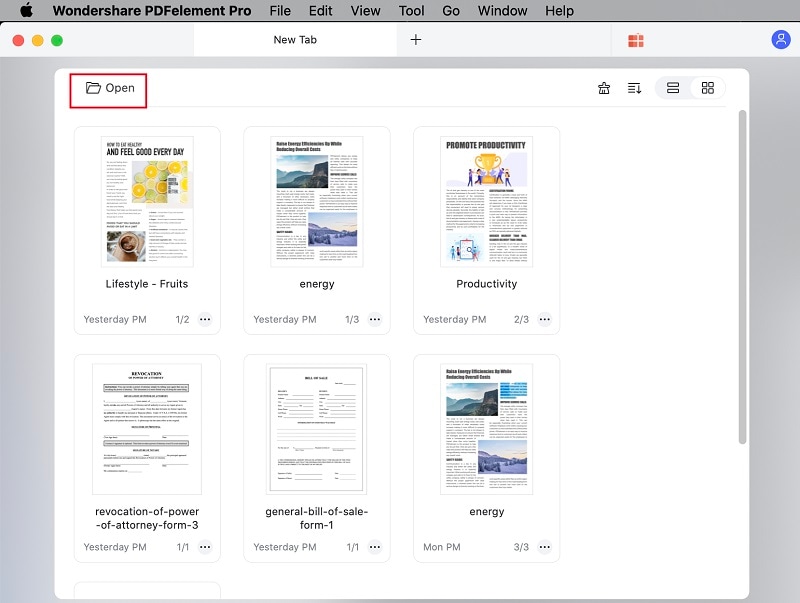 Step 2. Convert PDF to Word
Go to the "Convert" panel and there you will find the conversion settings. Select "To Word" and then choose the destination folder and name that you want the new Word file to be saved in.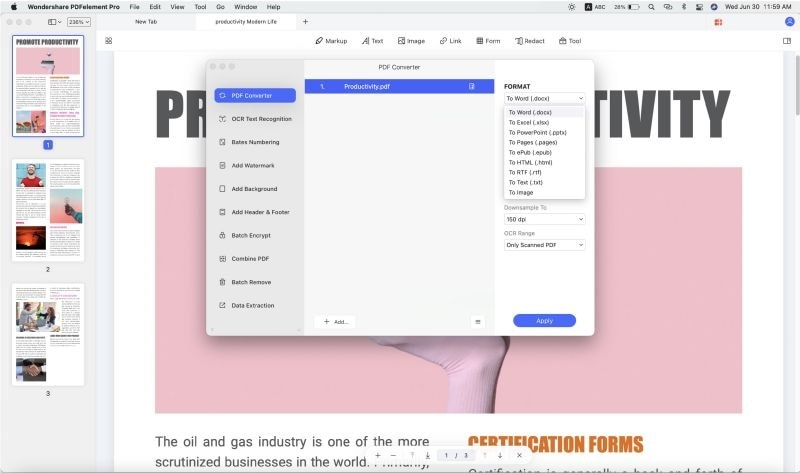 Alternatively, you can just use the "Convert PDF" in your Welcome page when you open the PDF converter. You simply select the PDF file you want to convert and then select the output folder and type. This method is best when you do not want to do any editing before conversion.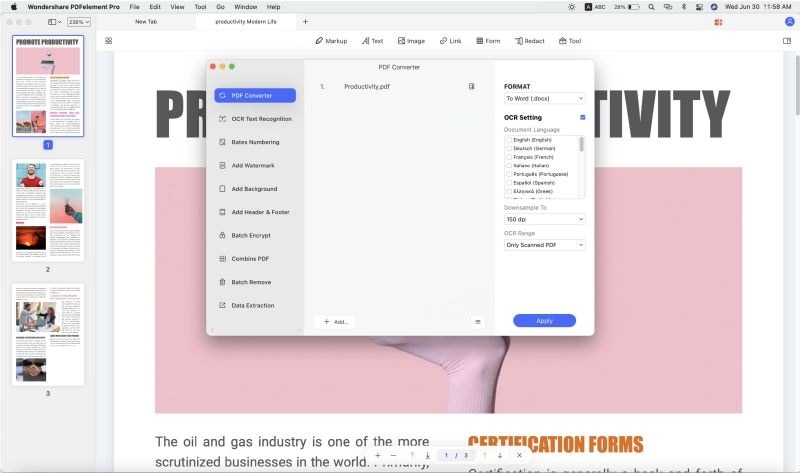 Step 3. Import Converted PDF to Word
Now open up Microsoft Word and then open the new file like you would any other Word file. You can now import PDF into Word easily and you will be glad to see that the new file will look just like the original PDF file.
Step 4. Import PDF into Word as Image
This PDF Editor also provides you an easy way to import PDF into Word as an image. Under the "Convert" tab, you can click on the "To Image". On the right side toolbar you will be asked about "Image Quality" Tweak the settings to your liking and then export to Word format.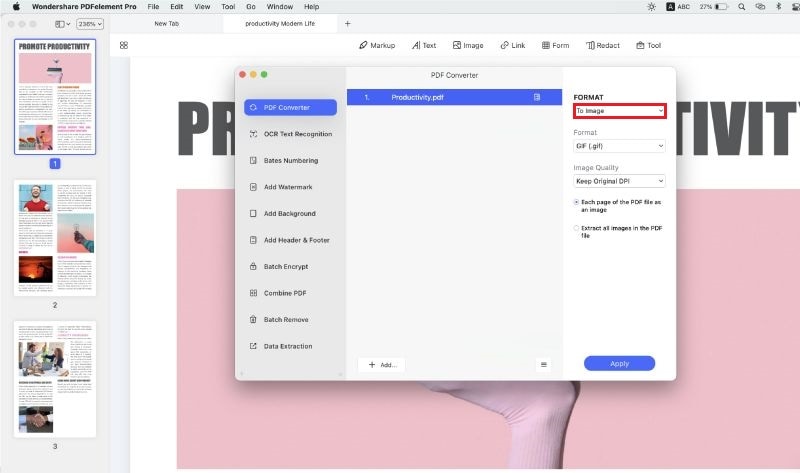 ---
Why Choose PDFelement Pro to Import PDF into Word
When you want a PDF converted to Microsoft Word. PDFelement Pro is the one tool that will give you the results that you need. The conversion can be done quickly and directly from the Welcome page, or the file can be imported, edited and then converted. You are also able to convert the documents to other format with the same ease. The wonderful thing is that the quality and design of the PDF file will not be altered. You can also convert the PDF file into an image which can then be imported into Word. You will realize the power of this tool when you look at all the features it has for simply managing your PDF files.
The main features of iSkysoft PDF Editor 6 Pro:
Create and Convert – You can now create PDF files from scratch or you can pick other files and then convert them to PDF.
Create PDF forms – Now you can leave the form templates behind. Create your own PDF forms and edit and fill those that you get from other sources.
Edit & OCR – You can now scan several printed pages and then digitize them by using the OCR method to them into editable text.
Digital signature – you can now sign your documents using a unique digital ID. This way, you can always identify your work should it be plagiarized.
Great interface – the organization of the interface makes it very easy to work with this tool. You will become more efficient when you use PDFelement.