PDF documents and image are difficult to edit and we may need to convert between these two file formats. Sometimes we may be required to send our photo in some image format. In this occasion we need to find a PDF editor tool to save PDF as image. There are many available PDF editors out there, but with free software comes the risk of ending up with low quality files that are really just no use to anyone. If you want to save PDF files into images, without running the risk of getting an unreadable file (or even incomplete in some cases).
How to Save PDF as Image without Losing Quality
I suggest you use PDFelement Pro. With PDFelement, not only will you be able to save PDF as an image easily but the quality of the pictures will be the same as the PDF itself! With PDFelement, you can also edit the text contents, images, pages and other elements in PDF files with multiple PDF editing tools.
Steps on How to Save a PDF as an Image
Step 1. Launch PDFelement
Unlike an online editor, you have to download this program. You can try it out for free, without needing to sign up for anything. Just go the iSkysoft website and download the installer. The installation process literally only takes a couple of minutes, and the program is launched automatically upon installation.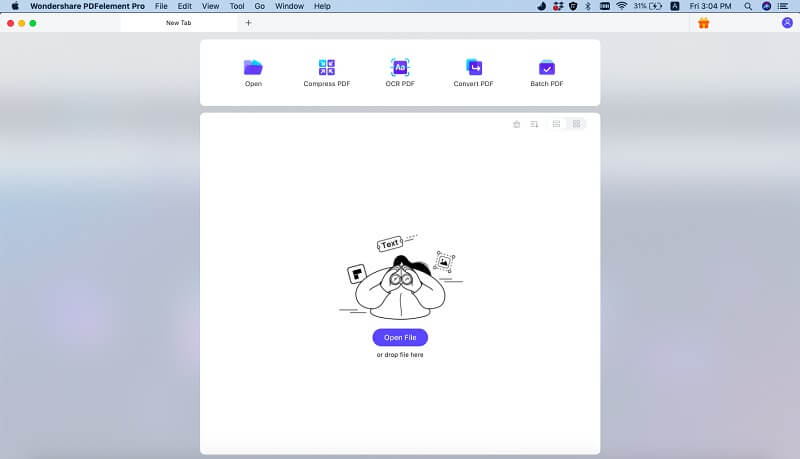 Step 2. Open a PDF in the program
Once you have iSkysoft ready to use, it's time to import the PDF you want to save as an image. First you have to click the "Open File…" button. Or you can easily drag and drop your PDF file direct to the "Convert PDF" tab.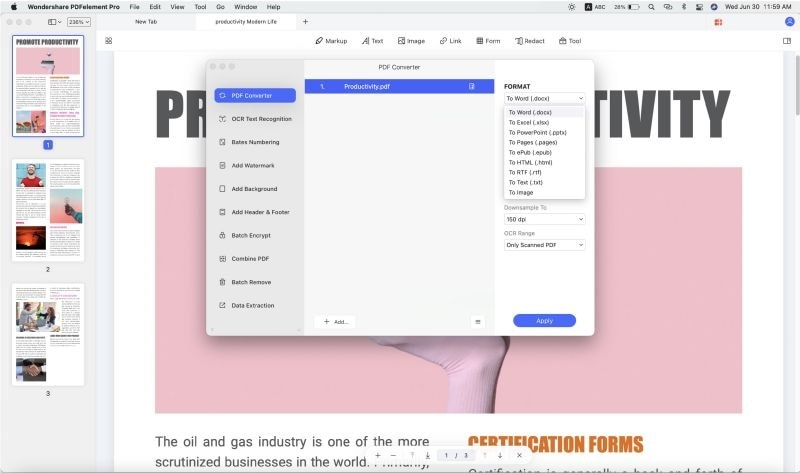 Step 3. Select image format as the output
Unless you were hoping to make a few changes, if that is so then make sure to save beforehand. It's time to convert! First up is the "Convert" tab, this opens up a completely new screen and there will be a drop-down menu that has the file formats option. In this case we will be going with an "To Image", but if you would like to Save your PDF as another format, this is the place to do it.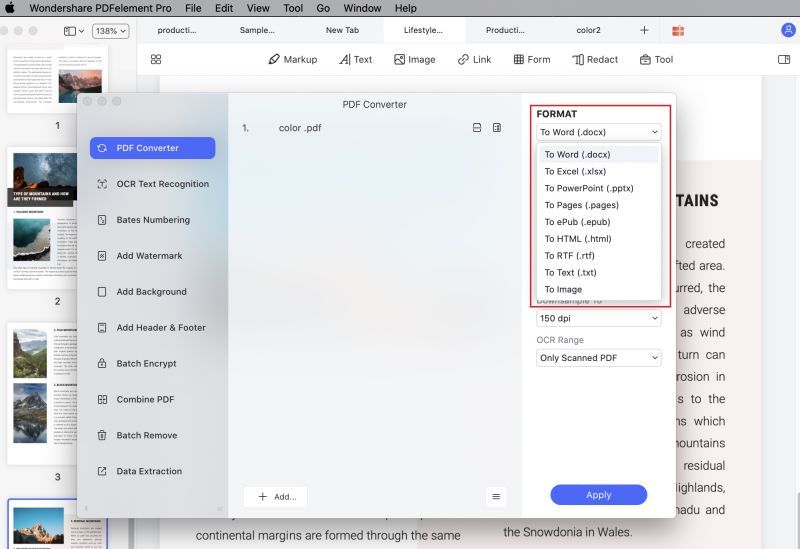 Step 4. Convert PDF to image format
In order to complete the process, Under the converting panel you will see the different image formats they have available: JPG, PNG, TIFF, GIF, BMP, etc. Highlight one and press the "Convert" button on the bottom of the screen. This will prompt you to save the PDF as an image without losing quality.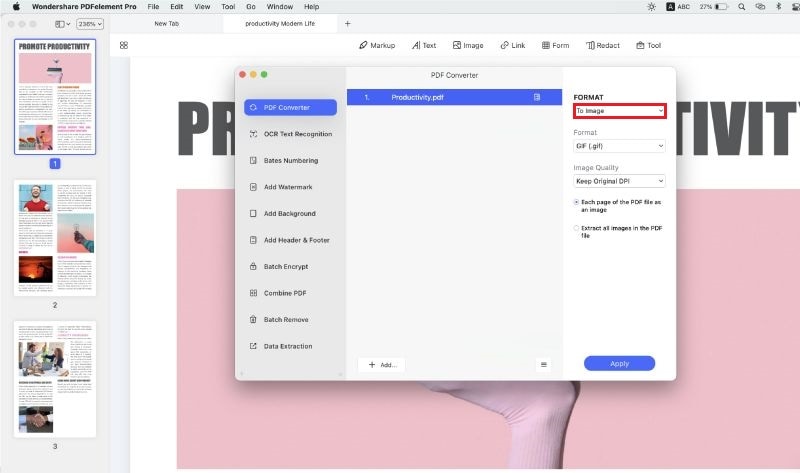 The steps above show you how to save PDF as image and will help you to convert and save PDF to image format. In addition to this, you can also use PDFelement Pro to solve the problem such as how to save image to PDF file. This PDF editor also enables you to extract and save PDF image easily.
---
Why Choose PDFelement Pro to Save PDF as Image
The convenience that an image file is notable. However, if the image doesn't come out legible, then there's no reason of doing it. With PDFelement Pro, you're not sacrificing convenient with quality. I suggest you try it out for yourself, their free trial allows you to convert PDF files that have to five pages. That's enough for you to be able to witness the quality yourself. While you're at it, you should also consider a couple of the other options they have available, it's free and there are no commitments done with the download.
Key features of PDFelement Pro:
You can convert high quality images that retains the crystal clear clarity of the PDF file.
You can convert several pages, either into multiple images or a single image.
Other image formats aside from JPG are available: PNG, TIFF. GIF, BMP, etc.
If you're not looking for an image file, you can also convert the PDF into Word, Excel, PPT, Pages, EPUB, RTF, HTML, etc.