Scanning and printing are one of the standard features of office scenario. No one can deny the fact that a lot of documents are scanned and sent to the email. Sometimes a document which is in scanned version is so significant that it becomes difficult to scan through each page individually. And sometimes you may need to convert scanned PDF and images to Word. Wouldn't it be better if the scanned copies were just as scannable as a digital copy? In that case, you will be happy to know that OCR scanning bridges that gap and help you to index the words of the scanned document. Therefore, let us learn a bit more about the technology and we can be ripe benefit by using it.
The Best Scanned Image PDF to Word Converter
In order to get the desired result, it is desirable that the user should start using PDF scanned image to Word converter that has better engines and handle the scanning process in a better manner. One such software is PDFelement Pro. PDFelement Pro is one of the leading software in PDF file management. It comes with a robust feature that can manage all kinds of operation related to PDF whether it is creating PDF from scratch or by editing an existing one. With the help of the scanned image PDF to Word converter, you can easily convert PDF image to editable Word file. Advanced OCR function lets you convert scanned image PDF to Word files with ease. The next, let's discuss the steps involved in converting a PDF with image to Word document.
Step 1. Import scanned image PDF to the program
Open the application PDFelement. Then click on the home button and import the desired scanned file from the brows file dialogue box.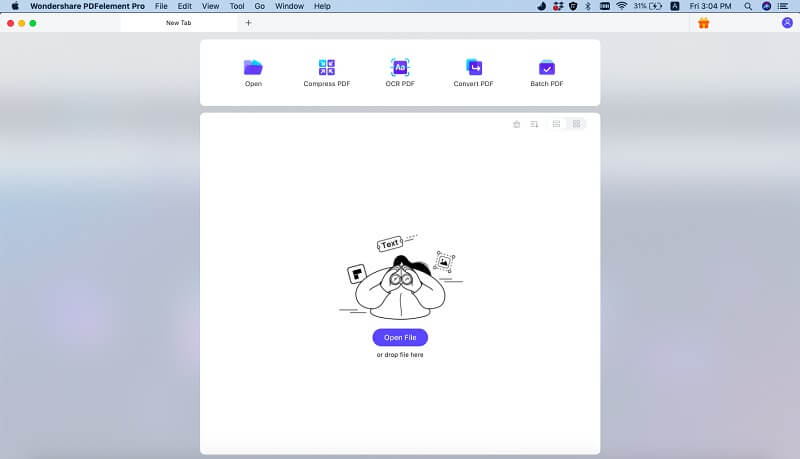 Step 2. Enable OCR feature
Once the PDF is imported into the program, you can click on the "OCR" mode which is available under the "Edit" tab. The software automatically recognizes whether the PDF imported is a digital version or a scanned version.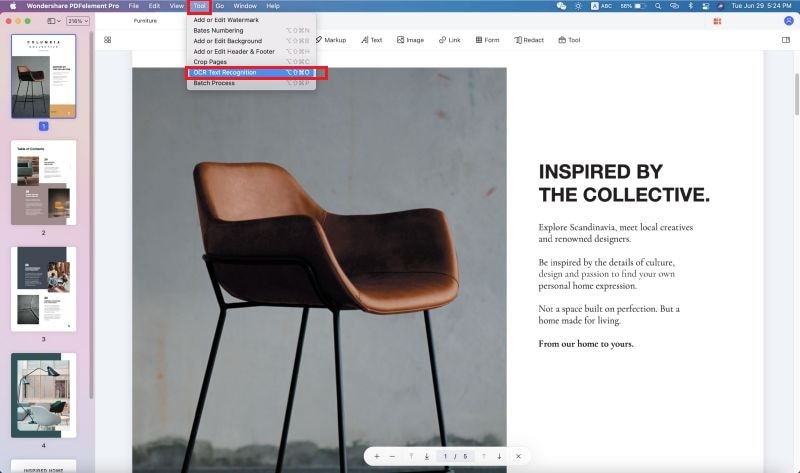 Step 3. Convert scanned image PDF to Word
You can also enable OCR function under the "Convert" tab. Once the OCR mode is enabled click on the "Convert" button and select your preferences. The setup will lead you through specific steps to ensure that the scanned PDF is converted into a Word file which is desired by the user.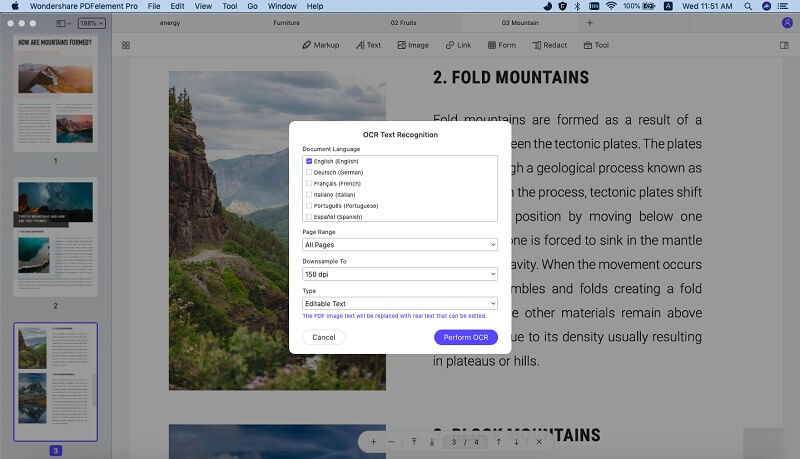 Knowledge of OCR function
OCR or optical character recognition is the technology behind this seemingly incredible operation. OCR is what makes it possible to convert a scanned PDF into a Word file. The OCR feature is available as a free tool online or as free online PDF image to Word converter which is good for the first timer who do not want to indulge in much of the technicalities or for the casual user who rarely uses it and it will help you to convert scanned images in PDF files to Word online easily. But for those who would be requiring converting scanned copy into word file would instead find online tool cumbersome as:
The process takes a lot of time.
Depending upon the engine the quality of output may vary a lot.
For large files, the free tools do not give the desired result
---
Why Choose PDFelement Pro to Convert Scanned Image PDF to Word
PDFelement Pro provides many benefits such as it is compatible with both Mac and Windows OS, Provides OCR support that helps to make scanned files searchable with ease. It can help you to convert PDF image to Word or other file formats easily. All the tools ranging from editing the items in PDF, formatting the document, to securing the file from unauthorized access, iSkysoft can efficiently perform all the task, Any issue can be resolved either through email or call as you wish and product update on a yearly basis which ensures that you get the best of the software and you are protected from any security threat.
Some of the key features of PDFelement Pro for Mac are listed below:
Compatible with both Mac and Windows OS.
Provides OCR support that helps to make scanned files searchable with ease.
An exhaustive list of tools to edit the PDF, create PDF, or carry out any task that involves PDF.
Complete technical support all around the year.
Product update on a yearly basis.