Whether you are a blogger or a social media addict, you all must are using the website to interact with people, share your thought and also receive useful experience from other sides of the world. And in case have some PDF documents and you want to show PDF in HTML then we keep looking here and there. It so happens that many interesting kinds of stuff get behind the screen and do not actually come to highlight on the internet. For example, an e-book in PDF format discussing on human evolution can be what you are waiting for to share with your followers. Unfortunately, you cannot since it is not in HTML format. Today, you will be learning the tools and methods that will help you to show PDF in HTML.
The Best PDF Tool to Show PDF in HTML
For regular website uploads and bloggers whose main bread earning is from uploading quality content, your source of inspiration may be from some content which is in PDF format. In other instance, you are restating someone's work with a little twist in a format so that it is compatible with your website format. In such scenarios, you should know how to show a PDF in HTML.
Converting a PDF to HTML can be a daunting task especially if you are not equipped with the proper tool. To help you in this situation PDFelement Pro has one of the best tools related to PDF files, PDFelement. This app will be a perfect match for the users who are searching for a method on how to show PDF in HTML page. In the next part, you will be introduced to the method on how to show PDF in HTML page using iSkysfot PDF Editor 6 Professional.
Guide on How to Show PDF in HTML
iSkysfot PDF Editor 6 Professional is one of the user-friendly apps that allows the user to handle all the case of PDF related problem with ease. Let us see how you can use this powerful tool to show PDF file in HTML.
Step 1. Import the PDF File
Launch and open the iSkysfot PDF Editor 6 Professional on you computer. Click on the "Convert" tab on the welcome page and then choose the desired PDF file from local file folder.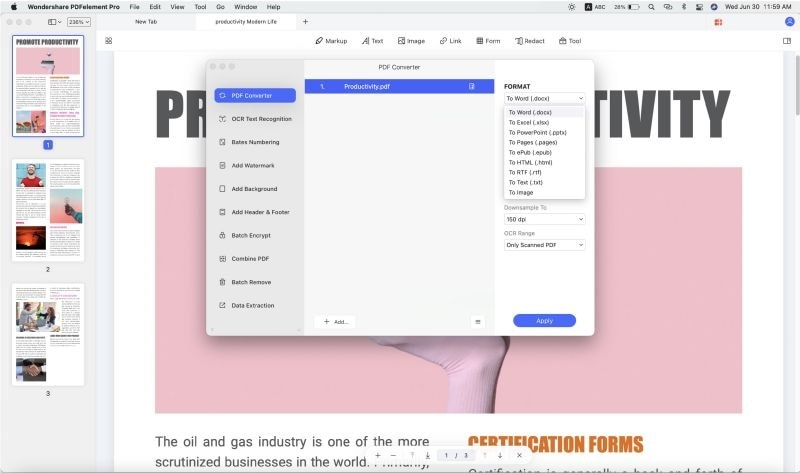 Step 2. Select HTML as the Output Format
After that from main page out of various options go to the "Convert" section and then select "To HTML" as the output format from the file format drop-down list. On the right side of the panel, you can find editing tools that provide you with features to customize the output.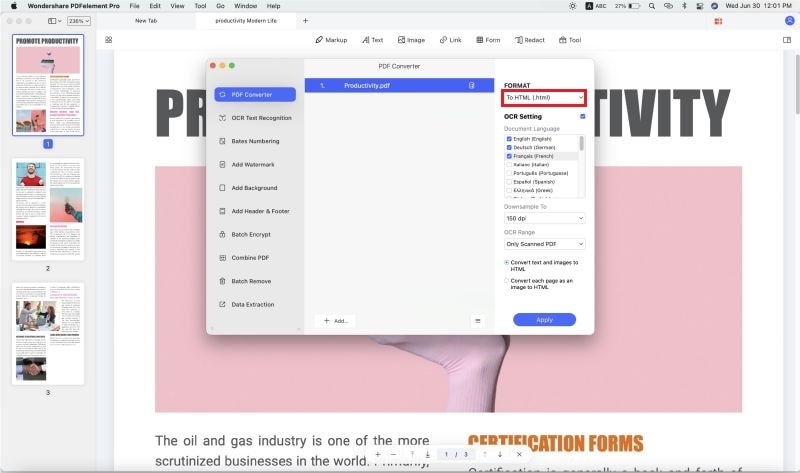 Step 3. Start PDF to HTML Conversion
Once done with customization of page go and select on the "Convert" button on the right-side panel. That will start the conversion process.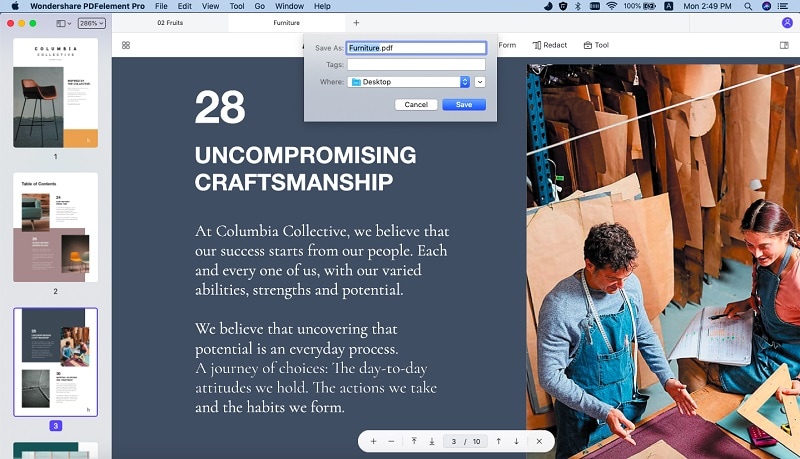 Step 4. Batch Convert PDF to HTML
You can also add multiple files to convert in a batch. Just add the files by visiting the "Batch Process" on the welcome page of the PDF editor, then click on "Convert" button, in the new opened page, click on the "Add File" button to add multiple PDF files. After that, you can click on the "Convert" button on the right side toolbar to start to convert PDF to HTML in batch.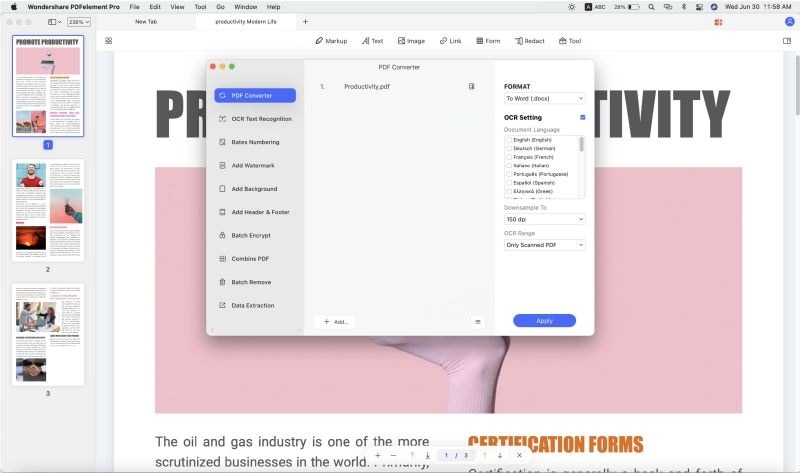 Why Choose PDFelement to Show PDF in HTML
PDFelement Pro is a professional PDF management app which is more than just a tool that shows PDF file in HTML. It is packed with features that will make you leave behind all other PDF reader and PDF tools. When you are in trouble with how to show PDF file in HTML page, then you can only rely on iSkysfot PDF Editor 6 Professional for all kinds of PDF related problem.
The core features of PDFelement include
Lucid interface, making it super easy for conversion fom PDF to various formats.
Intelligent integration of all PDF editing tools for related PDF tasks.
Easily create PDF from Word, PPT, Excel and other file formats.
Edit and convert scanned PDF files with advanced OCR features.
Advanced features that help to edit, crop, convert, secure, share your PDF on the go.