With most people using e-readers that require EPUB format, many businesses are finding it necessary to convert the PDF documents they had into EPUB. This is meant to provide the same information to readers in different formats to make it easier for them to access it. In this article, we are going to share with you a simple way to turn PDF into EPUB. To do that, you need the best tool for the job. Let's begin with PDFelement Pro.
The Best Software to Turn PDF into EPUB on Mac
To effectively convert PDF documents to EPUB on your Mac, you need a tool that not only makes this process easy and seamless, but one that incorporates all aspects of the PDF document into the converted EPUB. That tool is PDFelement Pro. With the help of this PDF software, you can easily turn PDF to EPUB on Mac and Windows. The following are just some of its features:
You can use it to create PDFs as well convert to any format including EPUB.
You can choose to secure the created or converted document using a password or signature and you can also easily share it with colleagues.
It also comes in handy when you need to edit a PDF document, a feature that may be necessary when you need to make changes to a document before conversion.
How to Turn PDF into EPUB on Mac
Having the best tool doesn't mean much unless you can learn how to use it. Fortunately for you, we've provide you with a step by step guide to help you use PDFelement Pro to export PDF to EPUB. To begin, download and install the program to your Mac and then follow these simple steps.
Step 1. Open a PDF File
Open PDFelement Pro and on the main window, you can easily open a PDF in one of three ways; you can click on the "Open File" button at the bottom-left of your screen and browse your computer for the PDF document. You can also simply drag and drop the PDF file to this window to automatically open it or you can open it by clicking "File" menu and selecting "Open" option.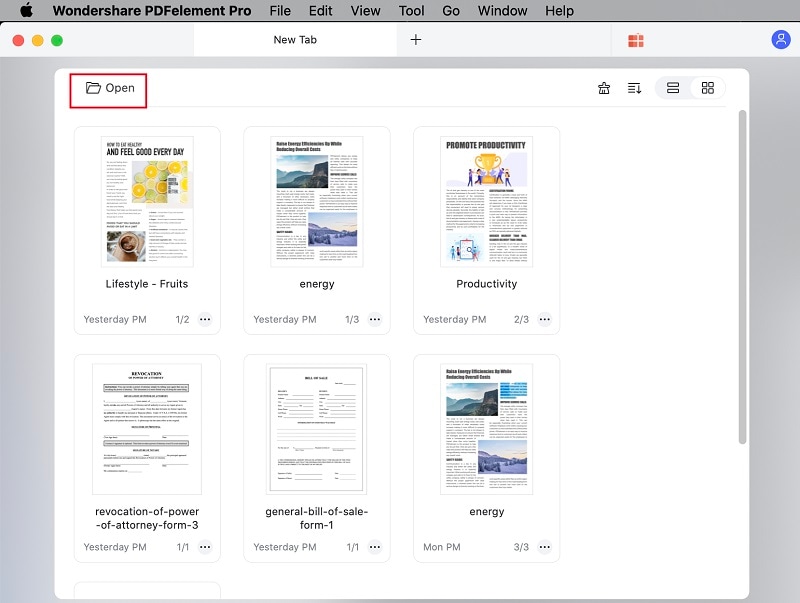 Step 2. Edit PDF Files
Before you convert PDF to EPUB, you can use this PDF editor to edit the PDF texts, images, links according to your needs. To do so, you can click on the "Edit" button and choose the editing tools to edit the elements you wanted in your PDF files easily.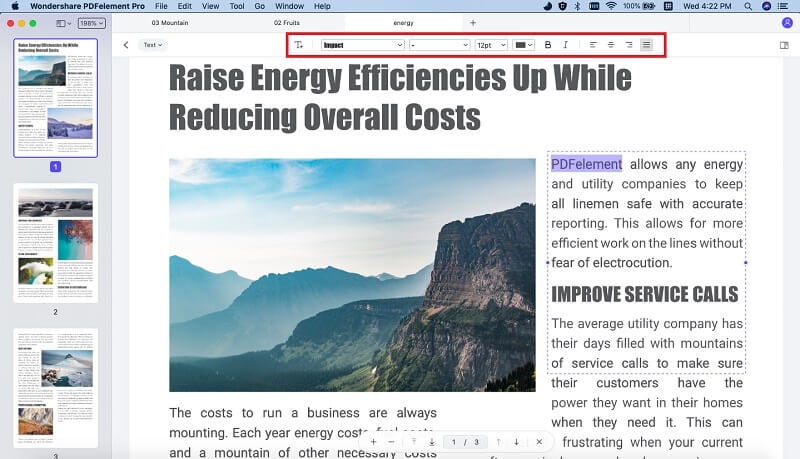 Step 3. Select the Output Format
Once the PDF is open and after the editing, the next step is to select the output format (in this case EPUB). To do that click on the "Convert" menu and a sub-menu with all the format options will appear below that. Select "To EPUB." In the right side, you can click the "Options" tab to set the number of pages you want to convert.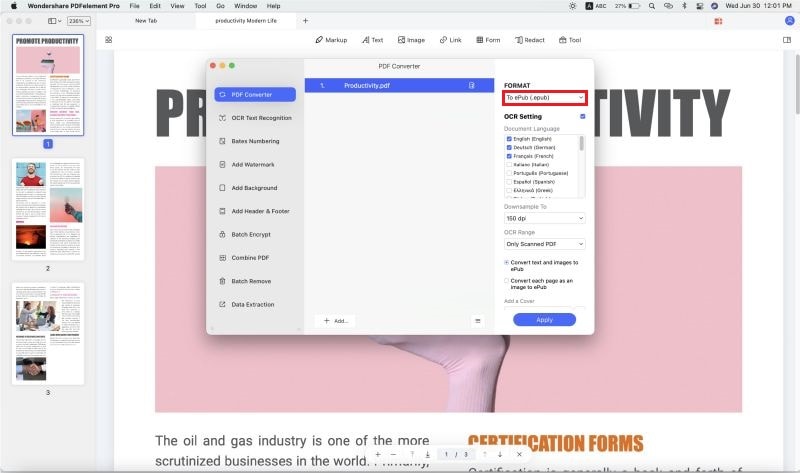 Step 4. Turn PDF into EPUB
Once you are happy with all your settings, click on the "Convert" button undert the right side panel to start the PDF Conversion. Your document should be ready in a few minutes.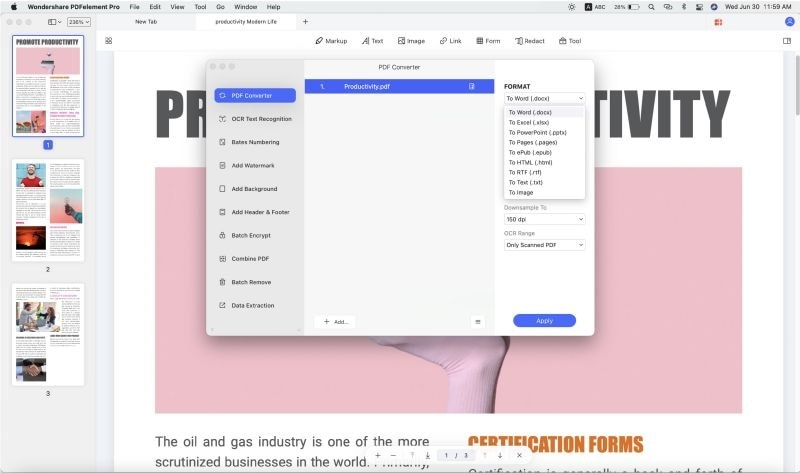 ---
Why Choose PDFelement Pro to Turn PDF into EPUB
With so many PDF to EPUB converters in the market, you may be wondering why you should choose PDFelement Pro over all others. The following are just some of its advantages:
Key features of PDFelement Pro
To begin with, PDFelement Pro is very easy to use. The simple user-interface makes it the ideal tool even for a beginner.
You can use it to convert your PDF document to a host of other formats including Text, PowerPoint, RTF, Pages and even HTML.
It is also an ideal tool for creating and editing PDFs. This means that you can use it to create a PDF from scratch and either export, print or convert the PDF to other formats.