While PDF might be the most commonly used type of digital document format, sometimes the data such a file contains needs to be converted to an Excel Spreadsheet for analyzing purposes, which is the most popular tool in terms of data analyzing. Learning about the ins and outs of PDF to Excel conversion can turn out to be useful in the most unexpected situations, and knowing how to turn PDF to excel effortlessly and effectively might come in handy. Whenever you confront yourself with the need of turning PDF to excel spreadsheet, you will need to use an adequate tool for the process.
The Best Tool to Turn PDF into Excel
PDF editors usually allow you to turn PDF to excel. However, once you start seeking a program of this kind, you will stumble upon a wide range of options, each coming with their own apparently great features. One option that has managed to stand out in particular, providing users with the level of PDF editing help they require is the PDFelement Pro. This tool has a wide selection of features integrated, and turning PDF to Excel spreadsheet will be made easy.
How to Turn PDF into Excel on Mac
Now that you now more details and particularities about this PDF editing tool, you can move on to learning how you can turn PDF to excel spreadsheet on your Mac. These are the detailed steps you will need to follow:
Step 1. Launch the program
After the successful installation of the program, you can proceed opening it by double clicking on the icon or the shortcut. The tool will immediately open and you can access the homage of the program.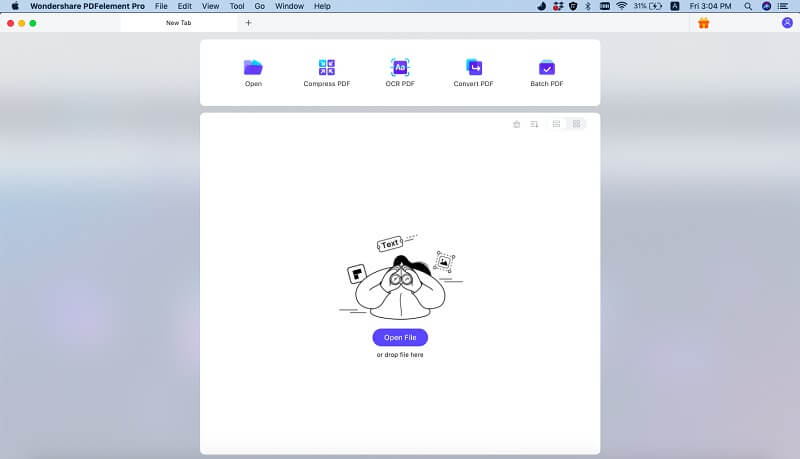 Step 2. Open a PDF file in PDFelement
The next move is importing the PDF document that you desire to convert to Excel. This will require you to click on the "Convert PDF" button you will find on the homage, choose the PDF file desired from the folder you have stored it in, and the document will start importing into the program.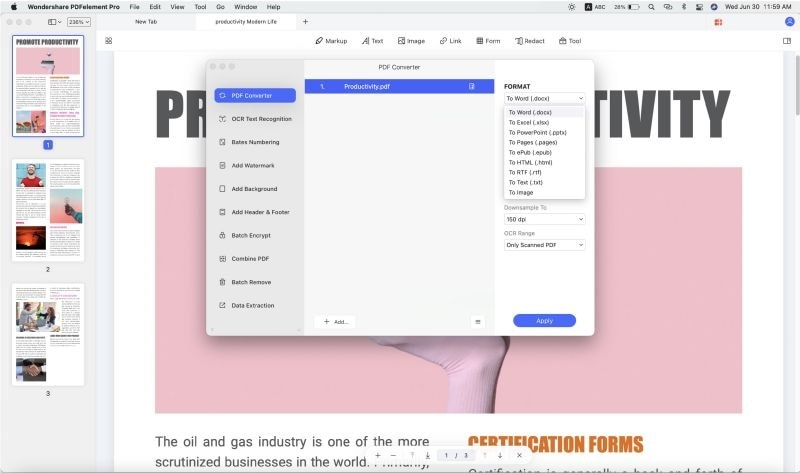 Step 3. Turn PDF into Excel
The last and final step is actually turning the PDF into an Excel spreadsheet. After you have imported the PDF file, you will see a tab that is called "Covert" Menu. Click on it and select the preferred output format, in this case being "To Excel". A side toolbar will also appear on the right. There you can find an Option tab, which you can use to set the page range. After you have finished conforming all settings, you can click on the Convert tab and your PDF file will start turning into an Excel spreadsheet.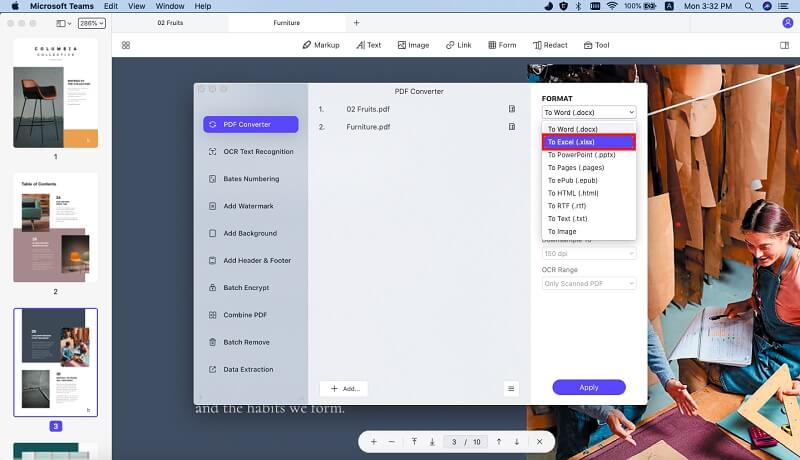 Except turning PDF to Excel spreadsheet, this PDF converter also allows you to turn an Excel file into a PDF. In one words, PDFelement will make you fully control your PDF files.
Why Choose PDFelement for Mac to Turn a PDF into Excel
The program characteristics that make the PDFelement Pro the right choice for your PDF editing needs are the following:
Convert and create – Whether it is to Excel, Word, HTML or several other formats, this tools allows you to easily convert PDF files, as well as create them from text files, Webpages or images.
Secure and share – you can share PDF file or secure them by adding or removing passwords to PDF using this program.
Organize PDF – adding bookmarks, applying bates numbers, adding headers and footers, or control printing of PDF easily with the PDFelement.
Edit and OCR –regardless of what type of PDF editing task you want to perform, with the PDFelement you will be able to handle it rapidly. From easily deleting, inserting or adding insert texts in a PDF file to extracting images, rotating PDF pages or batching OCR of several PDF files, all your editing requirements will be covered.