Today, you can easily save HTML as PDF using both online and desktop tools. These tools allow you to save the HTML page as PDF without losing any quality when it comes to the text and images. One of the best desktop tools to use for this purpose is PDFelement Pro. This tool ensures that you convert the HTML page with ease, and you can add special settings such as security passwords and more. Here, you will learn how to use this tool and use Google Chrome to save HTML documents as PDF.
Part 1. The Easiest Way to Save HTML as PDF
Using PDFelement Pro is the best way how to save HTML page as PDF. This tool with powerful PDF editing tools allows you to edit the HTML file before you finally save it as a PDF. The tool is primarily a PDF editor, but you can also convert other files to PDF.
How to Save HTML as PDF on Mac and Windows
The steps below will show you how to save HTML files as PDF using PDFelement Pro easily. Just in a few simple steps, you can save HTML documents as PDF.
Step 1. Import an HTML File
Save the HTML file to your local file folder and then launch the program. Simply click on the HTML file and then drag and drop it into the PDFelement interface. A new window will appear which will have the imported HTML page.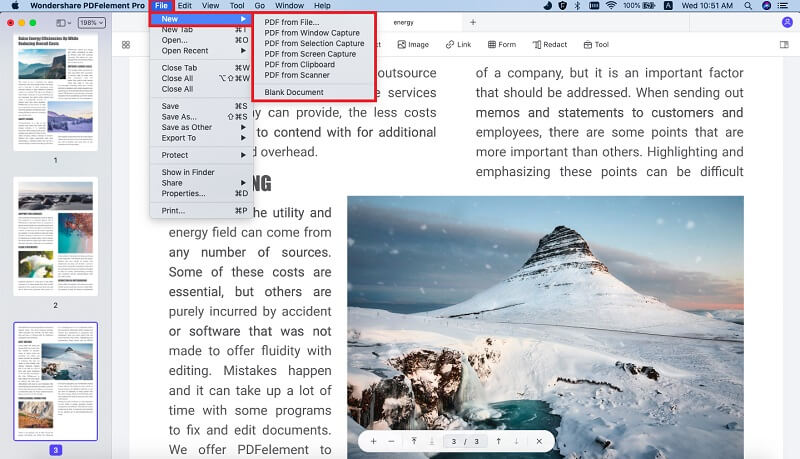 Step 2. Edit the File
PDFelement Pro allows you to edit the file when it is open. You may change various features on the HTML page including text and images. To do so, you can click on the "Text" button and find multiple PDF editing tools to edit your PDF documents.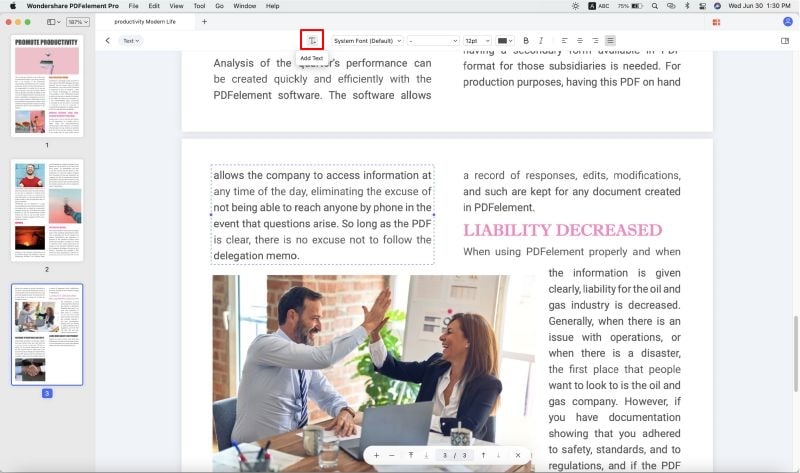 Step 3. Save HTML File to PDF
When you have finished editing the file, you should now click on "File" and then click on "Save As". Go down to the options and select "PDF" as your desired format. Add the final destination folder, and then save the HTML file as PDF.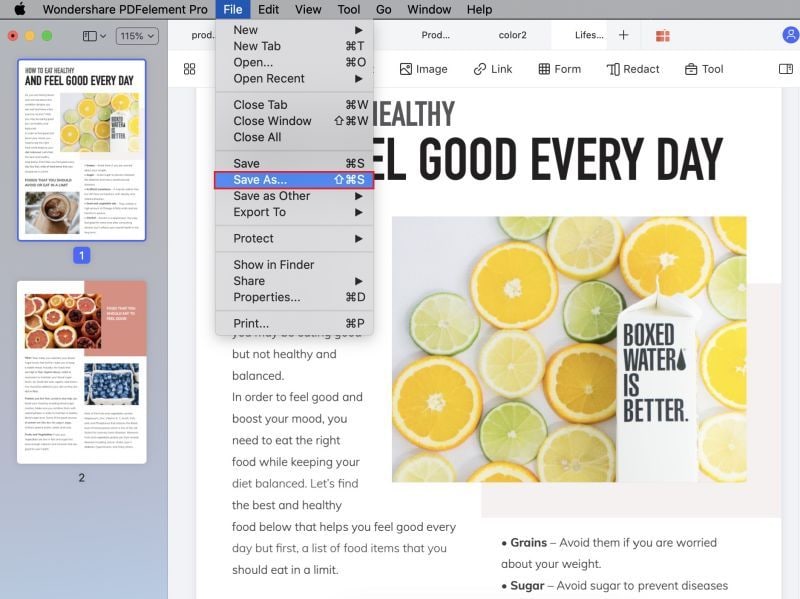 Why Choose PDFelement Pro to Save HTML as PDF
With the help of PDFelement Pro, you are able to save HTML page as a PDF file easily, besides, you can also create PDF from Word, PPT, Excel, Image and other file formats easily. The Advanced OCR feature also allows you to convert and edit scanned PDF with ease. All in all, this professional PDF editor will be your best PDF documents manager. Below are some of the fantastic features of this awesome tool.
The main features of PDFelement Pro
With this tool, you may create your own PDF file or convert any file to PDF.
You may create PDF forms for your website or you can edit others that have already been created.
You can add security to your PDF documents by adding passwords and a digital ID.
This PDF tool is easy to use since it has a great layout.
You can use the PDF tool to convert printed material to digital text thanks to the OCR feature.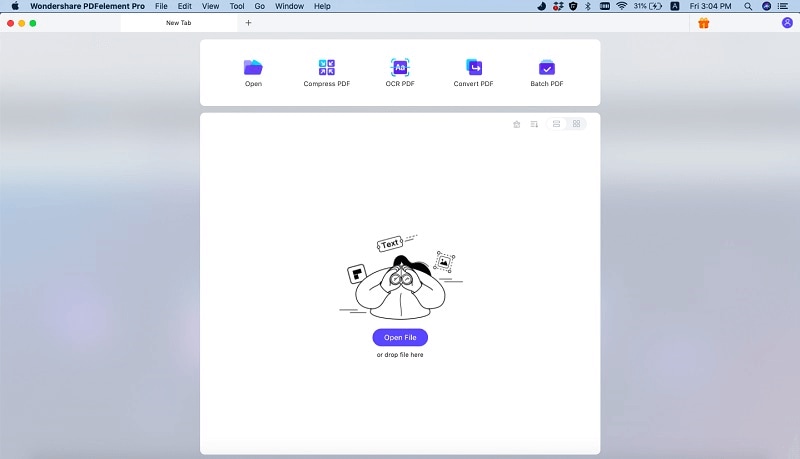 ---
Part 2. How to Directly Save HTML as PDF on Chrome
Google Chrome has become one of the most popular browsing tools because it comes with certain advanced features that are not found on other browsers. Some will argue that this leaves out the option of getting the community involved in the development of the browser, but here are still extensions that work well with Chrome and have been developed by the community, including some PD extensions. The only beauty here is that you do not have to install these extensions when you save an HTML page as PDF with Chrome. Google Chrome has a PDF conversion engine which means you do not need to install any extensions. This feature is great when you have to save pages with sensitive details since you cannot just pass these to any online converter. Get your checkout and shopping information stored safely as PDF when you use Google Chrome directly.
Here is the simple process of saving HTML as PDF using Chrome
Step 1. Load the HTML file or Web Page
On Chrome, go to the webpage that you want to convert. If the HTML page is on your local drive, then click on it to launch it within Chrome.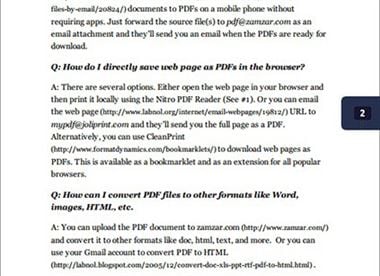 Step 2. Choose the internal PDF conversion engine
Now click on Ctrl+P if you are on a Windows computer or Cmd+P if you are using a Mac. You will then come to the printers that are installed on your computer. Select "Save as PDF" so as to change to the internal PDF conversion engine.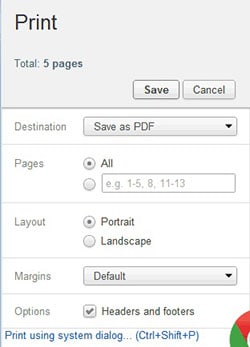 Step 3. Finally Convert HTML to PDF
Now proceed to the "Save" button and the document will be saved as a PDF to the destination folder that you selected. It is as simple as that and you do not have to install any extensions. Unfortunately, with this method, you cannot tweak the settings of the final PDF file.
---
Part 3. Save HTML as PDF online
Another way to save an HTML page as a PDF is to use a free online tool like Webpage to PDF. This is a free tool that is easily accessible on all platforms, allowing you to easily convert a webpage to HTML no matter what device or operating system you use.
These simple steps will show you how to save an HTML page as a PDF using Webpage to PDF:
Step 1. Go to the official website of this online tool to access it. Here you will see a blank field. Enter the URL of the webpage you want to convert and then click "Convert."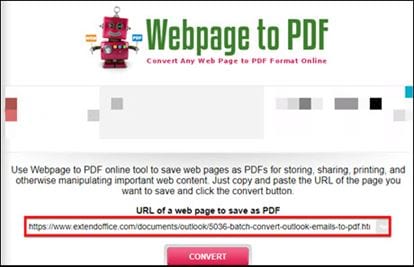 Step 2. The tool will begin converting the webpage. When it is complete, you will then be able to download the converted file.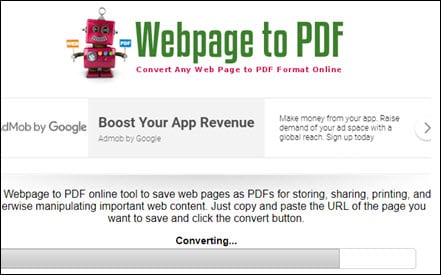 As easy as it is to use a tool like a Webpage to PDF to save HTML as PDF, online tools like this one have quite a lot of shortcomings. Some of these shortcomings include the following:
Most of them cannot be useful when you want to convert multiple HTML files to PDF simply because they are not designed to handle that kind of traffic.
Speaking of servers, using an online tool may not be the ideal way to convert sensitive HTML files to PDF. You can't be sure how long the file remains on the webpage for everyone to gain access to.
It is also not possible to edit the resultant PDF once it has been converted. For this, you would need to install a specified program like PDFelement Pro.
Sometimes, the online tool you choose to use may not be able to adequately convert the file. This means the formatting on the resulting document could be compromised, resulting in a weirdly formatted document.
Most online tools will limit the size of your document and sometimes the number of documents you can convert.