We use PDF files for various purposes in our daily life. When you have an image PDF file, you can't directly edit it so you need to convert the image PDF to editable PDF. In this article, we are going to introduce you with PDFelement (or PDFelement for Mac),which is a great software to work on PDF files. You can also know some online tools in this article. So if you don't know how to convert image PDF to editable PDF. Now is your chance to know how to do it. Don't panic because it's really easy when you have the right tool and guideline to do it. We are going to provide you with all the information you need to solve this issue. So let's jump into the details.
Part 1. Convert Image PDF to Editable PDF in PDFelement
If you want to fully take control of your PDF file document, then PDFelement is a great tool for you to use. You may not understand how powerful and good it is because it handles PDF forms and documents like a pro. It has all kinds of options that can be worked on a PDF file, so it's literally an all in one solution for PDF files. You can easily create, edit, annotate, convert, protect, and decrypt PDF files within minutes by using PDFelement. There are so many options that you will never need to use anything else while you are working on your PDF files.
1. Why Choose PDFelement to Convert PDF Image to Word
Highlight features:
It helps users to convert image PDF to editable PDF with the help of OCR (Optical character recognition) system.
It allows users to passwords protect your PDF file so that only you can access it.
It will allow you to create and edit PDF forms anytime you want.
It has integrated PDF annotator that works fine for annotating PDF files.
It allows users to convert files into PDF and convert PDF files into different file formats such as word, excel, PowerPoint etc.
2. Tips on How to Convert Image PDF to Editable PDF with PDFelement
Do you want to know how to convert image PDF to editable PDF? If so, you might want to know how to convert pictures to PDF in macOS and Windows computers in this part. It is very quick to turn PDF photos into editable PDF files. Here are the steps for you.
Step 1: First you need to download and install PDFelement software into your computer. Then launch it and you'll get the home interface of the program.
Step 2: Now click on the "Create PDF" option from the homepage and click on "Open" button to import the scanned PDF file into the program that you need to convert.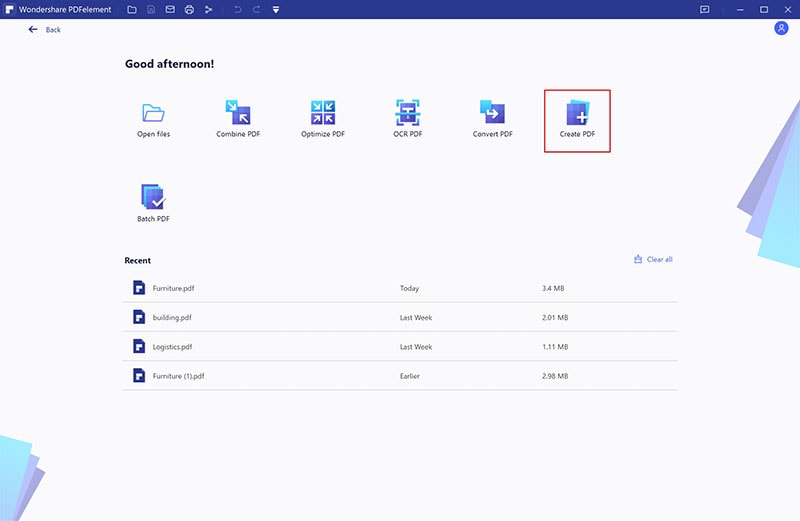 Step 3: When the file is imported into the system, you need to click on the "Perform OCR" button to open the OCR window. Then you need to select a language for OCR and click on the "OK" button to start the OCR process.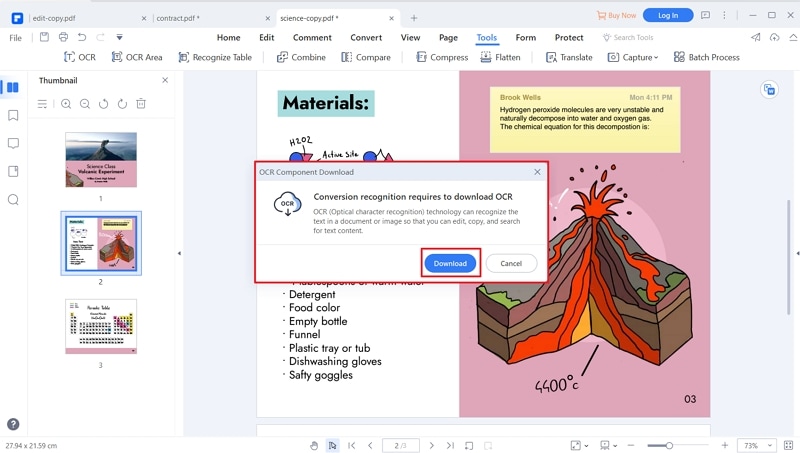 Then, if you need to edit the text in the scanned PDF or image file, you just need to click on the "Edit" button under the "Edit" tab to start the editing process.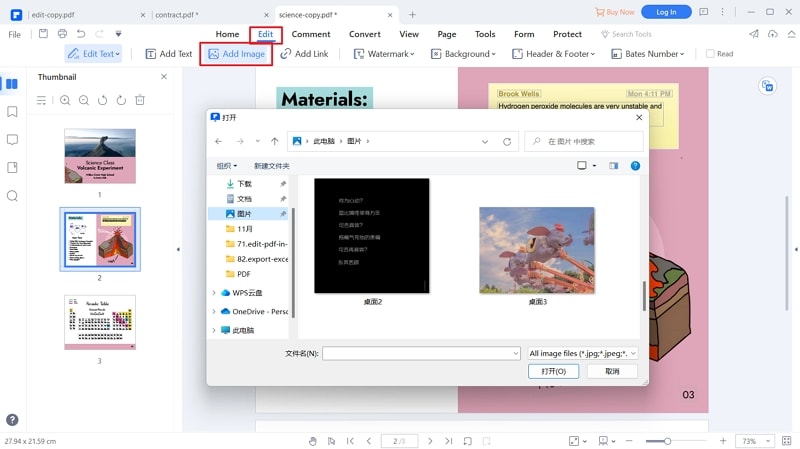 Step 4: Once you have edited and completed the PDF file, click on the "File" menu and select the "Save" option to get the PDF file into the destination folder of your computer.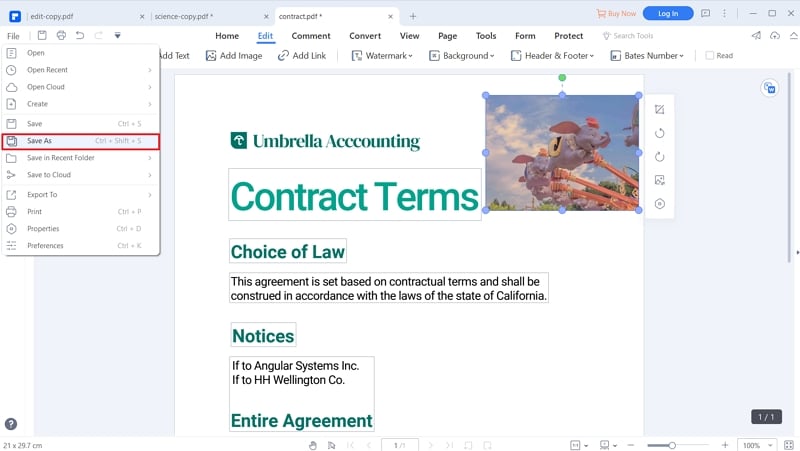 ---
Part 2. Convert Image PDF to Editable PDF Online
There are so many PDF converters available on the internet. Some of them are very useful. Here we will introduce you to three online image PDF converters and the benefits and disadvantages of using them.
1. PDF Pro
Pdf Pro is fast development, editing, and analysis of pdf-files online service. The whole package was designed for beginners and expert PDF consumers alike to be incredibly easy to use.
Pros:
PDF Pro is an easy-to-use app.
It allows users to combine and share different PDF file into one single document.
Cons:
Their customer support system is not user friendly.
2. iLovePDF
The iLovePDF Desktop is a program that allows organizations to view, compress, fuse, partition, and modify portable document formats (PDF) on a single device. It helps users to transform compressed PDF files to editable Microsoft Word documents using OCR tools.
Pros:
iLovePDF is an online portal that can be accessed from any smartphone.
The compression file size choice is excellent.
It doesn't provide you with a fun paper that includes letters and formats that jump all over the document after conversion.
iLovePDF transforms pdf files perfectly into Word files.
Cons:
Sometimes it damages file quality of a PDF document.
It can't process large PDF files because it has an 8MB file size limit.
3. Soda PDF
Soda PDF is another great all-in-one PDF file solution that can help you to do a lot of things when it comes to working on a PDF file. It allows users to convert PDF files from various file types including jpg, PNG, doc, etc. You can also use it to convert your PDF files into word, excel, PPT, etc. With so many features, we think SodaPDF can handle a good amount of PDF related work for you as an online PDF tool.
Pros:
It is accessed via all web apps both on a laptop and online.
Simple, fast, and confidential development of PDF.
Conversions to MS Workplace, photo, and more.
Tools used for document editing and analysis.
Cons:
Not accessible video embedding.
---
Conclusion
There are many advantages if you want to convert image PDF to editable PDF. First of all, when you convert the image PDF into editable PDF, you can easily edit and change the contents available inside. It's simple and easy to access the PDF file when it's editable. When you convert and image PDF to editable PDF, it becomes unprotected because anyone can change and edit the content inside if you don't protect the PDF file with a password.
Also, there are many ways to solve the problem that how to convert image PDF to editable PDF, but you need a way that can give you perfect results every time. We have provided you with the easiest way to convert your image PDF file and edit them in the shortest time possible. In that sense, PDFelement (or PDFelement for Mac) is a great tool that can guarantee you successful results if you don't know how to convert image PDF to editable PDF. You can choose PDFelement for its advanced features and user-friendliness.