Calibre is open-source software that is used for eBook management, editing and distribution. With it, you can easily organize eBooks and convert them into other formats. It can also be used to convert documents into other formats although it works better with Epub. But Calibre can be difficult to use for the beginner and editing and eBook is not as straight-forwards as it should be. In fact, it is very difficult to successfully convert PDF to Epub using Calibre.
Since it fundamentally handles EPUB eBooks, Caliber may not be the perfect arrangement in the event that you need to edit a PDF before converting it or if the PDF document you want to convert has a lot of images. While Calibre offers a free way to convert PDF to Epub, most users need a comprehensive solution that will convert PDF to Epub better than Calibre. This article shares that comprehensive solution in the form of a highly effective Calibre alternative - PDFelement Pro.
Part 1. How to Convert PDF to Epub with Calibre Alternative
Converting PDF to Epub is not a process that needs to be difficult or time consuming. And with PDFelement Pro, the process is both effective and simple. To use it, you first need to download and install the program to your computer (It is compatible with all versions of macOS including 10.15 Catalina) and then open it. Then, follow these simple steps to convert PDF to Epub using PDFelement Pro.
Step 1. Import a PDF File to the Program
The first thing you need to do is open the PDF document you want to convert to Epub. You can easily import the document by clicking on the 'Convert PDF' tab on the main window and select the file you need. You can also simply drag and drop the PDF file you need to this main window to open it. Alternatively, you can click on the 'Open File' button at the bottom of the page to select the PDF file you need from your computer.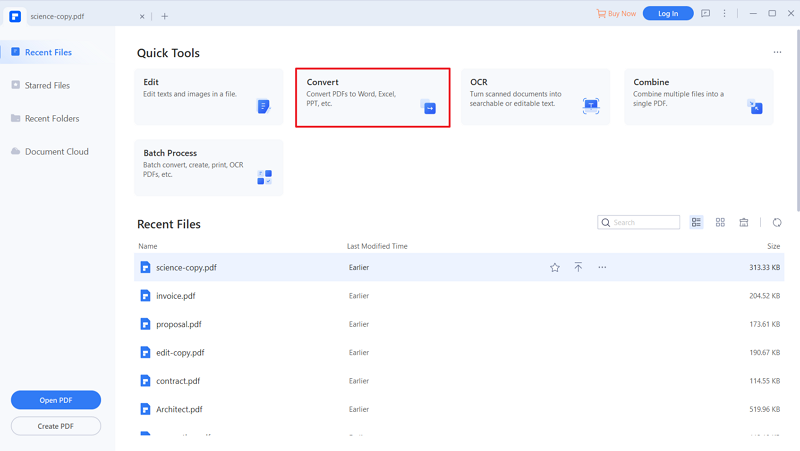 Step 2. Convert PDF to Epub without Losing Format
Once the PDF document is open, you need to select the Output format. To do this, click on the 'Convert' menu and then select 'To Epub'. Doing this will open a window with the 'To Epub' and 'Setting' tab. Click on the 'Setting' tab to set the OCR recognition.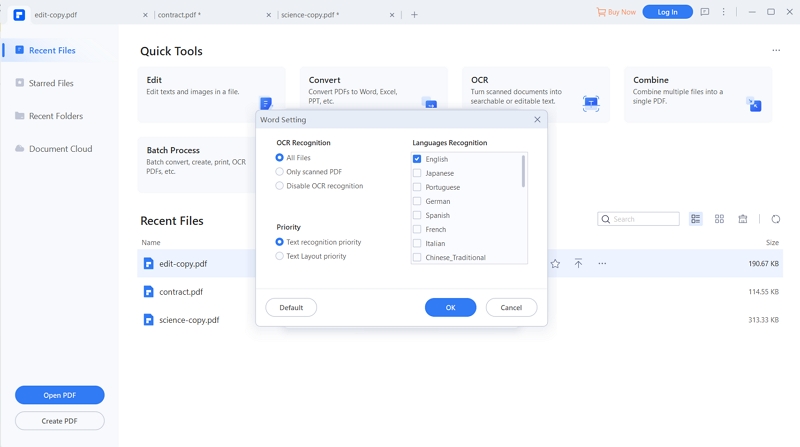 Step 3. Save PDF
Once you are happy with all your convert PDF to Epub settings, you can simply click on the 'Save' button and the program will immediately begin converting PDF to Epub without losing format. In a few minutes your PDF will be converted to Epub.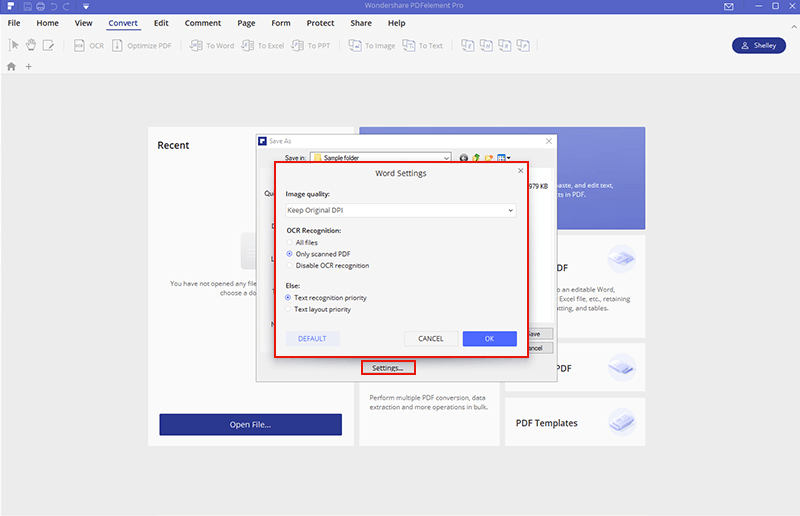 This PDF converter offers you more options than just the ability to convert PDF to Epub and unlike Calibre; the process is simple, straightforward and effective. Except converting PDF to Epub, you can also use this PDF tool to edit texts, links, images and pages in PDF files easily. With the advanced OCR feature, you can easily convert and edit scanned PDF files with ease.
The following are just some of the features that make PDFelement Pro:
It is very useful when you need to edit any aspect of the PDF document including all images before converting to Epub.
You can convert any PDF document to a number of formats including HTML, Epub, Pages, Word and many other formats.
After conversion, all elements of the PDF document will be transferred to the Epub document including the images without distortion.
You can secure the document by adding a watermark, passwords or even redacting parts of the documents.
---
Part 2. How to Convert PDF to Epub with Calibre
1. How to Turn PDF into Epub on Mac
Like we mentioned before, Calibre is also a PDF to Epub converter which offers a simple way to convert PDF to Epub. Converting PDF to Epub using Calibre is relatively simple but it lacks some of the more advanced features that PDFelement Pro has. You can choose the most suitable PDF to Epub converter according to your own needs. The following is a quick guide to convert PDF to Epub using Calibre.
Step 1. Open the PDF you want to convert
To begin, you first need to install Calibre on your computer if you haven't already. Once the program is installed, the next step is to open the PDF document you need to convert. Calibre offers you a number of ways to open the PDF, you can click on "Add Books" at the top menu and then browse for the PDF you need. But perhaps the easiest way to open the PDF is to simply drag and drop the document into Calibre's main window.
Step 2. Convert PDF to Epub using Calibre
Once the document is open in Calibre, all you need to do is click "Convert E-books" in the main menu. When you do this, you will see the "Input format" which should be PDF and the "Output format". Click on the arrows next to the "Output format" to select "Epub" at output format and Calibre will begin converting the document almost immediately. You can then add the converted Epub to your e-readers.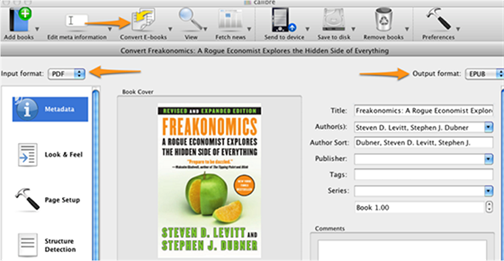 2. Frequently asked questions about using Calibre to convert PDF to Epub
While Calibre works very well when converting other formats like Word or MOBI to Epub, many users have reported problems with converting PDF to Epub using Calibre. Many simply say the resultant document in Epub format looks nothing like the PDF original. Even Calibre admits that converting PDF to Epub using Calibre is very difficult and more often than not, the result will not be perfect. The main reason why it is not easy to covert PDF to Epub on Calibre is because PDF comes with a fixed page size and text placement, meaning Calibre may have a difficult time determining where one paragraph ends and another begins.
Some of the other limitations users may face when trying to convert PDF to Epub on Calibre include the following:
Calibre doesn't support the conversion of image-rich PDF documents.
You will also not be able to convert a PDF document that has a lot of vector images and tables.
Any HTML links and Table of Contents within the PDF document will not be converted.
PDF documents that contain non-Unicode fonts or non-English characters may not be converted correctly using Calibre. The characters will not appear as they did in the original document.
PDF documents that have photographs or complex text like math typesetting or languages that are written from right to left will not be converted correctly.
Therefore, Calibre may not be the ideal tool to use if your PDF document contains more than text. Even in documents that don't have any images, it may still prove challenging to convert using Calibre. Calibre doesn't recommend that you convert from PDF to Epub.
With Calibre, the process to convert PDF to Epub may take longer than it needs to and you may still end up with a few problems. With PDFelement Pro for Mac, you can easily convert even the most complex PDF to Epub in a few simple clicks. Furthermore, you can significantly edit any PDF document before you convert the document to make sure you get it just the way you want it.