PDF is a popular file format that anyone can read on computer or mobile phones. There might be times you need to convert PDF to MP3 to create an audio version of PDF, like to make an ebook to an audio book. There are many PDF to MP3 converter through the Internet, but how to choose the best one to create high quality MP3 audio easily? No worry! Here we will show you 2 easiest way to convert PDF to MP3 and then you will learn how to convert PDF into audiobooks with ease.
Method 1. Convert PDF to MP3 with Desktop PDF to MP3 Converter
Solution 1. Converting PDF to MP3 on Mac and Windows using Adobe: When you are looking to make PDF and MP3 conversion, such as convert PDF to audio book, you have to choose the right PDF to MP3 converter which has the ability to read out loud your PDF document. You can choose Adobe Reader or choose from the top 20 PDF audio reader for Mac, Windows, iPhone, iPad or Android. Here you can follow the below simple steps to convert PDF to MP3 with Adobe Reader.
Step 1. Find the PDF file which you wish to covert and open it on your computer with Adobe Reader.
Step 2. Head over to the "View" tab and hover to the "Read out" option. Check the "Activate Read out Loud" option.
Step 3.Now select the text which you wish to convert. If you want to convert the whole text, simply "Select All" from the "Edit" tab.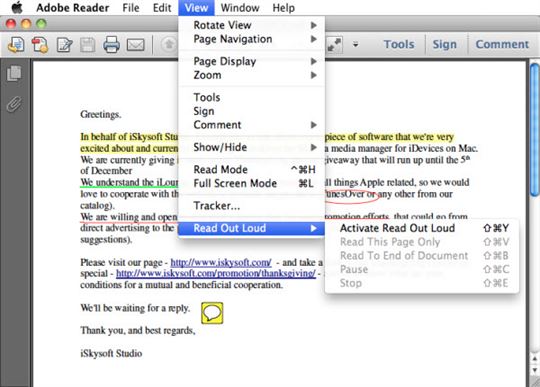 Solution 2. Use MP3 Recorder to Record PDF File: Except converting PDF to audio format, you can also use MP3 Recorder to record PDF file and then save as the MP3 format with ease. Now, open the MP3 recording software. There is plenty of recording software which is available and you can pick any of them. Aimersoft Music Recorder is an excellent option which you can choose.
The software is programmed to record from the sound card which is why you need to make sure that there is no other sound coming from your computer. Also, keep the volume in the taskbar to full for best output. Follow the steps below to record PDF file and save the file as MP3 format.
Step 1. Click the "Record" button to start the recording of file.
Step 2. Move back to the Adobe Reader and then head to the "Read out Loud" option. Click it to begin reading.
Step 3. Adobe Reader will start reading your text which in turn will be recorded by the Music Recorder.
Step 4. After the recording is completed, close both the Adobe Reader and the recording software. Make sure to save the file in MP3 format at the desired location.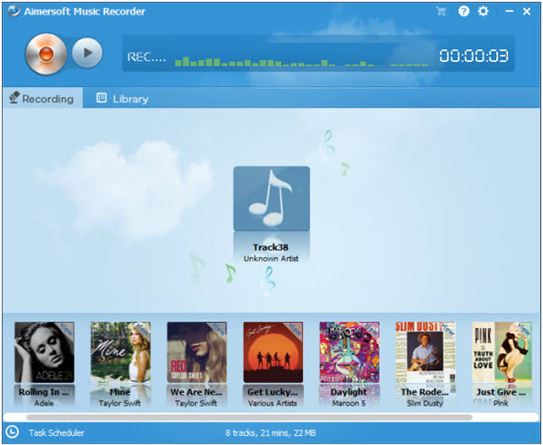 ---
Method 2. Convert PDF to MP3 with Online PDF to MP3 Converter
Converting PDF into MP3 using web tool. If you do not want to follow these many steps, you will find online PDF MP3 converter which have been made to simplify the process. One web tool which is available is Zamzar. We will show the steps to you. All you need to do is upload your PDF file and then enter the file format of the final output and the tools will convert it for you. The steps below will show you how to convert PDF to MP3 with this online PDF to MP3 converter.
Step 1. Select the file to be uploaded by clicking "Choose File".
Step 2. Choose "MP3" as the output from the available choices.
Step 3. Enter your email address in the third step and then hit "Convert".
Step 4. You will receive the converted file in your mailbox.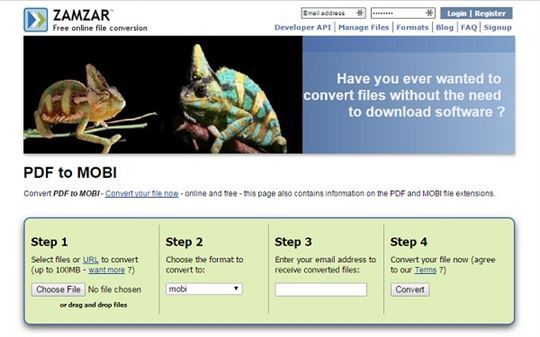 ---
Recommendation: PDFelement Pro - The Best PDF Editor and Converter You Should Try
If you are wondering which software would be ideal for your PDF before converting PDF to MP3, we would strongly recommend using PDFelement Pro. It is best suited for those who want to make a few edits to their PDF files before they convert it to the audio format. Here is a list of things which this software can do for you.
Key Features of This PDFelement Pro:
Editing PDF is as easier as making changes in MS Word.
You can enhance the security of your files with the use of encrypted password.
Easy provision of markups and adding annotations, wherever necessary.
You can easily create PDFs from a wide range of document formats.
You can also convert the PDF file to other formats like Excel, MS Word and PowerPoint presentation and more.