Handling different file formats usually requires a number of different apps for each specific file format, which can be quite confusing at times. This is a challenge particularly for users who frequently access and share documents across various devices, including their iPad. However, this issue can be resolved if we can rely on just a single file format and PDF is stands out as the best choice for this as it's a quite commonly used and stable file format. There are plenty of apps you can use on your iPad to view or print PDF files, but what if you want to convert word to PDF on iPad? Read on to know about and compare various tools available on the iTunes Store which are good at doing this.
Top 5 Tools to Convert Word to PDF on iPad
PDFelement Pro for Windows - The Best Word to PDF Converter
By using PDFelement Pro, you can easily convert your Word documents to PDF on Windows and Mac. You can use this tool to convert PDF file to Word, PPT, EPUB, Image, HTML and other file formats. Apart from this, you can find professional editing tools to edit PDF texts, images, links and other elements. With the help of an advanced OCR feature, you can edit and convert scanned PDFs with ease.
Why Choose This PDF Converter:
Easily convert Word document to PDF and create PDF from other file formats.
Convert PDF to images, Word, Excel, PPT, EPUB and convert multiple PDFs in batch.
Mark up and annotate PDF files with multiple markup tools.
Create a fillable PDF form and fill in interactive or non-interactive PDF forms with ease.
Merge multiple files into PDF and split PDF into several files.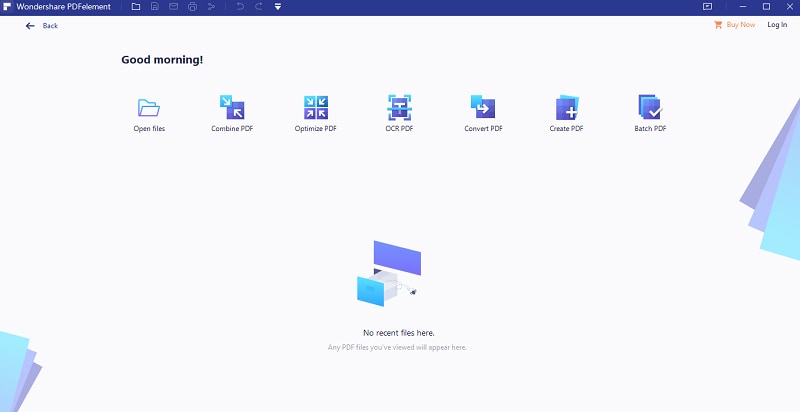 ---
Able2Extract PDF Converter is currently one of the best iPad PDF converters available right now. Using this app is relatively straightforward and it allows you to convert documents of any file type to PDF almost instantly.
Pros:
Free cross-platform app.
It's possible to convert PDF documents to Word, PowerPoint, or Excel in just a couple of taps.
The converted files are on your local phone storage for easy sharing via other apps.
Interface is not complex to understand for a first-time user and there is no signup required either.
Cons:
There are a few glitches in the app here and there, but most of them can be ignored.
The interface is quite old. The app was last updated more than an year ago.
Though the whole process of conversion is decently fast, opening a file inside the app can be very slow at times.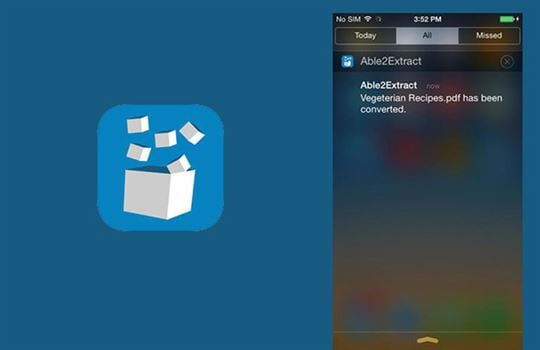 ---
Another app for users who want to quickly convert word to PDF on ipad. This one is not just limited to documents, but can handle a range of file formats considering that you want the final output to be a PDF file.
Pros:
Helps convert text messages, photos, and even contacts into PDF format.
Integrated with Dropbox and has a browser plugin too.
Scanning functionality makes this app quite useful for iPad word to PDF conversion.
Also has the feature to draw upon or annotate the content in the documents.
Cons:
Free version is of not much use and paid version (starts at $1.99 for 7 days) is the only option if you want to convert Word to PDF on iPad.
Comes bundles with VPN service and browser plugin for Safari which user typically don't expect to come with the app itself.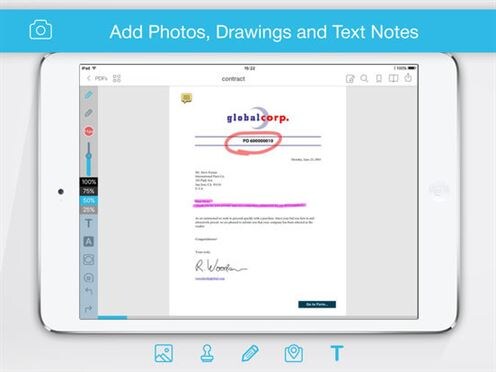 ---
This is a paid app which currently costs $3.99 to download from the App Store. Keeping in mind you need to convert word to pdf on ipad frequently, this fee is something you won't regret paying. The app has been featured as one of the must-have apps for tech savvy users, which tells a lot about its popularity and the quality you can expect from it.
Pros:
Works with all forms of content and common document file formats like Excel, Word, iWork and Powerpoint.
Recent update makes it optimized for iPad with improved performance.
You can also use this app to convert webpages directly to PDF for reading them later.
No working internet connection is required and files are saved in a secure way locally.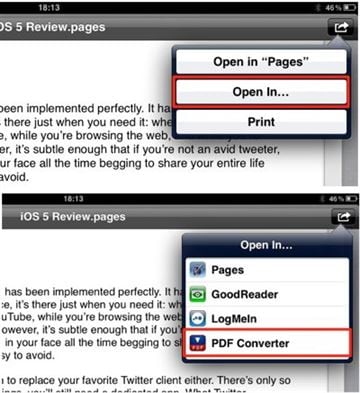 Cons:
There are not many downsides to this app apart from no scanning support as available in other popular apps (which anyways is not a default requirement but comes in handy).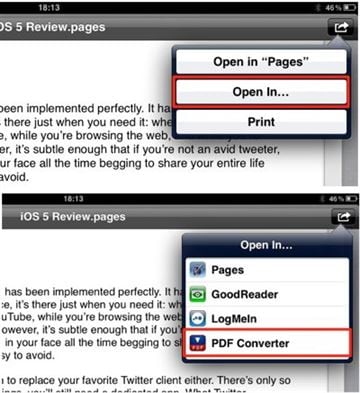 ---
DocAS Lite can be aptly called an all-in-one app for reading, converting, annotating and managing documents the right way on your iPad.
Pros:
Comes with a built-in ipad word to pdf converter that converts Word documents as well as iWorks, HTML and text files to PDF.
Has remote access and file sharing options which can come handy for collaboration.
Free to download.
Cons:
The popups shown in the free version of the app can be annoying as they frequently suggest upgrading to the premium version for about $6.99 one-time fee, however, there's not much of a significant value in it.
Interface is not user-friendly.
Crashes frequently.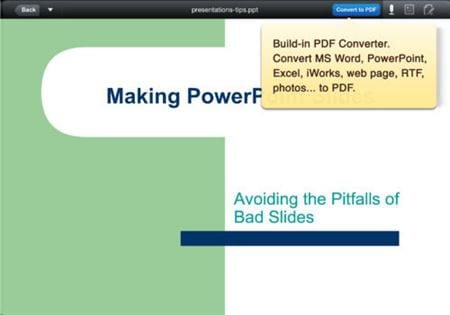 ---
WPS Office is a serious contender for the top spot in this list, considering the wide range of features it offers in the app apart from just regular Word to PDF conversion on iPad.
Pros:
This app is available for free and packs more features than many paid apps.
Rich formatting options for editing parts of the documents before converting to PDF.
Improved experience on iOS9.
Built-in change tracker to note the modifications or revisions made to a document over time.
Integration with all major cloud file storage service providers.
Cons:
Too many features make this app a bit complex to navigate for the first-time user.