Microsoft Publisher is a very useful program that can allow users to create booklets, brochures, business cards, newsletters, etc. However, if you are creating something in the Publisher format, it is unlikely that most printers will accept it. Therefore, you will have to convert it into one of the most widely accepted formats out there, like PDF format, in order to easily print the files. Here are 4 different ways to convert Publisher to PDF format without any charge! One of the best ways is using PDFelement Pro.
Part 1: The Easiest Way to Convert Publisher to PDF on Mac and Windows
To convert a Publisher (.pub) file to a PDF format easily, we would recommend you to use PDFelement Pro. This program allows you to create PDF from various formats like Word, Excel, PPT, EPUB, Webpages, and more.
Step 1. Launch PDFelement Pro
Run the Publisher to PDF converter if you have already downloaded it. And you will get the main interface as below image.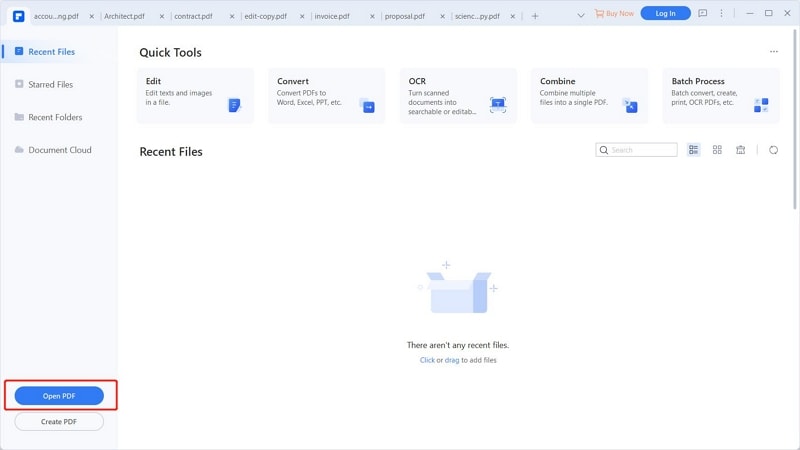 Step 2. Import Publisher files to the program
Open the Publisher based file with the converter by clicking the "Open" button, and make any changes necessary. You can skip through different slides, make editions, etc.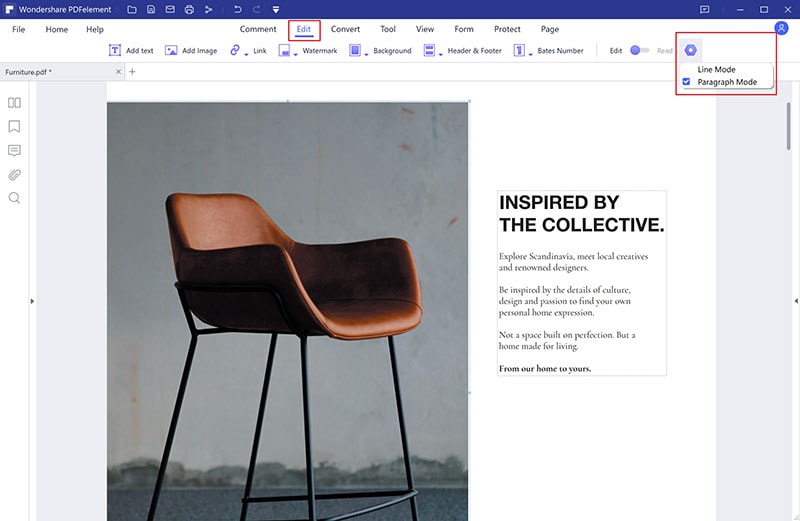 Click the "Combine" button in the main interface, you can import multiple Publisher files to the program and merge them into a single PDF.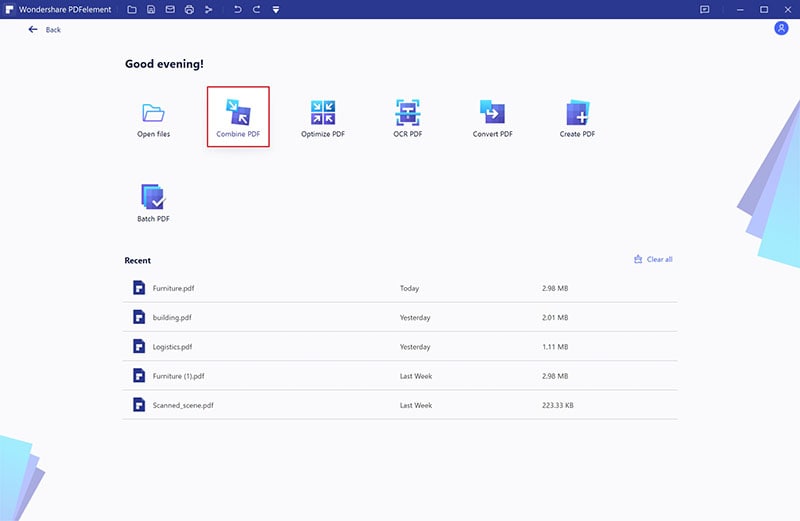 Step 3. Convert Publisher to PDF
Once done, open the "File" drop-down menu and click on "Save As". Then click on "PDF" and save the format accordingly. The file will be saved in PDF format and opened with the converter immediately.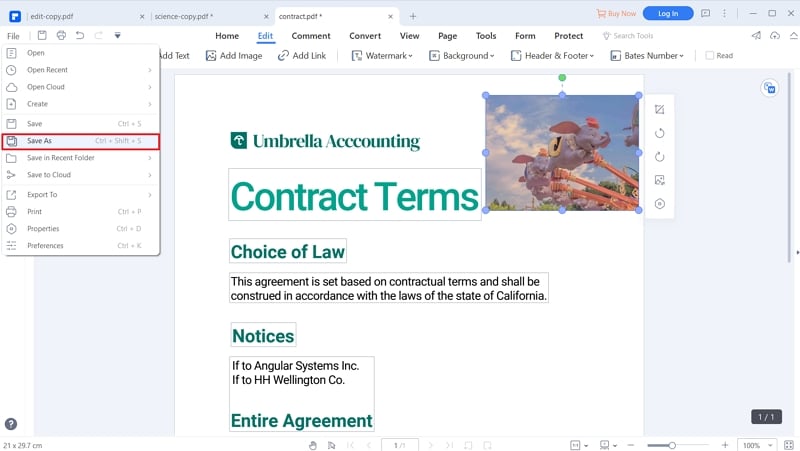 ---
Why choose PDFelement Pro to Convert Publisher to PDF
With this PDFelement Pro, you can edit, encrypt, decrypt, annotate, watermark, sign and do more on your created PDF documents. Just try it free now.
Why Choose This PDF Converter:
Convert PDF to images, Word, Excel, PPT, EPUB and more formats.
Easily edit PDF texts, graphics, images, links, watermarks, etc.
Create PDF from other formats and create PDF forms easily.
Easily mark up and annotate PDF files with multiple markup tools.
Combine multiple files into PDF and split PDF into several files.
Add watermark, signature and password to PDF.
---
Part 2: Directly Saving Publisher to PDF in Publisher 2007-2010
Publisher 2007- 2010 allows you to save files directly in a PDF format as well, which makes it easy and much more convenient for users to print it or to prevent others from editing the file. Here's how to convert Publisher to PDF format:
Step 1. Once you are done editing the file and are now looking to save it, go to the "File" option and click on "Save As".
Step 2. In the "Save As" dialogue box that opens up, first name the file. Then, right below, you will see the "Save As Type" option, which, when you click, will show you a number of different formats. Choose "Portable Document Format", or PDF as it is commonly known.
Step 3. The file is now saved into your designated folder in the .pdf format.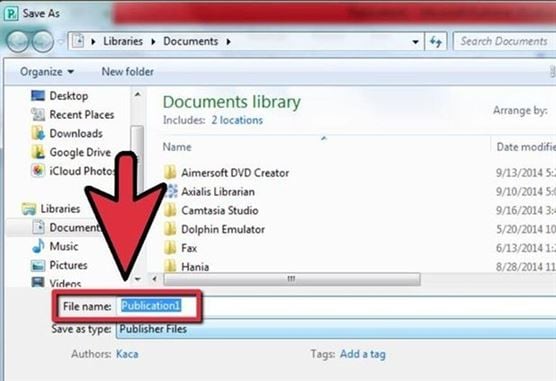 ---
Part 3: Convert Publisher to PDF in Publisher 2002 or Older
Publisher 2002 and older programs came with slightly limited capabilities as compared to the recent versions. However, they also allow you to convert Publisher to PDF format without much of a difficulty. Here are steps for converting Publisher to PDF:
Step 1. First, open the publication that you wish to convert using the Publisher 2002 or older version.
Step 2. Open the "Tools" Meun, then click on "Color Printing in Publisher". Select the options that seem fit to you, depending upon the color contrasts, etc.
Step 3. Then, click on "File" > "Save As". Save your publication.
Step 4. In Publisher 2002, you can directly print files to Acrobat Distiller, or any other third party PDF converter, depending on whether you have it or not. You need to save your files in a "Post Script" format to ensure that they can be converted.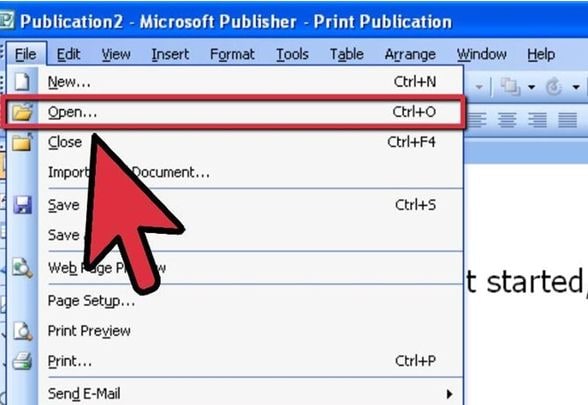 ---
Part 4: Convert Publisher to PDF Online
There are a number of online Publisher to PDF converter that you can use in order to convert Publisher files to PDF. One of them is Zamzar, a free online based conversion tool. Here's how to use it:
Step 1. Upload the Publisher file to Zamzar.com. Files up to 100 MB can be converted.
Step 2. The next step is to choose the output format. Zamzar supports a number of different formats. Select the PDF format.
Step 3. Input your email address, which the program will use to email you the converted files.
Step 4. Press the "Convert" button to convert the files!