There are multiple reasons as to why people choose to opt for a PDF file and if you too are looking to convert your text document into a PDF file, there are various ways by which you can do so. You can find quite a lot of text to PDF converter in the market which allows you to make a conversion from text files to PDF and by opting for this change, you can easily convert your files. Here, we will, discuss about how to convert TXT to PDF. And we truly recommend PDFelement Pro .
Part 1. The Best TXT to PDF Converter that You Should Try
The best and perhaps simplest way you can convert TXT to PDF is to use PDFelement Pro. This program allows you to simply create a PDF from a TXT document by opening the TXT document in the program. All you have to do is open the program and then open the TXT document you have and it will be converted to PDF. You can then simply save the PDF document of use one of PDFelement Pro's numerous tools to edit the newly created PDF document.
How to Create PDF from Text on Mac
When you are looking to make a PDF file from your text format, you need to follow some simple steps. Here we will list down the steps and you should implement it for converting text file to PDF format.
Step 1. Launch the Software
First of all, you need to download and install PDFelement Pro for Mac and then launch it. On the main application window, hit on the "Create PDF" option. This will open a dialog box which will allow you to move to the folder where the text file is stored.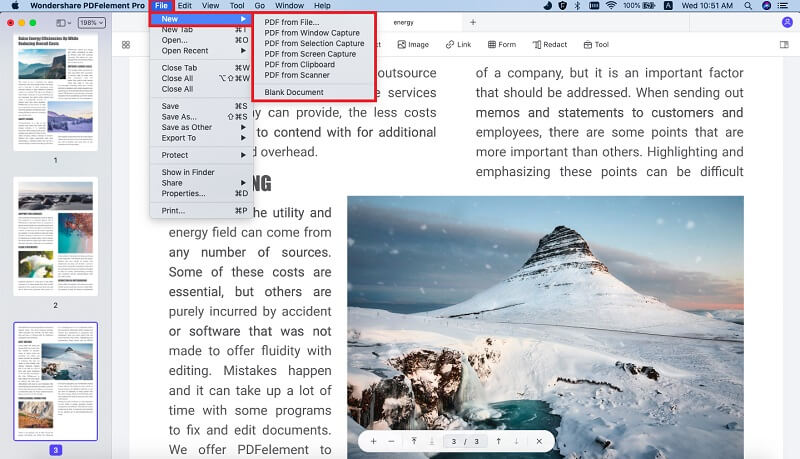 Step 2. Edit Your Text Document
After you have imported the file, you can then freely edit the text file. Now you can move to the "Edit" tab and choose adding of text, deletion, updating or even altering the image attributes as well.
Simply double click any area which you need to change. You can make as many changes as needed for the sake of ensuring that the final file is as needed.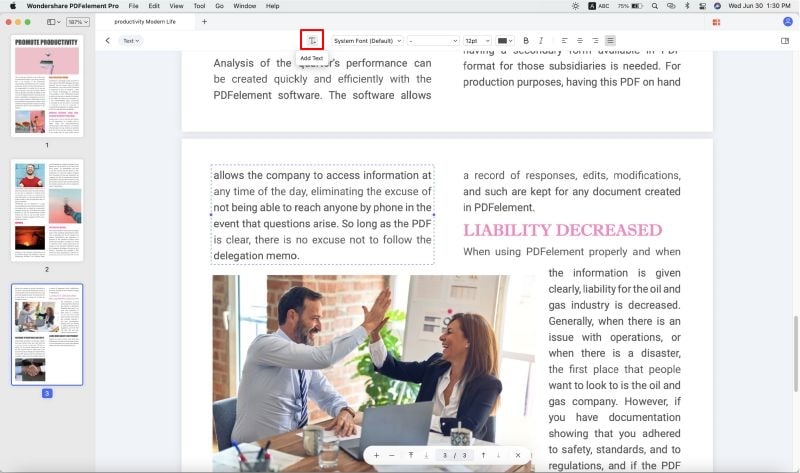 Step 3. Batch Convert TXT to PDF
To batch convert TXT to PDF files, you can use this PDF creator to merge multiple TXT files at first and then save the combined TXT file as PDF format. To do so, you can click on the "Combine PDF" button on the welcome page. Choose the "Add Files" buuton and select the TXT files from the local folder, then you can batch convert TXT to PDF with ease.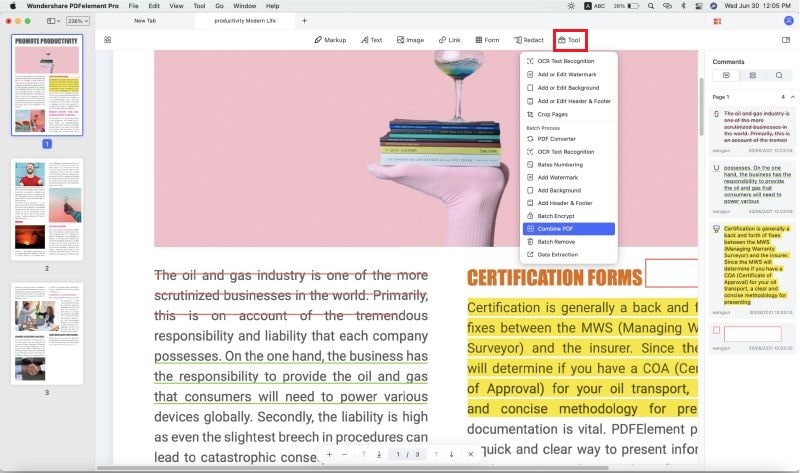 Step 4. Save Text as PDF
When you have done the editing, you simply need to save the file in the PDF format. In order to do so, you need to move to the "File" option at the top menu and under it, click on "Save As".
In the window that pops up, choose PDF as the format and enter the name of the file and define the folder where you want it to be stored.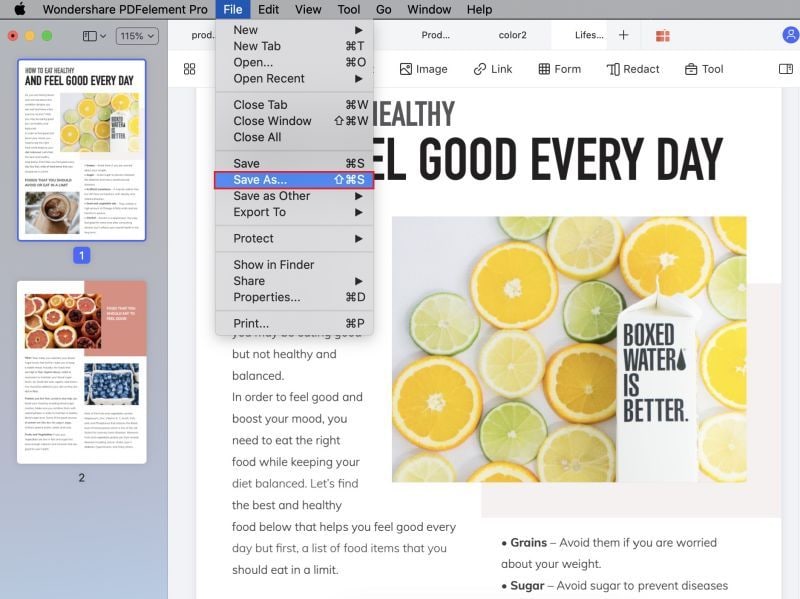 ---
Why Choose PDFelement Pro for Mac to Convert TXT to PDF
PDFelement Pro comes packed with some of the best possible features. Let us take a look at why it is a popular choice.
Key Features of this TXT to PDF Converter
Create PDF from different formats which include MS Word, Excel, PowerPoint, HTML, Image, EPUB, TEXT and more.
You can also convert PDF to above formats as well.
Easy editing of PDF files by adding texts, images, deleting content, modifying it and so on.
Add password to PDF files and enhance the security factor.
Add personalized signature and stamps to your PDF files.
Easily edit and annotate your PDF files.
Supports OCR feature which allows users to convert scanned PDF.
Compress PDF files into smaller sizes making it easier to be used.
Split and even merge PDF files.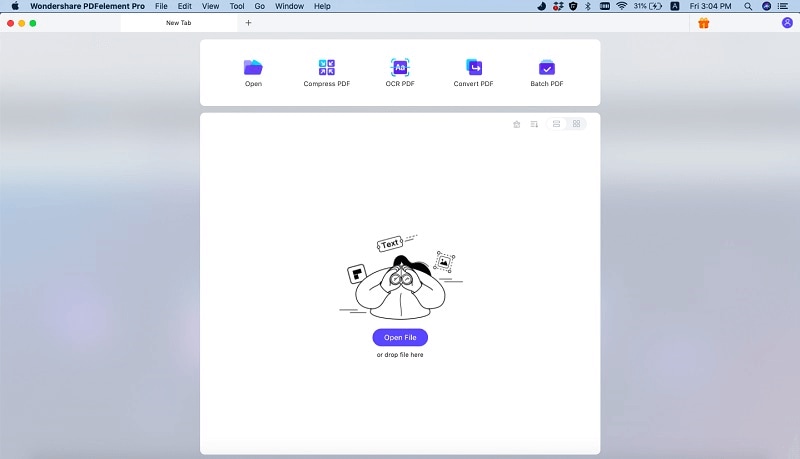 ---
Part 2. How to Create a PDF Document on Windows
When you have a Windows PC where you need to convert your files to PDF format, PDFelement Pro will help you a lot. With the help of this PDF converter , you can easily change TXT to PDF format and edit the new PDF files with multiple PDF editing tools. Please follow the steps below, to convert TXT to PDF on Window or Lnux with ease.
Step 1. Add Your File to the Program
Launch the PDFelement Pro for Windows. In the application window, you will find an option called "Create PDF". Hit it and then a dialog box will open which will prompt you to select the file which you desire to convert. Click on "Open File" after having navigated to the desired folder.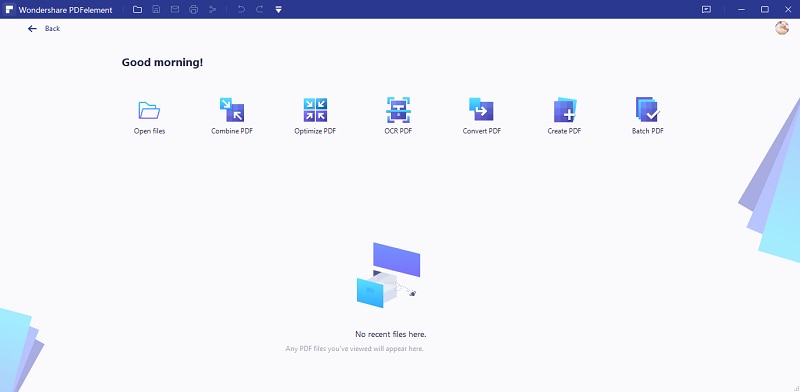 Step 2. Modify Your Document (Optional)
When the file has been imported, the next step is to make modifications to the file, as needed. You need to hover to the "Edit" tab and click it. This will open the editing mode. Double click any area which you need to modify and then add text, delete it or even alter attributes of images as well.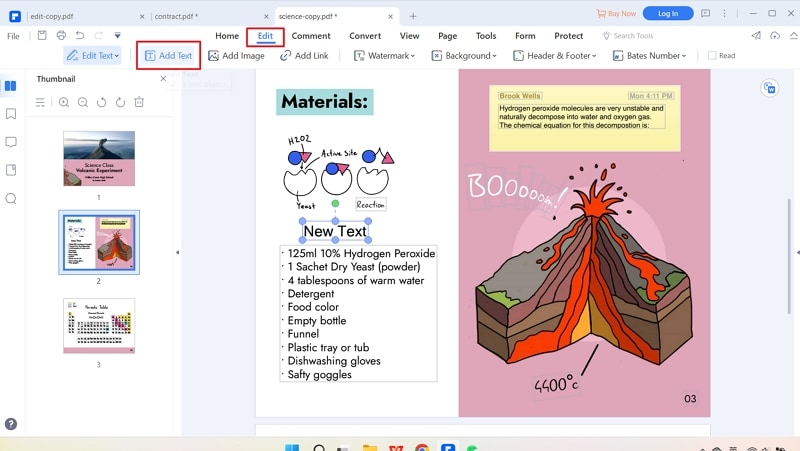 Step 3. Create a PDF Document
When you are done with the editing work and you have the final file which you need to convert, move to File and then choose "Save As" from the list.
In the dialog box that opens, choose PDF as the output format and name your file as well. Choose a destination folder where you want to save your pdf. Then click "Save" to confirm your choice.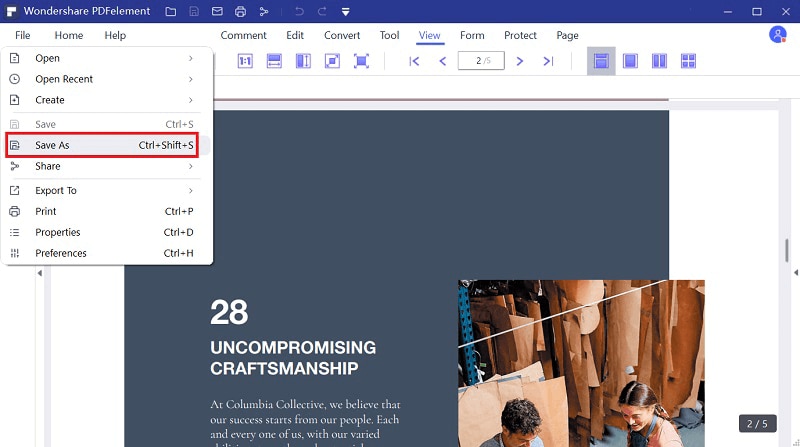 ---
Part 3. Convert TXT to PDF for Free
Another way you can quite easily convert a TXT document to PDF is to use PDF Zilla TXT to PDF Converter. This is an open source program that is available for Windows users that can be used to convert any TXT file to PDF regardless of size. It is primarily ideal for the conversion of batch TXT documents to PDF but will also work with a single file. It is also quite fast; converting a lot of files in just a few minutes. The following is a simple guide you can use to convert TXT to PDF for free using PDF Zilla.
Step 1. Go to the official website and download PDF Zilla to your computer and install the program on your computer.
Step 2. Launch the program after installation and in the main window, click on "Add" to add a TXT file to the program. You can click "Add" again to add multiple files or click "Add Folder" to include all files in a particular folder.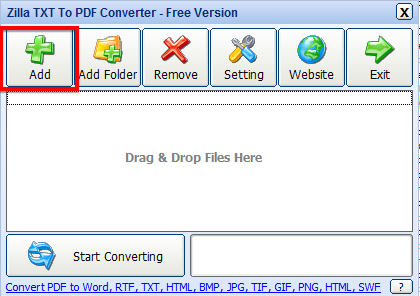 Step 3. Once you've added the file or files to the program, click on "Start Converting" and you should see the resulting PDF file in the output folder.