Even though word docs are great for editing and creating stuff, PDF is the go to format for sharing presentations, forms, magazines, covers, books, and much more. PDF stores text, charts, pictures, and logos in a easy to read, pre-formatted and compact file that can be shared across multiple computer platforms with varying configurations. Here we show you an easy way to use PDFelement Pro to convert Word to PDF on Windows.
The Best Tool to Convert Word to PDF on Windows PC
PDFelement Pro - The Best Word to PDF Converter
While there are a lot of free as well as paid Word to PDF converters for Windows out there, you need to choose a converter that is- simple to use, can handle files of all sizes, and is fast at its job. Currently, the best software for the job is PDFelement Pro. It meets all of the desired criteria, and exceeds most of them with its unique suite of features. This software is more than just a Word to PDF converter, it also allows you to edit, create, and share PDF files.
Key Features of This Word to PDF Converter:
PDFelement Pro for Windows allows you to secure your PDF files with passwords so that only those with authorization can access it. It also lets you place digital signatures on your creations so that people know it's you who created the file.
It lets you easily share your PDF's throughout the world with the touch of a button. You can sync this software with Google Drive, Dropbox, Evernote, and Outlook in order to share your presentations and reports within seconds with your contacts.
You can insert text markups, underline areas, highlight important text, and insert notes into your PDF documents. On top of that you can insert photos and charts, rotate, crop, delete areas, and insert or extract watermarks from your PDF files.
Finally, it can convert PDF files into multiple word document formats. It even allows you to convert your PDF into EPUB, PPT, and HTML format. Converting Word files into PDF is just as easy and fast. Best part is, this wonderful software even comes with a free trial version that incorporates all features of the paid version for a limited amount of time so you can see for yourself how effective it is.
Step-by-step Guide to Convert Word to PDF
Step 1. Launch PDFelement Pro
After you are finished with the installation, double click on the icon from the desktop, or run it from the start menu. Upon opening, you will see that the software's startup page has 4 major options- create PDF, edit PDF, combine PDF, and convert PDF.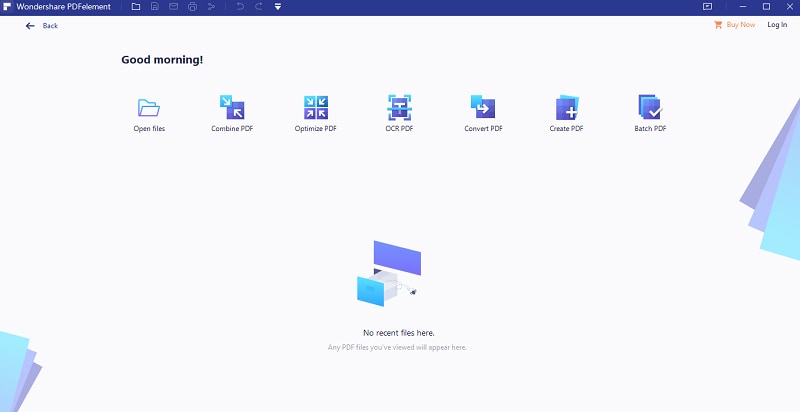 Step 2. Import the Word Files
Click on the "Create" tile. A window is going to open. Click on the import file button to browse for the Word document that you want to convert. Once you find it, import into the converter program. Select the number of pages you wish to convert, or leave that option unchecked to convert the whole document.
Alternatively, you can just drag the Word files from their folder into the PDFelement Pro they will automatically be converted into Word format. This is only good if you're are dealing with small numbers of files. For entire batches of Word files, it is better to use the second step.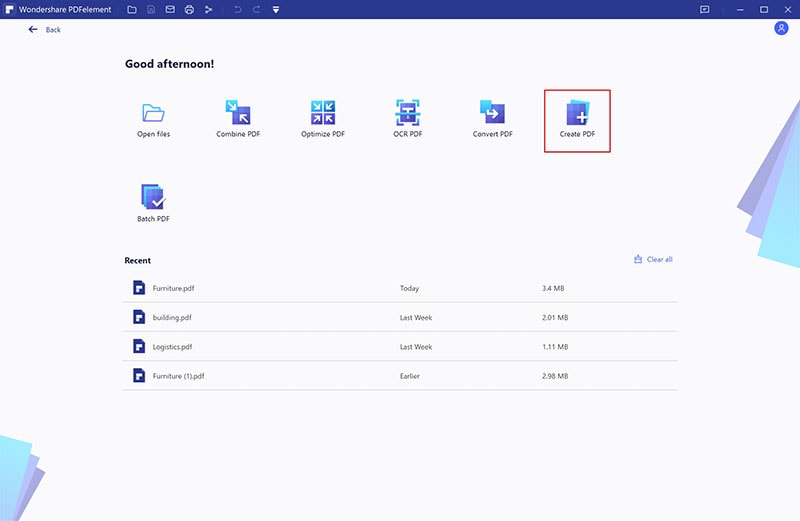 Step 3. Convert Word to PDF on Windows
Now click the "File" and "Save As" to save the Word to PDF on Windows. Soon your Word file/ files will be converted to PDF format and be available in the output folder of your choice.