You have a bunch of images that you want to convert to put together and send to someone via email or you want to share on your website. If these images happen to have text on them, the best option would be to convert the images to PDF. PDF is the best way to share information since PDF files are readable on any device and you are assured of the safety of the information on the document since they can be hard to editor replicate.
But converting an image to PDF may not be easy if you don't have the right tool to help you. Lucky for you, this article will share with you the best way to create PDF from images very easily. The program we recommend is easy to use, highly effective and above all, the one-stop shop for all your PDF needs.
Part 1. How to Create PDF from Images
To create PDF from images, you will need a tool that is specifically designed for this purpose. There are a lot of PDF converters in the market some of them even free, but there are very few that will actually make it easy for you to convert an image to PDF effectively. By effectively we mean that the resultant PDF will include all the features in the original image, retaining even the formatting of the text.
As far as we know, there is only one program that can guarantee this level of effectiveness when it comes to creating PDF from images. This tool is iSkysoft PDF Editor 6 Professional for Mac (or iSkysoft PDF Editor 6 Professional for Windows)Available for both Mac and Windows, this simple to use PDF editor comes equipped with all the necessary features to create, edit and mange PDF documents. To show you how easy it is to use iSkysoft PDF Editor Pro 6 to create PDFs from images, we thought we'd share with you this simple tutorial:
Step 1. Start the Program
To begin, download and install the program to your computer. Once the program is installed, double-click on the program icon to start the program.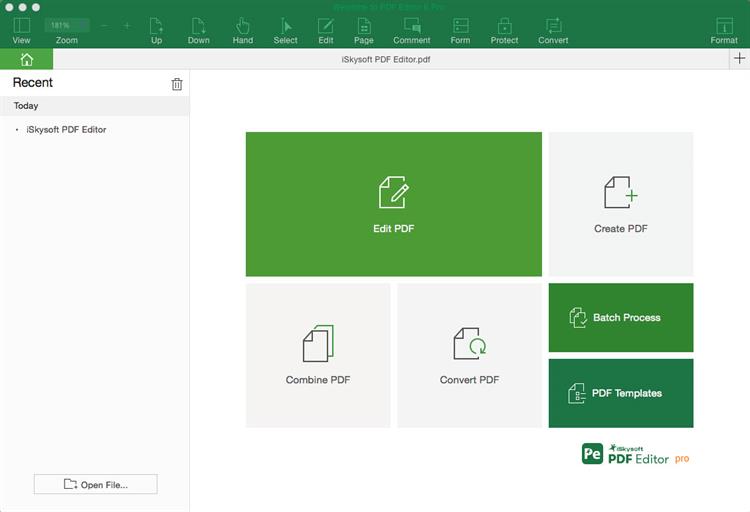 Step 2. Create PDF from multiple Images
To create PDF from multiple images you may have on your computer, click on "File" menu and select the "Create" option. From the drop-down list, click on the "Combine Files into PDF" button to select the images you need. This will import the images into the program and get them ready for the next step.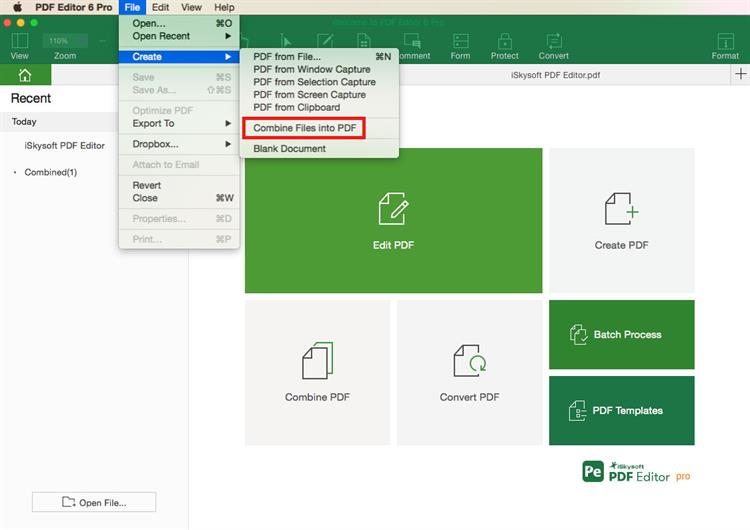 Step 3. Save the Newly Created PDF
Once the images are open in iSkysoft PDF Editor Pro 6, they are automatically converted to PDF. You will then need to save the newly created PDF document to make it easier to find the PDF later. To do that, simply click on "File > Save As" and enter the filename.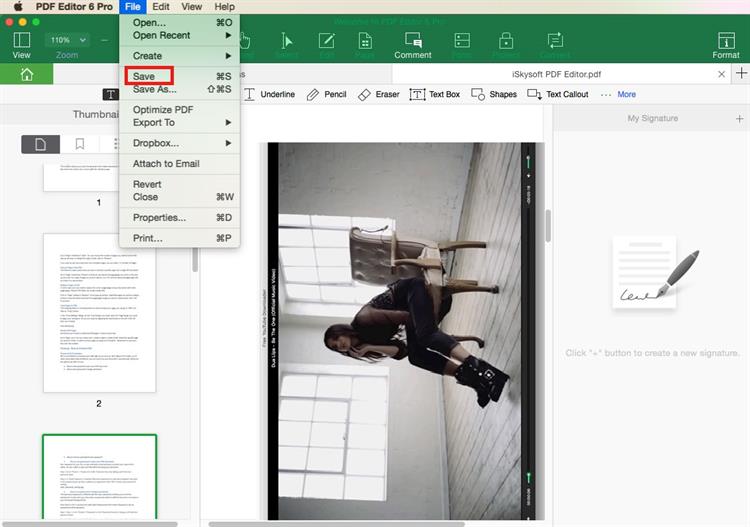 As the tutorial above clearly shows, it is very easy to use iSkysoft PDF Editor 6 Professional for Mac (or iSkysoft PDF Editor 6 Professional for Windows) to convert multiple images to PDF. The program is designed to make it accessible, easily to use and simple to manage. This is made possible by the numerous features that work together to make it easy to create and convert PDF to other formats. To understand just how valuable iSkysoft PDF Editor Pro 6 can be, it is important to understand the features the program brings to the table. They include the following:
If you need to edit the PDF in any way, the program also offers you numerous options to do that. With it, you can easily edit the text and images on the document. You can also use the easily accessible OCR feature to make scanned PDFs easily editable.
It is also very easy to navigate with a simple to use interface that makes it very easy to edit the document; it will feel like you are using a Word processor.
You can also use it to read and annotate the document in numerous ways. You can highlight some of the text on the document, add comments and stamps or even strike-through and underline text as you read.
Once you are happy with all the edits, the program also makes it very easy for you to save and share the document without having to leave the interface. It easily integrates with Dropbox and Google Drive to make this process very easy.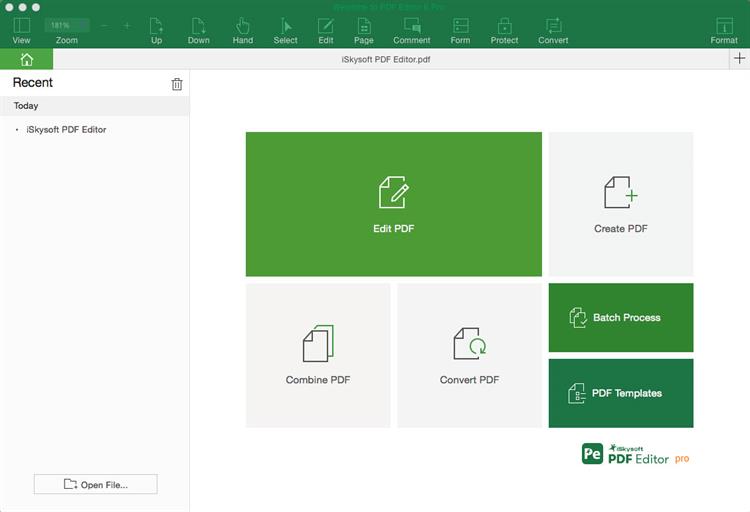 Part 2. How to Create PDF with Images Online
Another very simple way to create PDF with images is to use one of the many free online tools available. Many of them are highly effective when it comes to converting images to PDF, but only one can guarantee success and efficiency. SmallPDF is an online PDF management tool that allows users to convert documents to PDF and vice versa. We recommend SmallPDF mostly because it is very easy to use and unlike most other online tools, it retains the formatting and quality of the original document.
Here's a simple tutorial sharing with you how to use SmallPDF to create PDF from images:
Step 1. To begin the process, go to the official webesite to access the online conversion tool. Once here, you can choose to drag and drop the image file you want to convert to PDF. You can also choose a file from Dropbox or Google Drive since SmallPDF easily integrates with both.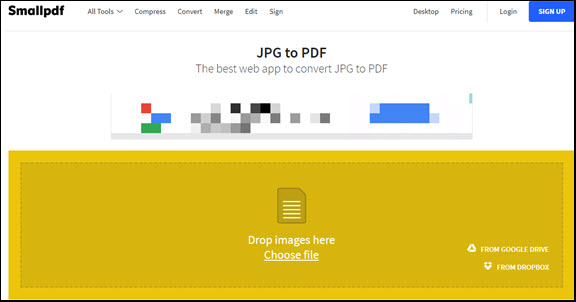 Step 2. Once the image file has been uploaded to SmallPDF, take a moment to set the paper size you need by clicking on the dropdown arrows next to "A4" as well as the margin and the orientation by clicking on the dropdown arrows next to "Auto." Click "Create PDF Now" to begin the conversion process.

Step 3. Wait while the program creates a PDF file from the image. Once the process is complete, you can choose to download the file, add it to Dropbox or Google Drive.

Part 3. How to Create PDF from Images in Windows
If you are using Windows 10, you can easily use the Windows system, especially the print function to make a PDF document from multiple images. This process is simple and free and above all, you will not need any additional programs to complete the process. This simple tutorial will show you how you can combine multiple images in Windows to create a PDF file.
Step 1. To begin, locate the images you want to combine, either using File Explorer or on your desktop. Once you have the location of these images, select all the images you need (you can do that by clicking on the first image, holding down the shift key on your keyboard and then clicking on the last image) and right click to select "Print."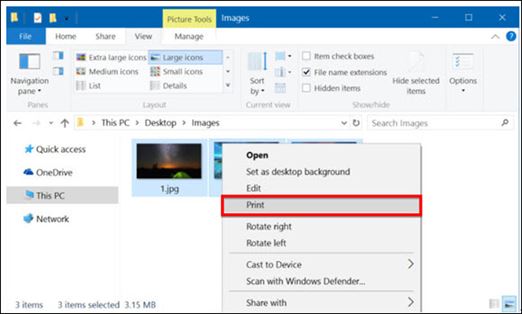 Step 2. This will open the "print pictures" window. Here, select "Microsoft Print to PDF" option from the "Printer" dropdown menu. You can also choose other settings including the desired paper size and orientation of the document.
Here you can also check the "Fit picture to frame" checkbox. This will scale up the images and make sure that the completely fit the paper size dimensions. It is however important to note that this may interfere with the resolution of the image or even cut off certain portions of the image if it doesn't have the same aspect ratio as the paper size.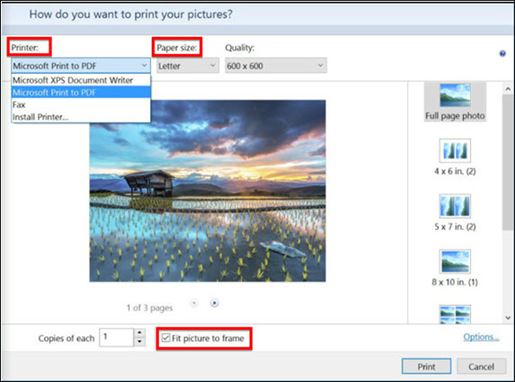 Step 3. When all your specifications are as you desire, click "Print." Instead of printing the images, Windows will create a single PDF document from the selected images and ask you to choose a location to save the newly created PDF file. Choose an appropriate location to save the file and then click on "Save" to complete the process. You can now navigate to the folder and open the PDF. You will notice that Windows has successful created a single PDF file from the selected images. It is also worth noting that this print to PDF feature in Windows is accessible on nearly all applications. This means that you can convert nearly all types of files to PDF including all Microsoft Office files such as Word, Excel and PowerPoint. It will however not be effective in helping you create or edit PDF documents.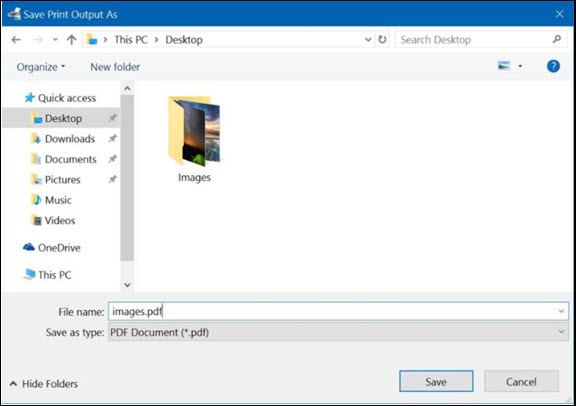 Write in the end: For that, you might want to consider using iSkysoft PDF Editor Pro 6. It is the ideal tool when you need to not just create PDFs from images but also edit the resultant PDF. It features as described above make it easy for you to manage any aspect of the PDF document in a very simple way. But if you need to convert just a single image to PDF, SmallPDF and Microsoft's print function can be very helpful to you. We hope the tutorial above has been useful in helping you decide on the best way to create PDF from images.