With PDF format you ensure that your document format is maintained and works on any operating system. It is more secure than other formats, and tends to have a fairly small size. There may be times when you need to convert multiple Word documents to PDF. In this article we will explore 5 easy options to batch convert Word to PDF.
Part 1. Batch Convert Word to PDF with PDFelement Pro
If you are using a Windows PC, we highly recommend that you use PDFelement Pro to export Word documents to PDF. The steps to convert Word to PDF in batch form is very simple. Follow the guide below:
Step 1. Launch the Program
First, download the program and install it on your Windows PC. Once the installation is complete, make sure your target files (in Word format) are organized in one folder for ease of use. Double click on the program to launch it. A pretty simple-to-use interface will appear.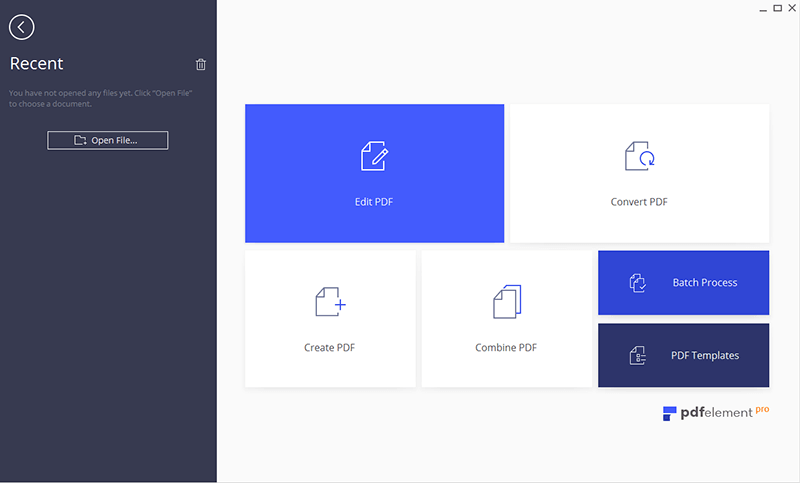 Step 2. Import Word Files
From the interface, choose the "Create PDF" option. A new popup window will appear and allow you to choose the files that you want to convert. Select as many files as you wish to convert and then click on "Open".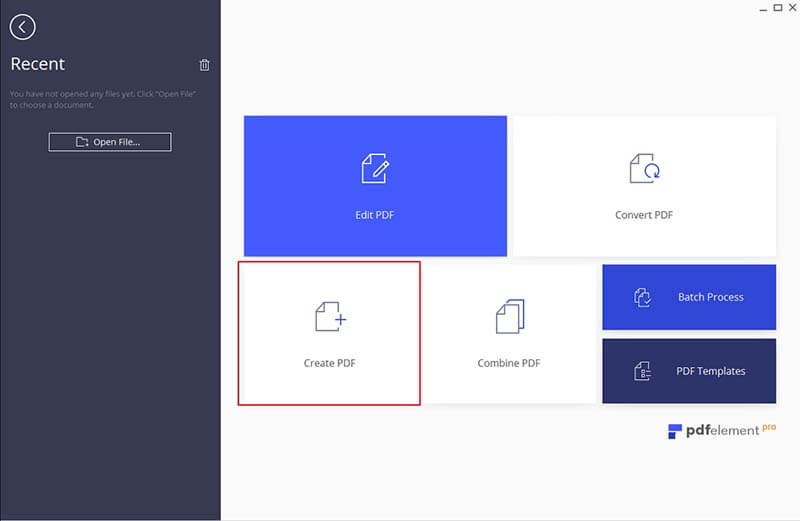 Step 3. Batch Convert Word to PDF
To process your documents, click on the "File" tab at the top left part of the interface and choose the "Save as" option. From the list of formats, select PDF. A popup window will appear asking you to choose the name and destination folder for your new PDF files. Enter the information and then click the "Save"" button. Note that if you wish to edit your files before saving them you can do so by clicking on the "Edit" tab.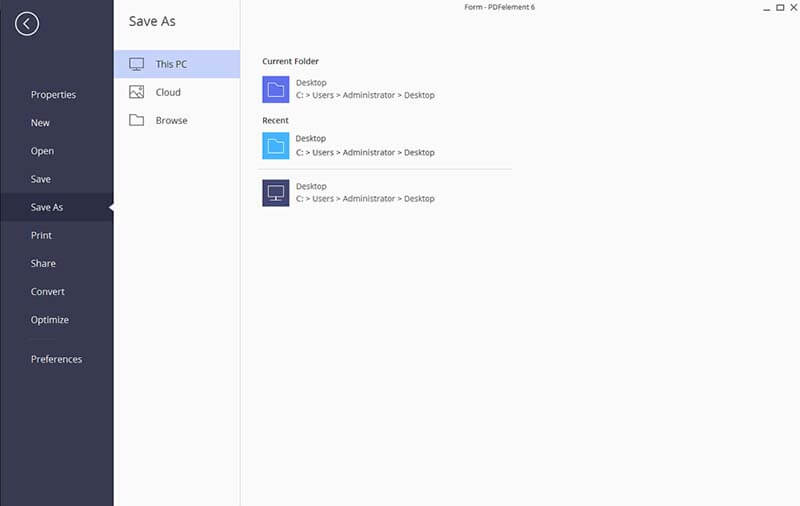 Step 4. Combine Multiple Word Files into PDF
This PDF Editor allows you to combine multiple Word files into a PDF document. You can click on "Combine Files" and then import the Word files in the pop-up window. Click the "Combine" button to save the files into PDF format.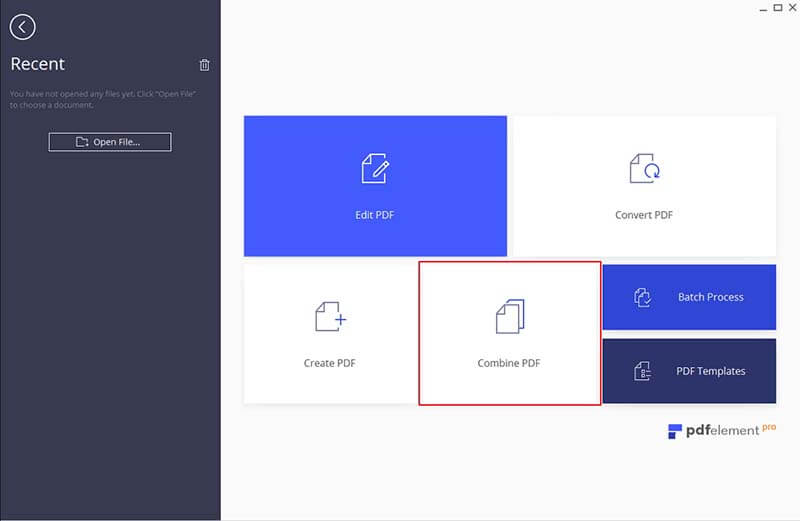 ---
Why Choose PDFelement Pro for Windows to Batch Convert Word to PDF
PDFelement Pro is undoubtedly the best PDF tool to batch convert word to PDF in Windows. It not only processes your documents extremely fast but also converts other file types such as Excel and PowerPoint to PDF. That means by using PDF Editor for Windows you get speed, convenience and efficiency in one single package.
It is very easy to use and the output PDF files are high quality. In fact, the program creates PDF files in the exact layout of your original files.
Key Features of PDFelement Pro:
Batch convert Word documents to PDF quickly and easily.
Access multiple editing tools to edit PDFs efficiently.
Secure PDF with passwords, watermarks and signatures.
Convert PDF to Word, Excel, and other formats.
---
Part 2. Batch Convert Word to PDF with PDF Creator for Mac
If you are using a Mac, iSkysoft PDF Creator for Mac is your ideal batch converter of Word to PDF. It is a premier yet very affordable solution that enables you to create, edit, and protect PDF documents that have been converted from Word files.
Key Features of iSkysoft PDF Creator:
Converts Word files to PDFs very quickly, making it great for handling batch documents.
Creates PDF documents that are compatible with any PDF reader and PDF editor.
Compatible with all MS Office versions including 2003, 2007, 2010 and 2013.
Easy to install and simple to use regardless of how many Word documents you are converting.
Creates very high quality PDF documents that retain original formatting.
Step 1. Launch the Batch Word to PDF Converter
First of all you need to download the program from the iSkysoft Page and then install it on your Mac. The installation should only take a few seconds to complete. Start the program by double clicking on it.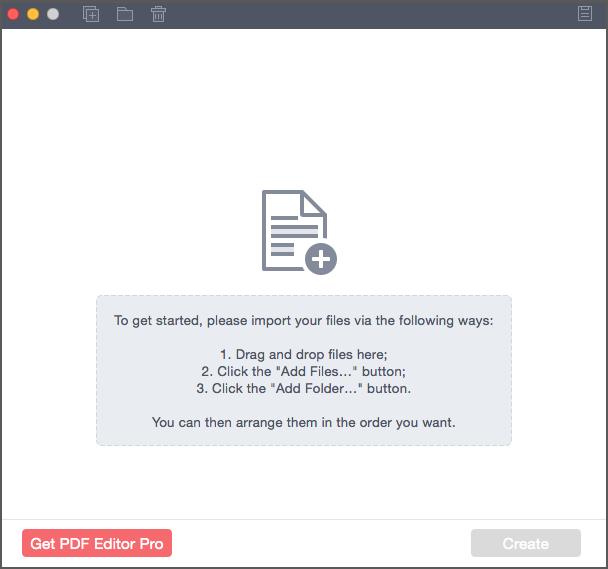 Step 2. Import Word Files
You can start adding your files once the program is launched and the main interface is open. You have two options of doing so. First, you can select the "Add Files" button to add one Word file at a time. Alternatively, if all your files are saved in one folder then you can choose the "Add Folder" option. The second method of importing your word files is by dragging and dropping them directly into the program.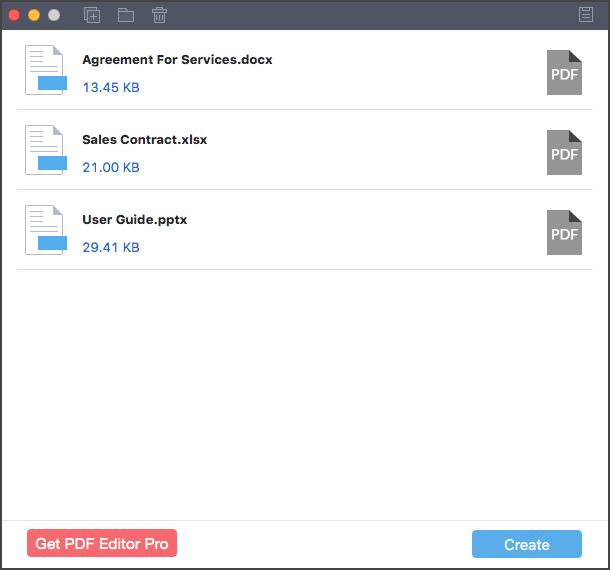 Step 3. Start Batch Converting Word to PDF
After importing all the Word files that you want to convert, click the "Create" button to start processing them. The conversion process from Word to PDF will start immediately. Upon completion, open the final PDF documents and save them in the desired location on your Mac.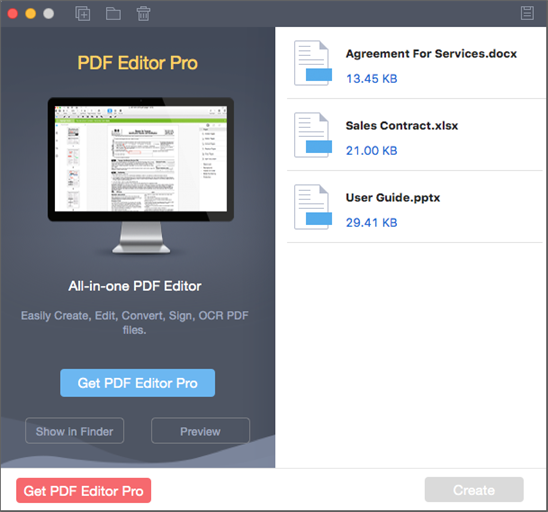 ---
Part 3. Batch Convert Word to PDF with Google Drive
Step 1: Set your Google Drive settings to convert uploads to Google Docs format.
Step 2: Create a Google Drive folder and name it. Upload all your Word files to this folder and then go to Google Takeout. Make sure only Google Drive is turned on and then choose "Select files and folders". Select your folder and set the file format to PDF.
Step 3: Click next and then press Create archive.
Step 4: You can close the browser and wait for an email notification that the conversion is complete. You can close the browser and wait for the email notification. In the email you will find a download link for your archive PDF files.
Download it and open the ZIP file and you should be able to see and access all your PDF files.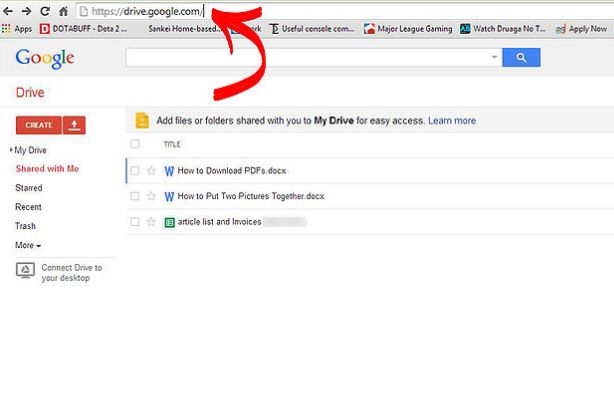 ---
Part 4. Batch Convert Word to PDF with Adobe Acrobat
Step 1: Save all the Word documents that you wish to convert in one folder.
Step 2: Create a destination folder in which your PDF files will be saved.
Step 3: On the Adobe Acrobat interface, go to Advanced >> Document Processing >> Batch processing. Select the "New Sequence" button.
Step 4: Name your sequence. You can use any name you like.
Step 5: In the "Edit Batch Sequence" window that will appear, navigate to the "Run commands on" option and click the "Browse" button then locate the folder in which you saved your Word documents. Select Microsoft Office Word under the "Source File Options". Select the output folder that you created in step 2 and under "Output Options" choose PDF/A. Click OK.
Step 6: Run the sequence by going to Advanced >> Document Processing >> Batch processing. You will see the sequence that you just created. Highlight it and then click the "Run Sequence" button.
The program will process your batch Word documents and reproduce them as PDF files.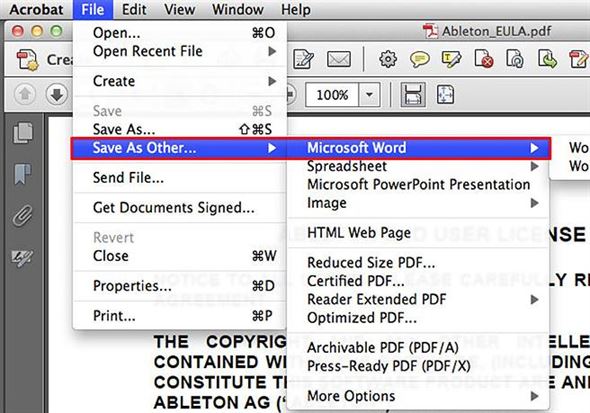 ---
Part 5. Batch Convert Word to PDF with Web Tool
Step 1: Visit the site at online2pdf. On the homepage, you will see the "Select Files" button.
Step 2: Click the "Select Files" button and choose as many Word documents from your computer as you want.
Step 3: Click the "Convert" button and wait for the conversion process to end. Once complete, the PDF files will download automatically.