Are you looking for the easiest and most efficient way to convert your PPT presentation to PDF on your iPad? This article will disclose to you all you need to know on how to convert PPT to PDF on iPad, PPT to PDF iPad file conversion process and how to easily view, edit and share your PPT documents on your iPad. Here are 5 easy ways on how to convert PPT to PDF on iPad, as well as the best desktop PPT to PDF converter: PDFelement Pro.
PDFelement Pro - The Best Desktop PPT to PDF Converter
If you are working on Windows and Mac, you can use PDFelement Pro to create PDF from PPT, Word, Excel and other formats in high quality.
Why Choose This PDF Creator:
Create PDF in high quality and support batch creation.
Convert PDF to Word, Excel, PPT, Images and more.
Edit PDF texts, images and pages with multiple tools.
Easily add watermark, password and signature to PDF.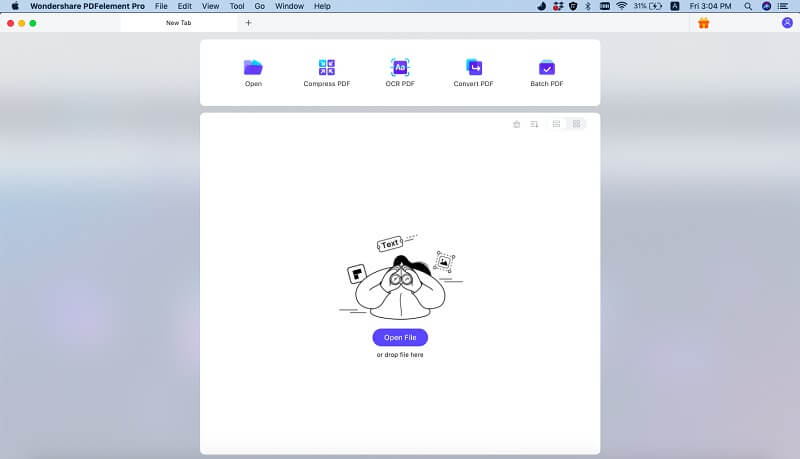 ---
Top 5 Apps to Convert PPT to PDF on iPad
#1: DocsAs Lite PDF Converter for iPad
Converting PPT to PDF on iPad is as easy as downloading the DocsAs Lite PDF Converter onto your iPad. This awesome app not only allows you to convert PPT documents to PDF but also to view, annotate and manage your converted documents without moving near any computer. Its in-built PDF converter necessitates the conversion of MS Office documents, HTML, iWorks documents and text files to PDF.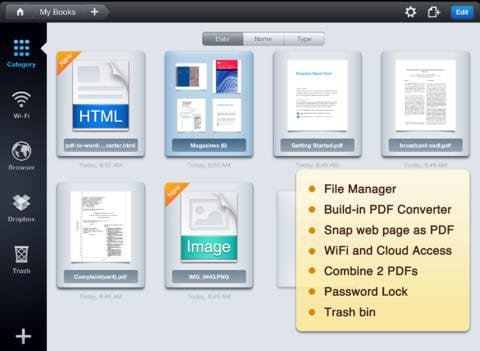 ---
#2: Save2PDF App for iPad
The Save2PDF iPad app allows you to easily create great-looking and professional PDFs right on your iPad without moving near any computer. This app will readily convert different file formats like Excel, Word, webpages, photos and PowerPoint to PDF. What's more? This amazing iPad App allows easy merging of several documents with similar or different file formats into a single PDF file. It is also pretty easy to merge multiple PDF files into a single PDF with this handy App. Furthermore, the Save2PDF App allows you to create PDFs from other apps by simply importing files from those apps using the "Open in" feature. You can also transfer files and documents from a computer into your Save2PDF app via iTunes, using the free-file transfer service like WePrint or by simply mounting your iPad as a disk.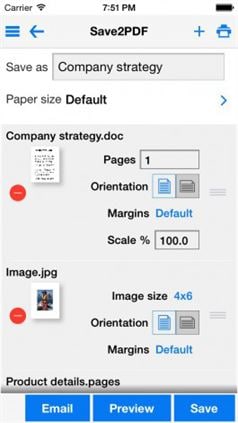 ---
#3: iFiles Converter Lite
Another quick and effective way to convert your PPT presentations to PDF on your iPad is using the iFiles Converter Lite App. After downloading and installing the app on your iPad, you can easily import Microsoft PowerPoint presentations from your computer to view or edit right on your iPad. Additionally, you can effortlessly import files from your favorite cloud storage service providers, for instance Google Drive, iCloud and Dropbox. A file converted or edited on your iPad can also be exported as a PDF for viewing or editing on your computer. This app also supports different file formats, for instance, MS Office documents; text files; HTML Pages; iWorks and pictures.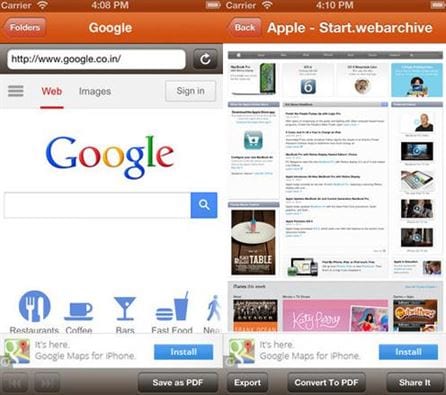 ---
#4: Able2Extract PDF Converter
This app is undoubtedly one of the most powerful presentation Apps designed for the iPad. The Able2Extract PDF Converter allows you to effortlessly create PDF documents from MS Office documents, for instance, PowerPoint, Excel and Word, right on your iPad. The app comes with an interactive and user-friendly interface to enable easy access for both amateurs and professional users.
The app also comes with amazing and highly functional features with flexible settings for easy PPT to PDF conversion. What's more? The program is designed with a simple yet highly practical interface for easy navigation to guide users in creating professional PDF files right on their iPads. The app is free, easy to use and lightweight. The converted document files can be stored on your local iPad storage for easy use, viewing or sharing via other apps.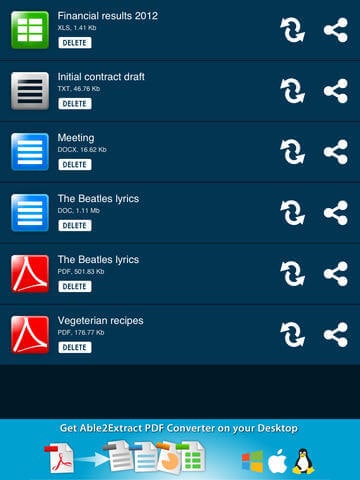 ---
#5: Files Converter for iOS
Another priceless app for creating and viewing PPT presentations on your iPad is the Files Converter App for iOS. The file conversion takes place in a secure cloud, after which the converted files are downloaded back to the app. Besides converting your MS Office documents to PDF, this app also allows you to synchronize and save your documents directly on your iPad and to your preferred cloud service, for instance, iCloud and Dropbox.
The supported file formats include documents, video, ebooks, audio, archives and images. More than 100 other file formats are also supported with the File Converter App for iOS. After converting your PPT to PDF on your iPad, you may as well choose to protect your converted PDF document with a password for security and privacy's sake.