Word format is one of the most popular file formats when creating documents. Now, the most commonly known Word extensions are .doc or .docx, depending on the version of MS Word you are using. While for better transfer and save file, most of us prefer to PDF format for it can keep file formating and secure file from editing and copying. That said, many a times you would need to convert Word to PDF document that is safer to share and also a better file format to present documents such as eBrochures etc.
To do this, you need a relaible Word to PDF converter. And here is the best solution for you. Now let's learn how to convert Word to PDF.
Part 1. Best Word File to PDF Converter
PDFelement Pro for Mac - The Best Way to Create PDF from Document in High Quality
PDFelement Pro is the highly recommend Word to PDF converter. And it is certainly the best PDF editing application ever. This is a common verdict of the long list of users who swear by it for all their PDF editing requirements. Creating amazing PDF documents from the different file types has never been easier and that is the case with converting Word files into PDF documents as well with PDFelement.
Some of the features of this Document to PDF converter are as follows:
Create PDF out of MS Word, Excel and PowerPoint and if need be convert PDF back to other file types as well.
It comes with multiple PDF editing tools and even allows you to annotate and markup your PDF documents easily.
You can convert PDF to Word, Excel, PPT, Texts and many other formats without chaning the formating.
This program allows you to protect PDF with password. And you can watermark or leave signature to the PDF.
Easily create and edit PDF forms. And provide options to share PDF files to emails and other platform.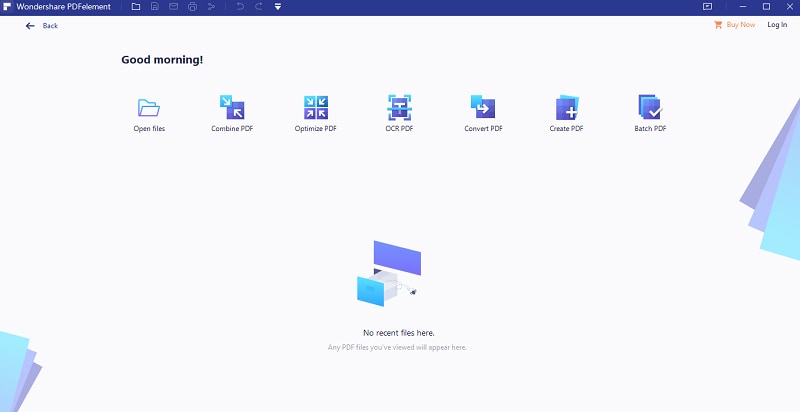 ---
How to Turn a Word Document into a PDF
Step 1. Import Word to the Program
Launch PDFelement once you have installed it. From the main interface, choose the option of "Create PDF".
The next popup window should now allow you to select the Word file you want to use and convert in to a PDF document. Select the target file and click on the button "Open".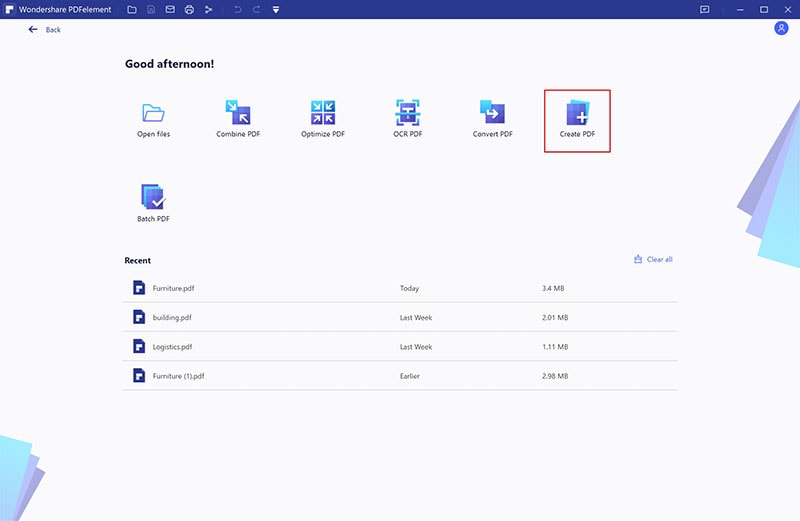 Step 2. Edit Document before Converting (Optional)
To edit your PDF, you can go the "Edit" tab and get the options for inserting, deleting texts and images.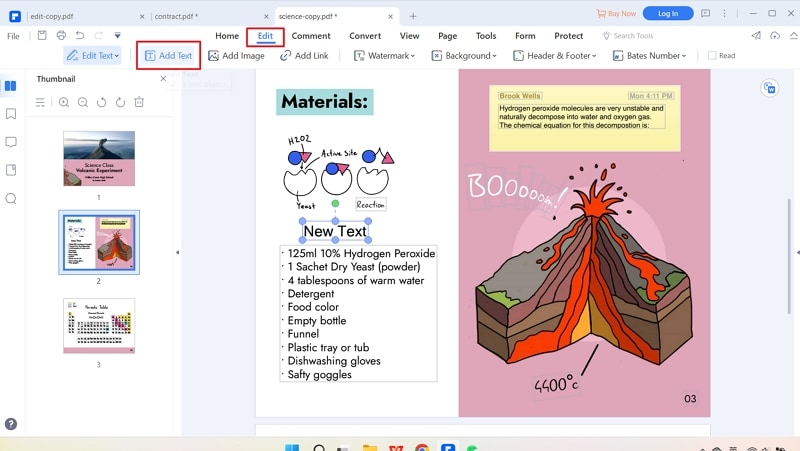 If you want to draw markup, highlight text or paragraph or comment on your document, you can find corresponding options under the "Comment" tab.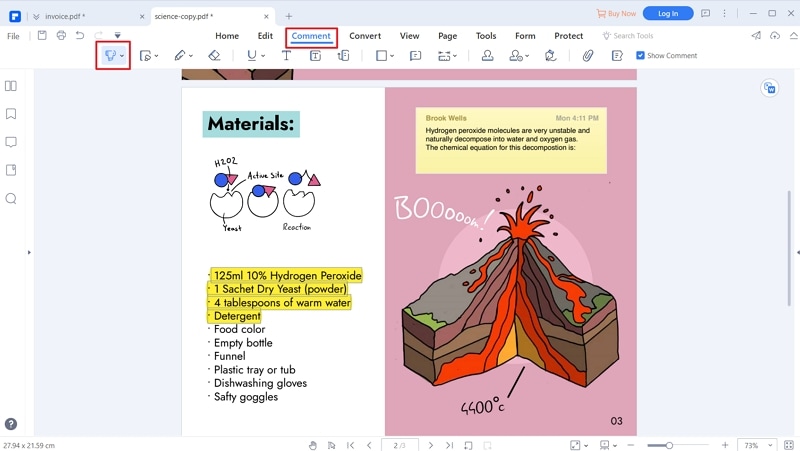 Step 3. Convert from Word to PDF
Now is the time to click on the option of "File" from the top left and then choose the "Save as" option so that you can save your Word file as a PDF document.
The next popup is a familiar one asking you to specify the location and name of the new PDF document before saving it on to your computer. Once you have entered the information as needed, click the "Save" button and that's it. You now have successfully converted your Word file into a PDF document.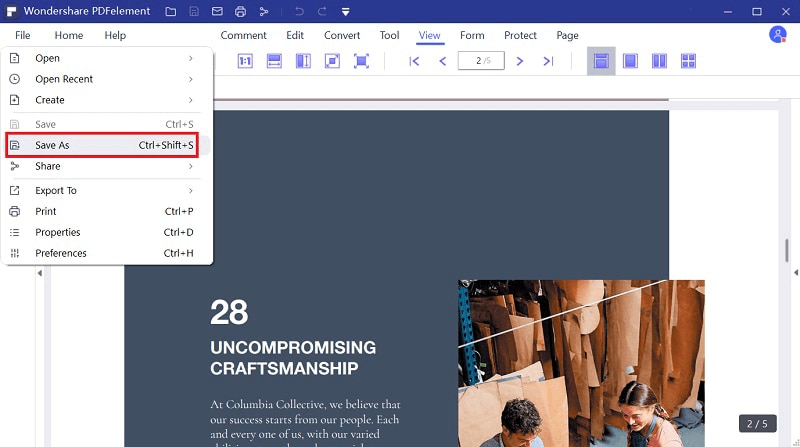 Step 4. Secure created PDF
To protect the created PDF, you can add password to the file. Just click the "Passowrd" option on the toolbar of the program and you can set open passowrd to avoid others to open your file. Or set passwords from others to copy and printing your PDF.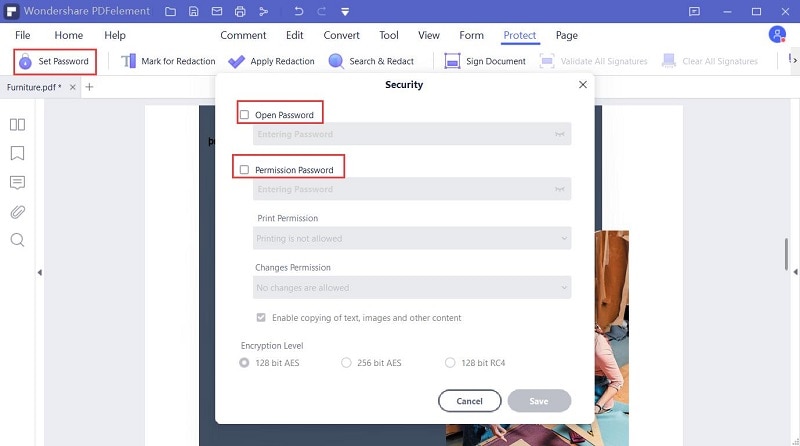 Step 5. Share created PDF
If you want to share the PDF file, click the "File" option and select "Share". And then you can share the PDF to Email, Google Drive or Dropbox.

---
Part 2. The Best Tool to Export Word to PDF
While there are many Word to PDF software's and programs available on the internet, none of them comes close to what the PDFelement Pro can do. The iSkysoft PDF Creator for Mac is an easy and efficient tool that allows you to export any document on Word, Excel or PowerPoint to PDF in high quality. The created PDF retains the layout and formatting of the source document.
Key Features of iSkysoft PDF Creator:
The program allows you to create PDF from Word, Excel, and PowerPoint in an easy way.
Saves time for batch PDF creation in a single session.
Creates high-quality PDF files.
It is 100% secure and safe from hacking and mining and data phishing.
Can do more than you think: easy to use, productive PDF creation and super-fast conversion of high-quality PDF.
---
Steps to export Word document to PDF on Mac
Step 1. Install and Launch the Word to PDF Converter
Download the iSkysoft PDF Creator for Mac and merely drag the program file to the "Applications" folder to install it. The installation only takes a few seconds. Next, launch the program by double-clicking on the program icon.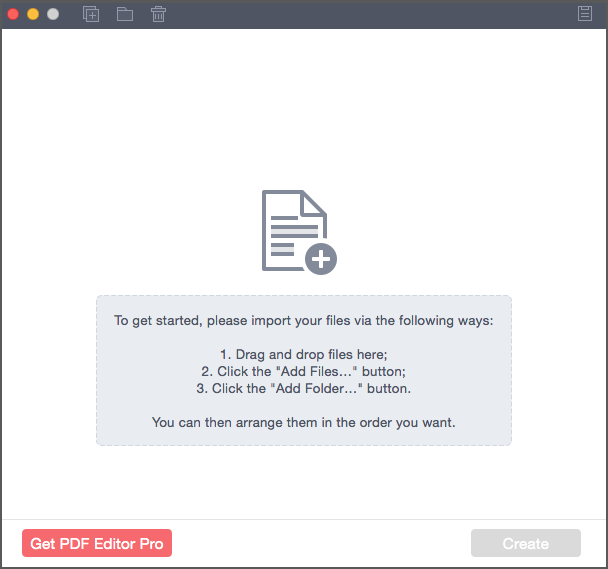 Step 2. Import Word Files
There are 3 ways you can do this.
The first is, drag and drop the files directly to the program's main interface.
Second, click the "Add files" to the program button.
Third, click the "Add Folder" drop-down box located on the top right of the interface.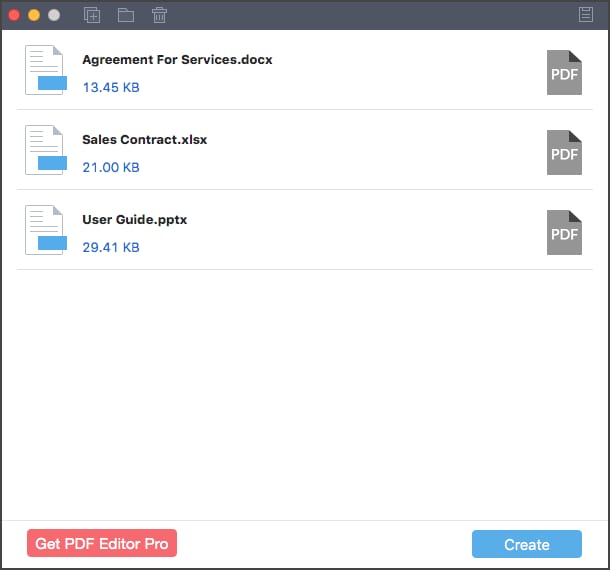 Step 3. Start the Word Export to PDF
After you have successfully imported the files to the programs interface, click the "Create" button to start converting your Word files to PDF the Word to PDF conversion will start immediately after you click the button. Open your created PDF files and save them on your Mac.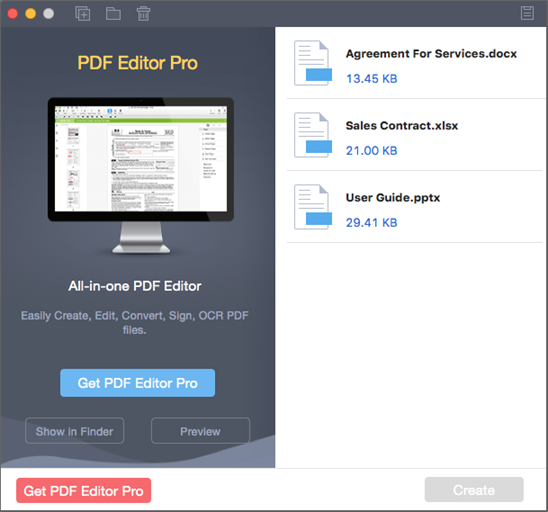 ---
Part 3. Make Word Document into PDF with Word for Mac
Converting a Word file into a PDF document is a breeze if you use Word for Mac. Following these simple steps gets the job done.
Step 1: Launch Word for Mac.
Step 2: Then, click the PDF drop-down menu in the bottom left-hand corner. Select "Save as PDF". You will create a converted PDF document.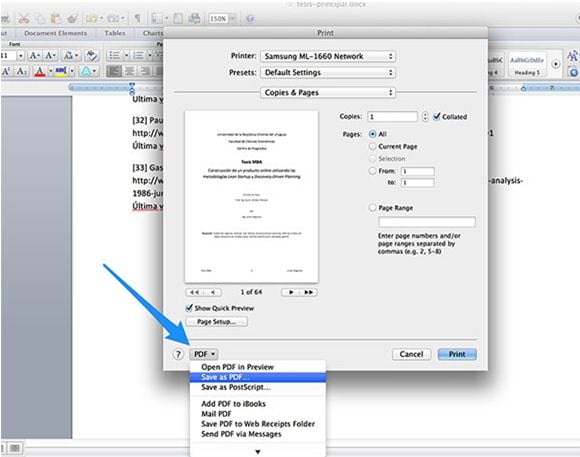 ---
Part 4. Make Word Document into PDF in Word 2010/2013
Word 2010/2013 allows you to convert files into PDF documents as well. If you use a PC, follow the simple steps below.
Step 1: Search for the file you want in Word. After you have found it, click on the File button on the top, left-hand corner of the Document.
Step 2: Then, click on the Export tab. Hitting "Export" will turn your word document into a PDF file.
Step 3: Next, tap the button that instructs you to "Create PDF/XPS."
Step 4: Type in the name for your new PDF file and hit the "Publish" button.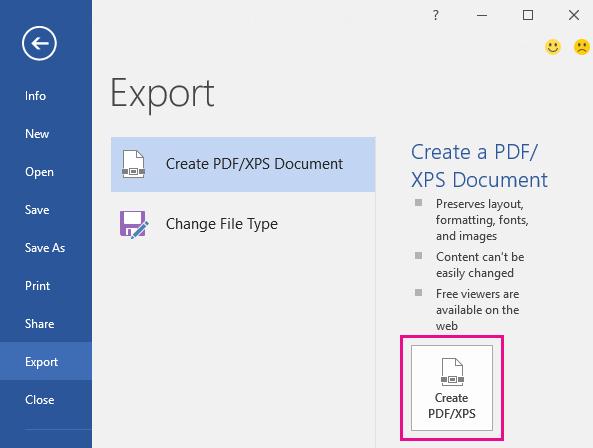 ---
Part 5. Make Word Document into PDF in Word 2007
Turning Word documents created with older Microsoft versions is simple with Word 2007. Follow the straightforward steps listed below.
Step 1: To begin, search for the document you wish to convert in the Documents folder, and open it.
Step 2: Tap on the File Button on the top-left-hand corner of Word.
Step 3: Click on the Save As PDF/ XPS tab. If you cannot find it, use Microsoft's free PDF and XPS converter.
Step 4: Type in your preferred file name, and adjust the settings as necessary. Download it as a medium--sized file to save space.
Step 5: Navigate to "File" and tap on "Download As". Save it as a PDF document.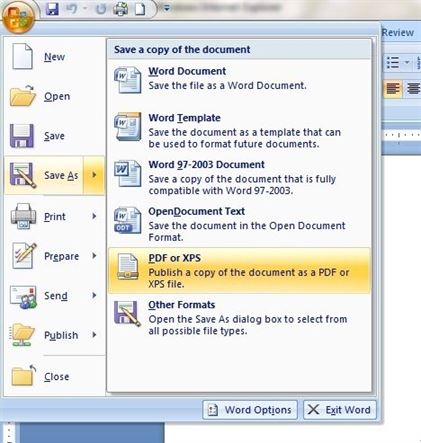 ---
Part 6. Make Word Document into PDF with Google Drive
If you save your Word files as Google Documents, you can convert them to PDF using the Google Drive platform. Doing so is straightforward.
Step 1: Type in google.com in the search bar of your browser. Then, click on the nine-square icon, Select Drive from the available options and sign in with your account. Click the upload button, which is the red icon with the arrow pointing downwards.
Step 2: Look for your file in via the dialog box that appears. Double click on it or press "Open" when you find it.
Step 3: The file is now in your Google Drive folder. Check the box against it. To open it, choose Open With Google Docs.
Step 4: Navigate to "File" and tap on "Download As". Save it as a PDF document.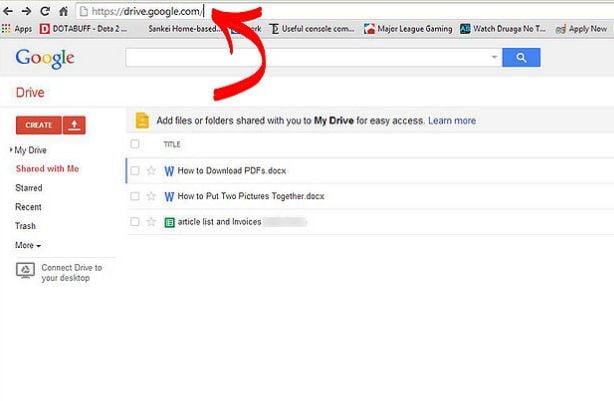 ---
Part 7. How to Make Word Document into PDF Online for Free
If you find it inconvenient to convert your Word file using existing platforms on your computer, turn to available online platforms. A user-friendly one is PDF Online. This web-based file converter turns Word into PDF documents and vice versa. You can access it at pdfonline.com/
Step 1: Click on the orange Upload button.
Step 2: Choose the file you wish to alter from the dialog box that pops up, and wait for it to convert.
Step 3: Your word file turns into a PDF document.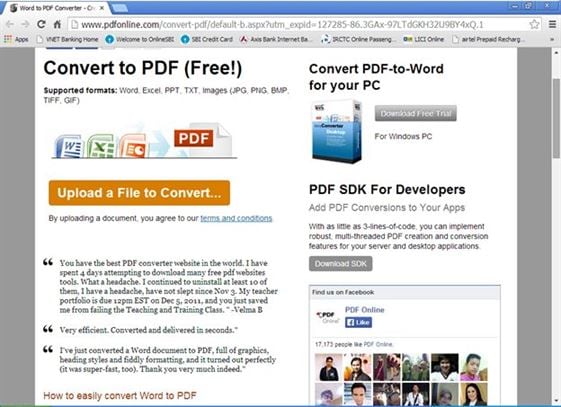 ---
Part 8. Make Word Document into PDF with Open Source PDF
You may think that free software may not give you the option to convert documents into PDF files, but there is good news. Apache Open Office is a versatile platform that lets you turn your Office documents into PDF files. Follow the simple steps, and you will get it to make perfect PDF documents.
Step 1: Download Apache Open Office from openoffice.org.
Step 2: Create a document using the platform.
Step 3: Once you have finished the file, click on the "Save" button. And click on the "File" menu.
Step 4: Then, hit the "Export As PDF" button. Voila! Your Open Office Word file is now a PDF document.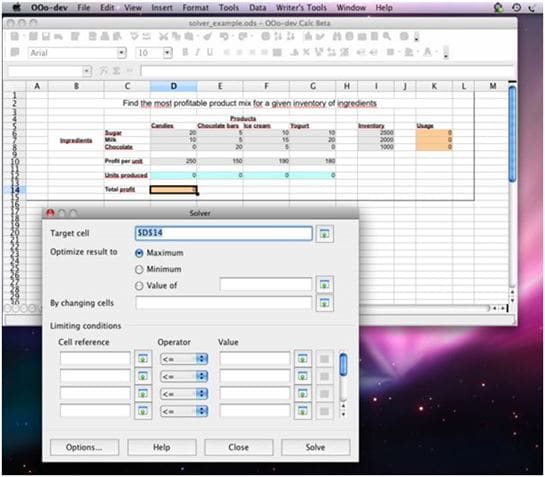 These eight methods are easy ways to create professional, secure PDF documents from Word Files. They are easy enough for anyone to use. Follow them and store Word Documents as PDF files instantly.