PDF is the best way to save and view the documents. PDF documents are great for sharing, viewing and printing. All you need is the PDF reader installed in the system to open and read the PDF file that allows the uniform look irrespective of the device or operating system. Below mentioned are the top 10 free PDF Reader for Windows that you would need to view PDF files on Windows. One of the best PDF reader is PDFelement Pro .
Part 1: Top 10 Best Free PDF Reader for Windows
#1: PDFelement Pro for Windows
PDFelement Pro allows you to open and view PDF as easy as a breeze no matter what platform the file is created. And it provides you with many wonderful PDF editing tools that enables you to do any changes on the PDF. You can also convert PDF to Word, Excel, Image and other formats. Besides, you can also annotate or mark up PDF, even you are able to quickly stamp PDF.
Features of PDFelement Pro:
Quickly open PDF and view PDF with Zoom in, Zoom out, or hand tool.
Edit, add, or delete texts, images, links, watermarks and more in PDF.
Highlight, underline, or add strikethrough, text box, freehand drawing to PDF.
Convert or create PDF to and from Word, Excel, PPT, Image, HTML, and more.
Combine or split PDF document. And add, delete, extract rotate or crop PDF pages.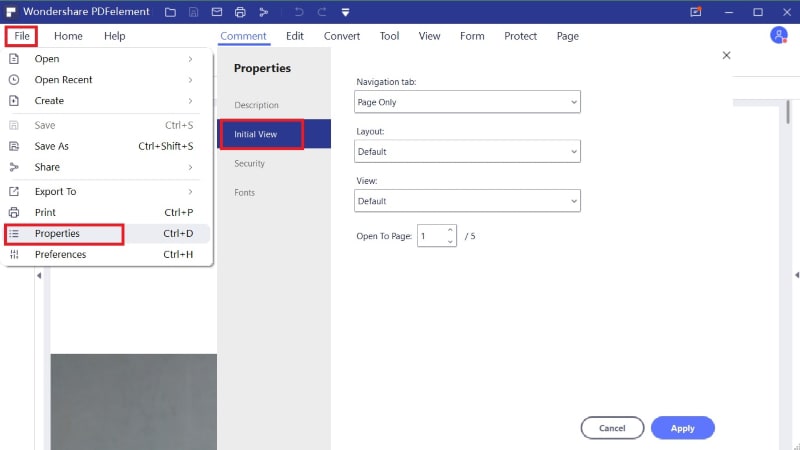 ---
#2: Adobe Reader for Windows
Acrobat Reader is available for Windows platform and can be used to perform various functions on a document. The reader offers both free and commercial versions to the users and based on the need to only view or create and manipulate the PDF, user can choose from just the free option.
Features of Adobe Reader:
Document viewing, annotating and printing.
Quick search texts, words or phrase in PDF.
Pros: Easily access PDF document. And is also supported by the mobile apps in Android and iOS.
Cons: It is difficult to modify the contents, text or images in a PDF file.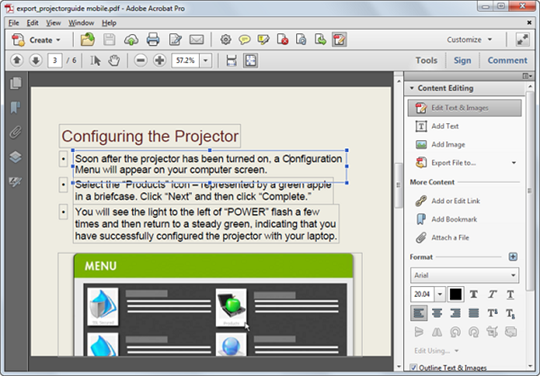 ---
#3: Foxit Reader
This free PDF reader is great for use if you are looking for opening, viewing or printing the PDF files. It is a multilingual PDF reader. And Foxit PDF reader is lightweight and fast to download and use. This pdf reader offers the flexibility to convert images, Word, PowerPoint and Excel files to be converted to PDF documents.
Features of Foxit Reader:
Easy creating, collaborating and PDF file sharing.
Easy forms creation and viewing.
Pros: It also allows the vulnerability protection and Digital PDF signing and has a very small download size.
Cons: Foxit Reader does not support opening the PDF files in browser, since there is no plugin. This software does not allow editing the files.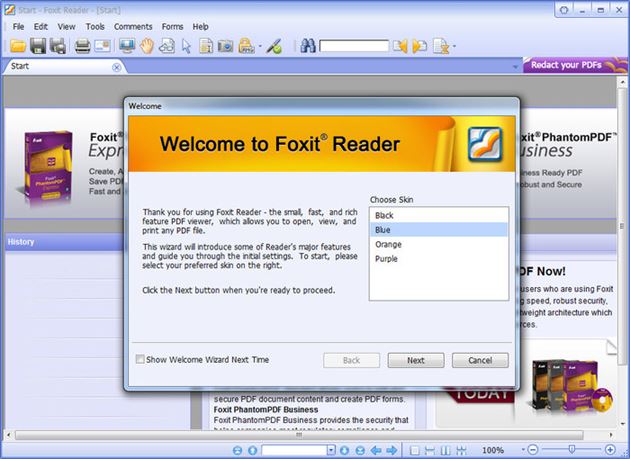 ---
#4: Nitro PDF Reader
Nitro PDF Reader offers some fantastic features and is also a great choice for those users looking for both document reading and creating. It has a neat and fresh look. The Nitro PDF reader allows creation of PDF files, collaboration, form filling and saving, digital signing and many more features that make it a great choice among users.
Features of Nitro PDF Reader:
Allows document creation and sharing with digital signatures.
Simple drag and drop of files.
Pros: The Nitro PDF reader has some great collaboration tools that can be used to edit and share the document over the cloud.
Cons: Only windows platform available.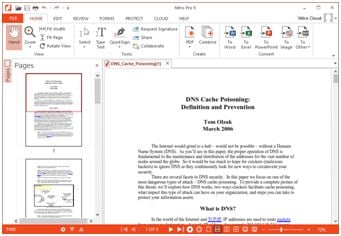 ---
#5: Nuance PDF Reader
The Nuance PDF reader is also a free PDF reader for Windows that offers with numerous features but it's quite small in size. It has several features that make it a popular choice. The annotation tool is great for collaboration. The document allows converting the PDF files to Word, Excel and even RTF.
Features of Nuance PDF Reader:
It can be used to fill and save PDF forms.
Offers annotations tools for marking and highlighting text.
Allows viewing multimedia using the PDF files.
Pros: It's easy to export pdf documents to other formats like word and excel. It's quite fast and offers many features like Acrobat Reader.
Cons: At times when the PDF is converted to other document format, the text format changes and does not remain the same as the original file.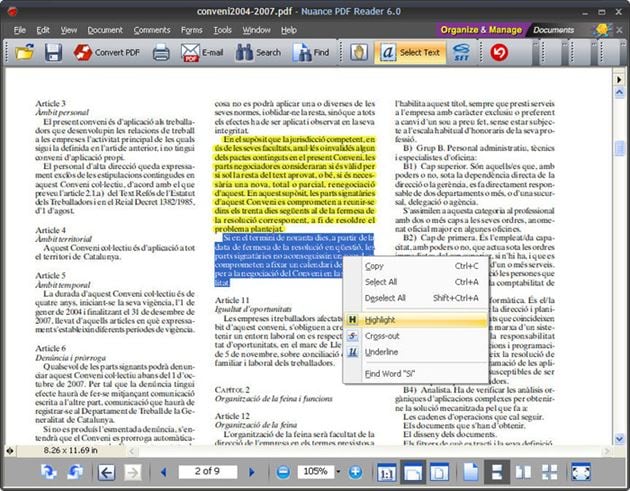 ---
#6: Evince
Evince is simply a document viewer that allows users to view various document formats, including PDF files. It's free and that can be downloaded to view the documents. It can support multiple and single page file formats in PDF, Postscript, SyncTex with gedit, djvu, tiff, dvi, XPS and comics books.
Features of Evince:
Document can be viewed in double pane.
Full screen or slide-show view of the document available.
Text selection and copy the text from the document.
Easy navigation between the pages from one topic to another.
Pros: Evince can open the all PDF documents including those that have been encrypted. Allows features like page indexing a bookmarking.
Cons: It cannot really assist with any other functionality beyond document opening. So it remains only a document viewer. Zoom functionality does not work really well.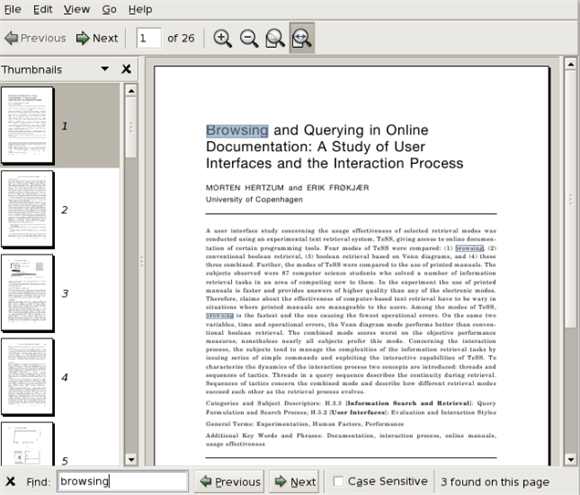 ---
#7: Sumatra PDF
Sumatra PDF reader is such software that facilitates the user with tools needed to read the document. But the best bit is that it does not slow you down, since it does not have a lot of extra features. Basically it has everything, that one would need to read the documents and does not contain the features that are really not required.
Features of Sumatra PDF Reader:
Document can be viewed in double pane.
This program is small in size and is portable.
Several keyboard shortcuts to move across the PDF file easily.
Pros: Sumatra PDF is a free PDF reader that allows the document viewing in various modes including Single pane, double view or Book view and presentation.
Cons: The disadvantage is that, it cannot create or edit PDF files.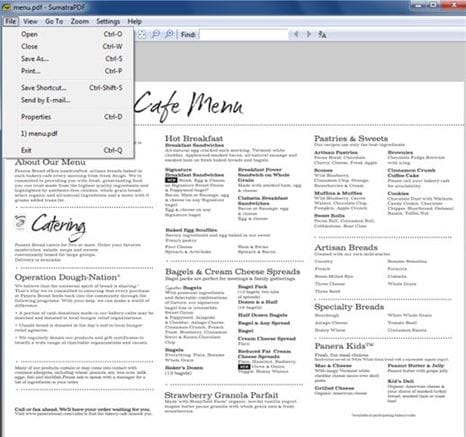 ---
#8: MuPDF
MuPDF is a freeware PDF reader that can be used to open and read the PDF documents. It has a small file size but this fast program and can be used to perform the functions to support the PDF file reading. It can be used in Windows platform and with devices like Android phone and Google play.
Features of MuPDF:
Supports form filling and transitions.
It's a very lightweight reader.
Pros: The software opens up quickly.
Cons: The entire program interface is designed to show the PDF and does not allow any other functionality.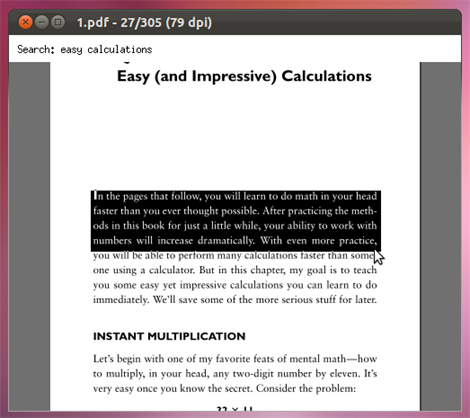 ---
#9: Expert PDF Reader
Expert PDF Reader is software that allows a fast and easy way to create and convert PDF documents on a Windows Platform. Files can be converted from Word, Excel or PowerPoint to PDF very easily. It allows the use to modify the existing documents. It also allows modifying document outlines and annotations.
Features of Expert PDF Reader:
PDF file creation, editing and converting.
Convert different file formats to PDF file.
Allows adding notes.
Pros: Expert PDF reader has a reduced file size. So it can be loaded, created and converted fast.
Cons: The disadvantage is that the files can be converted from PDF to only word document and not to another format.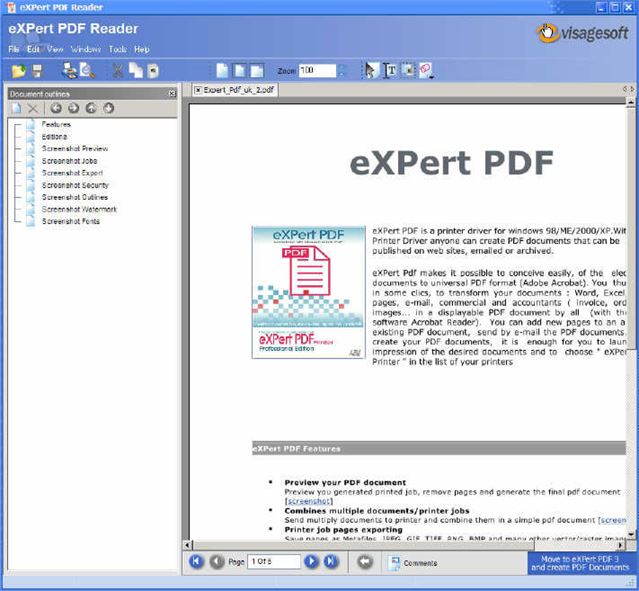 ---
#10: Cool PDF Reader
Cool PDF Reader is definitely free PDF reader software and allows quick viewing and converting the documents. Though it does not have many features like Adobe Reader, it still works well and supports the basic features that are necessary to open up and read a document.
Features of Cool PDF Reader:
Automatically turns the page in a slideshow mode.
The zoom in and zoom out feature is enabled .
Pros: Cool PDF Reader has drag and drop features that are really nice and the interfaces are pretty simple.
Cons: Some of the PDF lose the file quality when they are converted. Opens up many pop ups with other PDF products that needs purchasing to be used.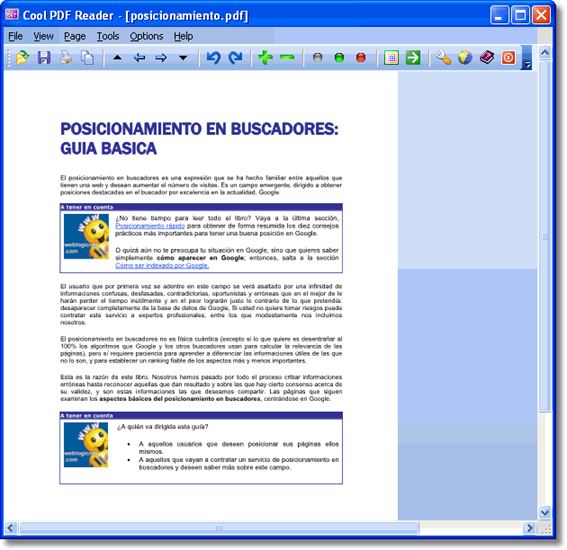 ---
Part 2: Troubleshooting on Can't Read PDF on Windows
Though PDF offers high flexibility to work and share the documents, but at times users face issues while trying to open and read the file on Windows. Below mentioned are the common issues faced:
1. Trying to open a file that was created using different PDF software or does not comply with the standard.
For example PDF's created using non Adobe reader software does not always comply with the industry standards created for PDF specifications and does not open. Also, if you are unable to open the PDF file using the newer version of PDF reader, it may not open. In such case, you might use the older version of PDF reader to open the documents.
2. Password protected files
The file prompting to enter password are usually meant to be safe and confidential. So, such documents can only be opened by entering the correct password when prompted.
3. Damaged or corrupted files
Sometimes the PDF files get damaged and do not work when downloaded. In such cases, you might consider downloading again from the source of origin, save it straight to the hard disk and open from there. Or request the file owner to share the file again.