PDF is very common format over the Internet. But they require specific software before they would be readable. There are different types of online PDF readers in the internet today allowing you to read the PDF directly online. Although they perform the same functions, each has its unique features. Below is a list of top 10 online PDF reader. And you can also get tips on PDF reader Add-on for Firefox, Google Chrome and Safari.
Part 1: Top 10 Online PDF Reader
1. PDFOnlineReader
PDFOnlineReader is one of the best PDF viewer online that allows users viewing and annotating PDF files online. They get to view the files right in their web browser and even highlight text within the document. To use PDFOnlineReader, simply upload the file to be viewed from a computer.
Pros: With the ability to highlight and annotate, PDFOnlineReader offers functionalities that many other PDF viewers don't have. The software is easy-to-use and text in the document can even be transformed into internal or external links.
Cons: Even with the additional features offered, PDFOnlineReader is still lacking in functionality when compared to some other viewers. Those who need more out of a viewer have to find something else.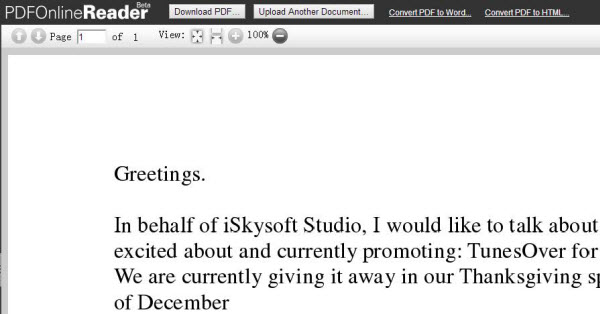 ---
2. PDFescape
PDFescape is also a free online PDF reader program. It is written in ASP, CSS, HTML, JAVASCRIPT, and supports several features such as form publishing, saving, printing, page arrangement, form filling, and editing. With the help of this PDF viewer online, you can easily view PDF document online for free.
Pros: PDFexcape is useful for online storage of PDF files and is compatible with popular browsers such as Opera, Chrome, Safari, Internet Explorer, and Firefox. Documents can be easily edited, modified, and managed, although this requires JavaScript to be enabled.
Cons: One disadvantage of this application is the presence of ads running along with the program. But advertisement supported version is available only in the free version. The premium version is ad free.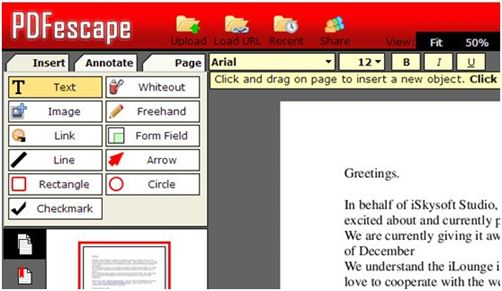 ---
3. Google Docs
Google Docs is a very popular online PDF reader by Google. It is web-based and free within Google drive service. With Google Docs, you can create and edit documents online and at the same time share files with other users. Presentations, spreadsheets, and documents can be created with this tool and sent through mail or via the web interface. Google Docs is up there as one of the top PDF reader online software today.
Pros: One advantage of Google docs is its support of two ISO standard document formats (office open XML (for opening of files) and OpenDocuments (for both opening and closing). The application equally allows the readability of proprietary formats such as .xls and .doc.
Cons: It does not have a way of notifying users of changes, but it can notify users when a discussion or comment is made.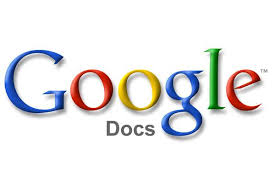 ---
4. PDF24
PDF24 is another excellent application that provides free online reader for PDF documents. It runs on the browser and no additional software needs to be installed for its operation. Because this application is Java based, it can be synchronized into the browser. Also, with PDF24 you can view files, edit, and print your documents easily.
Pros: It is free of viruses or adware. Also utilizes the print function.
Cons: Some downloads of this software contain the TROVI SEARCH add-on which might disrupt the performance of search engines.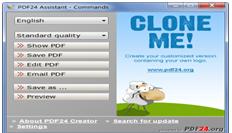 ---
5. FM-PDF
FM-PDF is another wonderful PDF viewer online that combines both reading and converting features. Apart from helping you read your PDF documents, the FM-PDF is also designed to help you convert other types of documents into PDF files and vise versa. It supports several features and has both paid and free version. The paid version is free of ads and includes additional reading and file conversion features.
Pros: Supports several file formats. Equally has full file conversion features.
Cons: It has a poor image conversion. No free version.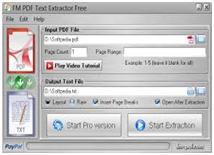 ---
6. Docspal
Docspal is another excellent document viewing tool that supports different file types. It has online viewer and file conversion features. To view documents using Docspal, open the viewer page on your browser and select the document you want to view. Then, click the view button. Apart from viewing PDFs, it also supports several file types, including Microsoft word documents (xlsx, pptx, ppt, docx, doc), jpeg, jp2, gif, bmp, ps, odp, tiff, psd, and others. With Docspal, viewing files just got easier.
Pros: The application does not require plugins to be installed nor does it require any additional applications or any registration. Supports several formats and conversion feature.
Cons: Its file conversion feature does not provide a way to cancel a conversion once it starts.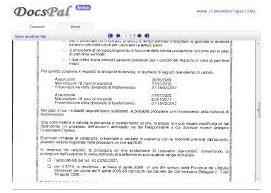 ---
7. ViewDocsOnline
ViewDocsOnline is a free online PDF reader that allows you view different types of pdfs online. To use this application, enter the url of the document or upload the file from your computer and click "view document". It supports the following files: Text (rtf, txt), Open Office (sxi, sxw, odp, adt, etc), PDF (ps, pdf), Microsoft Office (xlsx, xls, pps, pptx, ppt, docx, doc).
Pros: One good feature of this application is the advantage of entering the url of the document you want to see. When you enter the url, the document will open instantly rather than keeping you waiting for the document to be downloaded. In other words, you don't need to download the document before viewing it.
Cons: Does not include file conversion feature.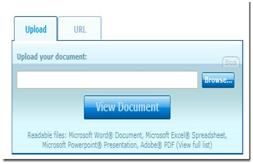 ---
8. PDFMENOT
PDFMENOT is similar to viewdocsonline. It allows users viewing PDF and other documents online. Just upload the file you want to view or enter the url of the file and the document opens instantly.
Pros: Its embedded feature helps readers who don't have any form of PDF reader to open files and read either as HTML or as PDF.
Cons: Does not include file conversion. Another problem is that it does not support many file types.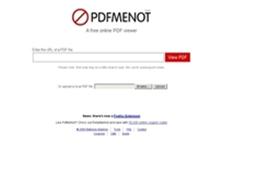 ---
9. Samurajdata
With this online free PDF viewer, users can view both PDF files and Postscript files. They can either enter the URL of the document or upload files from their computer and get to see the files as either web pages, Word documents, or browsable images. With Samurajdata, there's no need to download any plug-ins or other software.
Pros: This online PDF viewer is available in four different languages, including English, Hungarian, German, and Portuguese. The software is open source and the viewer was built to be the Linux solution for Adobe Reader.
Cons: While it's easy to use, the user interface is a bit bland. There are no other functionalities except the ability to view the documents, so those who need to some editing will have to look elsewhere.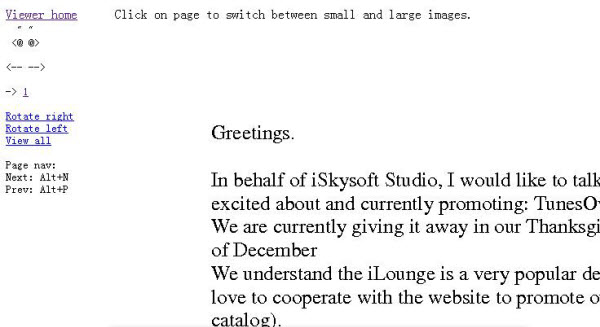 ---
10. Zoho Viewer
Zoho PDF online viewer offers users a simple way to view PDF files on line. This online free PDF viewer makes it easy to share documents with others. Not only does Zoho Viewer allow users to view PDFs, but also any type of file from Microsoft Office, including PPT, Word documents, and Excel files.
Pros: With Zoho Viewer, users don't need to have Microsoft Office or any type of PDF software installed in order to view documents. Plus, there's no need to sign up.
Cons: The only function Zoho Viewer offers is viewing documents. Users can't make notes, do editing, highlighting, or any of the other functions other viewers offer.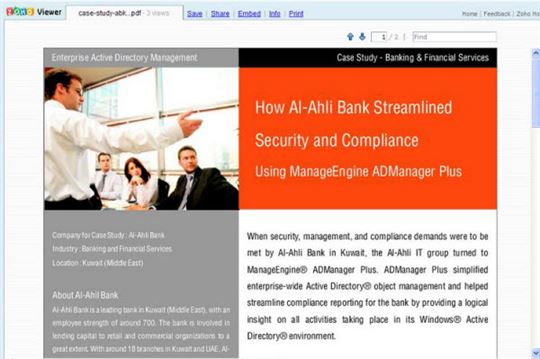 ---
Part 2. The Best PDF Viewer for Mac and Windows User
PDFelement Pro is the best desktop PDF viewer. With the help of this PDF viewer, you can easily view PDF documents, even the scanned PDF files easily. You can also mark up, replace, compare two PDF files easily. The 3 simple steps below will show you how to read PDF with ease.
3 Simple Steps to View PDF Files with PDFelement Pro:
Step 1. Download and launch PDFelement Pro on your computer.
Step 2. Import the selected PDF file into the program by click on the "Open File" button.
Step 3. View a PDF file and zoom a PDF file easily.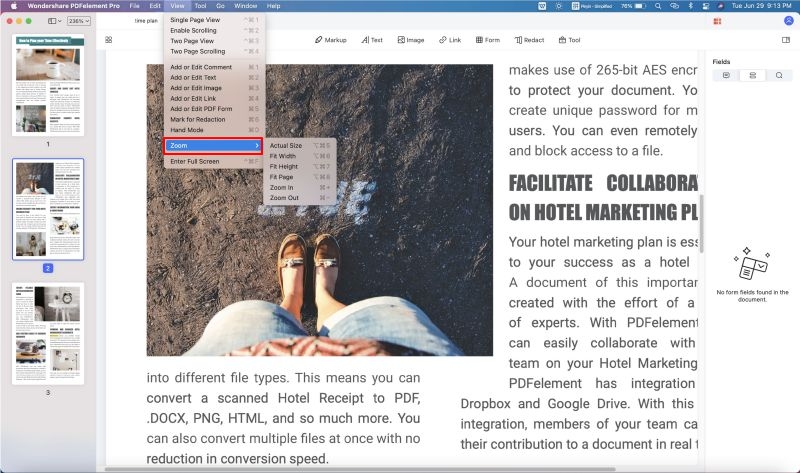 Why Choose PDFelement Pro for Mac as The Best PDF Viewer
PDFelement Pro is a professional PDF editor. It allows you to open and view PDF files according to your needs with ease. Apart from this, it enables you to easily edit and convert scanned PDF with advanced OCR tool. You can also use this tool to convert PDF to Word, PPT, EPUB and batch convert multiple PDFs in a few simple steps.
Why Choose This PDF Reader:
Easily open and read PDF with multiple PDF viewing tools.
Edit, add and delete PDF texts, links, images and more.
Markup and annotate PDF files with deversified markup tools.
Convert PDF to other formats and create PDF with ease.
Fill out and create PDF forms without change the formatting.
Secure PDF with passwords, watermarks and signature.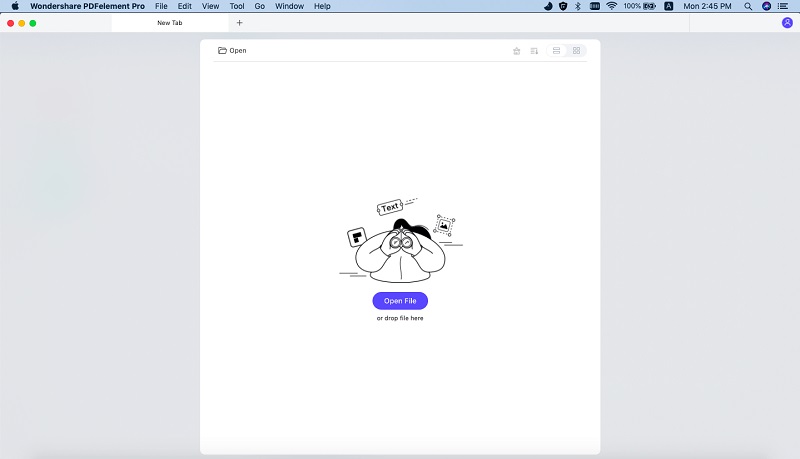 ---
Part 3. 15 Tips for PDF Reader Add-on for Firefox, Chrome and Safari
1. Firefox PDF Reader Add-on
The Firefox PDF reader add-on is the most sought after software for creating, viewing, and handling web-based files. This software is been used by millions of Firefox users on a daily basis. This extension helps you overcome challenges you may face online while you are trying to open a PDF file. It reduces delay in the opening of the PDF content and reduces browser crashes as well. With the firefox reader add-on, you will be able to convert web pages into PDF for sharing, printing, and archiving.
Install Firefox PDF Reader: Installation of this add-on is simple. But before you begin, ensure that you have the latest version of the firefox browser in your system. Go to the search page of the firefox browser and enter "about:config". A page will open with a list of options depending on what you want to do. Scroll down and double click on the "browser.prefence.incontent". Next, look for "pdfjs.disabled" and right click on it. Once this is done, your browser is ready to start opening PDF files online without any other configuration.
Disable Firefox PDF Reader Add-on: Disabling of the Firefox PDF reader add-on does not take more than 3 clicks. Just go to the tools and options menu. Click on applications and the "Use Adobe Acrobat" preview. There you can select your preferred option (in this case, it is to disable adobe plug-in) and you are done.
Troubleshooting on Firefox PDF Reader Add-on
1) What to do when the opened PDF files are blank or don't render well?
Some PDFs might have problems displaying colors, fonts, of even the entire document. When this is the case, click the download button located at the right of the document. This will enable you open the document using the default program that came preinstalled with the firefox browser.
2) What to do when PDF doesn't display correctly?
To fix this problem, go to applications under the tools menu and click "portable document format". This will display a pull-down menu. Click on the action part and the PDF will be displayed in the right readable format.
3) What to do when you are unable to print from a file?
This problem might be because you are not using the most updated add-on the PDF supports or the creator of the program has a security feature that prevents readers from printing. If the former is the case, try to update the plugin.
2. Google PDF Reader
Google Chrome PDF add-on is another popular PDF reader software from Google. With this application, users do not need to install Adobe Acrobat on their computers before reading PDFs online.
Install Google PDF Reader: To enable this add-on, make sure you have Google Chrome 6 or more recent version installed in your computer. If you are not sure which version you are using, click on the "About Google Chrome" on the upper right corner of the toolbar. The version installed in your computer will be displayed. Go to the address bar of the browser and type "chrome://plugins/" and press the enter key. A blue enable link will appear and all you need to do is click the link and you are done. You can also see other plugging listed here. The number of plugins will depend largely on the version of chrome you are using.
Disable Google PDF Reader Add-on: To disable it, go to the address bar of the chrome browser and type "about.plugins". Take your cursor down to the Chrome PDF viewer and click the disable link. It is that easy!
Troubleshooting on Google PDF Reader Add-on
1) What to do if your Chrome PDF add-on isn't properly installed?
Go to the help menu in Acrobat and click "Repair Acrobat Installation".
2) What to do when having problems viewing files using chrome PDF add-on?
First, check for updates to Adobe reader and chrome. Try to uninstall and reinstall Adobe and Acrobat. If the particular file refuses to open, the problem might be from the file and not your plugin or browser.
3) What to do when your PDF file open on a new chrome tab rather than as PDf?
Disable the chrome PDF viewer (as shown above) to enable the PDF to open automatically in adobe
3. Safari PDF Reader Add-on
Safari PDF reader was developed by Apple Inc. The Adobe reader is embedded in the Safari browser. The browser's ios features means that it is mostly used for mobile browsing. The PDF reader on Safari only runs on Mac OSX 10.4.3 and more recent versions.
How to View PDF with Safari PDF Reader: Bring out the acrobat application from the CD and follow the installation process to install the software. When starting acrobat, you will be asked to accept the terms and conditions (user agreements). After accepting the EULA, the Acrobat program then follows through a procedure that detects whether there are other programs that need the installation of acrobat for their proper functionality. In the Safari browser, the AdobePDFViewer.plugin file is used by Adobe to view files online. This file is usually installed in the internet Plug-Ins/Library folder.
Install Safari PDF Reader Add-on: If you are running your windows in the old Safari browser, you need to completely remove the browser. Then install the most recent version of the Safari browser. Go to the internet plug-ins/Library folder and remove the AdobeViewer.Plugin. The Acrobat automatically detects, repairs, and chooses AdobePDFViewer.

If you are using Adobe reader or Acrobat 8 on Mac OS X for the first time, the default PDF viewer for Safari will automatically install itself. If you'll like to disable it, start Adobe reader and click on internet on the preference section. Uncheck "Display PDF in Browser". This will ensure that the PDF viewer is hidden from the browser window.
Troubleshooting on Safari PDF Reader Add-on
1) How to configure acrobat to display Pdf files in Safari
Go to internet in the reader's preference section in Safari. Then click Display Pdf and you will be able to view pdfs directly from your browser.
2) What to do when a blank page displays on the browser while trying to open pdf file?
The main cause of this problem is when a plugin crashes. To solve this problem, update the plugin by going to tools>plugins>updates.
3) What to do when you can't view or save pdf files from Safari?
This might be from the version of the reader or the operating system in use. Safari mostly works on 64bit modes. Click on Applications and select Open in 64-bit mode in the info menu. When this does not work, try reinstalling the plugin.